Grilled Flank Steak With Chimichurri Sauce
Don't save steak dinners for Sunday Supper! Our Grilled Flank Steak With Chimichurri Sauce is easy enough to make any night of the week!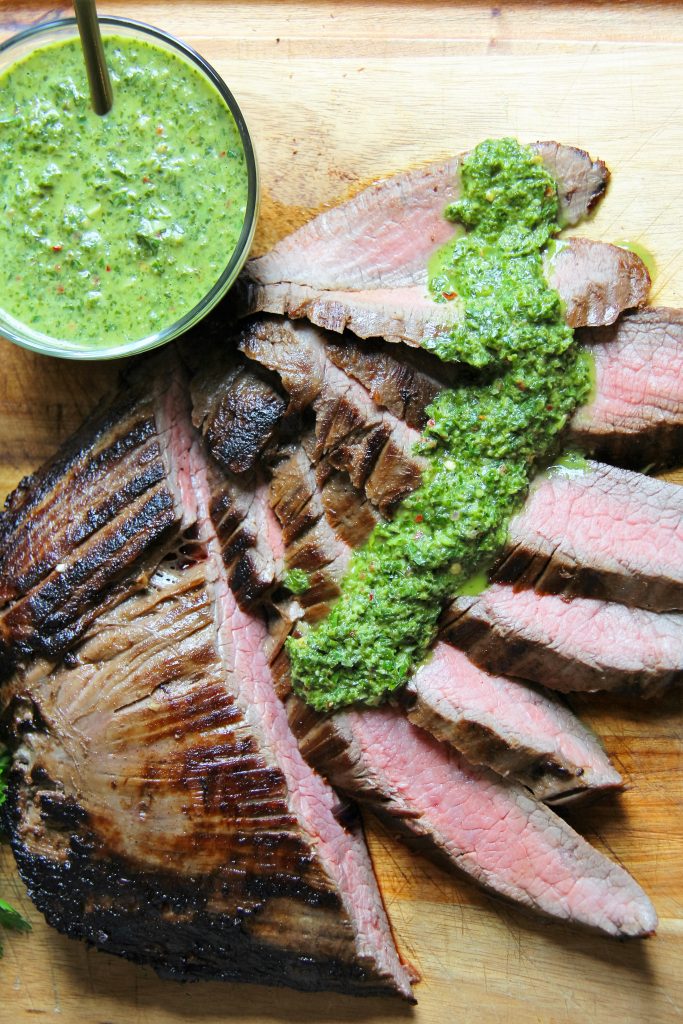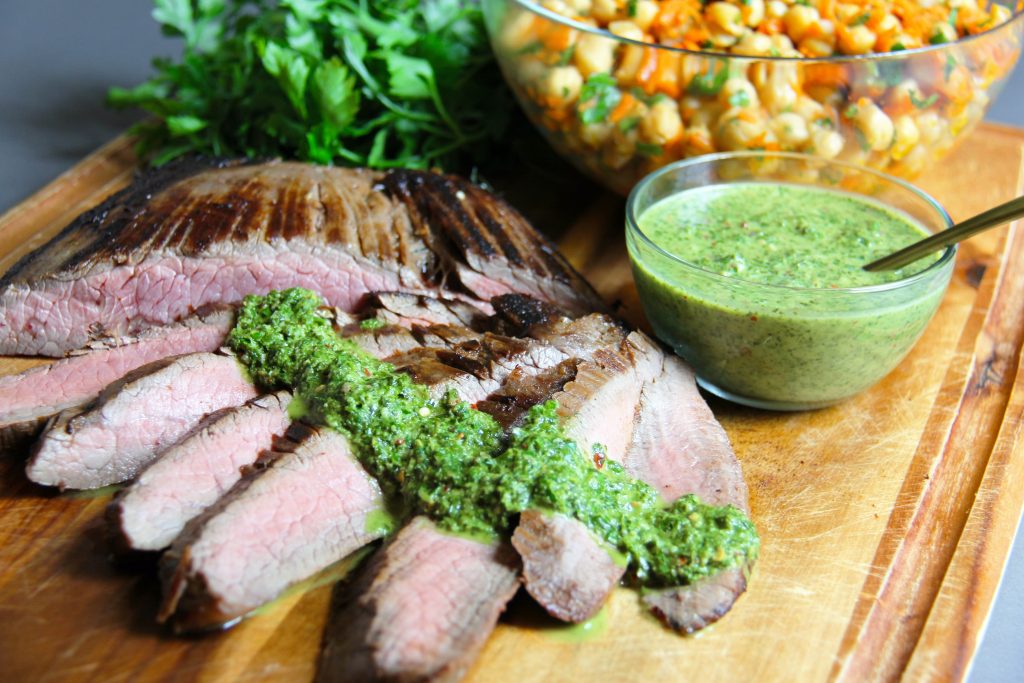 I love dinners that are easy, delicious & smart! Pretty much any time of year, if I can cook it outside on the grill (like this burger recipe) and get the rest of dinner done with no cooking inside… I feel like a genius! No pots and pans to clean, the house is cooler, and my husband smells like a rugged cowboy! Truly think that The Big Green Egg company should make a cologne. He smells so damn good when he grills. My hubs feels the same way about me when I cook bacon. Go figure.
This Grilled Flank Steak recipe is super easy and quick to cook just right (I like that little bit of pink in the center). Top it with a homemade, zippy, and fresh Chimichurri Sauce (like a Latin version of pesto) and my eyes start to roll back in my head! Especially if there's leftovers…. PERKS of running an office from home is delicious lunches the next day and this recipe makes an amazing steak salad! Feel free to do the same technique and sauce on chicken, shrimp, pork or your favorite kind of steak. And don't forget a delicious cocktail (like this one)
TIP: Serve Grilled Flank Steak with this South American Carrot & Garbanzo Bean Salad
Grilled Flank Steak With Chimichurri Sauce
This recipe is super easy and quick to cook. While the steak marinates make the Chimichurri Sauce and light the grill. Dinner is almost done.
Ingredients
2 ½ lbs flank steak
4 cloves garlic, chopped
3 Tbl red wine vinegar
1 lime, juice and zest
1 Tbl steak seasoning
2 Tbl olive oil
For the Chimichurri Sauce

1 cup packed flat-leaf parsley
½ cup packed cilantro
5 cloves garlic, chopped
1 tsp kosher salt
½ tsp freshly ground black pepper
½ tsp red pepper flakes
2 shallots, chopped
¼ cup vegetable or olive oil
1/8 cup red wine vinegar
1 lime zest and juice
Instructions
Place ingredients into large zip lock bag.
Let marinate for 30 minutes or longer.
While steak is marinating make the Chimichurri Sauce:

Place all ingredients into a food processor and pulse until smooth. Add more oil if you need it. Taste for seasoning.
To cook the steak:

Preheat grill or grill pan to medium-high heat.
Place steak on grill or pan. Cook for approximately 6 minutes on each side.
Remove to plate or platter and let rest for 10 minutes.
Cut across the grain into 1 inch slices.
Serve with chimichurri sauce drizzled on top.
https://sumptuousliving.net/grilled-flank-steak-with-chimichurri-sauce/
Copyright @ Sumptuous Living
Pin Me…