Homemade Buttermilk Pie With Our Easy Flaky Crust
Nothing says home like an amazing piece of pie! Even better is a silky sweet buttermilk pie with a flaky homemade crust that's as easy to make as it is wonderful to eat.



I love simple old-fashioned pies. Don't you? It can't be too sweet, must be easy to whip up, and nestled in a super flaky buttery crust. That's why I love this recipe for a classic Southern pie. The Buttermilk Pie. It is so good! Slightly tangy from the buttermilk, very creamy, and almost like a custard but in a silky good way. Dusted in powdered sugar and served with fresh berries, this is the perfect Sunday Supper kinda pie.
I really don't do desserts very often but when we have a weekend where my hubs is busy smoking chickens on the grill (he keeps this smoker cookbook on his nightstand) and the kids are playing at the neighborhood pool, I like to end the weekend with a delicious home-style family dinner. This pie is the perfect end to a great family meal.
It all starts with the crust!
This silky homemade buttermilk pie tastes like your grandma made it and a lot of that has to do with the crust! My Aunt Kathy always insisted that a good crust was the way to pie heaven and, though I drug my feet for a few years before I fully drank the "Pie Crust" Kool-Aid, I am a certified believer now baby! It's amazing in this Apple Crisp Pie too.
The funny part is… A flaky homemade crust isn't all that hard to make. Not joking! I do the whole thing in the food processor in about 2 minutes!
First place flour, cold butter, kosher salt and ice cold water into the food processor. Next, pulse in short bursts the dough until a ball forms. Remove the ball and wrap it up in plastic and pop into the fridge while you make the filling for the pie.
The homemade buttermilk pie filling is easy too!
Our filling is a No-Cook filling! Aren't I so nice? Who wants to cook up a custard filling and hope and pray not to get scrambled eggs? Not me Mama! Just whisk whole eggs in a bowl with some sugar and flour. Then add the buttermilk, vanilla, melted butter, and orange zest. The orange zest is an amazing little trick to add a bit of brightness to the tangy buttermilk.
Anything buttermilk makes me think of my Papaw (that's Louisiana speak for Grandpa). He used to drink buttermilk straight out of a glass with dinner. He loved the stuff! If that's not the sign of a rough and tumble fella, I don't know what is! I couldn't drink straight buttermiilk. Straight Bourbon. Um, YES please! But buttermilk. Nope. So buttermilk always makes me think of Papaw. Isn't that why we love pies? They always remind us of family and home and great memories.
HOMEMADE BUTTERMILK PIE
Homemade Buttermilk Pie With Our Easy Flaky Crust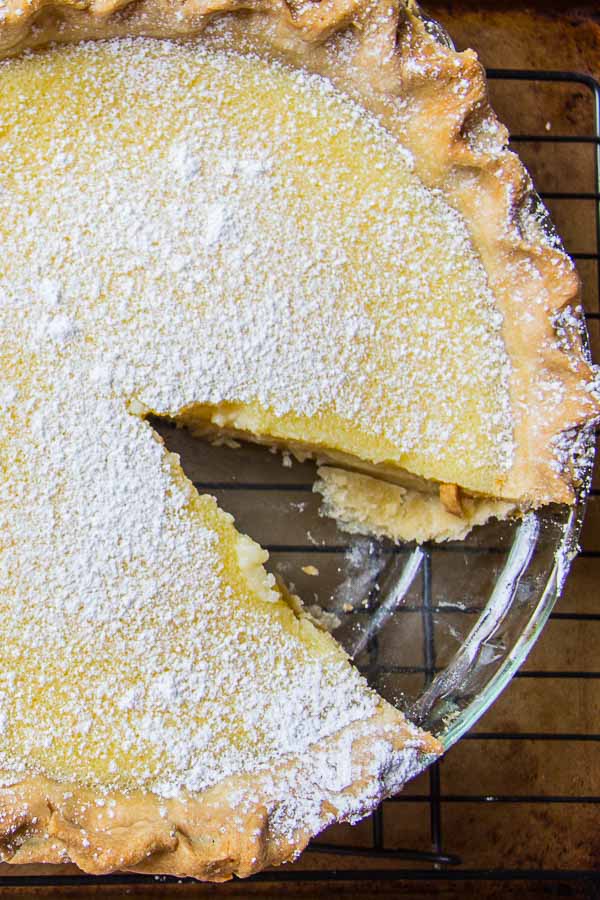 Silky sweet buttermilk pie with a flaky homemade crust that's as easy to make as it is wonderful to eat.
Ingredients
Pie Crust

2 ½ cups flour
1 ½ sticks butter, cut up
½ tsp kosher salt
½ cup ice water
Filling

2 large eggs
1 cup sugar
3 tbl flour
1 ½ cups buttermilk
1 tsp vanilla extract
3 tbl butter, melted
½ tbl orange zest
Berries

1 cup blueberries
1 cup blackberries
1 cup strawberries, sliced
3 tbl orange juice
2 tbl sugar
Powdered sugar for garnish
Instructions
Make the pie crust:

In a food processor bowl add flour, butter, salt and ice water.
Using short pulses combine ingredients until a ball forms.
Wrap dough ball in plastic wrap and place in refrigerator for about 30 minutes or until chilled.
To assemble pie:

On a lightly floured surface roll out pie dough to form a circle slightly larger than pie pan. You don't want it to be too thick. Place crust in pan and press down gently so that dough takes the form of the pan making sure that the dough goes up the sides and slightly over the edge. Take a knife and cut around the outside edge of pan to remove extra dough. Crimp rim with fingertips and thumb.
Make the pie:

Preheat oven to 350 degrees. Place pie crust on sheet pan. Line the crust with a parchment round or foil. Add pie weights, dry rice or dried beans, to fill the pan 2/3 full. Prebake crust for about 10 minutes. Remove pie pan from sheet pan and place on wire rack. Carefully remove weights and let pie crust cool completely.
Make the filling:

In a medium bowl whisk eggs until blended. Add sugar and flour and whisk until smooth.
Add buttermilk, vanilla, melted butter and orange zest. Whisk to combine.
Place cooled pie crust back on sheet pan. Pour filling into crust. Bake for 35-40 minutes or until filling begins to puff but is still wobbly in center. If edges are beginning to brown too much cover with foil or pie ring. Remove from oven and cool on wire rack. Dust with powdered sugar to garnish.
For the berries:

In a medium bowl combine the berries. Add orange juice and sugar; stir to combine. Set aside and stir occasionally for about 30 minutes. Serve with pie.
https://sumptuousliving.net/homemade-buttermilk-pie/
Copyright @ Sumptuous Living