Mandy's Triple Chocolate Kahlua Cake Video Recipe!
Our first YouTube video is of Mandy's Famous Triple Chocolate Kahlua Cake. Our most Pinned Dessert. An easy doctored up box of cake mix that transforms into a rich dessert perfect for any special occasion!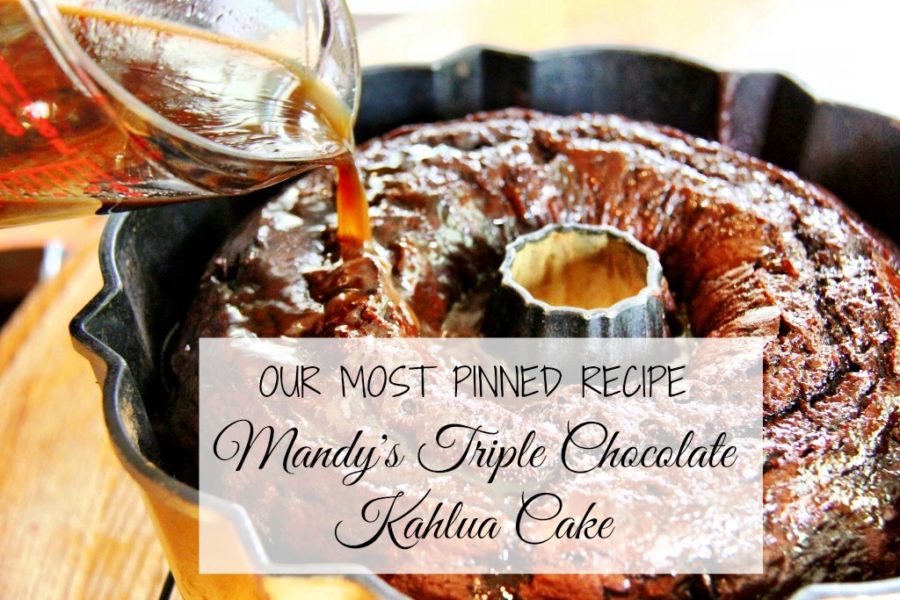 Whether it's taking the easy road or just plain brilliance, I love a recipe with an easy kitchen helper. Today we're sharing the tricks of making my famous Triple Chocolate Kahlua Cake with our first YouTube video. Check it out and Subscribe!
This Chocolate Kahlua Cake recipe has reached over 50k pins on Pinterest because it's so decadently chocolatey while still being easy to make!
Moaningly good… Watch the video to end and you'll see just what I mean.
A twist on an old school rum cake recipe, we mix choclate pudding, dark chocolate syrup, and choclate cake mix with Kahlua and a touch of coffee to create the most moist Chocolate Kahlua Cake ever!
[Chocolate TIP] Chocolate flavors come alive with just a little bit of coffee. I always have a jar of this instant espresso to add to box brownies, cake mixes, or any chocolate dessert.
I'm using a chocolate cake mix in our video but if you prefer to make your own chocolate cake here's an easy one to try.
[Prep TIP] Dust your bundt pan with cocoa powder instead of flour so that you don't have white powder ruining the look of your cake.
Click Below For The Recipe…