Nectarine Blueberry Cobbler with Sugar Cookie Crust
Here's a quick cobbler you can get in the oven in minutes and let it bubble away while you eat dinner! Nectarine & Blueberry Cobbler with Sugar Cookie Crust has sweet fruit and spices piled under a store bought sugar cookie crust (huge time saver) that will become your favorite weeknight dessert.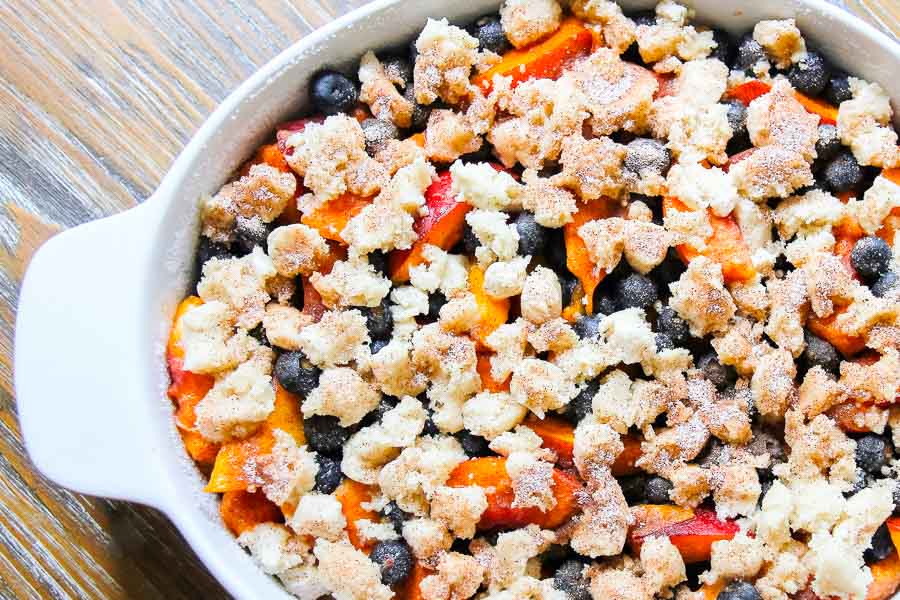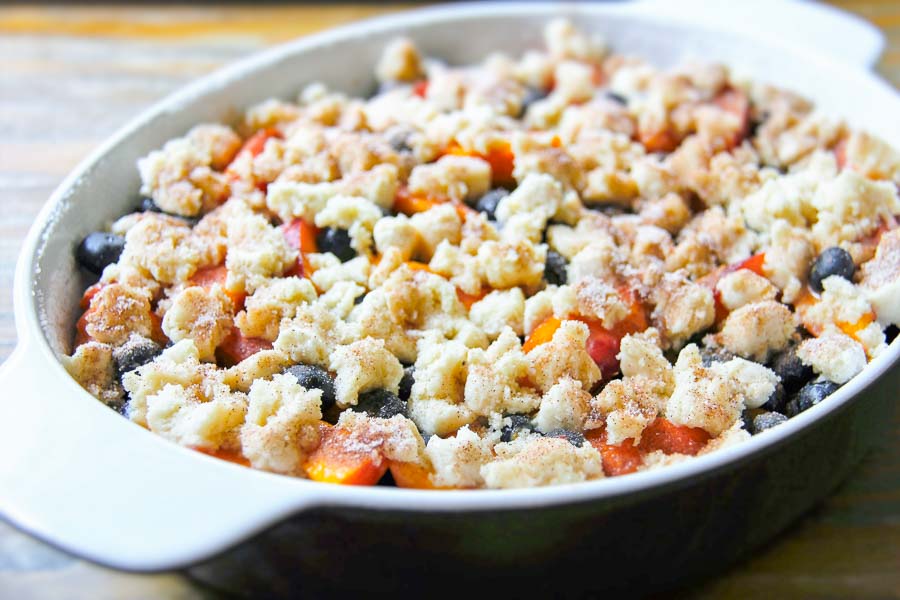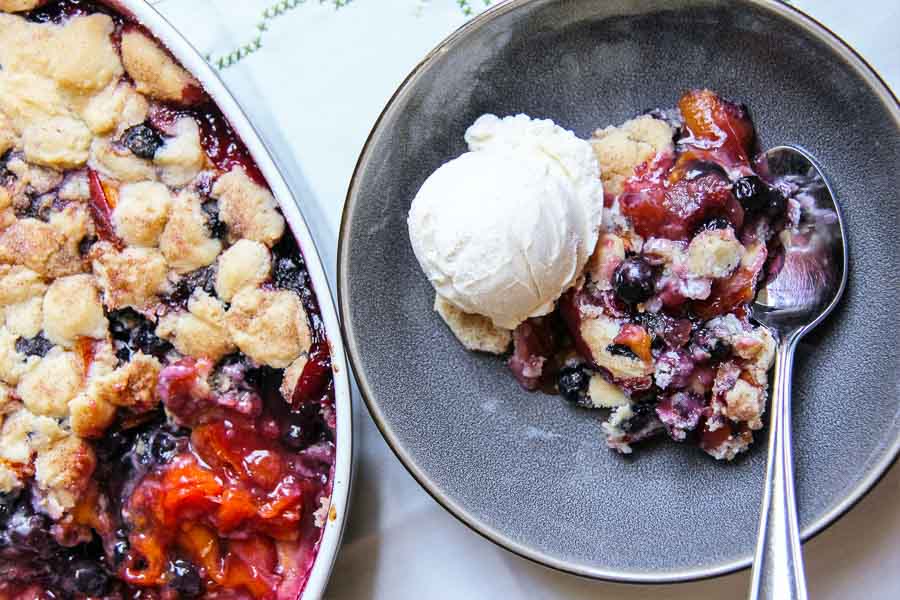 This easy blueberry cobbler will win you over! Our house doessn't do dessert every night. I don't have a sweet tooth and only 2 of my kiddos have any interest in sweets. In fact it takes us about a year to go through our Halloween candy stash (we have a canister called the candy box in our pantry). So when a gorgeous dessert (like Mandy's Triple Chocolate Kahlua Cake) comes around, it's a huge surprise at our family dinner table! They probably think I'm up to something…
When I bake – if I bake – I bake like I cook. Throw stuff in a pan and figure it'll work. And when you work with great ingredients it's not as big of a risk as it sounds. Nectarines, Blueberries, and a Sugar cookie Crust. That can't suck. Right? Just a bit more rustic and very fly by the seat of your pants, like this Nectarine Blueberry Cobbler with Sugar Cookie Crust.
The best part about it is how QUICK it is! A tube of store bought sugar cookie dough becomes the crust and juicy fruit (either fresh or frozen) jazzed up with a little ginger and spices. If you have a favorite sugar cookie dough that you love and maybe have a roll of stocked in your freezer (which would make you the ultimate smarty pants), feel free to use that. But since I rarely bake, a store bought tube is gonna work just fine for me.
Year round, our family goes through a ridiculous amount of fruit. It might be a slight addiction actually. During summer we always have mounds of fresh blueberries and juicy sweet nectarines in the fridge and fruit basket. I never refrigerate my peaches or nectarines (or tomatoes either) because the cold kills the flavor.
To whip up our Nectarine Blueberry Cobbler, toss the fruit with a bit of sugar and cornstarch and spices you already have in your kitchen in a big bowl. Dump all that yummy stuff into a buttered and sugared baking dish and top with little dollops of the sugar cookie dough. Bake until bubbly and golden and served with yummy vanilla bean ice cream or fro-yo. So insanely good and you're now the family super hero! WIN-WIN!
KITCHEN TIP:
Keep ginger from getting dried out and stringy! Peel ginger when you get home from the store and cut into chunks about 1″-2″ big. Put chunks into a snack size freezer bags and store in the freezer. When you want to use it, simply grate frozen ginger using a microplane zester. Ginger peels can be used to make homemade Ginger Simple Syrup for cocktails or homemade sodas.
NECTARINE BLUEBERRY COBBLER WITH SUGAR COOKIE CRUST
Nectarine & Blueberry Cobbler with Sugar Cookie Crust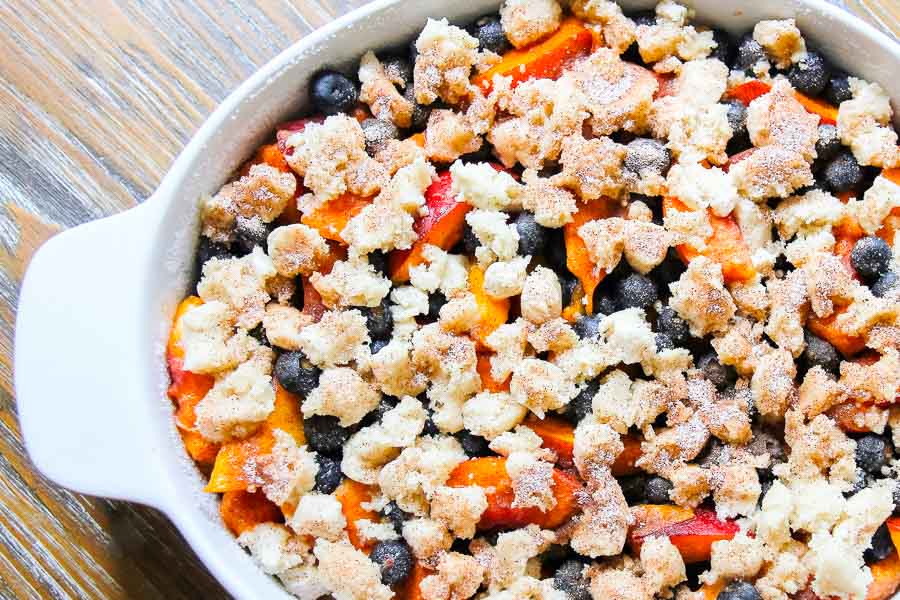 Here's a quick cobbler you can get in the oven in minutes and let it bubble away while you eat dinner!
Ingredients
4 cups nectarines, sliced (4-5)
4 cups blueberries
1/3 cup sugar
¼ tsp ground cinnamon, heaping
¼ cup cornstarch
1 Tbl orange zest, finely grated
½ cup fresh orange juice
2 tsp fresh ginger, peeled and finely grated
2 tsp brandy
½ tsp nutmeg, grated
1 tube sugar cookie dough
Ice cream, for serving
Instructions
Preheat oven to 350 degrees. Butter a 9x13 inch baking dish and sprinkle with 2 Tbl of the sugar; turn to coat the pan with sugar.
In a small bowl, mix 1 Tbl of the sugar with the cinnamon; set aside.
In a large bowl, toss the nectarines and blueberries with the remaining sugar, cornstarch, orange zest and juice, ginger, brandy, and nutmeg.
Spread the fruit in the prepared dish.
Pinch cookie dough into small pieces and scatter on top of fruit.
Sprinkle with the cinnamon sugar mixture.
Bake the cobbler until the cookie dough is golden brown and the fruit is bubbling, about 40-45 minutes.
Remove from oven onto a wire rack.
Serve warm topped with ice cream.
https://sumptuousliving.net/nectarine-blueberry-cobbler/
Copyright @ Sumptuous Living
YOU CAN "HAVE IT ALL" & NOT LOSING YOUR MIND IN THE PROCESS! THIS RECIPE WAS CREATED BY SUMPTUOUS LIVING FOUNDER & LIFESTYLE EXPERT MANDY LANDEFELD. READ MORE ABOUT MANDY HERE