Pots de Creme, The Adult Chocolate Pudding
Want to reach chocolate ecstasy in only 5 minutes? Our Pots de Creme recipe is dark chocolate pudding spiked with brandy and made in your blender. Sinful can be so easy!

All it takes is a few ingredients and a blender! You have the makings of the best chocolate pudding ever! Silky and so very chocolaty, Pots de Creme is the swanky way of describing what we all grew up loving as kids.
But now that we are older, wiser, and have managed to grow taste buds with their own 401K's, we can indulge in a chocolate pudding for grown-ups (though my kiddos eat it too… a tablespoon of hooch never hurt anyone).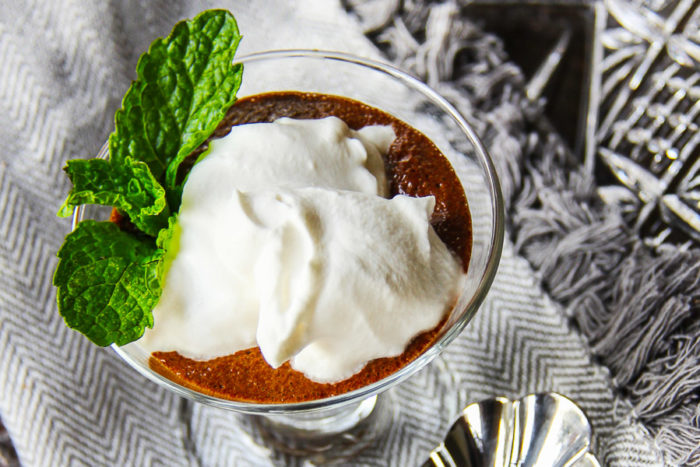 The key is the HOT coffee. It cooks the eggs and brings out the flavor of the chocolate all in one step. Even if you're not a coffee lover, you'll never taste the coffee and just get a super intense coffee flavor. Same thing goes for our most pinned recipe, Mandy's Triple Chocolate Kahlua Cake. And did I mention we make it in the blender… can you say one dish, no cook, heaven?
 TIP: I serve them in small little mason jars or mini martini dessert glasses (the pudding is so decadently rich, you only need a few bites of heaven!)
SERVING IDEAS: Ideal for Formal Dinner Parties, Cocktail Parties, Christmas, Valentine's Day, Birthdays, and Date Night.
Our Pot de Creme recipe is dark chocolate pudding spiked with brandy and made in your blender.
Ingredients
2 cups dark chocolate chips
4 eggs at room temp
3 tbs. brandy, divided
pinch of salt
8 oz. very hot strong coffee
1 cup heavy cream
1 tsp sugar
Instructions
In a blender, place the chocolate, eggs, 2 tbs. brandy and salt in the blender.
Pulse well to break up the chocolate.
Then turn the blender on to run and slowly pour in the hot coffee (coffee must be hot here). Continue blending until mixture is thick and creamy smooth.
Pour into small shot glasses or mason jars.
Place in the fridge to cool (I place all my glasses onto one tray for easier transport).
Meanwhile whip the cream with sugar and remaining 1 tbs. brandy until you have stiff peaks.
Top on chocolate crème.
https://sumptuousliving.net/pots-de-creme/
Copyright @ Sumptuous Living