Orange Chocolate Chunk Cookies
Dark chocolate! Orange zest! Buttery crisp cookies! What's not to love with these incredible Orange Chocolate Chunk Cookies? And we share our fave tip for how to freeze cookie dough for easy weeknight dessert!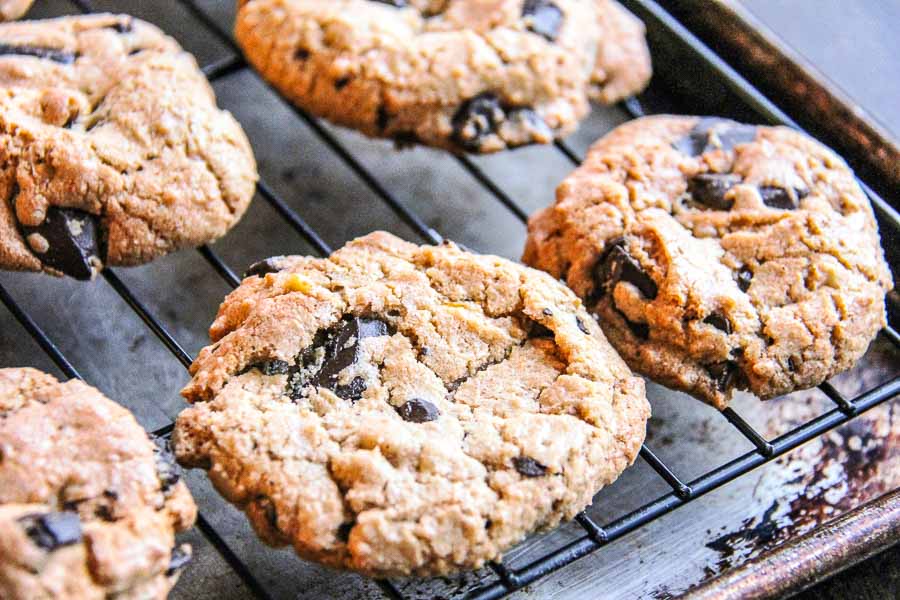 Who doesn't like chocolate chip cookies? It may very well be the best thing on earth! When a warm, freshly baked cookie hits your mouth and it's slightly crispy on the outside but soft and amazingly gooey on the inside, that is the best kind of treat! Nothing can top it and these are my favorite. Orange Chocolate Chunk Cookies. They are so ridiculously good!
I am a true believer in dark chocolate. My kids are too. We have a saying that if I wanted sugar in my chocolate, I'd just buy sugar. That's how we feel about milk chocolate, so in our house, it's go dark or go home. Milk chocolate is sweet like candy not rich like chocolate. It doesn't belong in my cookie, my s'more, or my brownies. But in your house, you can choose whatever you want! (But dark chocolate is the obvious winner, let's be clear).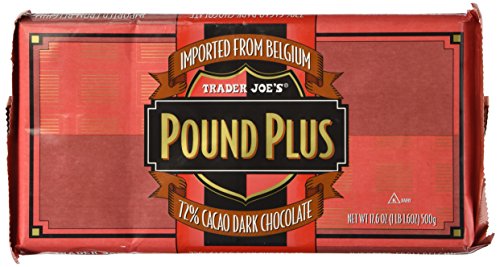 I always have a brick of Trader Joe's Pounds Plus Dark Chocolate on hand in my pantry. A little snap of chocolate in the afternoon never hurt anyone and this one is just as good to nibble on as it is to bake with. This TJ's dark chocolate bar only costs about $5 in the store for over a pound of great chocolate. Any great chocolate bar will work. Use what you like. Another great option is a bag of pre-chopped dark chocolate chunks. My pantry always has a bag of Kroger's private selection dark chocolate chunks in it. But that bag is never full cuz my dang kiddos steal a few chunks for their yogurt parfaits for after school snack. Little thieves.
There are a few secret ingredients that can enhance and intensify the flavor of chocolate. Coffee is amazing in an all chocolate dish like a cake or brownies. Coffee is a key player in our most pinned, tweeted, printed recipe. Mandy's Triple Chocolate Kahlua Cake. Get the recipe here (we even have a video for how to make it).
Another great awaken-er of chocolate is orange. Not the juice tho. Orange zest brightens lighter desserts like pies and cookies, although it's crazy good in a rich torte too. That's what we are using today in our Orange Chocolate Chunk Cookies (but you probably figured that out from the name cuz you're a smarty pants). I happened to have clementines handy, but any orange will do. Just zest the orange and hand the rest over to a nearby kiddo to enjoy for a snack.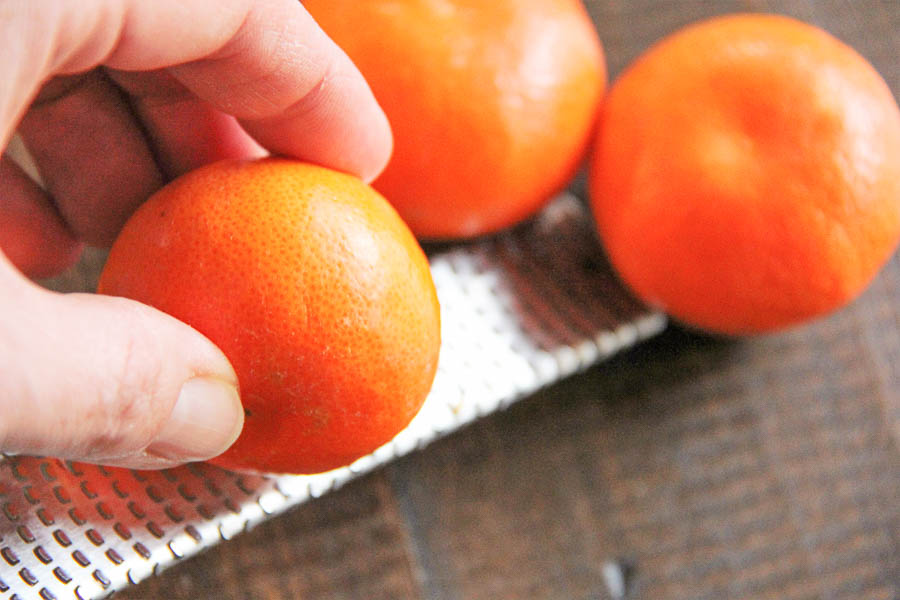 Using a mixture of butter AND shortening keeps the Orange Chocolate Chunk Cookies buttery crisp without falling in the center. These cookies make you stop everything you're doing! No answering the phone, no checking the kid's teacher blogs, and you'll probably be late for carpool. Oh well. They are so good that, in our house, we ration them. We bake enough to last a day or two and freeze dough balls of the rest for a future quick bake. Did you hear that? Major easy weeknight kitchen TIP alert!
COOKIE BAKING FOR EASY WEEKNIGHT DINNERS
You don't have to bake all the cookies that a batch makes. Simply line a sheet pan with wax paper or parchment and scoop the cookies using an ice cream scoop. Place the dough balls pretty close together, since you're not baking them and they won't expand. Pop the loaded up sheet pan into the freezer. You don't have to cover it.
Once the dough balls are frozen, transfer them to a gallon sized zipper freezer bag and label them Orange Chocolate Chunk Cookies with the bake time and temp. Store the bag in the freezer and when you want warm cookies at the end of dinner, simply heat up your toaster oven or keep the main oven on if your using it to make dinner (this recipe is a good one to try).  You can bake how ever many you think your clan will enjoy for dessert just that night. Keeps it more of a special surprise that way!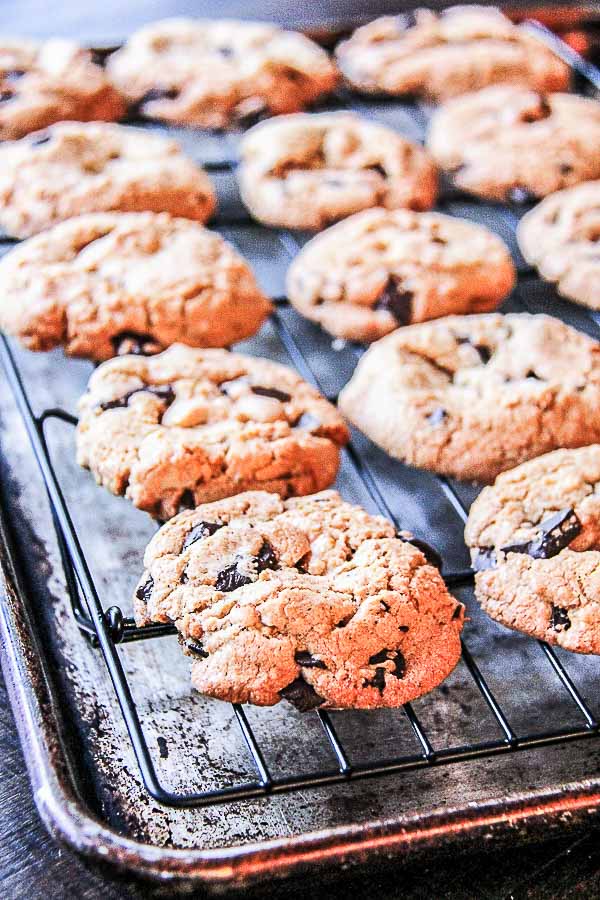 The whole recipe can be done in one stand mixer. Make sure to preheat your oven so it can be warming up while you mix the batter. I use convection not only for baking but for pretty much anything I cook in the oven. If your oven doesn't have convection, don't worry about it.
First beat the room temp butter with the sugars until pale yellow with your paddle attachment. Not the whisk. Then add in the eggs and vanilla. If possible, use room temperature eggs instead of cold ones, but if you didn't take them out ahead of time, no big deal. Let that beat on high while you gather the dry ingredients and chop the chocolate and nuts. We want it to get to a very pale yellow, so let it beat away like crazy. In a separate bowl mix together the baking soda, salt, and flour. No need to sift it.
Once the butter and egg mixture is a fluffy pale yellow almost white color, turn down the mixer to a slow stir. Now add the dry ingredients in a few batches, only mixing until barely mixed. If you over mix, it can make the cookies tough. Finally mix in the chocolate chunks, orange zest and chopped walnuts. All you need to do ins simply fold these in. Once mixed up, scoop the dough onto a silicone baking liner like this one or a sheet pan lined with parchment paper. Remember our tip from above if you're planning on freezing some for later. Then bake until golden and perfect.
ORANGE CHOCOLATE CHUNK COOKIES
Orange Chocolate Chip Cookies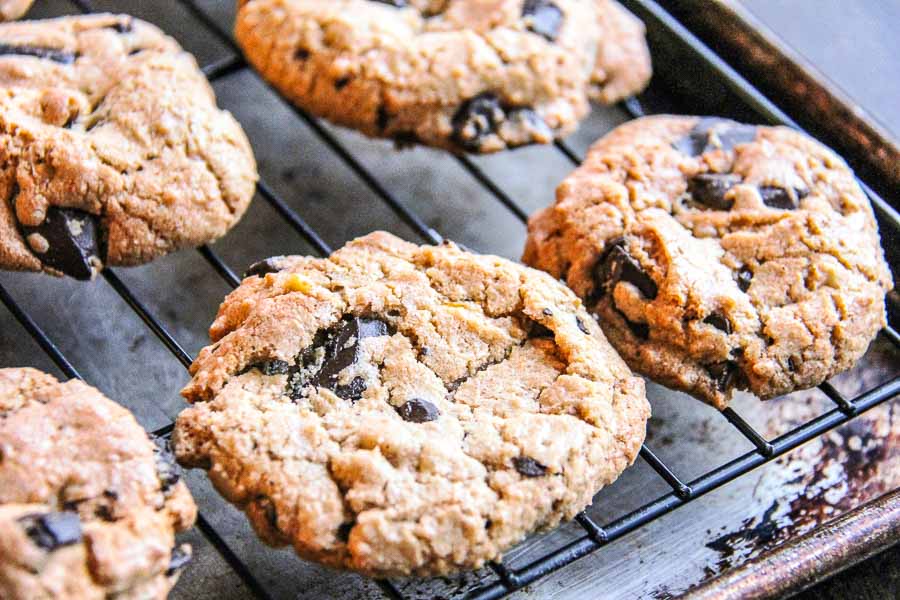 Crisp and soft. Our Orange Chocolate Chunk Cookies are bright from the orange zest and rich with dark chocolate chunks.
Ingredients
1 cup butter (2 sticks)
1/2 cup granulated sugar
1 1/2 cup packed light brown sugar
1 1/2 tsp good vanilla extract
2 eggs
2 1/2 cups all-purpose flour (be sure to fluff and loosen the flour before measuring)
1 tsp. baking soda
1 1/2 tsp. baking powder
3/4 tsp. course sea salt
1 cup chopped walnuts (optional)
1 1/2 tbs. orange zest (zest of 2 navel oranges)
15-16 oz. semi-sweet chocolate chunks (1 1/2 bags of 10 oz bag of dark chocolate chunks)
Instructions
Preheat oven to 350 degrees (convection setting if you have it). Cream butter, granulated sugar and brown sugar with mixer in large bowl. Beat until light yellow (about 4-5 minutes). Add vanilla and eggs. Beat on high for 4 to 5 minutes until fluffy and light. Add in orange zest. In a small bowl mix flour, baking soda, baking powder and sea salt. Stir to combine. Gradually add flour mixture to butter mixture. Mix just until combined. Stir in walnuts and chocolate chunks.
Line baking pan with parchment paper or silicone baking liner. Using a small scooper drop cookies onto pan 2 inches apart. Bake 9-11 minutes or until slightly golden brown. Remove cookies from pan and place on cooling rack.
Only bake enough cookies that you want to eat right away. You can freeze the remaining dough for another time. To freeze: Drop cookie dough with small scooper onto wax paper lined cookie sheet. You can place them close together. Place pan into freezer until frozen. Remove from freezer and place dough balls into zipper freezer bag. When ready to cook, remove from freezer follow baking directions above.
https://sumptuousliving.net/orange-chocolate-chunk-cookies-8/
Copyright @ Sumptuous Living
YOU CAN "HAVE IT ALL" & NOT LOSING YOUR MIND IN THE PROCESS! THIS RECIPE WAS CREATED BY SUMPTUOUS LIVING FOUNDER & LIFESTYLE EXPERT MANDY LANDEFELD. READ MORE ABOUT MANDY HERE