Apple Crisp Pie
Apple crisp and apple pie blend together to make the best holiday dessert ever! And we teach you how to make the ultimate flaky crust in one step!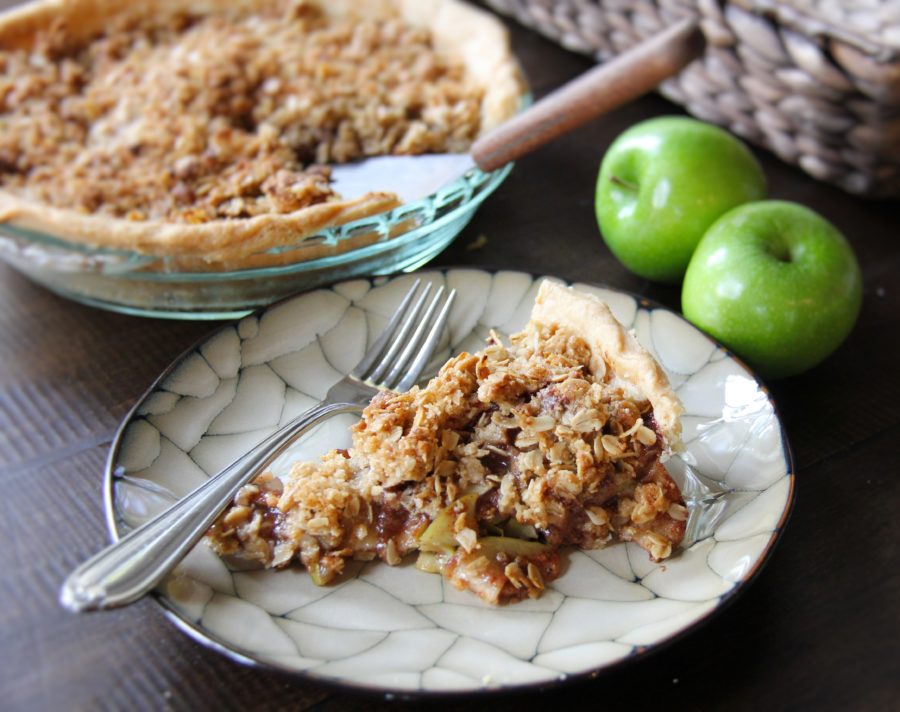 Apple Crisp… yum. Apple Pie… yum again. Apple Crisp Pie! Put them together and guess who just might be THE MOST FAVORITE PERSON EVER this holiday? You, Baby! All You!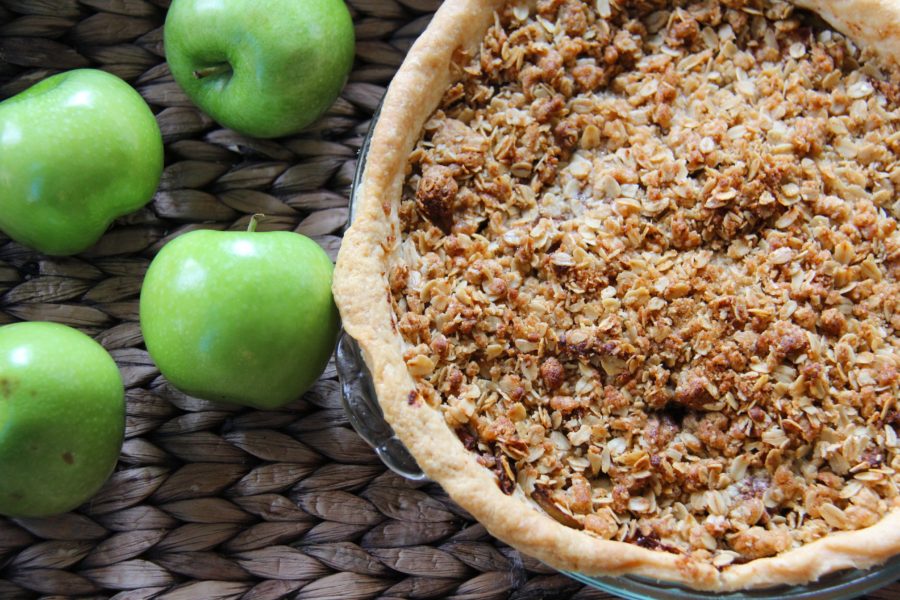 This Apple Crisp Pie is so flaky, so buttery, so deliciously amazing! The apples are still slightly crisp and perfectly highlighted with salted toffee caramel goodness. Then you add an apple crisp topping? What?!? It's insanity! But good insanity. Topped with vanilla ice cream or frozen yogurt and you'll have the best dessert ever!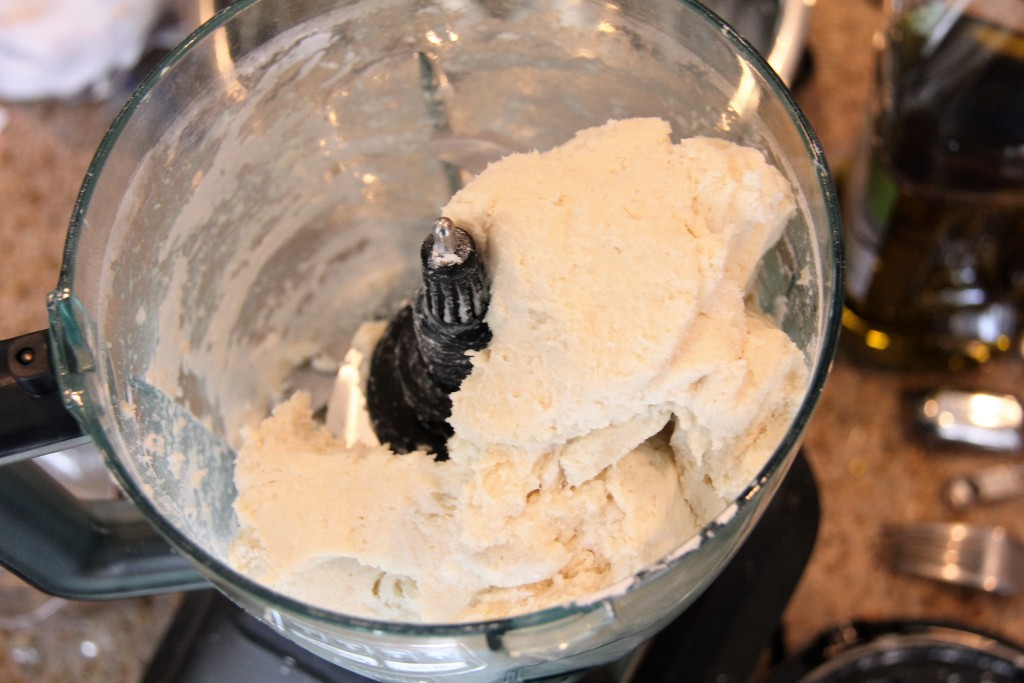 PIE CRUST TIME…
Start with the crust. My Aunt Kathy always insisted that the best pies are only as good as their crust. She was right, of course. Even if you've never made a homemade crust before, try this crust. All the ingredients go into a food processor and simply pulse together until a dough ball forms. Roll out the dough and place in an ungreased pie plate.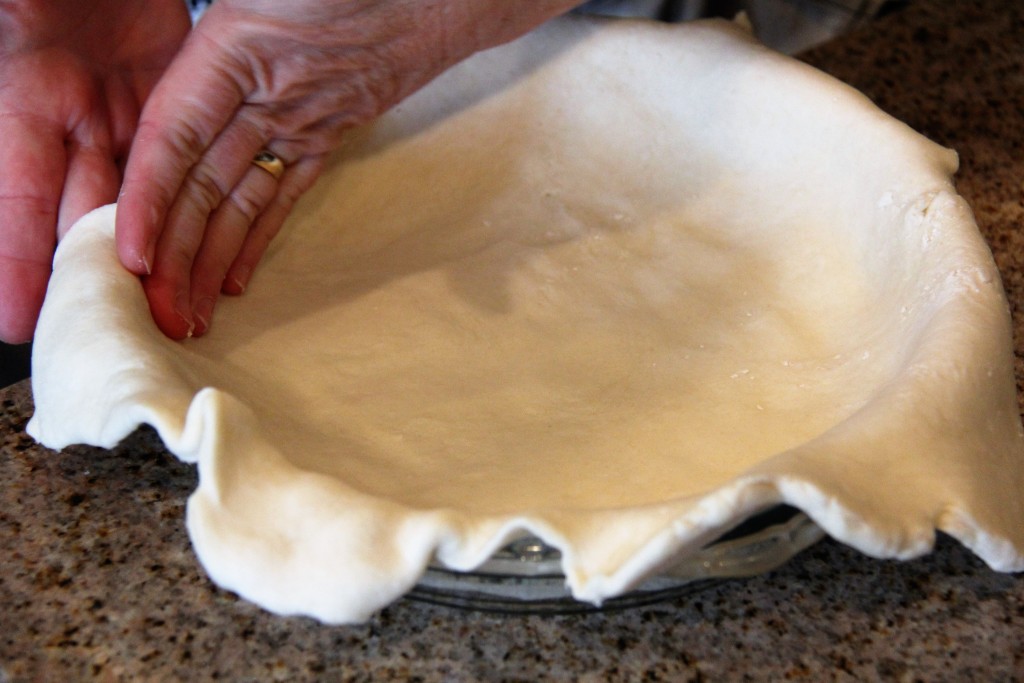 Brown sugar, oats, butter, & salt mix together to make the crumble topping.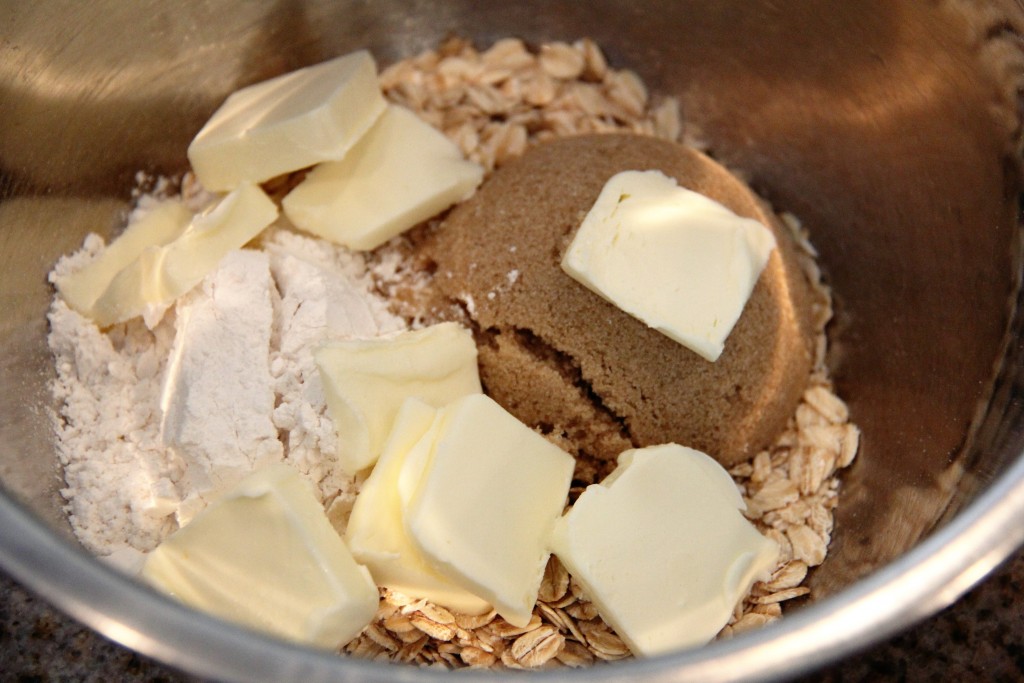 Toss Granny Smith apples with nutmeg, cinnamon, toffee chips and brown sugar.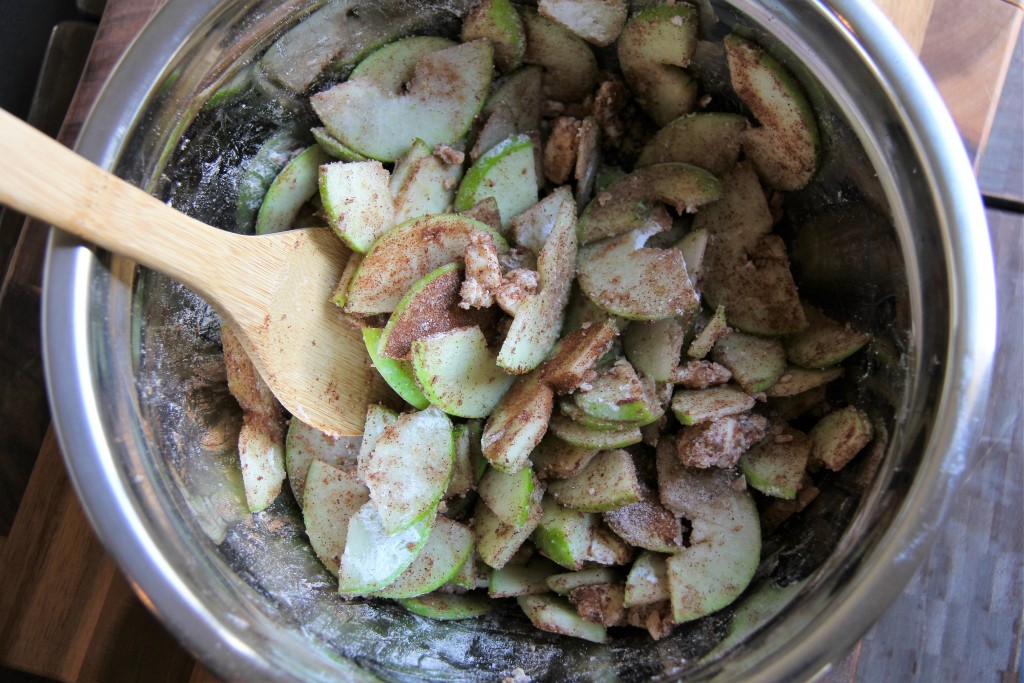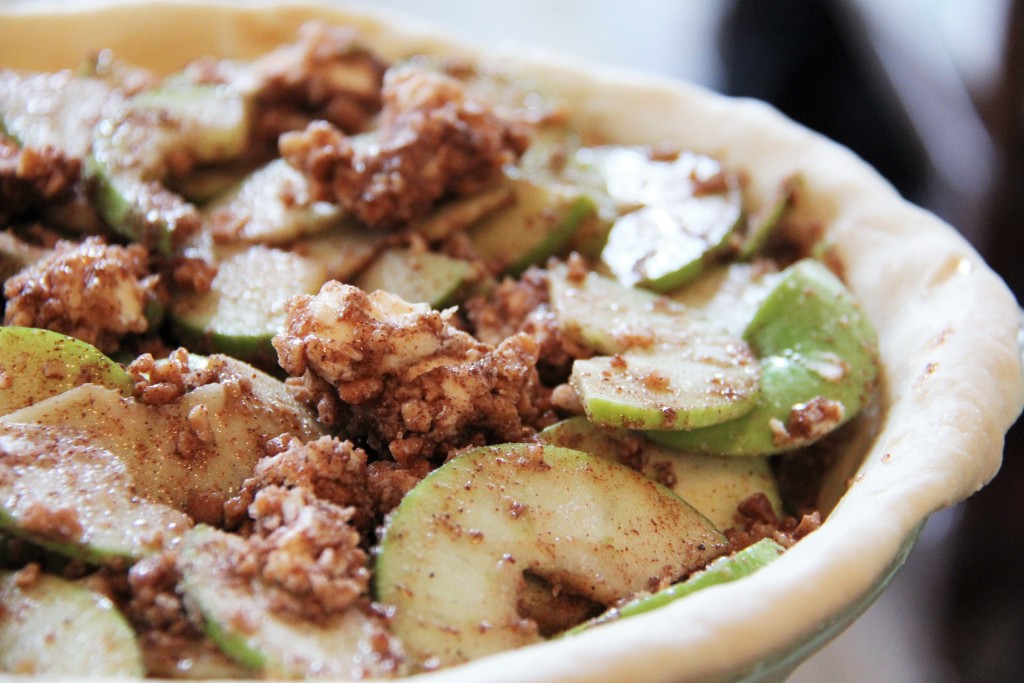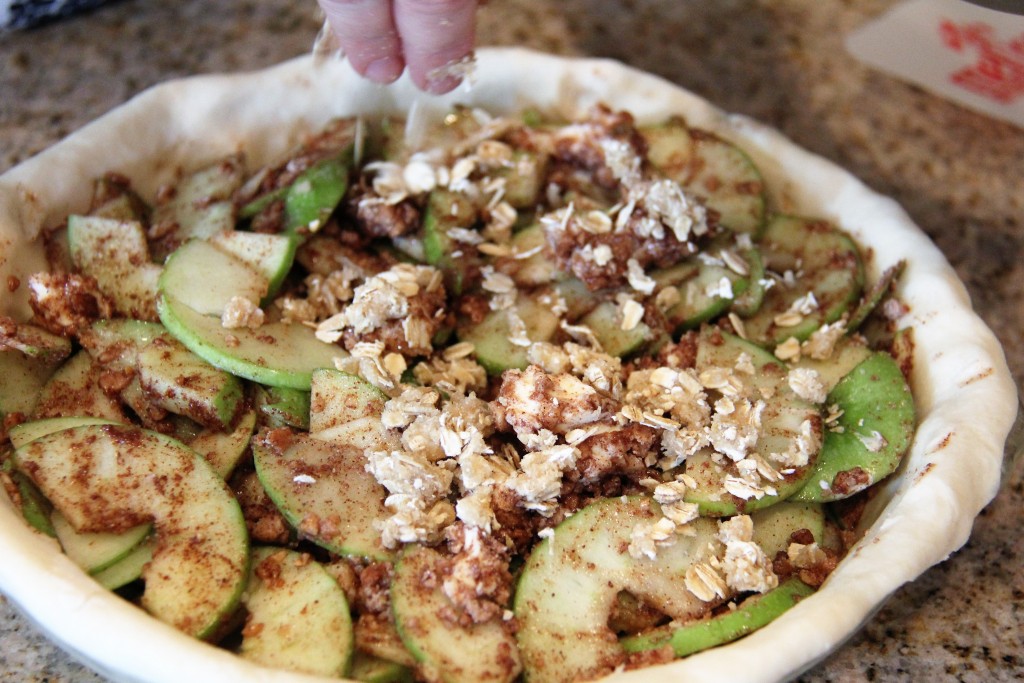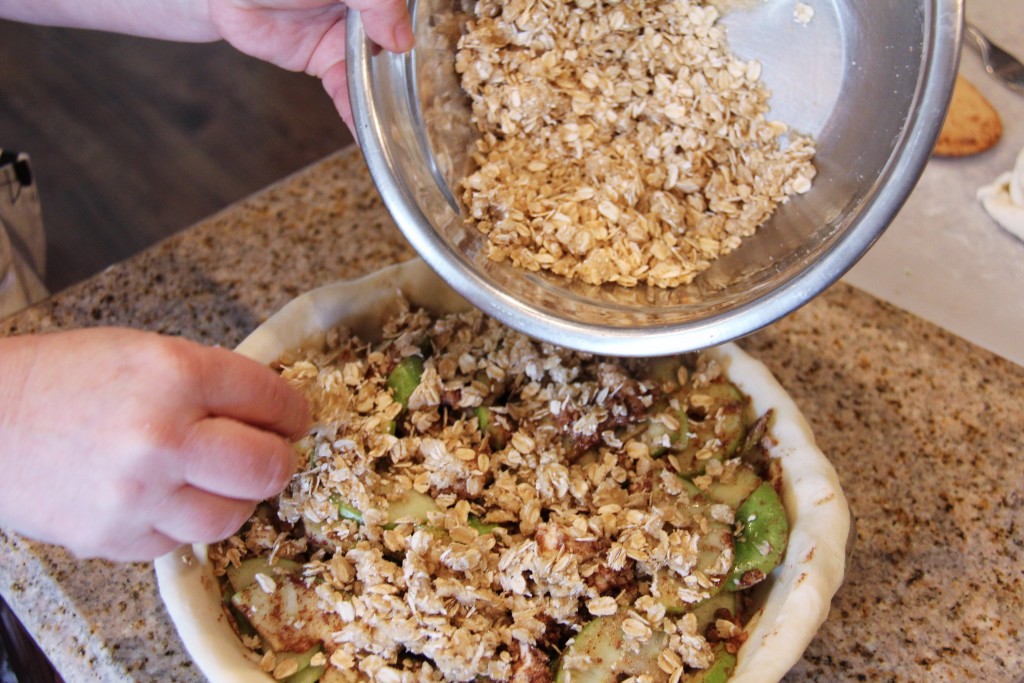 Top with the crumble topping and bake the Apple Crisp Pie. Look at this baby! Isn't it gorgeous? Pretty sure I hear vanilla ice cream whining from the freezer wanting to come out and play!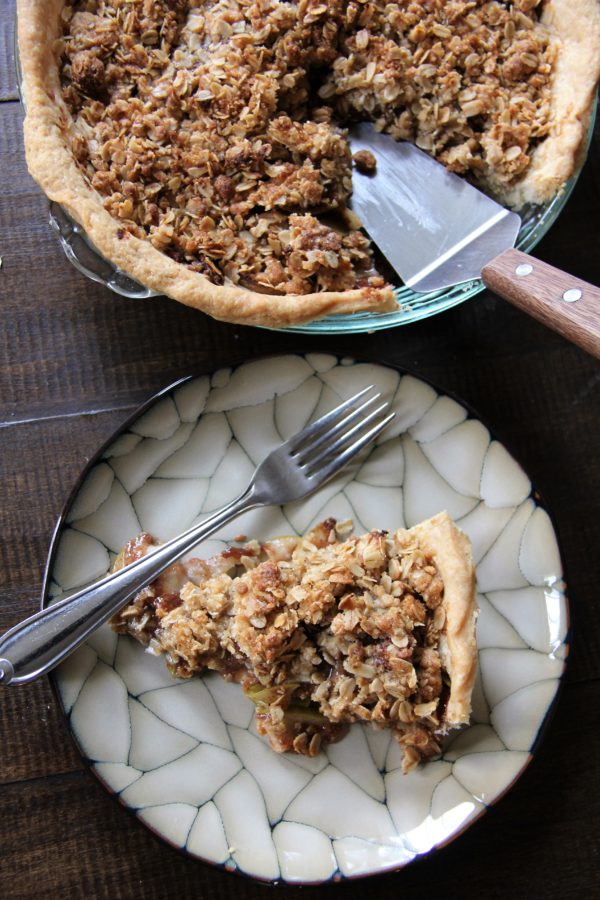 Apple crisp and apple pie blend together with toffee chips to make the best holiday dessert ever!
Ingredients
Pie Crust

2 1/2 cups All Purpose Flour
1 1/2 stick Butter (cold)
1/2 teaspoon Kosher Salt
1/2 cup Iced Water
Filling

5 cups Green Apples (unpeeled, cored and sliced thin)
4 tablespoons Butter
1/3 cup Sugar
2 tablespoons All Purpose Flour
1/2 cup Toffee Chips
1 1/2 teaspoon Cinnamon
1/2 teaspoon Nutmeg
1/2 teaspoon Kosher Salt
Crumble

1 cup Oatmeal
1/3 cup Brown Sugar
1/3 cup All Purpose Flour
4 tablespoons Butter (room temperature)
Instructions
Preheat oven to 350 degrees.
Crust

For the pie crust blend flour, butter, salt and iced water in a food processor to make dough.
Wrap in plastic wrap or wax paper and refrigerate for 30 minutes.
Filling

In a large bowl, mix sliced apples, sugar, flour, spices, salt and chips.
Cut butter into small pieces. Set aside.
Crumble

In a medium bowl add brown sugar, oats and flour.
Cut butter into small pieces and add to bowl.
Using a pastry blender (or your hands) combine ingredients to form a crumble topping.
To Assemble Pie

On a lightly floured surface roll out pie dough to form a circle slightly larger than pie pan. You don't want it to be too thick.
Place crust in pan and press down gently so that dough takes the form of the pan making sure that the dough goes up the sides and slightly over the edge.
Take a knife and cut around the outside edge of pan to remove extra dough.
Pour apple filling into pie shell and arrange butter on top.
Using your hands sprinkle crumble topping on top of apples.
Press gently to cover most of the apples.
Place pie on baking sheet and bake for 1 hour, covering with foil if needed.
Remove from oven onto a wire rack. Let cool a bit.
Serve warm with whipped cream and sprinkle of cinnamon sugar.
https://sumptuousliving.net/apple-crisp-pie-2/
Copyright @ Sumptuous Living