Prep Ahead! Fig & Walnut Crostini
Don't miss out on the best part of a dinner party! Gathering in the kitchen with a platter of Fig Walnut Crostini that's wonderfully easy to prep ahead!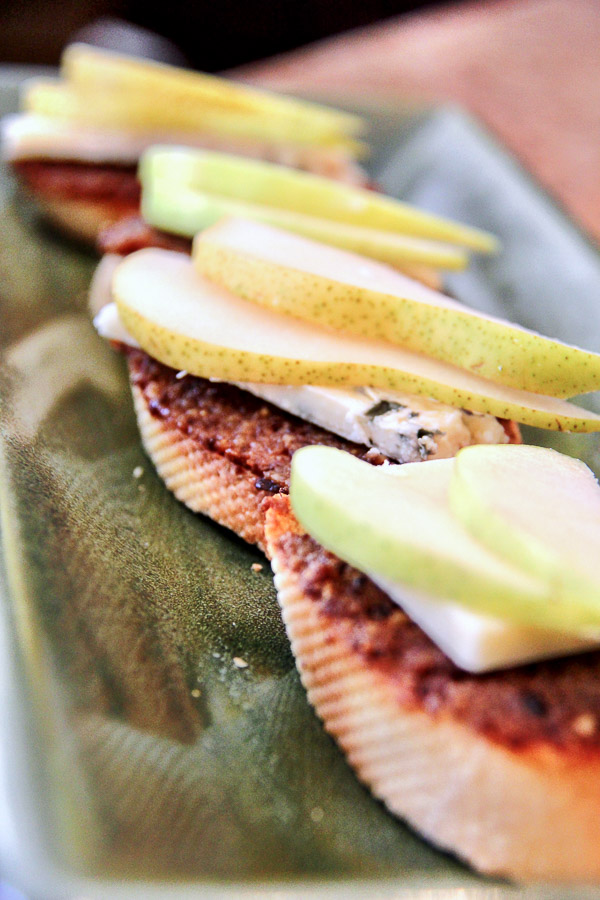 FIG WALNUT CROSTINI
Every now and then, it's nice to really impress people at a dinner party. You slave over a nice entree, mix up some delicious cocktails, and have a beautiful dessert in the oven. But sometimes we forget about what is one of the most important parts of a meal: the appetizer.
The Happy Hour part of the party is where we all catch up and chat and hover around in the kitchen. It's the most fun part. If you put all of that work into a great meal, but forget to have something that people can munch on beforehand, you're missing out on a great opportunity. Today, we have a Fig & Walnut Crostini recipe that is sure to get any dinner off on the right foot, and likely have your dinner guests impressed right from the start.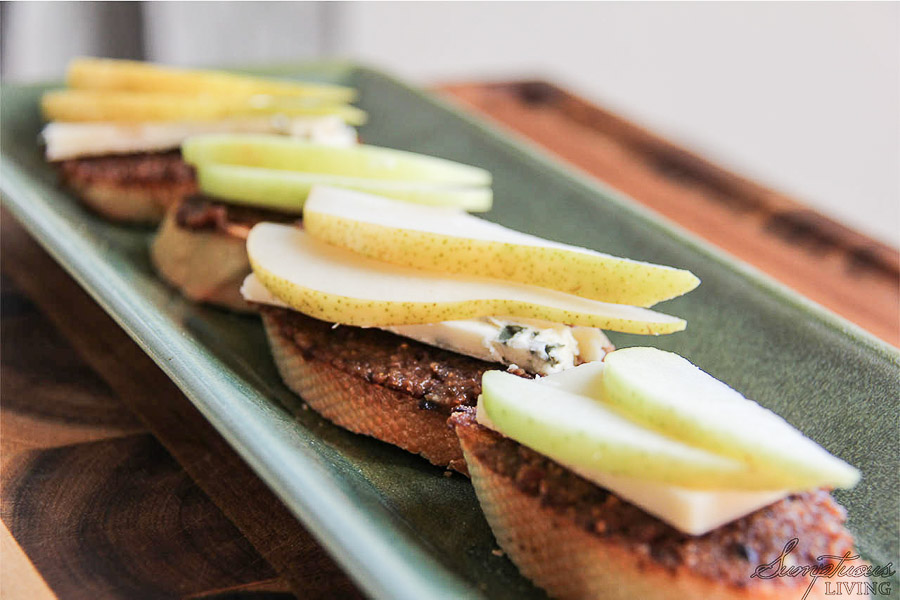 The reason that appetizers are so important is two fold. One, they are often fairly simple to make and two, they are a great way to sneak in some really creative cooking. Take our Fig Walnut Crostinis for example. The only real cooking you have to do is toasting a lovely baguette. And it's not like you have to make that baguette yourself. Pick up one at the store, cut it into small slices and let them toast off with a nice drizzle of olive oil.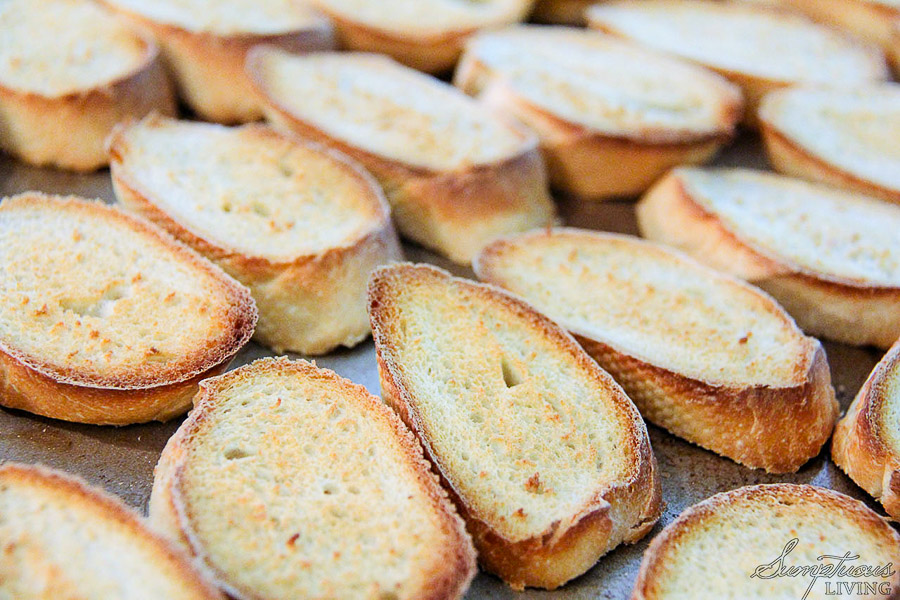 But the real star of any crostini dish is the topping.  It's like crack and if your guests are anything like mine, they'll want a jar of the schmear to take home. As the title implies, figs and walnuts are the main ingredients of our crostini topper but it's the combination of those with brandy and maple syrup that turns the topping into a religious experience!
Walnuts are a classic Sumptuous Living ingredient (you can find them in quite a few of our recipes) and figs are a criminally underrated treat. I think most people have never given figs a try outside of childhood Fig Newtons. They are delicate, sweet and earthy and just oh so good in so many applications.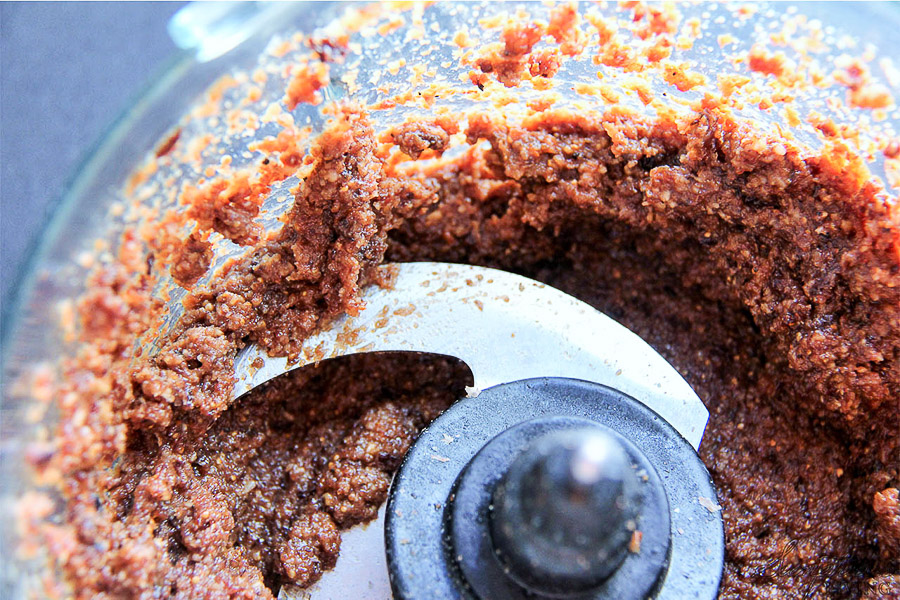 Here is where you can start to get creative with your crostini. What you choose to layer on top of the fig spread is entirely up to you, although I would suggest cheese and apples as we have done here.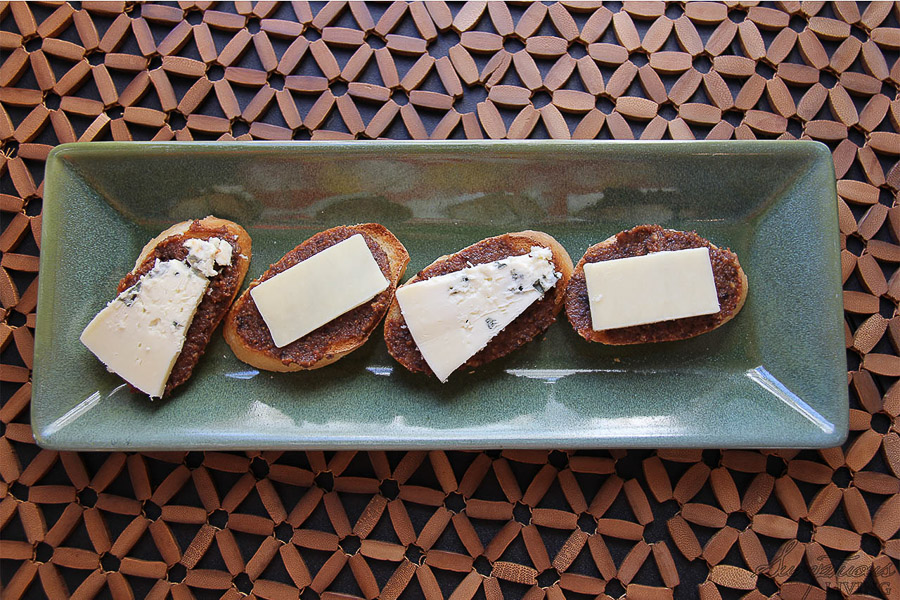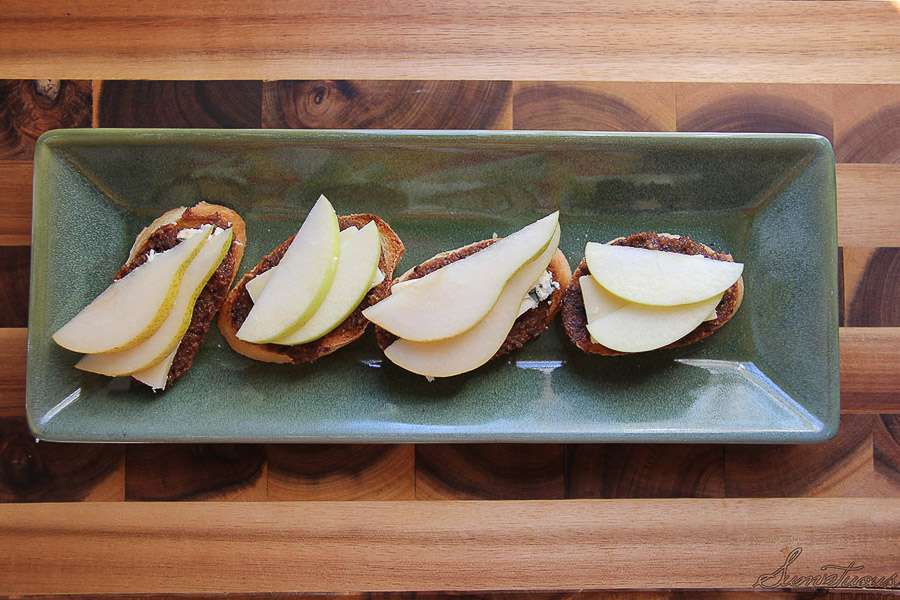 The cheese you pick is really down to preference. Our Fig Walnut Crostini recipe calls for a nice sharp cheddar to counterbalance the sweetness of the spread. However, I think a blue or Gorgonzola cheese will work perfectly as well. And if you throw a nice crisp slice of apple or pear, the pairing (no pun intended) is perfect.
If you need some more dinner ideas, don't forget to check out our recipe index!
Our fig & walnut crostini is an awesome appetizer that can stand on it's own as a delicious treat.
Ingredients
8 dried figs, halved
½ cup maple syrup
½ cup brandy
½ cup chopped toasted walnuts
1 baguette sliced
Olive oil, for drizzling
Kosher salt
Sharp White Cheddar, sliced
2 large apple (Gala or Braeburn), thinly sliced
Instructions
Preheat the oven to broil.
Place a small saucepan over medium heat.
Add the figs, maple syrup, and brandy.
Bring the mixture up to a simmer.
Turn off the heat and let sit for 10 minutes.
Place the fig mixture and the walnuts in a food processor and blend, pulsing a few times, until pureed. Set aside.
Place the baguette slices on a heavy baking sheet.
Drizzle with olive oil and sprinkle of kosher salt.
Broil until the bread is toasted and golden, about 2 minutes. DON"T BURN IT!
Top each slice of toast with 2 teaspoons of fig jam, a slice of apple and a piece of cheddar. Transfer the toasts to a serving platter and serve.
Notes
Optional alternative – use pears and blue cheese instead of the apples and white cheddar cheese.
https://sumptuousliving.net/fig-walnut-crostini/
Copyright @ Sumptuous Living