Spring Salad Love! Strawberry Walnut Salad
Looking for a gorgeous salad for Spring? Our Spring Salad with Strawberries & Candied Walnuts has creamy goat cheese and a bright balsamic vinaigrette that's ideal for any occasion! 

Spring is here! Whoop! Time for Easter, Brunches, Garden Parties, and Bridal Showers. We also start to eat a little lighter and fresher, so now's the perfect time to whip out a gorgeous salad that you'll love forever like our Strawberry Walnut Salad. Ripe strawberries, candied walnuts, and goat cheese all atop a mound of leafy spring greens and drizzled with a light balsamic vinaigrette. Yum, right? Top it with grilled chicken or shrimp and it becomes an amazing dinner salad!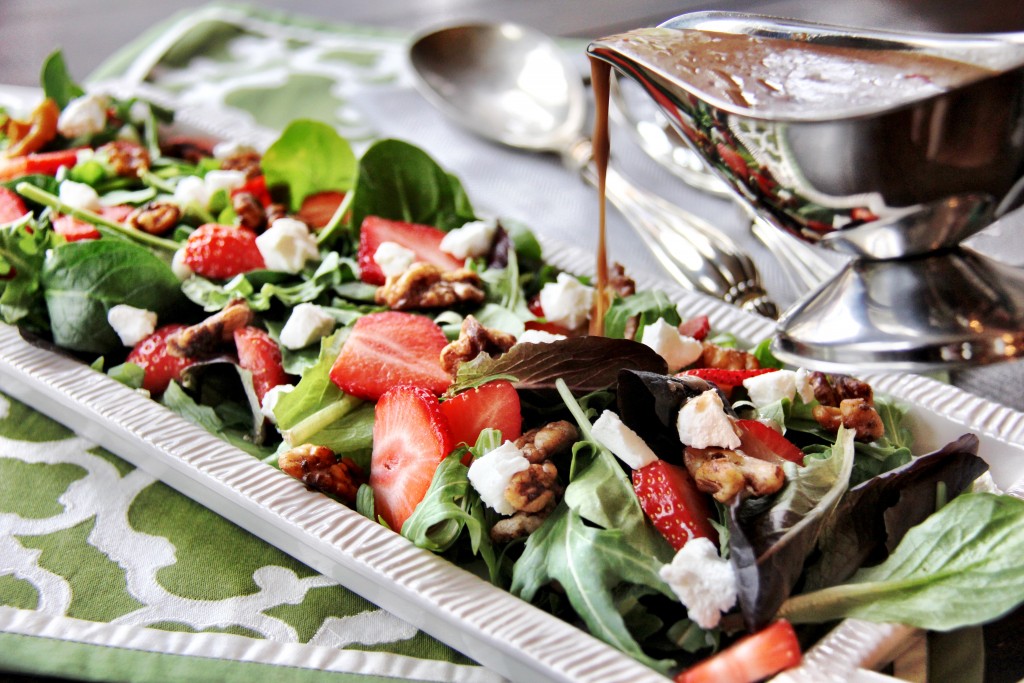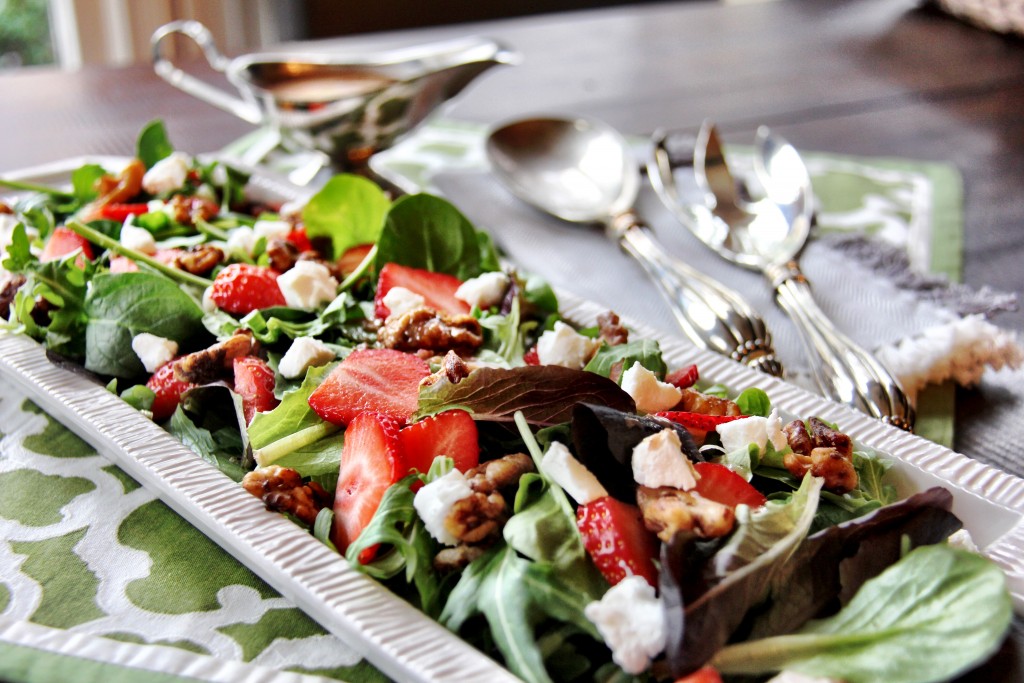 Our Strawberry Walnut Salad has creamy goat cheese and a bright balsamic vinaigrette that's ideal for any occasion.
Ingredients
Candied Walnuts

2 tablespoons unsalted butter
1/2 cup walnut halves
½ tsp. cayenne
pinch of salt
½ tsp cinnamon
2 tablespoons packed light brown sugar
Salad

3 cups spring greens
¾ cup candied walnuts (recipe follows)
1 ½ cups sliced strawberries
8 oz. crumbled goat cheese
¼ cup finely sliced green onions
Dressing:

1 cup olive oil
1/3 cup balsamic vinegar
1 shallot, chopped
1 tsp. kosher salt
½ tsp fresh ground pepper
1 tbs. Dijon mustard
juice of ½ lemon
1 tbs. honey
Instructions
Candied Walnuts

Make the candied walnuts first so they cool (triple the recipe and use for future).
Melt the butter in a large skillet over medium-high heat.
Add the walnuts and cook, stirring, until golden brown and toasted, 3 minutes.
Add the sugar and spices and cook, stirring, for 1 minute.
Transfer to a piece of waxed paper to cool.
Dressing

Place all the ingredients for the dressing into a blender or a mason jar with a tight fitting lid and blend well. Set aside.
Salad

Layer the salad fixings and drizzle the dressing on and toss gently.
https://sumptuousliving.net/strawberry-walnut-salad/
Copyright @ Sumptuous Living