Vera Cruz Style Tilapia
Get this easy and flavorful recipe for Vera Cruz Style Tilapia (or any fish you fancy) baked with olives, capers, tomatoes, jalapenos & lime. Reinvent your love for fish and make everyone say "Wow" at dinner tonight!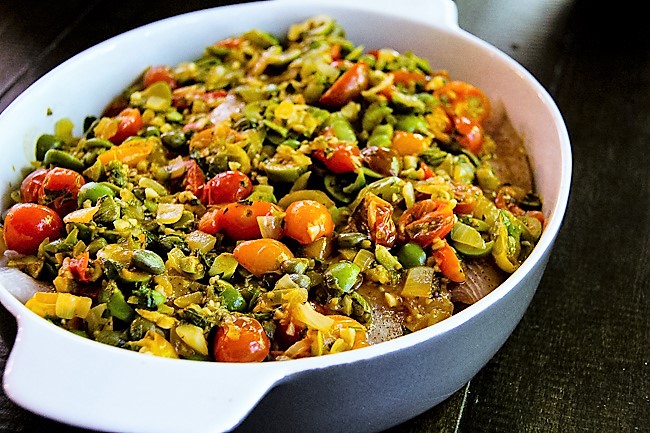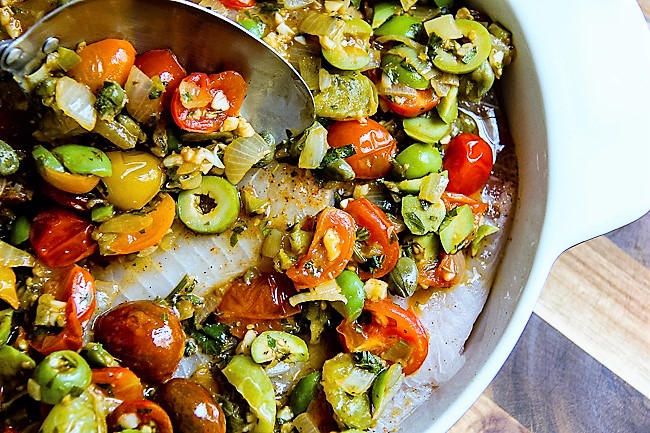 I could live my life eating seafood morning, noon, and night! Insert a cocktail and a good salad here and there and my life would be just fine-ola. In fact, we used to spend a month every summer touring my home state of Louisiana when my monkeys were little and I would have to come home and suffer through a seafood detox because I would eat my weight in seafood every chance I got. Atlanta is not the seafood capital of the world and I'm a girl who pines for fresh fish. Longs for and dreams about seafood!
My cooking career actually started with a dear friend saying "Mandy, I'm gonna invite a bunch of friends and you're gonna teach us how to make fish."  I said OK and that began a whole new life! I love it that much. My kiddos do too. And really, it's not hard to cook. It's actually the quickest and easiest thing you can get on the table but, for whatever reason, people freak out about cooking fish. It's intimidating to them. My cure… STEP 1- Make A Cocktail, STEP 2- Make sure there are Cheerios in the pantry in case you need a back up plan, STEP 3- Make this Vera Cruz-Style Tilapia Recipe!
This Vera Cruz sauce is inspired by California surf towns and full of olives, tomatoes, garlic, capers, jalapenos, and fresh lime. Flaky fish (either Tilapia or Red Snapper) is baked layered in this amazingly briny and fresh sauce. Super Healthy. Super Quick. Super Easy…. sound like a surfer? Dude!
Vera Cruz-Style Tilapia Recipe
Super Healthy! Super Quick! Super Easy! Reinvent your love for fish.
Ingredients
6-8 Tilapia or Red Snapper Fillets
2 tablespoons Olive Oil
1 cup Sweet Onion (chopped)
1 cup Castelvetrano Olives (or other green olives) (pitted & halved)
1 Jalapeno (seeded & chopped)
1 1/2 cup Cherry Tomatoes (halved)
3 cloves Garlic (minced)
1/4 cup Fresh Oregano (chopped)
1/4 cup Fresh Italian Parsley (chopped)
1 jar Capers (rinsed & drained)
1 teaspoon Kosher Salt
1/2 teaspoon Freshly Ground Black Pepper
1 Lime (zested & juiced)
Instructions
Preheat oven to 400 degrees. In a large skillet over medium-high heat, saute onions in olive oil until soft.
Add olives, jalapenos, and tomatoes. Cook an additional 2-3 minutes.
Add in herbs, garlic, salt & pepper, lime zest and lime juice. Stir and remove from heat.
Season fish with salt and pepper, lay in a lightly oiled baking dish.
Top with olive mixture.
Bake for 20 minutes or until fish is opaque and flaky.
https://sumptuousliving.net/vera-cruz-style-tilapia/
Copyright @ Sumptuous Living
Save