Easy 30 Minute Shrimp & Sausage Jambalaya Pasta in Pesto Cream Sauce
Get dinner on the table in just 30 minutes! Our Shrimp & Sausage Jambalaya Pasta is tossed in a creamy pesto sauce and will make everyone's belly happy.

You don't need to kill yourself to make an amazing dinner! Most of the time I have no idea what I'm making for dinner til I open the fridge and look to see what I've got handy. If you're a planner then you are a rock star! Despite being an after thought, incredible meals CAN be 1.) Easy 2.) Quick 3.) Damn Delicious! Promise babe! Our Shrimp & Sausage Jambalaya Pasta with Pesto Cream Sauce is done in the time it takes you to boil your pasta! Seriously.
Plump shrimp and smoky sausage (I always use this sausage) sauteed with onions and peppers and tossed together with curly pasta, pesto sauce and cream. Ingredients you could always have stocked in your kitchen (sausage and shrimp are always in my freezer for quick, last minute meals). The key is to start your pasta boiling as you make your sauce.
A really BIG saute pan or skillet is also a must have. My family of 5 eats me out of house and home so I don't use dinky cookware. Big knife, big cutting board, big skillet, big girl (you know I'm 6'1″). Click here for my favorite skillet. I use it all the time (actually own 3 of these bad boys) to get dinner on the table in a flash. Big surfaces cook quicker and you can't get any bigger than this one!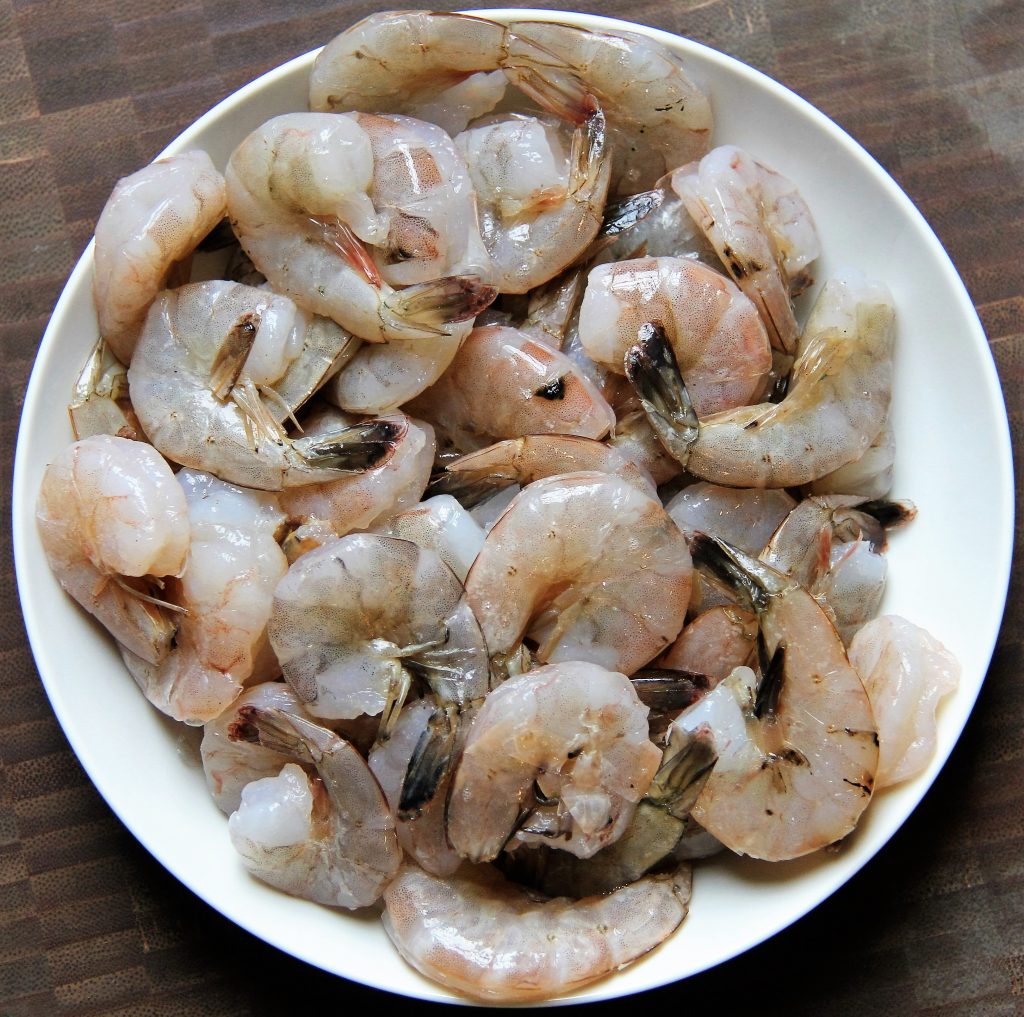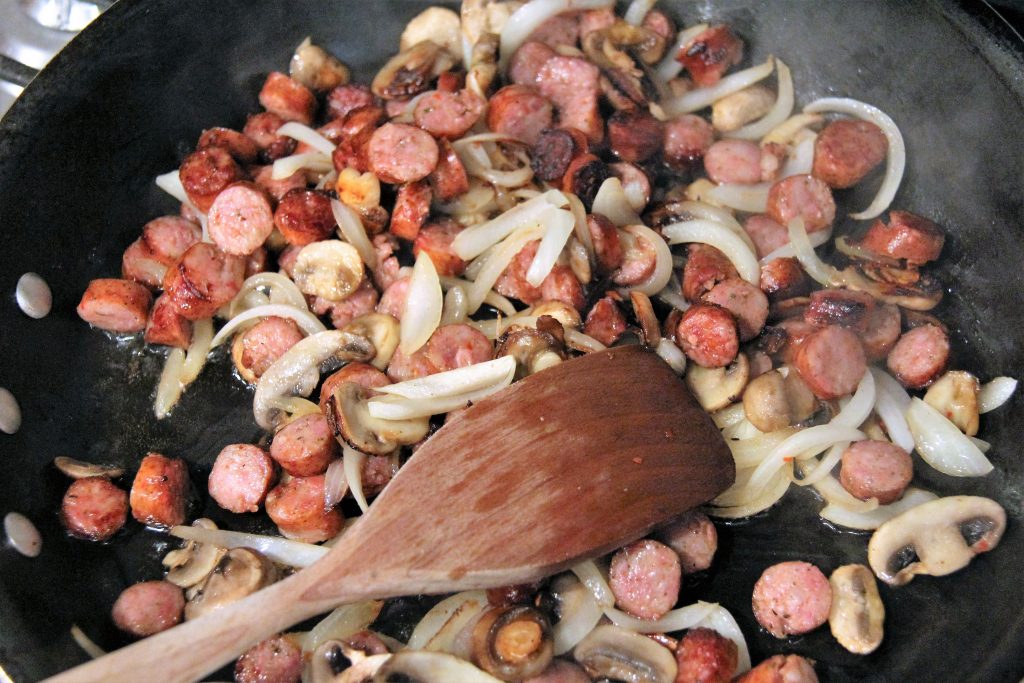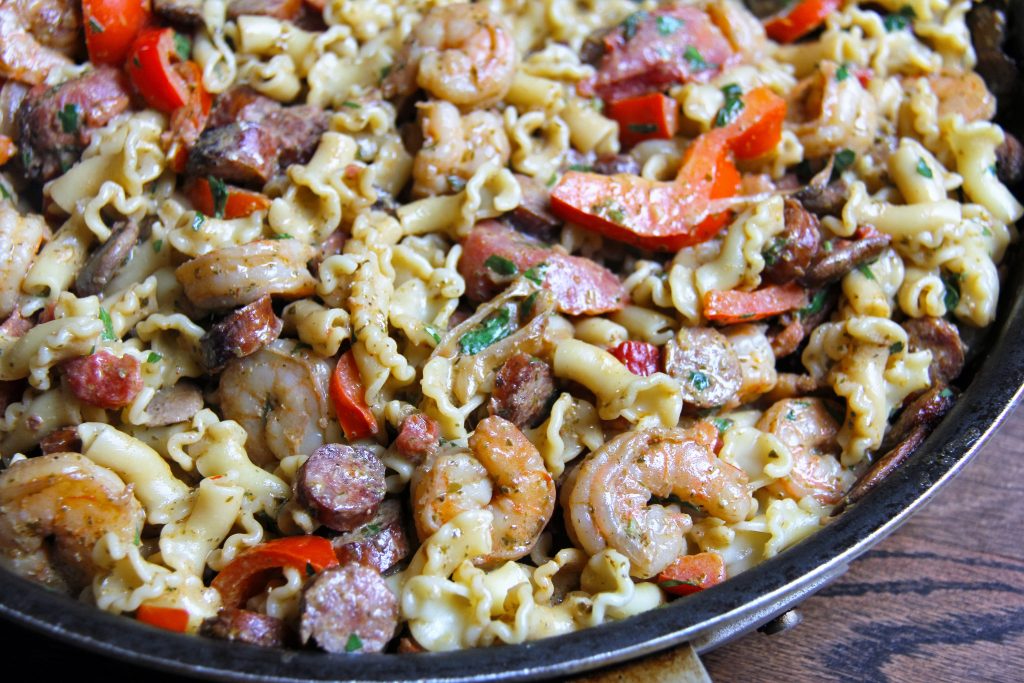 Shrimp & Sausage Jambalaya Pasta in Pesto Cream Sauce
Last minute meals are easy to make. You probably have most of the ingredients for this delicious dish already on hand.
Ingredients
1lb. shrimp, peeled and deveined
1 tsp. blackened seasoning
3 tbsp. olive oil
½ large sweet onion, cut into chunks
8 oz. sliced mushrooms
½ link smoked sausage, cut in ¼" pieces
½ red pepper, sliced
1 tbs. garlic, chopped
1 can stewed tomatoes, drained
1 (6oz) jar pesto sauce
½ cup half and half
1/3 cup flat leaf parsley, chopped
½ lb. cooked pasta (make it fun)
Cajun seasoning, to taste
Instructions
Season shrimp and set aside.
Sautee onions and mushrooms in oil.
Add sausage and cook till brown and tender.
Add red pepper, garlic and shrimp.
Cook until shrimp are opaque.
Stir in pesto sauce and tomatoes.
Toss to slightly cook through.
Add cream and season to taste.
Let thicken. Taste sauce before tossing with cooked pasta.
https://sumptuousliving.net/easy-jambalaya-pasta/
Copyright @ Sumptuous Living