Pie Time! Chocolate Chunk Pecan Pie
Everyone Loves Pie! Especially a Chocolate Chunk Pecan Pie that's packed with dark chocolate chunks and pecans in a flaky homemade crust. Break out the the ice cream and chocolate fudge and get ready for pie heaven!

Pie. Don't you love a good pie? Something that Grandma (or Mamaw in my case) would have made? Like Chocolate Chunk Pecan Pie? Actually my aunts have always been the "Pie Divas" in my family and my Aunt Kathy set me straight a long time ago that the crust is where every pie decides if its going to be great! She was so very right.
I always assumed a crust was hard but its not! These days, all you need is a few pulses in a food processor with ingredients you probably already have in the house and you have a crust that no box can ever give you! Promise!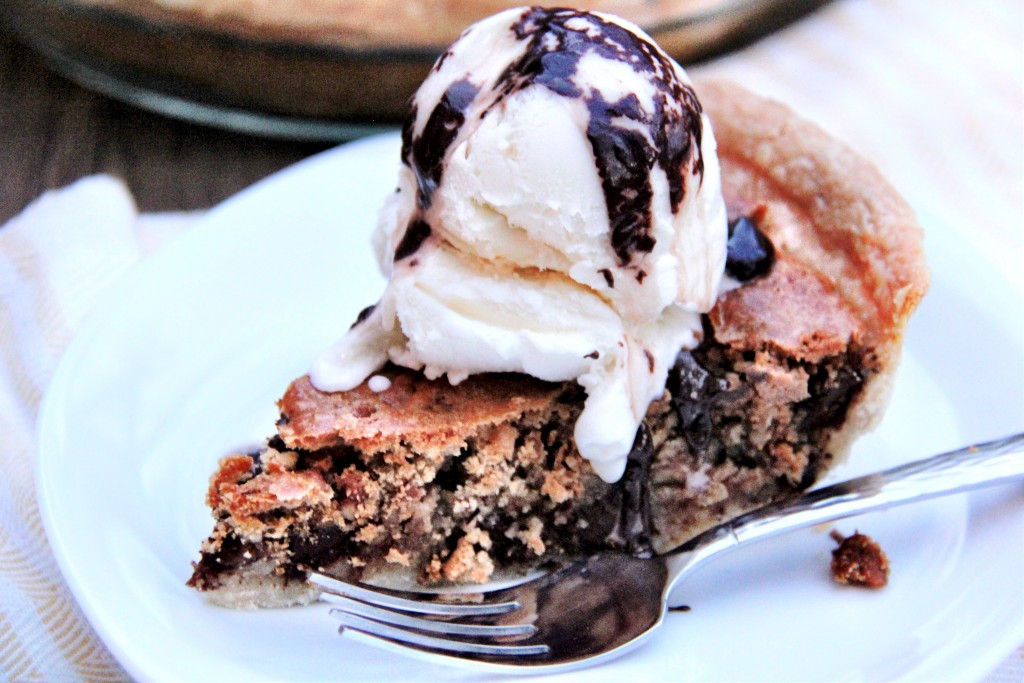 Like eating an amazing cookie (see our Orange Chocolate Chunk Cookies), this crazy good pie is loaded with dark chocolate chunks, pecans, and gooey heaven (hilariously found on aisle 7).  It's like 2 desserts in one! Chocolate chip cookie meets pie. Chocolate Chunk Pecan Pie. We love double duty desserts here at SL. Check out our Apple Crisp Pie for a pie that's like apple crisp and apple pie had a love child. Free Love People!
Chocolate Chunk Pecan Pie
Chocolate chip cookie meets pie.
Ingredients
Pie Crust

2 1/2 cups Flour
1 1/2 stick Butter (cold and cubed)
1/2 teaspoon Kosher Salt
1/2 cup Iced Water
Filling

2 Large Eggs
1/2 cup Flour
1/2 cup Sugar
1/2 cup Brown Sugar (firmly packed)
6oz Bittersweet Chocolate Chunks
1 1/2 cup Pecans (chopped)
Toppings

Ice Cream
Chocolate Fudge Sauce
Instructions
Make the Pie Crust

Preheat oven to 325 degrees.
Place the flour, salt and butter into a food processor.
Pulse just until combined.
Add cold water and pulse until a dough ball forms.
Wrap dough ball in plastic wrap or waxed paper and place in refrigerator until chilled about 30 minutes.
Place pie dough on a lightly floured surface and roll out to form a circle slightly larger than pie pan. You don't want it to be too thick.
Place crust in pan and press down gently so that dough takes the form of the pan making sure that the dough goes up the sides and slightly over the edge.
Take a knife and cut around the outside edge of pan to remove extra dough.
Pie Filling

In a large mixing bowl, beat eggs till foamy.
Add flour and sugars, mixing until well blended.
Add butter, chocolate and nuts.
Pour filling into pastry shell.
Bake for 1 hour or until filling is firm.
Top with whipped cream or ice cream.
Drizzle with chocolate fudge sauce.
https://sumptuousliving.net/chocolate-chunk-pecan-pie/
Copyright @ Sumptuous Living