Summertime Favorite Tomato Corn Salad
Nothing says "Summer" like juicy tomatoes and fresh grilled corn... We're pretty sure you'll want this salad on your table all summer long!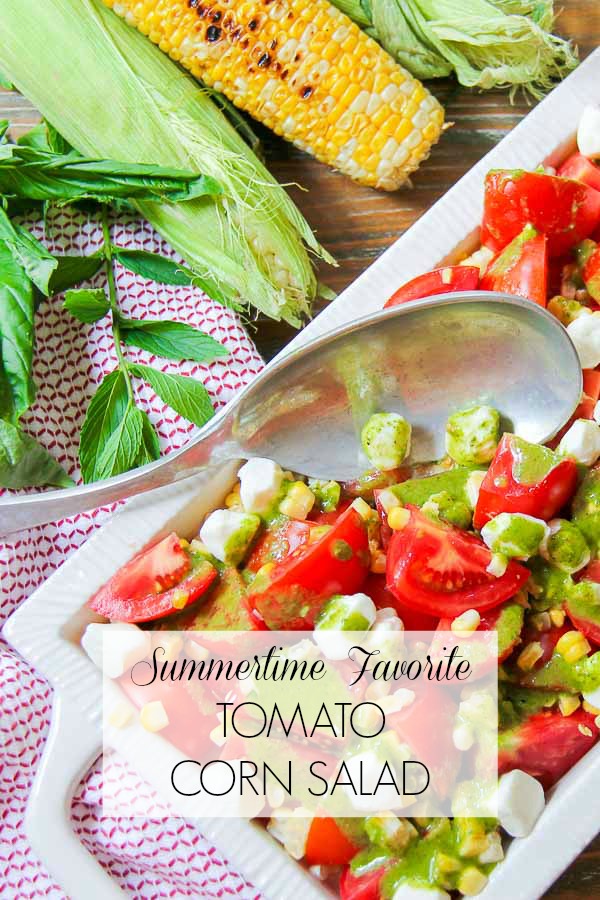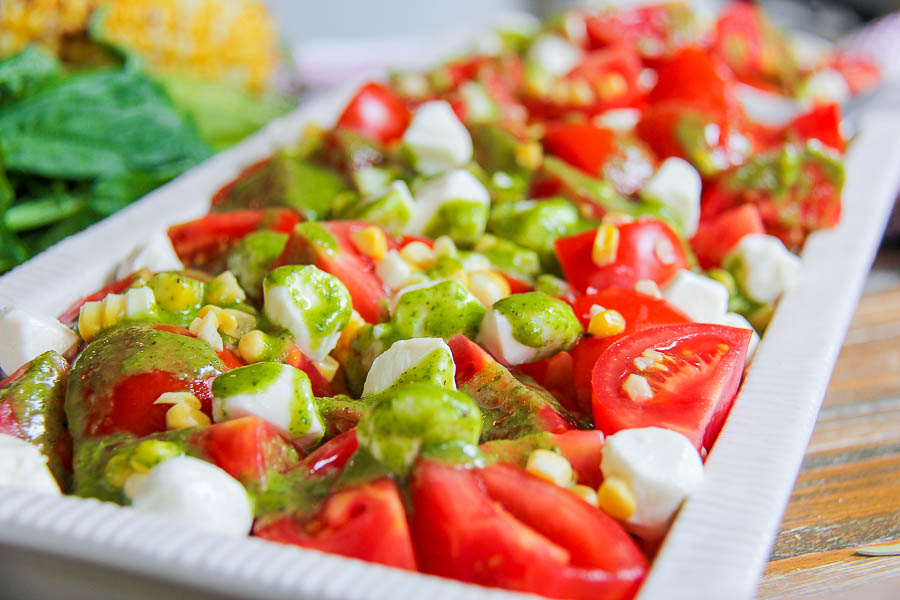 I'm a bit of a tomato snob. Damn proud to admit it too! All year long, my hubs will come home from the market with tomatoes. He's that desperate for a tomato on his sandwich. But I won't touch them. Nope. 'Cuz you can't eat tomatoes all year round. I have no interest in a flavorless, mushy, watery posers (unless it's this tomato, which is the only one that tastes like an actual tomato even in January). So when summer hits, I get very excited. Not only for juicy vine ripe tomatoes but for sweet beautiful corn.
I also try to cook as little as possible in summer. Anything I can make without turning on the oven or the cook-top is a winning recipe because my kitchen stays cool. Grilling recipes are an exception to the rule, of course. That's why I love a salad that also does double duty as a garden fresh side dish like this Tomato Corn Salad. Fresh tomatoes, grilled corn cut off the cob, little balls of fresh mozzarella, and an easy herb vinaigrette make this both tasty and pretty to look at. It's like arm candy for your dinner table.
First we grill corn on the grill or a grill pan. I let the corn cool and then cut the kernels off the cob. Next, I cut the tomatoes into bite-sized chunks with a serrated utility knife. If your're using cherry or grape tomatoes, you can just half them. Larger tomatoes can be cut into 1″ to 1 1/2″ hunks. Keeping in mind that it should be bite-sized and easy to eat. I make this tomato corn salad in easy layers straight onto the platter I plan on serving it in. Something long and flat like this one works great.
Layer the grilled corn over the tomatoes then sprinkle on little balls of mozzarella. If the cheese is too big, cut the mozzarella balls in half or if you're using a mozzarella log, just cut it into cubes. Finally mix up an easy fresh herb vinaigrette and drizzle over the whole salad. It's bright green and deliciously full of flavor and tastes like summer. The dressing is also pretty incredible over grilled fish or shrimp. Pretty sure anything you put this stuff on will taste amazing.
Round out the rest of your summertime dinner with a few of our favorites:
SUMMERTIME TOMATO CORN SALAD
Summertime Favorite Tomato Corn Salad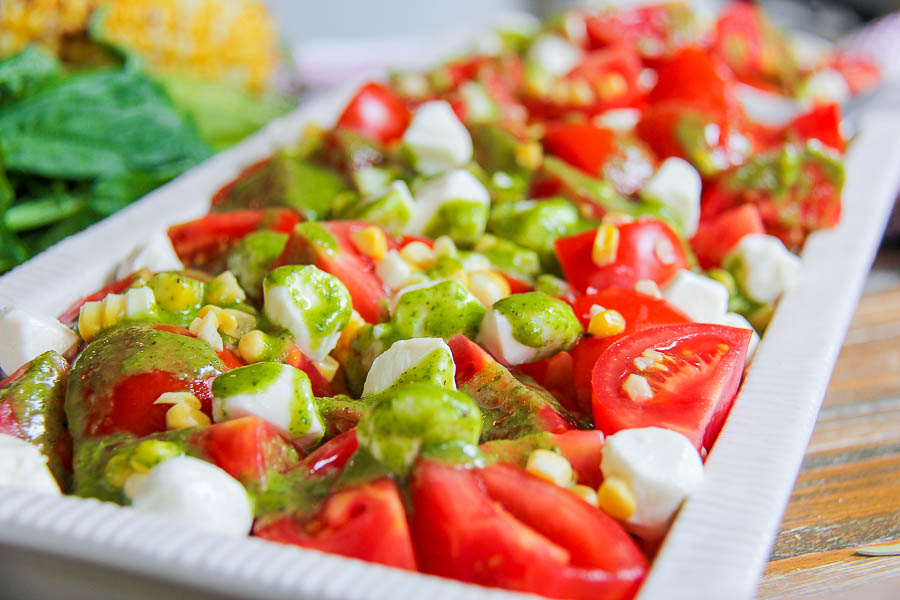 Ingredients
For The Salad:

2 lbs Campari tomatoes, quartered
3 ears corn
4-6 oz pearl mozzarella balls
For The Dressing:

1/3 cup fresh basil
1/3 cup fresh mint
2 Tbl rosemary
1 Tbl honey
1/3 cup olive oil
3 Tbl red wine vinegar
½ tsp kosher salt
¼ tsp fresh ground black pepper
1 clove garlic, chopped
Instructions
Directions
Place all of the dressing ingredients into a blender and blend until smooth; set aside.
Grill corn on grill pan or hot grill until lightly charred on all sides. Let cool; using a knife remove kernels.
Place tomatoes, grilled corn and pearl mozzarella balls into a large bowl and stir slightly to combine. Lightly drizzle dressing to taste.
https://sumptuousliving.net/tomato-corn-salad/
Copyright @ Sumptuous Living
CREATED BY LIFESTYLE EXPERT MANDY LANDEFELD. LEARN MORE ABOUT MANDY HERE