One Bowl Carrot Cake Muffins
Easy and healthy! One Bowl Carrot Cake Muffins, packed with carrots, apples, nuts and cranberries are the perfect grab and go breakfast or snack this holiday season!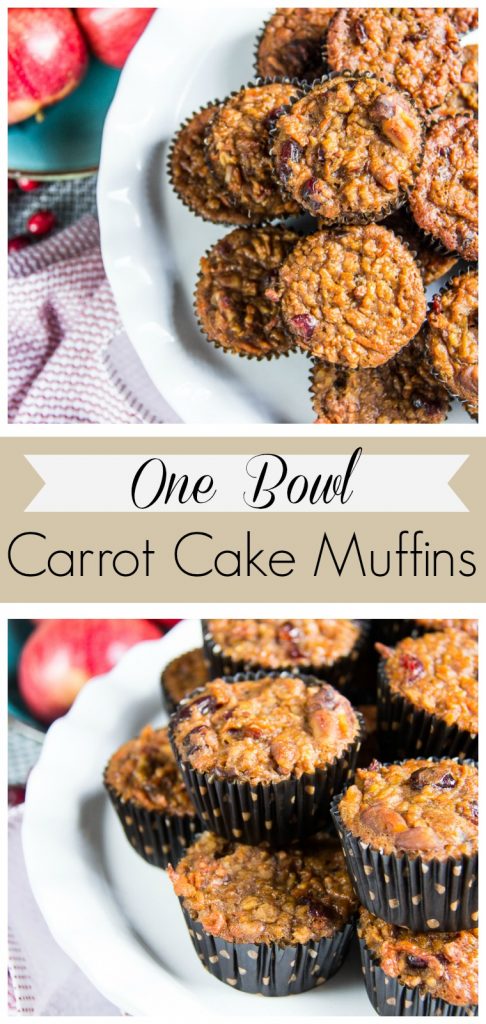 Colder weather is upon us which means baking season is here! I can already smell the oven baked goodness wafting through my kitchen. Warm spices, ovens on, tasty treats, and… elastic pants! Don't you hate that pudgy feeling we get from eating 24/7? Who can blame us? We're constantly surrounded by all these treats. Not to mention being  crazed out of our minds and always on the go, I can only handle so many sweet treats during the holidays and I really try to keep it somewhat manageable for my kiddos too. Believe it or not, even with the holidays approaching, it CAN be done! Especially when we've got these deleciously healthy recipes at our fingertips.
Instead of super sugary cookies, brownies and cakes, I  try to fill the house with goodies like our Pumpkin Oat Chocolate Chip Loaf Cookies or these super healthy and ridiculously easy One Bowl Carrot Cake Muffins.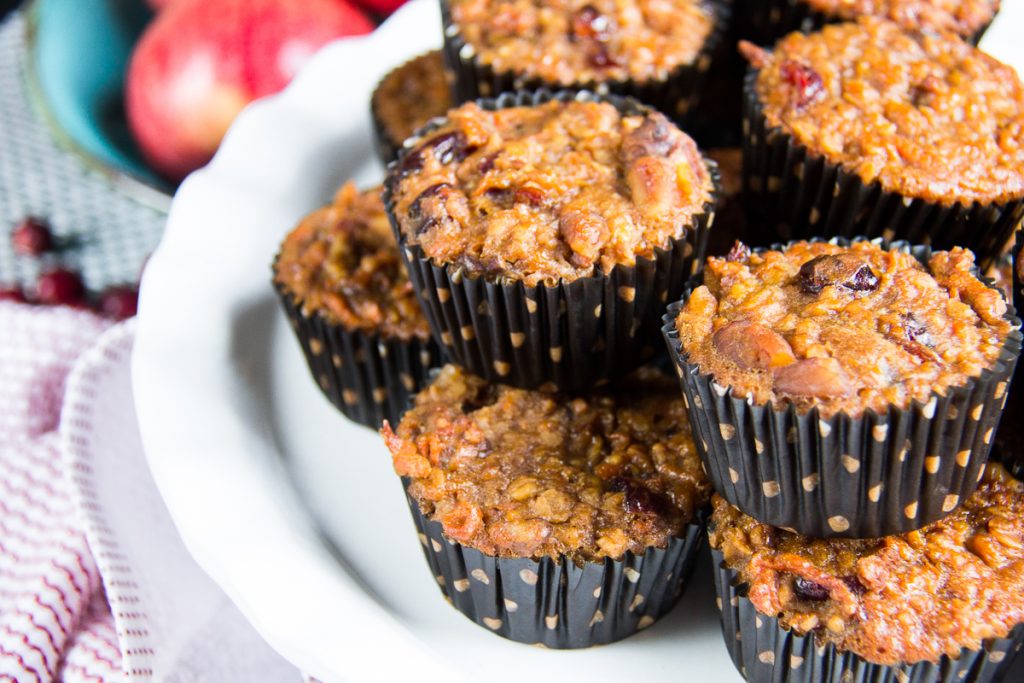 My hubs loves carrot cake. It's his favorite! And that love has trickled down to my kids. What's not to like? Carrots, nuts, cranberries, apples, spices. All kinds of goodness. Especially this time of year – when all of these flavors thrive! They come together like a glorious symphony of flavor, making each taste bud sing. They go pretty fast at my house, between the kids and the hubs – I can barely get them out of the oven before they come running. Luckily with this recipe, I don't mind when they ask for seconds (which they will!)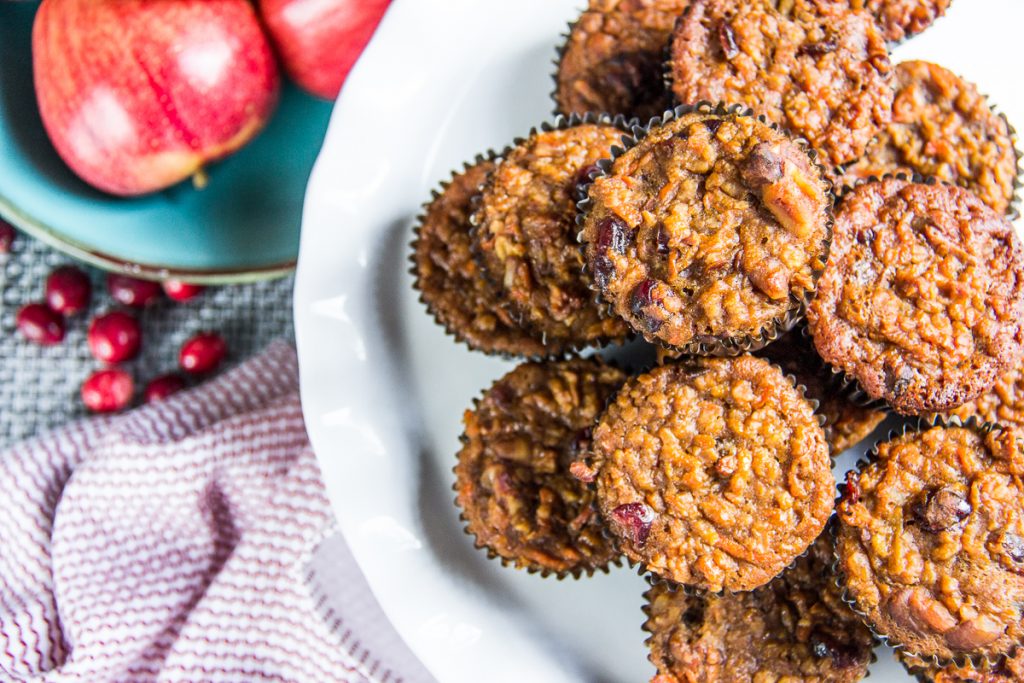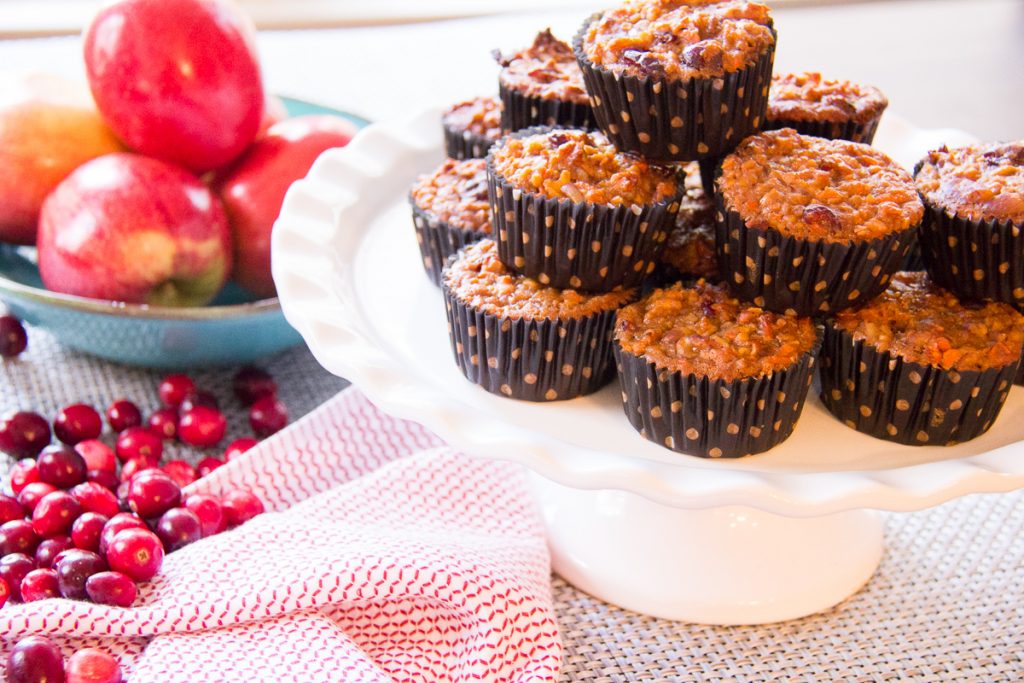 Combining these colorful flavors is both fun and satisfying. Best part, I swap out some of the flour for oats, keep them moist with healthy buttermilk, brighten them up with orange zest, and make prep super easy with my new Veggie Bullet.
It's literally a shredding magician (and spiralizer too)! I'm obsessed with it.  The chute shoots the apples and carrots directly into my mixing bowl for the easiest One Bowl Carrot Cake Muffins ever! Check out our Brussels Sprouts & Potato Pancakes also made with this dynamo kitchen must-have. It's incredibly handy and I get multiple uses out of it all year-round.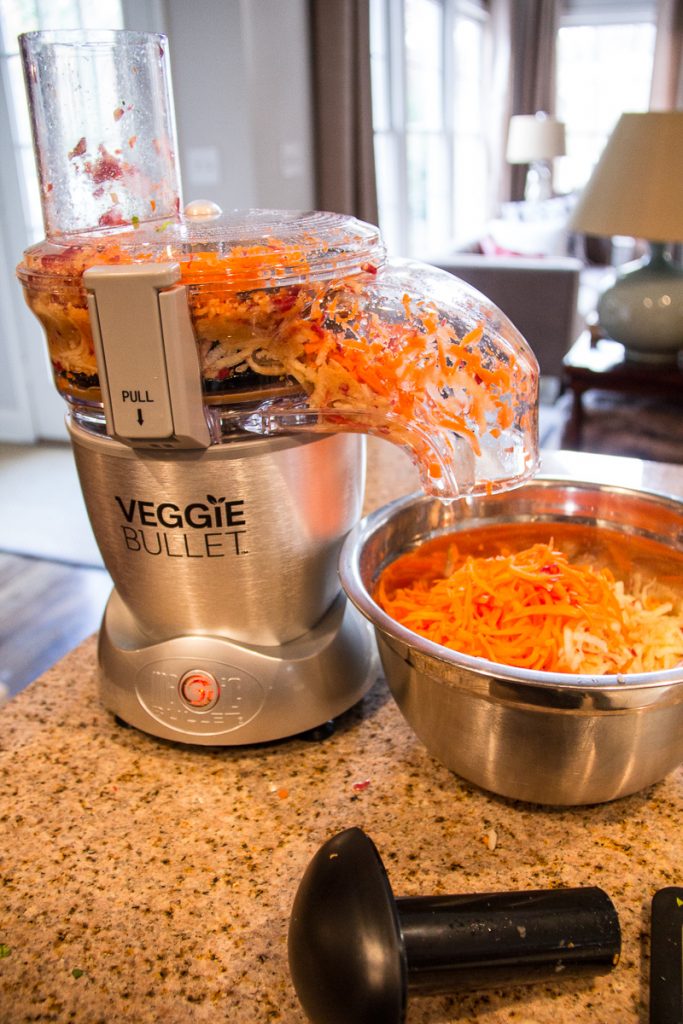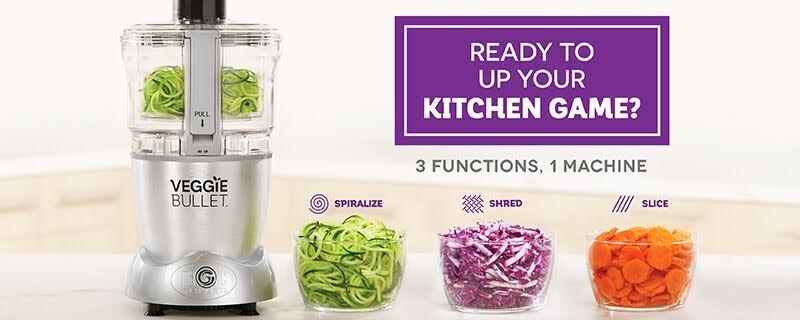 One Bowl Carrot Cake Muffins

Ingredients

2 cups Shredded Carrots
2 cups Shredded Apples
1 1/2 cup Buttermilk
2 Large Eggs
1 teaspoon Vanilla Extract
1 cup Dark Brown Sugar
1/2 cup Vegetable or Canola Oil
1 1/2 cup All-Purpose Flour
1 cup Old-Fashioned Oats
1 1/2 teaspoon Baking Powder
1 teaspoon Baking Soda
1 teaspoon Apple Pie Spice (or Pumpkin Pie Spice)
1/2 teaspoon Kosher Salt
1 cup Craisins
1 cup Chopped Walnuts
1/2 tablespoon Orange Zest

Instructions

Preheat oven to 350 degrees. Line muffin tins with paper liners or spray with non-stick baking spray. Combine all ingredients into a bowl or mixer and mix on low until well combined. Scoop into muffin tins using large ice cream scoop. Bake for 20 minutes or until golden brown and tester comes out clean.

https://sumptuousliving.net/one-bowl-carrot-cake-muffins/

Copyright @ Sumptuous Living
"This post is brought to you by Veggie Bullet. All content, recipes, opinions and words are my own. Thanks for supporting the sponsors that allow me to create new and special content like this for Sumptuous Living"