Treat Yourself! Crispy Nutella Oatmeal Bars
We all need a treat sometimes! Our recipe for Nutella Oatmeal Bars have a layer of gooey Nutella sandwiched in between 2 layers if buttery oatmeal crust. A pan of these won't last long!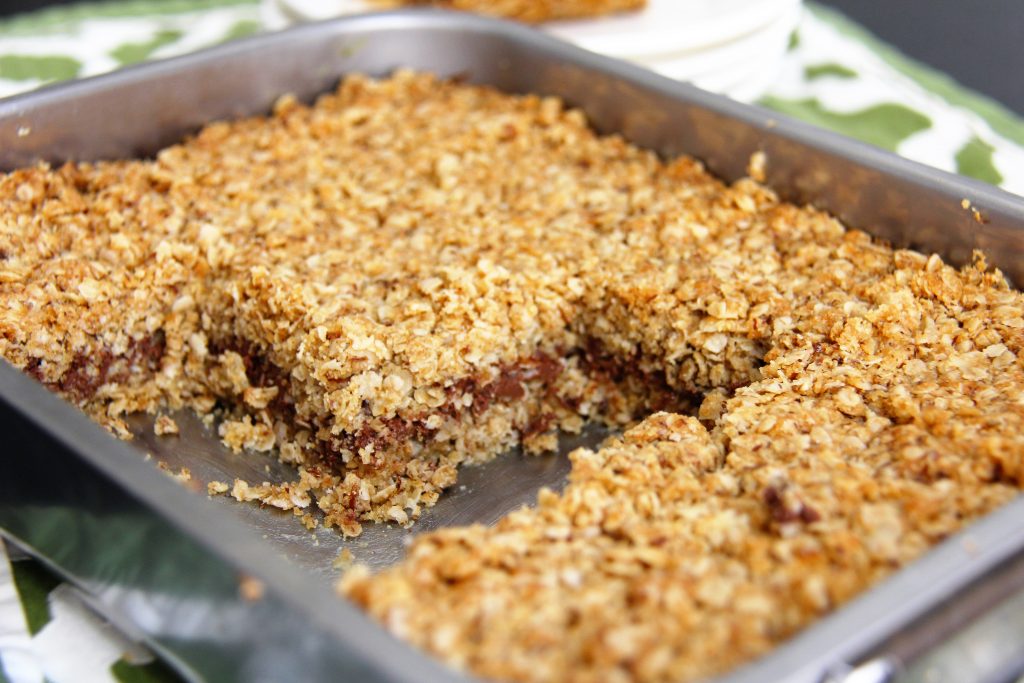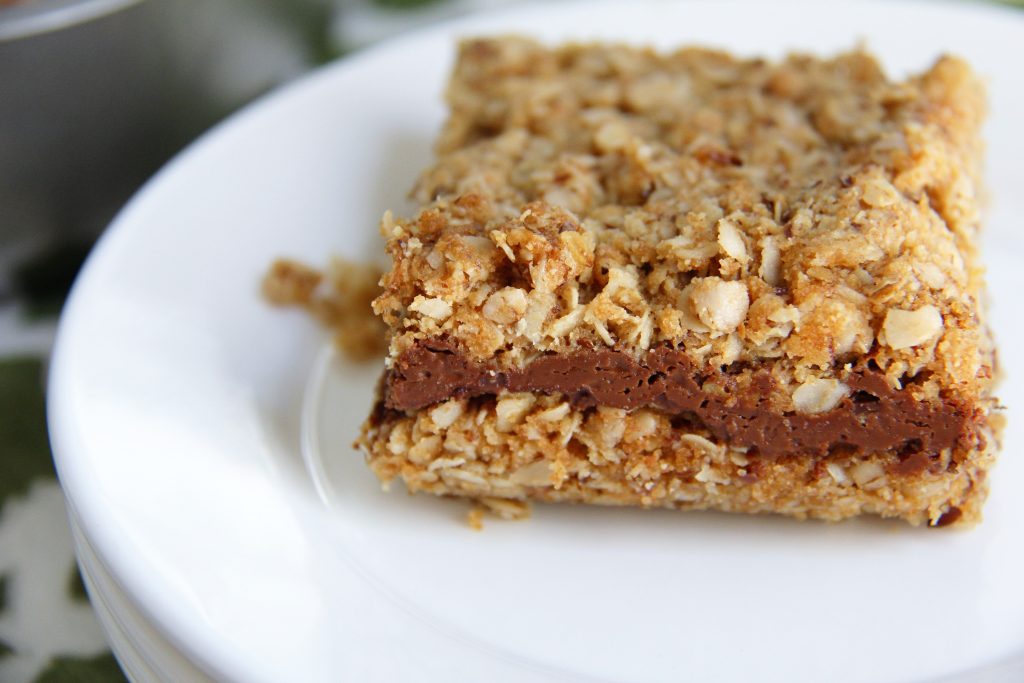 I love surprising my kids with an unexpected treat. It doesn't happen very often, so when my kids came home from school to find a pan of warm, gooey Nutella Oatmeal Bars, they went crazy! Crispy, buttery oatmeal crusts with a layer of creamy, chocolately Nutella in the middle is a snack they have always loved.
When I first created the recipe, I used to make them with jelly in the center (Apricot, Blackberry, Raspberry, etc -see pic below). I would always let them choose the flavor, but my little one (we say he's our Chick-fil-a & Cheerios kid) had the brilliant idea to make them with Nutella one day. Not surprising since his favorite sandwich is a Grilled Peanut Butter Nutella Sandwich with Bananas. Elvis has nothing on this kid.
Needless to say, my whole family loves these Nutella Oatmeal Bars and I find them irresistible thanks to the touch of Kosher salt. Make a big pan. If your house is anything like mine, they won't last long!
Here's some of our other favorite treats… 
PUMPKIN OAT CHOCOLATE CHIP LOAF COOKIES
CRISPY PEANUT BUTTER MARSHMALLOW PROTEIN BARS
WHOLE WHEAT BANANA CHIA MUFFINS
Crispy Nutella Oatmeal Bars
Ingredients
6 cups quick cooking oats
2 cups all-purpose flour
1/2 cup flax seed, ground
2 tsp baking soda
2 tsp kosher salt
2 cup packed light brown sugar, heaping
½ cup oil
3 sticks butter, melted
1 (10oz) jar Nutella
Instructions
Preheat oven to 350 degrees.
Grease a 9x13 baking dish with cooking spray.
In a large bowl combine oats, flour, flax seed, baking soda, salt and sugar. Stir to combine.
Add oil and melted butter; mix until crumbly.
Press half of mixture into the bottom of prepared baking dish.
Spread Nutella evenly over mixture.
Sprinkle the remaining mixture evenly over the top of Nutella and pat down gently.
Bake for 30 minutes or until lightly browned.
Remove from oven and cool on wire rack.
Cut into squares.
https://sumptuousliving.net/nutella-oatmeal-bars-2/
Copyright @ Sumptuous Living