Kid Friendly! Crispy Peanut Butter Marshmallow Protein Bars
Welcome the kiddos home from school with a snack that's deceptively healthy and super yummy! Crispy Peanut Marshmallow Protein Bars 


None of us are the quintessential "Little Miss Suzie Homemaker"… unless little Suzie drinks way too much coffee and spends her day in her gym clothes with her hair in something that is trying to resemble a ponytail but looks more like a knotted bun. And little Suzie is day dreaming of that glass of wine (or whiskey) awaiting her later on!
Today's family is "On The Go" more than ever! We live and die by the family calendar on the fridge (here's the one we use) or our favorite To-Do List App (I couldn't survive without this one). As school gets back in gear, everyone in the family could use Kid Friendly Protein Bars to come home to after a busy day or take with us for those nibbles during work or class. Our Crispy Peanut Butter Marshmallow Protein Bars are quick and easy and sneak in the good stuff without them knowing.
Don't forget to add our Top 10 Easy Weeknight Meals to your To-Do list! Get it here.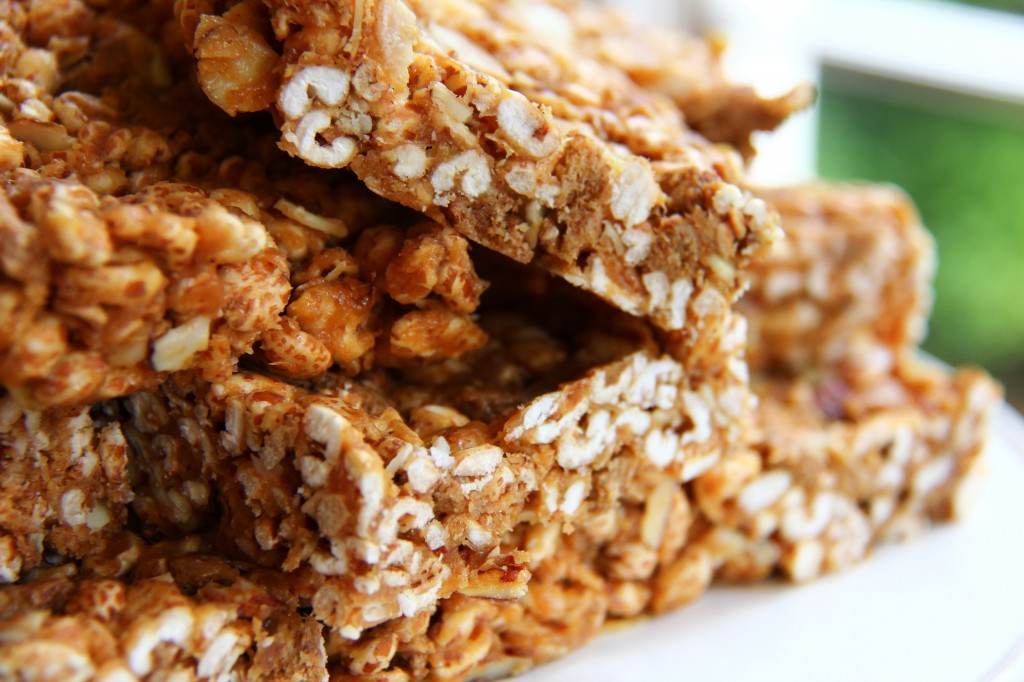 WE LOVE KID FRIENDLY PROTEIN BARS
Our Crispy Peanut Butter Marshmallow Protein Bars are a throwback to the tried and true "Rice Crispy Treats" of the good ol' days but instead are jam-packed with whole grains and protein! They truly are the most kid friendly protein bar ever! Toasted almonds, all-natural peanut butter, flax seed, and multi-grain cereals make them hearty and healthy and built to last. A whole pan bakes up quickly and they can be stored in an airtight container all week. So Delicious & Nutritious…I sound like an infomercial! Sheesh! But dang they are tasty!
I use 2 different cereals in these kid friendly protein bars. The first is an unsweetened puffed red wheat cereal like Kashi 7 Whole Grain Puffs. They look just like that old-school cereal called Honey Smacks with the frog on the box but these are much better for you. The other cereal we use is Kellogg's Cracklin' Oat Bran. This stuff is like crack in our house. I use it for yummy & healthy snack sized trail mix baggies with dried cherries, toasted pumpkin seeds, pretzels, and yogurt raisins for the kids snack at school.
Peanut Allergy? No problem! One of my youngest kiddo's best buds is allergic to peanuts and we have cousins who are too. Feel free to substitute Soy Butter for Peanut Butter and omit the almonds to make them allergy friendly.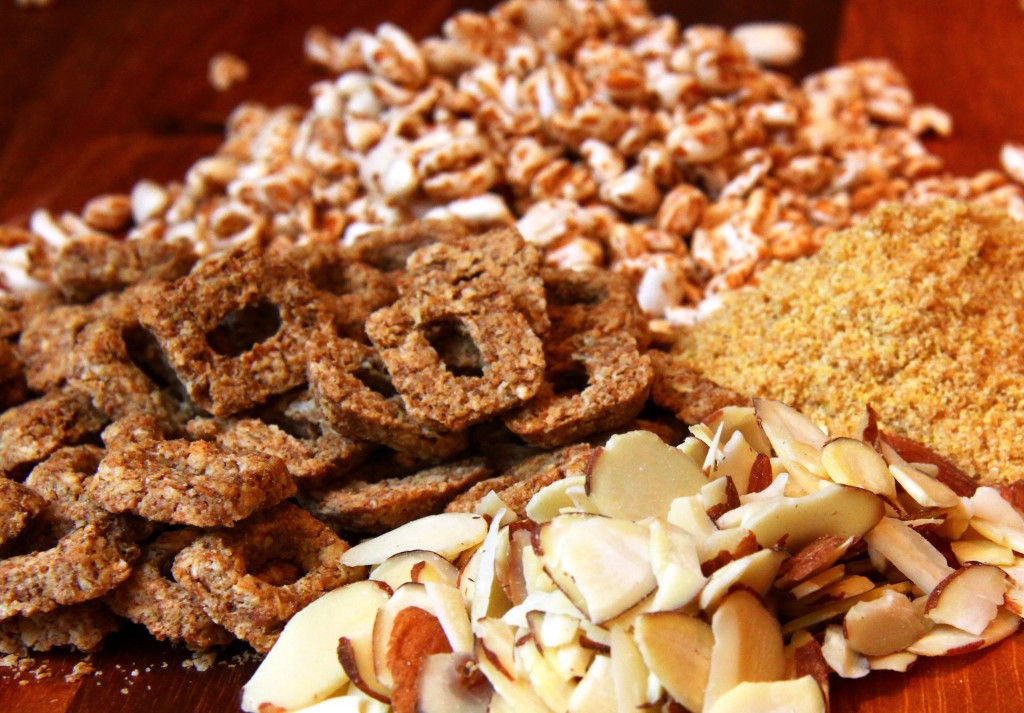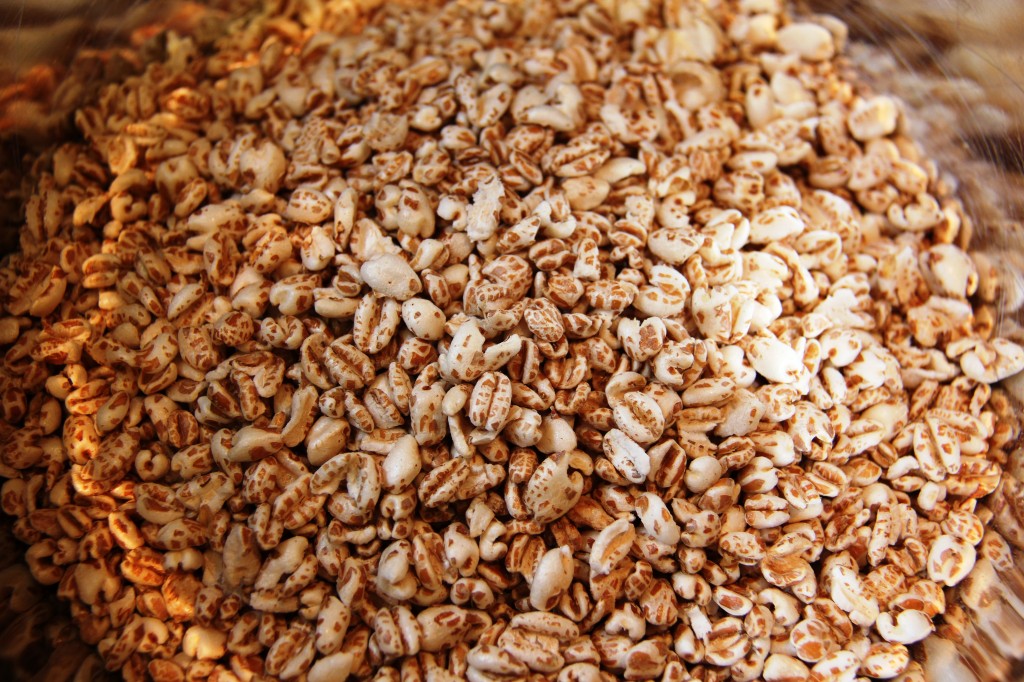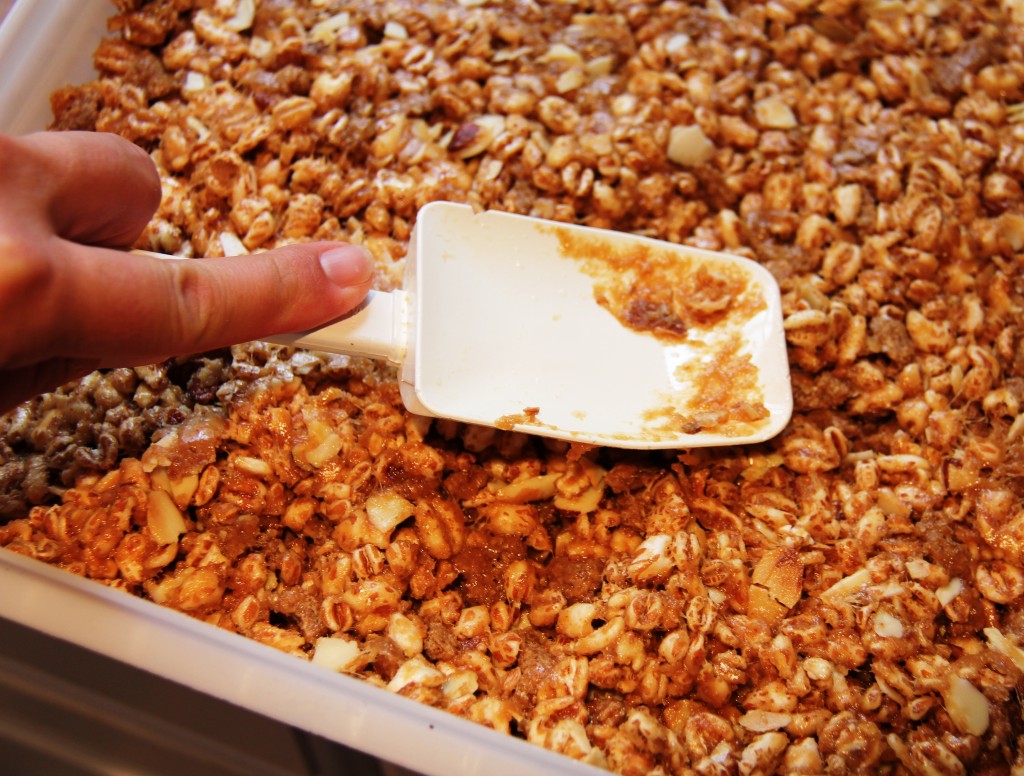 Crispy Peanut Butter Marshmallow Protein Bars
A snack that's deceptively healthy and super yummy!
Ingredients
4 cups unsweetened puffed red wheat cereal (I used Kashi)
2 cups oat bran cereal, broken up (I used Kellogg's Cracklin Oat Bran)
1 cup sliced almonds, toasted
½ cup milled flax
1 stick butter (½ cup)
1 cup smooth peanut butter (I used natural peanut butter but use what you have)
1 (10 oz.) pkg marshmallows
1 tsp Kosher salt
1 ½ tsp pure vanilla extract
non-stick cooking spray
Instructions
In a large bowl, stir together cereals, almonds, and flax until combined; set aside.
In a heavy 5qt pot, over medium-low heat melt peanut butter and butter until well combined.
Add marshmallows and salt, stirring until melted with a whisk.
Remove from heat and stir in vanilla.
Immediately add cereal mixture and stir quickly with a spatula until cereal is well coated.
Pour and press into a greased 9x13 inch pan (or larger for thinner bars).
Allow to cool before cutting into squares.
https://sumptuousliving.net/kid-friendly-protein-bars/
Copyright @ Sumptuous Living
Pin this recipe and follow Sumptuous Living on Pinterest. We always love to see what you're pinning too!
CREATED BY LIFESTYLE EXPERT MANDY LANDEFELD. READ MORE ABOUT MANDY HERE