The Most Romantic Appetizer
Stay "in" this Valentine's Day and share an app your sweetheart will love you for! Ready in 5 minutes, here's our recipe for The Most Romantic Appetizer...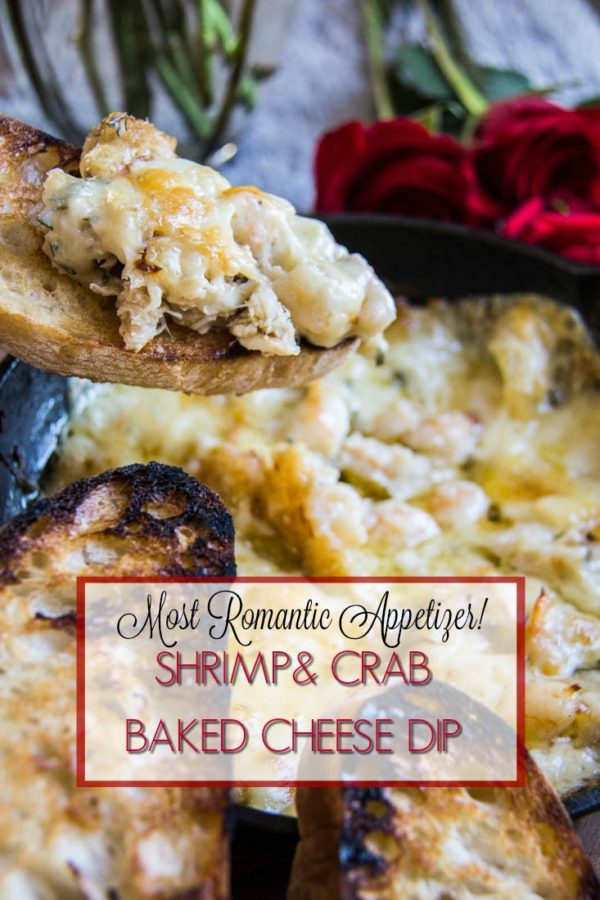 I could eat seafood morning, noon, and night. No lie, babe, there's nothing better! And though many would pull out a gorgeous beef filet recipe (which you totally could and this one is amazingly decadent!), MY love language is sweet succulent seafood. Shrimp. Crab. Put a plate of that goodness in front of me and I'm putty in your hands.
That's why this is my version of The Most Romantic Appetizer for Valentine's Day!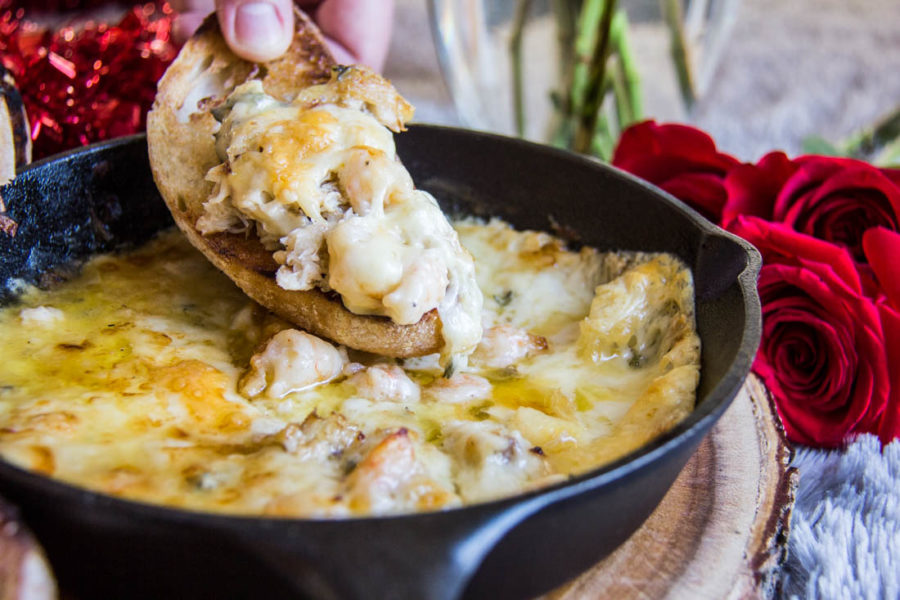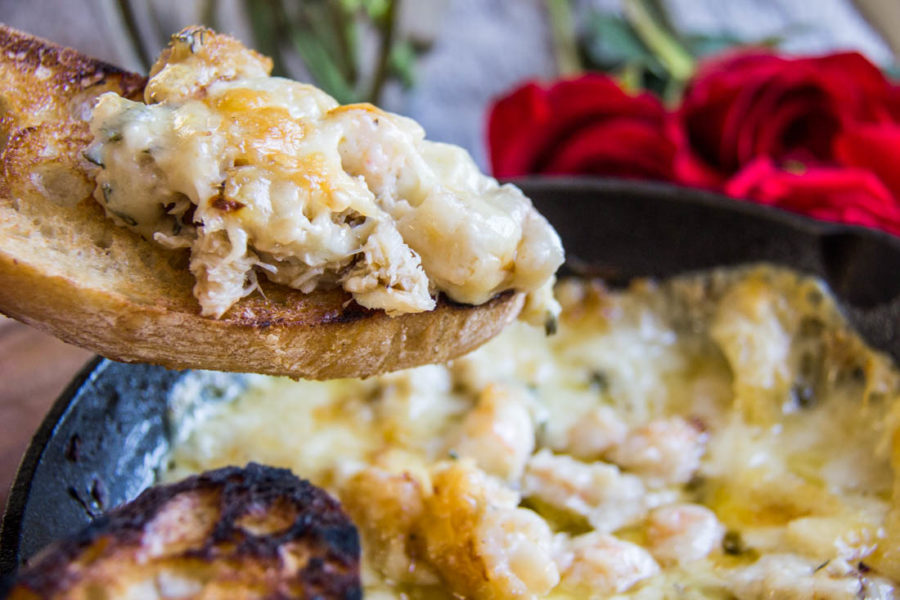 So when Erica Key of Eating with Erica and Sprouts asked me to join them in creating an incredible appetizer for V-Day, this was my go to. It is THE Most Romantic Appetizer ever! Gooey, cheesy, full of gorgeous seafood, and, with a stack of crusty bread, perfectly sharable with your love.
Don't stop there! Not only do you have apps covered but we're also sharing His & Hers Cocktails and The Easiest Valentine's Day Dessert too! Who needs a main course when you hit all the sweet spots? Want more? Click here to see all my romantic inspirations on our V-Day Pinterest Board.
WATCH HOW TO MAKE THE MOST ROMANTIC APPETIZER HERE (and share it with your friends!)
Big Thanks to The Cook's Warehouse for the use of their kitchen. Love that perfect little cast iron skillet for 2? Click here to get one for your kitchen.
Shrimp & Crab Baked Cheese
Gooey cheese dip full of succulent shrimp and decadent crab meat!
Ingredients
1 tablespoon Olive Oil
4oz Crab Claw-meat
1/4lb Raw Shrimp (lightly chopped)
1 Small Shallot (chopped)
1 1/2 teaspoon Fresh Thyme
pinch Red Pepper Flakes
1/3lb Fontina Cheese (cubed)
1/3lb Gruyere (cubed)
2 tablespoons Brandy
Good Bread
Instructions
Preheat oven to broil. Heat an 8 inch iron skillet on medium-high heat. Add oil and let it get hot.
Add shrimp, crab meat, shallots, thyme and red pepper flakes. Saute for 2 minutes.
Turn off heat. Add cheese and brandy; stir gently to combine.
Place skillet in oven and broil until bubbly and lightly brown. Serve with toasted bread.
https://sumptuousliving.net/most-romantic-appetizer/
Copyright @ Sumptuous Living
CREATED BY LIFESTYLE EXPERT MANDY LANDEFELD. READ MORE ABOUT MANDY HERE