Louisiana Cornbread Dressing Minis
Let guests take their own mini cornbread dressing this Thanksgiving. Our Louisiana cornbread dressing recipe has a hole perfect to fill with gravy!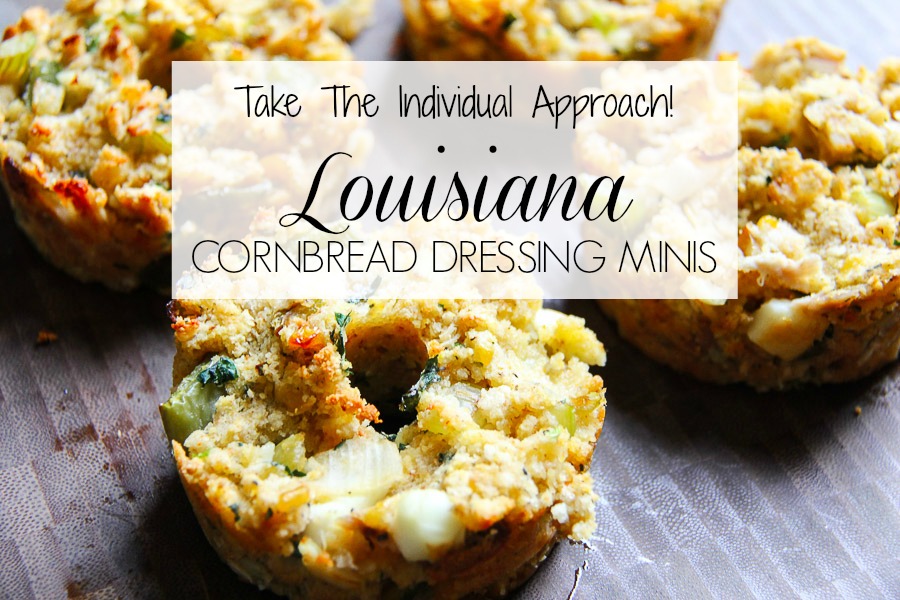 This Louisiana cornbread dressing has it all! Veggies, sweet cornbread, rotisserie chicken, & herbs all packed into an adorable little personal round of dressing heaven. I could eat just this dish alone for Thanksgiving and be happy but sharing is caring, or so I'm told.  Mini cornbread dressings let everyone of your guests have one of their own.
By putting the dressing into mini bundt pans or jumbo muffin tins, the dressing cooks quicker (freeing up your oven for whatever's waiting in line for the coveted hot box) and its crazy adorable! Plus guests can take their own little mound and move on down the buffet line. I love the idea of filling the hole in the center with a dollop of cranberry sauce or gravy.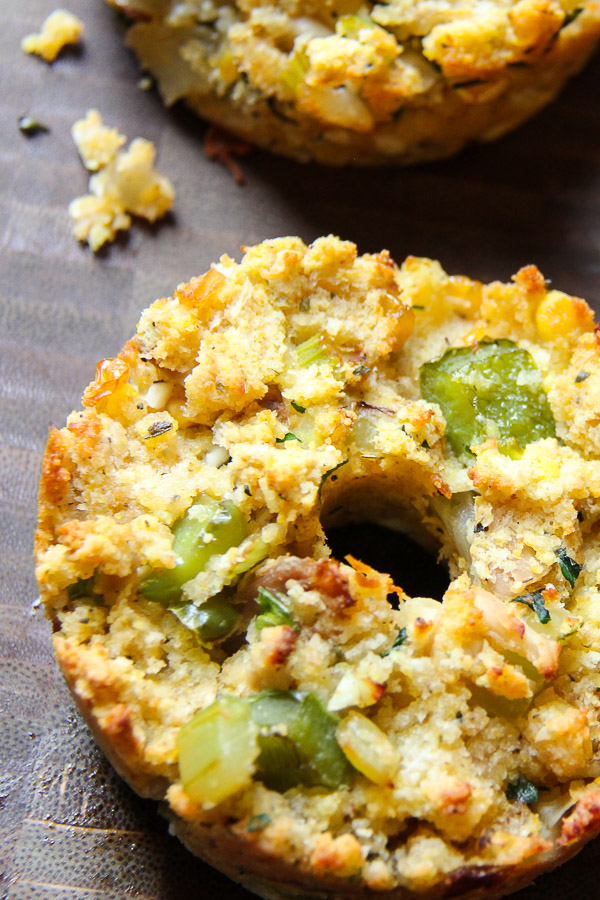 In Louisiana, cornbread duck dressing is at every Thansgiving table. Moist and full of flavor it has it all packed into a pan of heaven. Not all of us have a freezer full of ducks, so my go to is a rotisserie chicken that you can pull the meat off easily and move on with making the recipe. The trinity (celery, onions, and bell peppers) is an absolute must here! It adds so much flavor and because none of the veggies are cooked prior to baking, they still retain their shape and texture.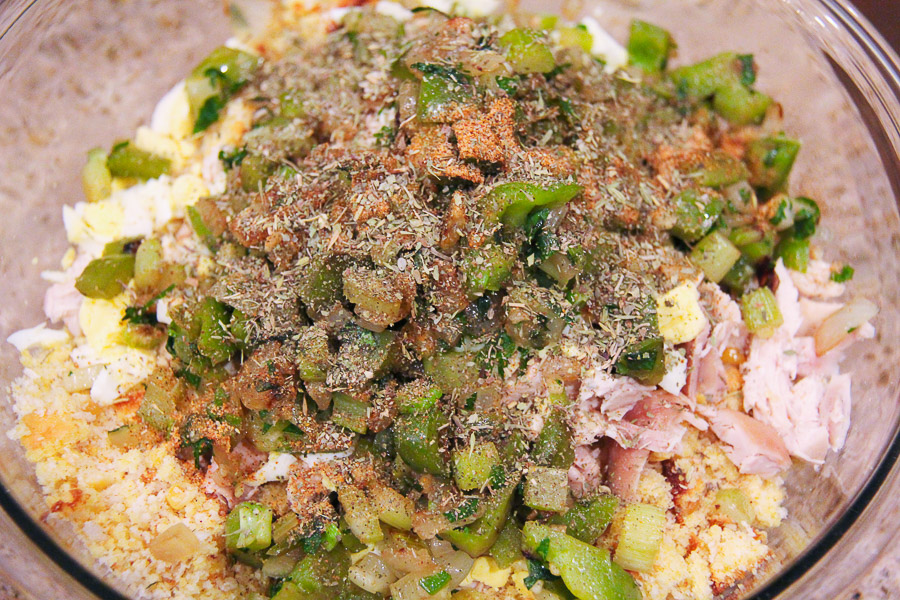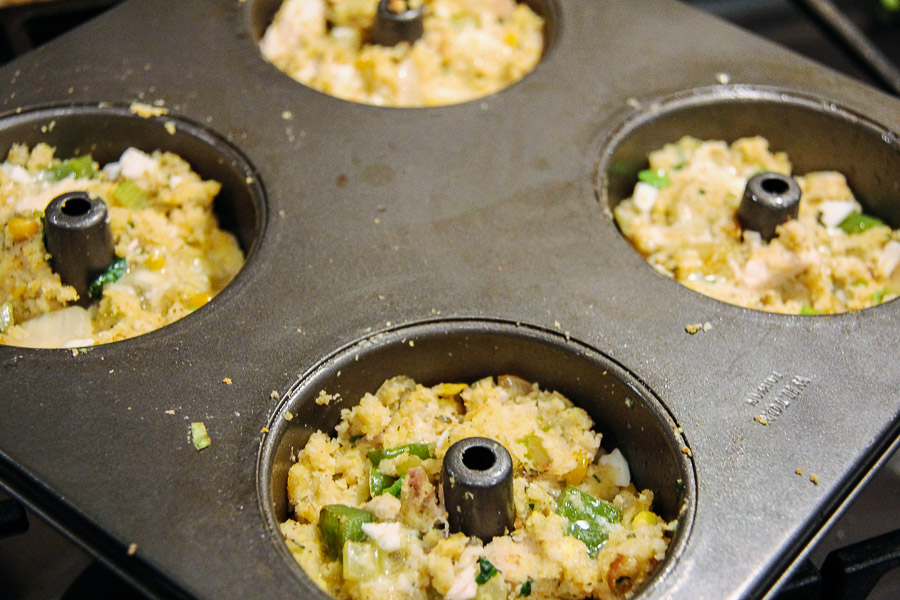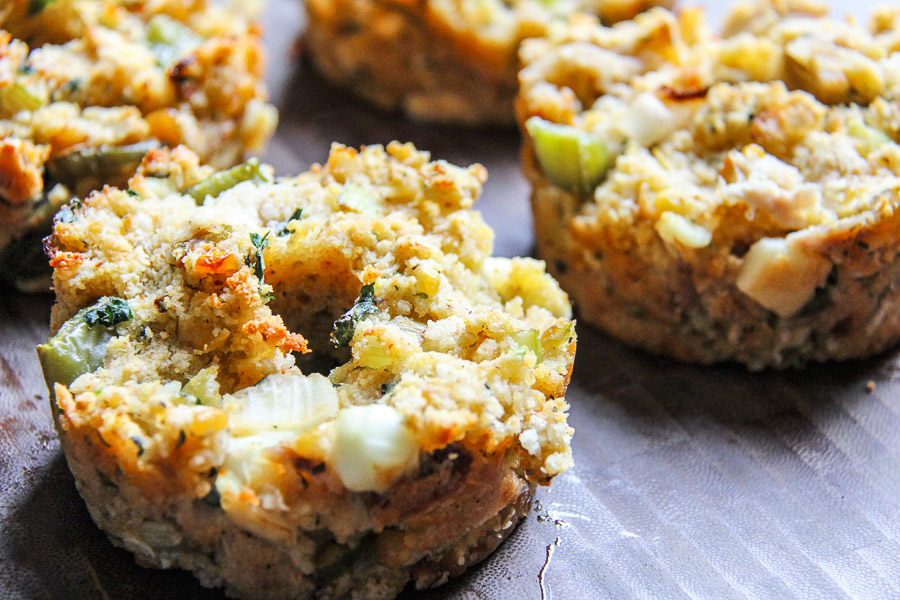 STEPS FOR MINI CORNBREAD DRESSING ARE EASY!
Gather all you ingredients
Dump it all in a bowl
Mix it up till you have the perfect moisture balance
Pack dressing into a greased mini bundt pan
Baked in A FLASH!
EAT!
Works great as a full pan of cornbread dressing too! Here's one before we baked it…
Louisiana Cornbread Dressing Minis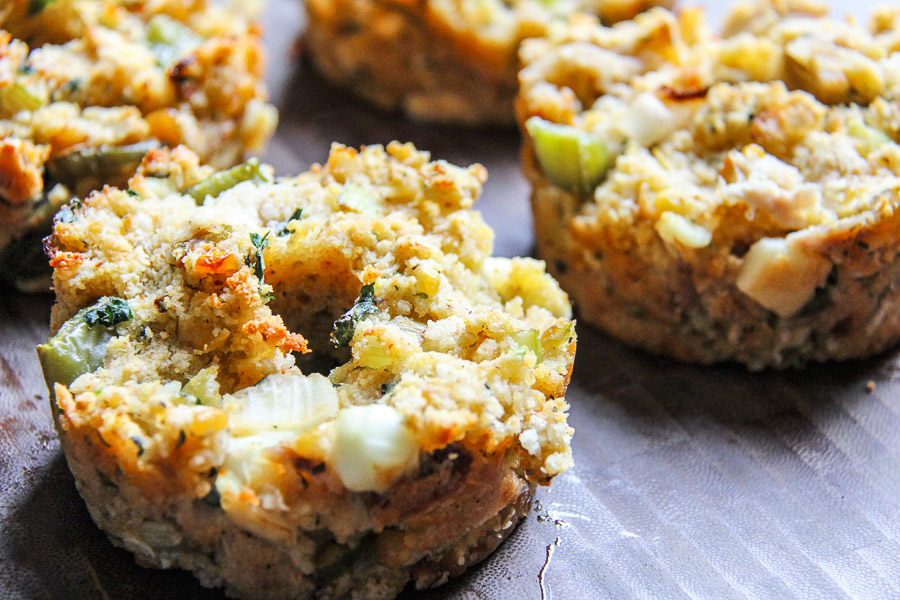 Veggies, sweet cornbread, rotisserie chicken, & herbs all packed into an adorable little personal round of dressing heaven.
Ingredients
Dressing

5 cups Cornbread (crumbled)
2 cups Panko (plain)
1 cup Celery (chopped)
1 cup Onion (chopped)
1 cup Green Bell Pepper (chopped)
2 cloves Garlic (minced)
1/4 cup Green Onion (chopped)
1/4 cup Fresh Parsley (chopped)
1 1/2 teaspoon Creole Seasoning
1 1/2 teaspoon Herbs de Provence
1 1/2 cup Rotisserie Chicken (chopped)
2 1/2 cups Chicken Stock
2-3 tablespoons Butter
3 Large Eggs (hard boiled, chopped)
Cornbread

3 boxes Jiffy Cornbread Mix
3 Large Eggs
1 cup Buttermilk
1 can Cream Style Corn
1/2 tablespoon Onion Powder
Instructions
Cornbread

To make cornbread.
Preheat oven to 400 degrees.
Spray 2 round cake pans or a 9x13 pan with nonstick spray.
Mix all ingredients in a large bowl until combined.
Don't over mix.
Cornbread

Pour into prepared pans and bake for 20 minutes or until brown and inserted tooth pick comes out clean.
Dressing

Lower oven to 350 degrees.
Spray a 2 quart casserole dish with nonstick spray.
Combine all ingredients into a large bowl.
Mix using your hands until well combined.
Pour into prepared pan and dot top with butter.
Bake for 30-35 minutes or until lightly browned.
https://sumptuousliving.net/mini-cornbread-dressing/
Copyright @ Sumptuous Living