Veggie-Rific Easy Chicken And Yellow Rice Recipe
Picky family? Even they won't be able to resist this veggie loaded Chicken and Yellow Rice! One Pot Meal & ready in under 30 minutes!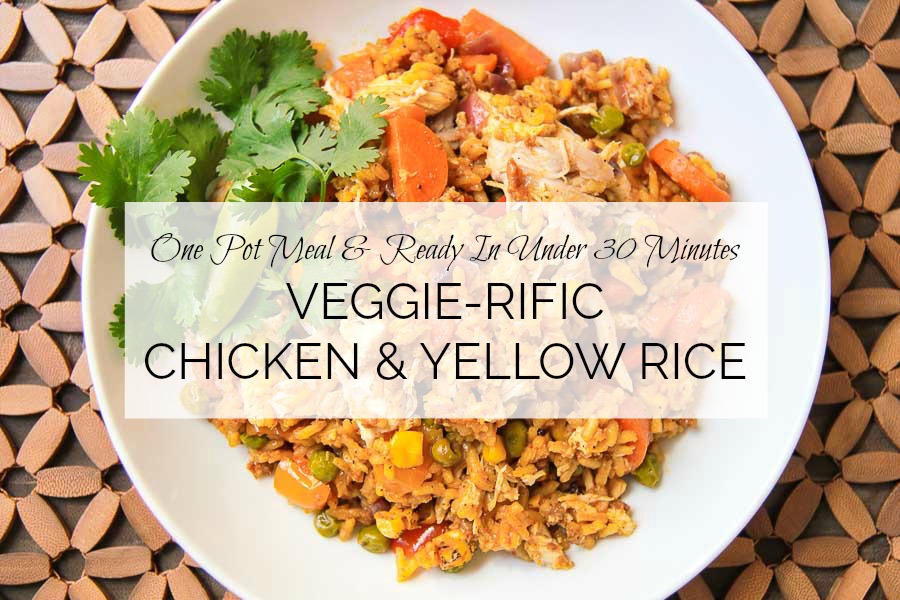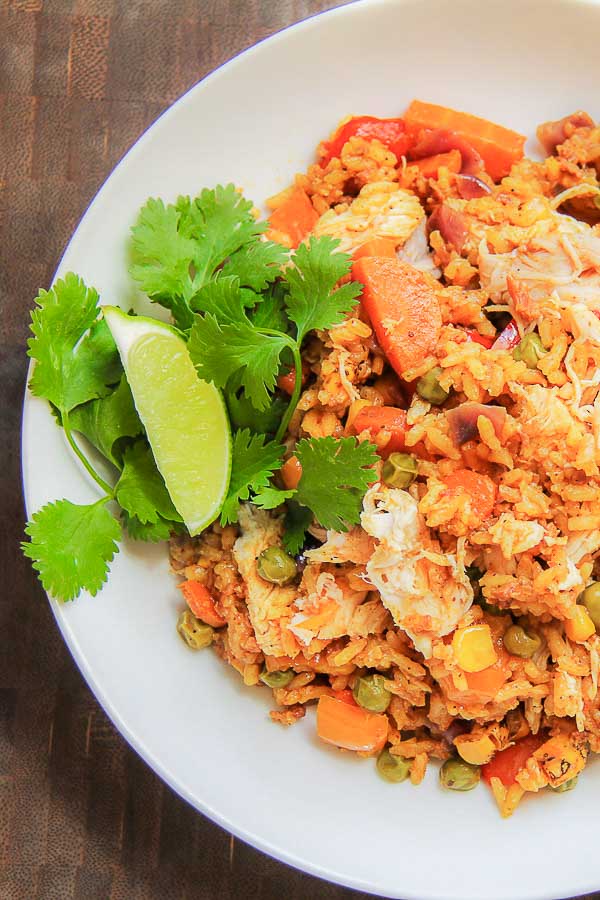 Time for a hypothetical…
So it's Wednesday. Your day had been insane, you're completely worn out, and your family is bugging you for a good home-cooked meal. First off they need to lay off and maybe you could use a glass of wine! But then you kinda realize everyone's still gotta eat. Argh! What to make? Our Easy Chicken And Yellow Rice Recipe. Even if you live in a house full of picky eaters, they're gonna love this recipe. Promise. Swear. Will make you a cocktail if they don't! And who really feels like cleaning a bunch of pots and pans? Not this mama. This bad boy is a One Pot Meal and done in under 30 minutes! You love me. I know. That's why we're best friends baby!
I don't run a democratic kitchen. I'm also not a short order cook. You're probably way nicer than me too. I figure if the veggies are big enough to identify, then kids and adults alike can quietly and discretely pull the ones they don't like to the side and still have a smile on their face. No complaints. Period. Along with many of our Easy Weeknight Meals, this easy chicken and yellow rice recipe is jam packed with veggies. Carrots, purple cabbage (which is so pretty), fire roasted corn, green peas and three different colors of bell peppers. The trick is to make the veggies so delicious that even the finickiest eater will be going back for seconds.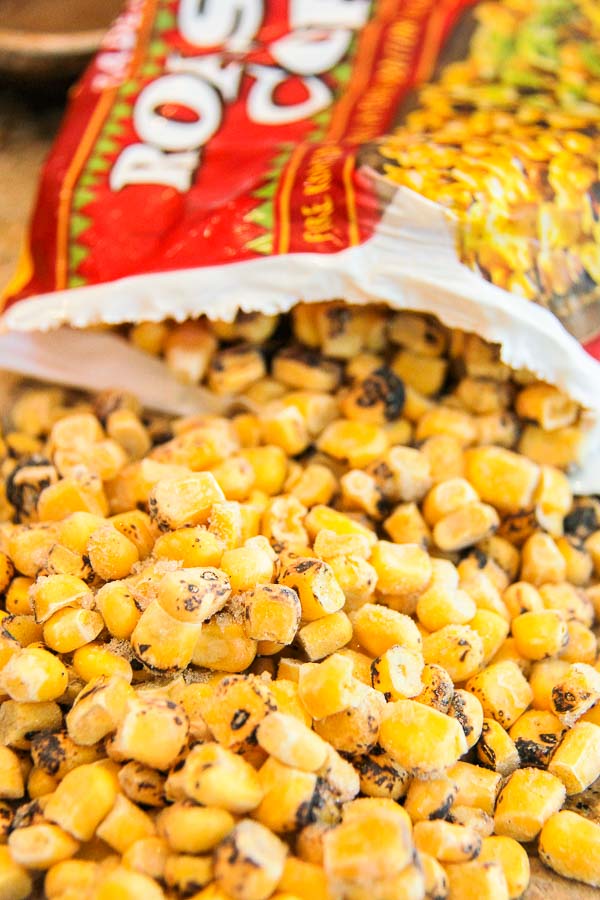 That's where the smoky goodness from the fire roasted corn kicks in. I get mine at Trader Joe's and buy at least 3 bags every time I go. It's not the kind of thing you want to eat straight but is a super flavorful addition to any soup or chili recipe. If you can't find fire roasted corn, just use your favorite frozen yellow or white corn. The recipe police won't show up. Would't that be funny? What would their uniform be? A police apron (OOH! I found one here) and chef's hat? Ha!
In a huge skillet (I love love love this one and use it almost everyday), heat some olive oil and saute the veggies. I chop and add to the skillet as I go, doing prep while things cook. I know green peas are in this pic but I've since realized that it's best to add them last minute with the rotisserie chicken so they stay bright green. Start with the carrots so they get tender. I use 3 different colors of bell peppers to keep things really bright and colorful in this easy chicken and yellow rice recipe. Feel free to use your favorite combo. Your kitchen, your rules babe. Just a few minutes of cooking, then you add in the cabbage, garlic and fire roasted corn.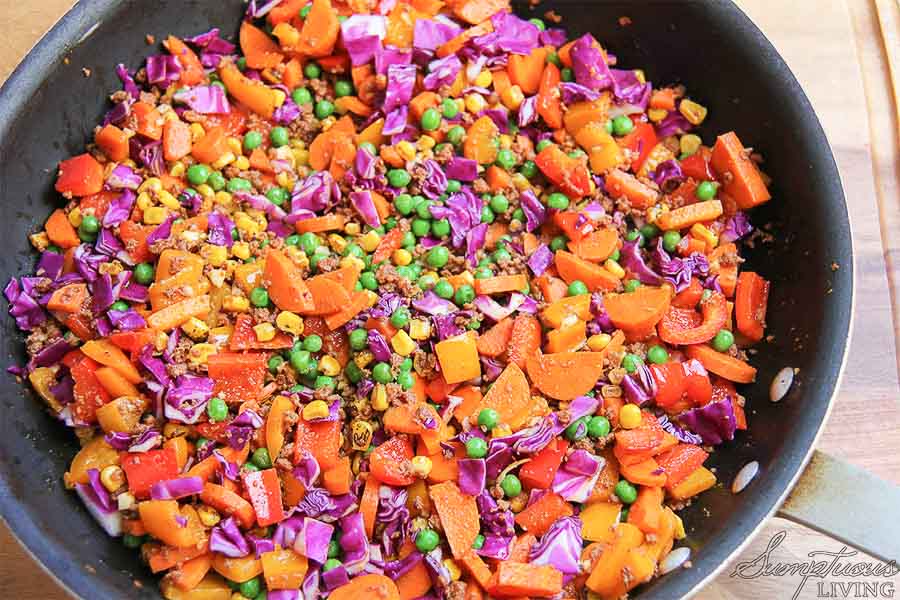 Just look at all of that color! Next comes the chorizo. Chorizo is a Spanish or Latin sausage that comes both in a cured form and in a ground form. Whatever you can find at your local market is fine. The ground form will be in the cooler case near the bacon maybe or the refrigerated tortillas. The cured kind will be by the pepperoni. If you use the cured kind, just give it a quick chop before adding it to the pot.
I grew up in Miami. Arroz con Pollo was a staple in the cuban culture and one of my favorite dishes to have at the family across the street. The chicken was always succulently tender and the rice had so much incredible flavor. But that mama cooked for hours to put her heart in that pot. Today we are so on the go that I had to figure out a way to put they same amount of love into the pan on a modern day time crunch. My secret to a flavorful but still easy chicken and yellow rice recipe is the combination of Sofrito and Sazon. These sassy little Latin sisters should always be in your pantry. They kick up any rice or beans in an instant and make it seem like you've been slaving away in the kitchen for hours.
You may not be familiar with these two ingredients, but I can guarantee that you have tasted them if you had delicious food from just about any Hispanic culture. Sofrito is essentially the mirepoix (or trinity if you're a Louisiana girl like me) of Hispanic cuisine, featuring a blend of tomatoes, peppers, garlic and onions all cooked in olive oil. It's the base of tons of rice dishes so you know it's perfect for this dish. Sazon is a type of seasoned salt also found in any number of Latin American dishes. The ingredients are simple: garlic, salt, coriander and annatto. You need these two ladies in your life. You can find them hanging out on the international food aisle of any grocery store.
Once you cook up the veggies and add the chorizo, stir in the rice, sazon goya, sofrito, and some water. Stir and cover and cook for about 20 minutes. At the final 5 minute mark, add in your chicken and green peas. I always have pulled rotisserie chicken meat in my freezer. Read how I prep them here when I buy 6 at a time. Then cook another 5 minutes or until all the liquid is absorbed and the rice is tender. Should only take 30 minutes to make our easy chicken and yellow rice recipe.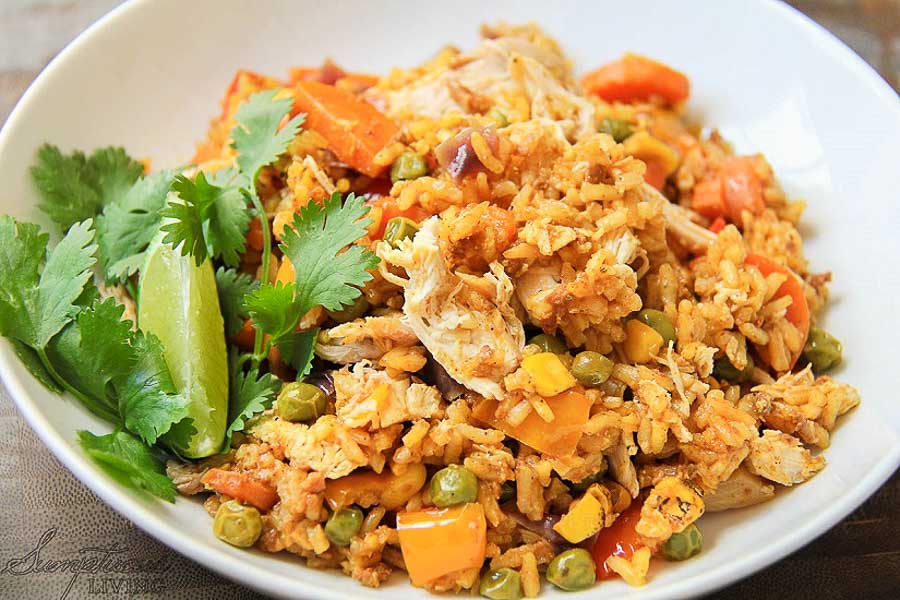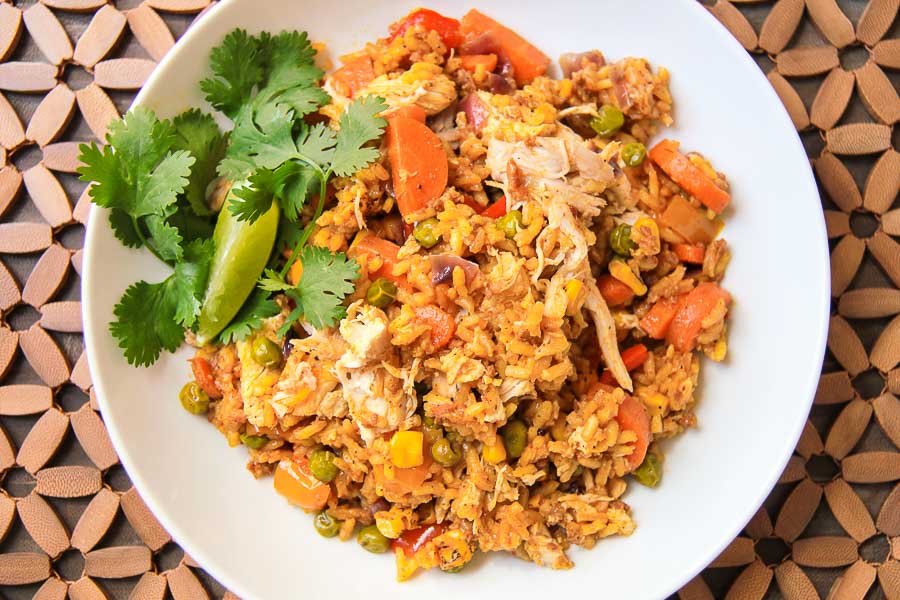 I have been making this for years and it has been a hit no matter what age my kids are. Everyone's (even adults) taste buds change as they age. So don't give up on getting your kiddos to expand their palates. If you always put new food in front of them, the new to me shock value will fade away and they'll start to surprise you. This recipe makes a lot for a reason. It freezes perfectly! Be a smarty pants and put any leftovers directly into a container in the freezer for an even quicker dinner in a few weeks. Our "Take Out" comes from my deep freeze.
VEGGIE LOADED, ONE POT, EASY CHICKEN AND YELLOW RICE RECIPE
Veggie-Rific Chicken and Yellow Rice
Easy one pan meal that even the pickiest of eaters will love. This chicken and veggie dish is bursting with flavor.
Ingredients
2 tablespoons Olive oil
2 cups Carrots (chopped)
1 1/2 cup Red, yellow and green peppers (chopped)
4 cloves Garlic (chopped)
1 cup Purple cabbage (chopped)
1 cup Fire roasted corn (frozen)
1/2 tablespoon Southwestern seasoning blend
8oz Chorizo
1 1/2 cup Uncooked Yellow Rice
3 cups Water
1 packet Sazon Goya (found in the international foods aisle)
1 heaping tablespoon Sofrito (found in the international foods aisle)
4 cups Rotisserie Chicken (About 1 Chicken, meat pulled & roughly chopped)
1 cup Green peas (frozen)
Optional Garnish: Chopped Cilantro (to taste), Lime Wedges, Sriracha
Instructions
In a very large non-stick skillet, heat oil over high heat add carrots and peppers (I use frozen pre-chopped peppers) and cook stirring for 2-3 minutes.
Add remaining vegetables (except peas) and spices.
Stir in chorizo, and rice.
Add water, sofrito and Sazon Goya and stir well.
Cover and bring to a boil.
Reduce heat to simmer and cook for 20 minutes. Add in chicken and peas. Stir well and cook another 5 minutes or until liquid has been absorbed and rice is tender. Garnish to taste.
Notes
This will make enough to serve your family well for dinner and freeze 2 dinners into 4-cup containers for even easier weeknight meals in a flash.
https://sumptuousliving.net/easy-chicken-and-yellow-rice-recipe/
Copyright @ Sumptuous Living
YOU CAN "HAVE IT ALL" & NOT LOSING YOUR MIND IN THE PROCESS! THIS RECIPE WAS CREATED BY SUMPTUOUS LIVING FOUNDER & LIFESTYLE EXPERT MANDY LANDEFELD. READ MORE ABOUT MANDY HERE