The Best Thanksgiving Appetizer! Butternut Squash Bruschetta
Start planning to impress everyone this fall with the Best Thanksgiving Appetizer ever! Butternut Squash Bruschetta with Fig Balsamic Glaze & Goat Cheese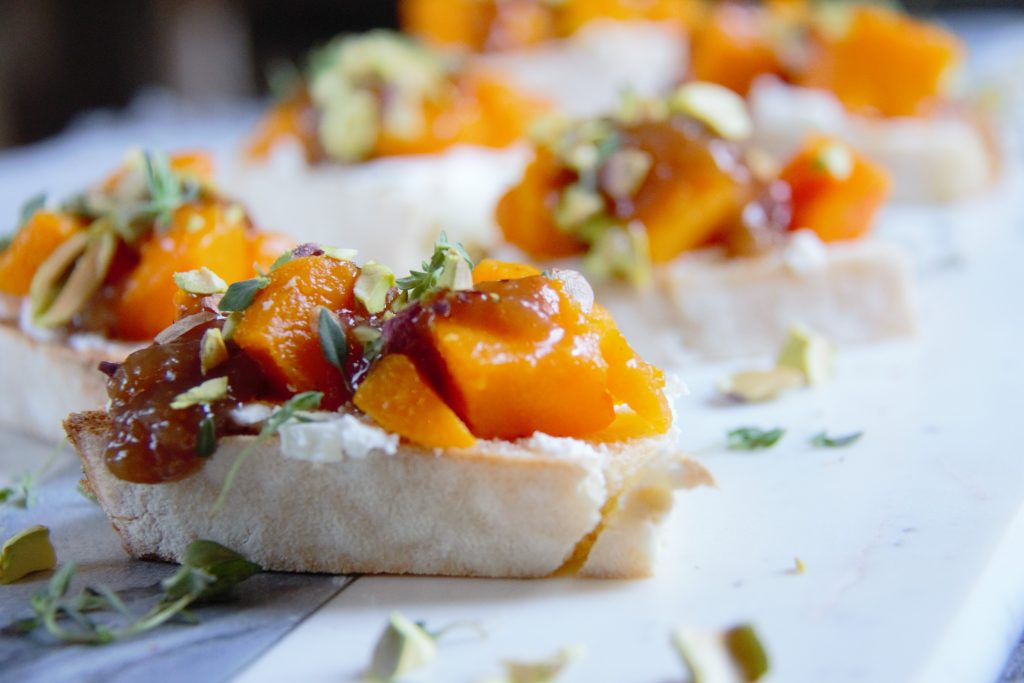 Thanksgiving is less than a month away! Time is flying! So if you're hosting, wanting to be the ultimate guest, or just entertaining nuts like us who pretty much are looking for any reason to gather around a fire pit in the fall, then pay attention! This is THE BEST THANKSGIVING APPETIZER and guaranteed to make everyone forget about that silly bird! Butternut Squash Bruschetta is now my absolute favorite thing to serve in the fall. Crusty bread loaded with oven roasted butternut squash, creamy goat cheese, tangy fig balsamic onion glaze, and crunchy pistachios. Dang Baby! There are no words to tell you how good this recipe is. Your mouth will go crazy!
Have a favorite appetizer recipe or feel like making this one? Take a pic and tag us on Instagram with the #sumptuousliving! We'd love to see what you're cooking up for your family!
VIDEO: This weekend I was thrilled to be asked to do a Facebook Live for Country Living Magazine and shared this recipe! Here's the link so you can see just how to make it.
Butternut Squash Bruschetta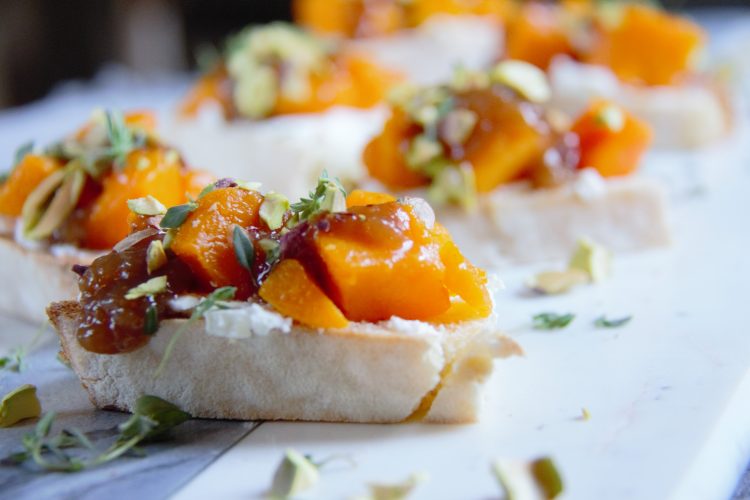 The best fall appetizer ever! Your mouth will go crazy!
Ingredients
1 Butternut Squash, peeled and cut into small bite-size cubes (microwave whole squash for 4 minutes to make it easier to cut)
¼ cup Extra-Virgin Olive Oil, divided
2 TBS Chicken Stock
Kosher Salt
Fresh Ground Pepper
1 cup Chopped Onion
1 jar Fig Preserves
¼ cup Balsamic Vinegar
24 slices Ciabatta Bread
16 oz log Goat Cheese
½ cup chopped Roasted Pistachios
1 TBS Fresh Thyme Leaves
Instructions
Preheat oven to 400 degrees.
Line a sheet pan with heavy duty foil.
Place cut butternut squash on pan and drizzle with 2 tablespoons olive oil.
Season with kosher salt and pepper and toss together.
Bake for 15-20 minutes or until tender. Allow to cool.
While butternut cooks, sauté onions in 2 tablespoons olive oil in a skillet over medium high heat. Season with salt and pepper and cook for 5-7 minutes or until onions are golden.
Place cooked onions in a food processor with a jar of fig preserves and balsamic vinegar.
Pulse to combine.
Allow to cool.
Brush bread slices with olive oil.
Place on a sheet pan and toast lightly in oven.
Smear goat cheese on bread.
Top with pieces of roasted butternut, a drizzle of fig onion sauce, chopped pistachios and fresh thyme.
https://sumptuousliving.net/best-thanksgiving-appetizer/
Copyright @ Sumptuous Living