A Mango Jalapeno Margarita For Cinco de Mayo!
Get out your sombrero and celebrate Cinco de Mayo with a delicious Mango Jalapeno Margarita! Fresh mangoes, jalapeno simple syrup, lime and tequila. Yum!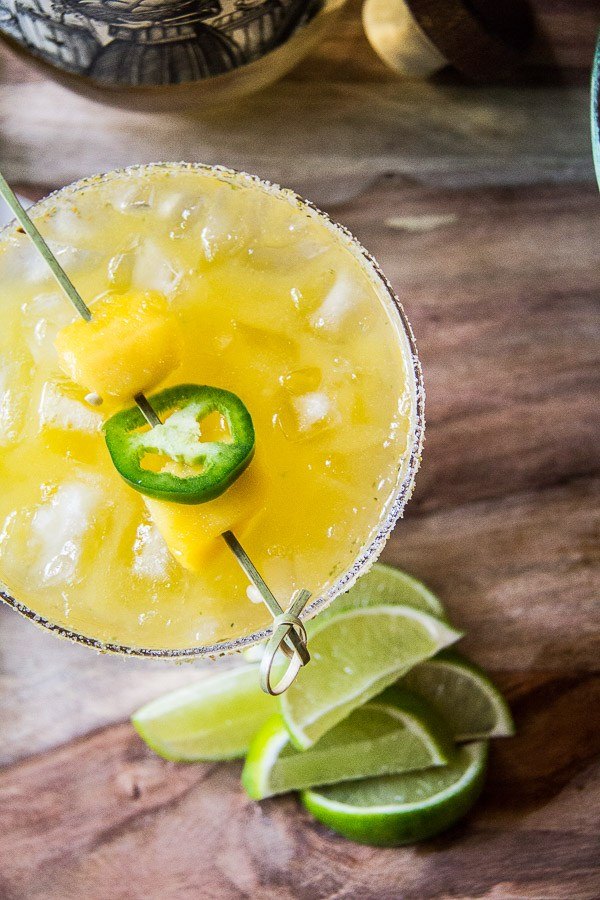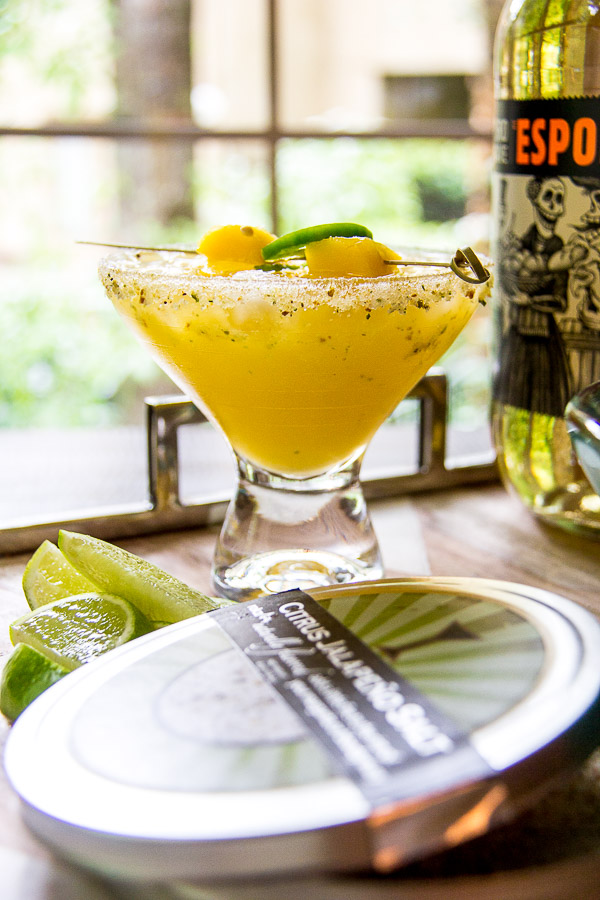 Before we get to our Mango Jalapeno Margarita, let me explain something. Mexican food is our crack. Plain and simple, if I put it in a taco, my kids will eat it. If I serve it with this fresh salsa, my hubs will eat it. Not that anyone is really picky in my house (I DO NOT RUN A DEMOCRATIC KITCHEN)… and yes I do have a 9-year-old Chick-Fil-A and Cheerios kinda kid, but even he eats the hell out of Mexican food! So when Cinco de Mayo rolls around and we ramp up our fiesta style eating, my house get very happy!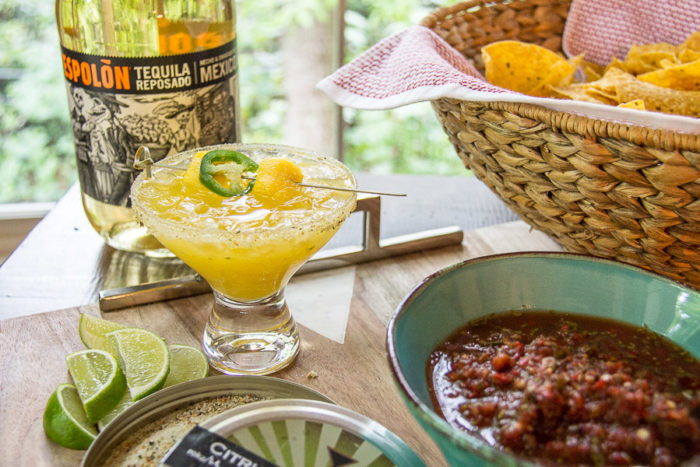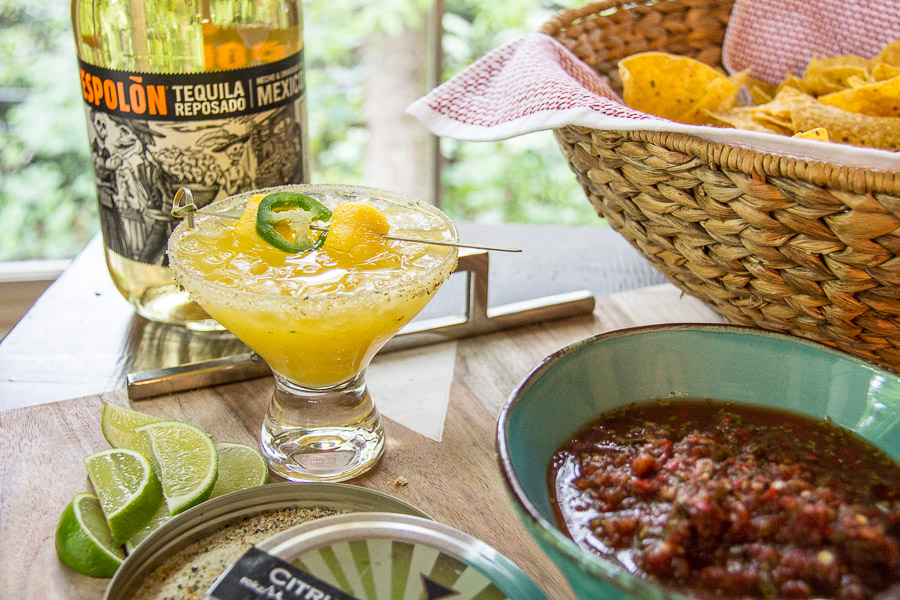 If I'm cooking all this yummy stuff like our Mojo Chicken Lettuce Cups or My Favorite Guacamole, then of course big mama needs a Margarita! My cocktail standards of fresh, delicious, house-made cocktails don't change just to make margaritas. Our Grapefruit Margarita is just as fresh as this bright and tangy Mango Jalapeno Margarita. Watch how to make it here.
Made with great tequila, fresh lime-jalapeno simple syrup, fresh lime juice and a juicy mango, our Mango Jalapeno Margarita has just enough kick! I rim my margarita glass with fresh lime juice and then dip into this killer Citrus Jalapeno Salt. It has flecks of orange and dried jalapeno and tasty sea salt. It's so good and super pretty! The colors alone really bring this cocktail to life, just wait 'til you taste it!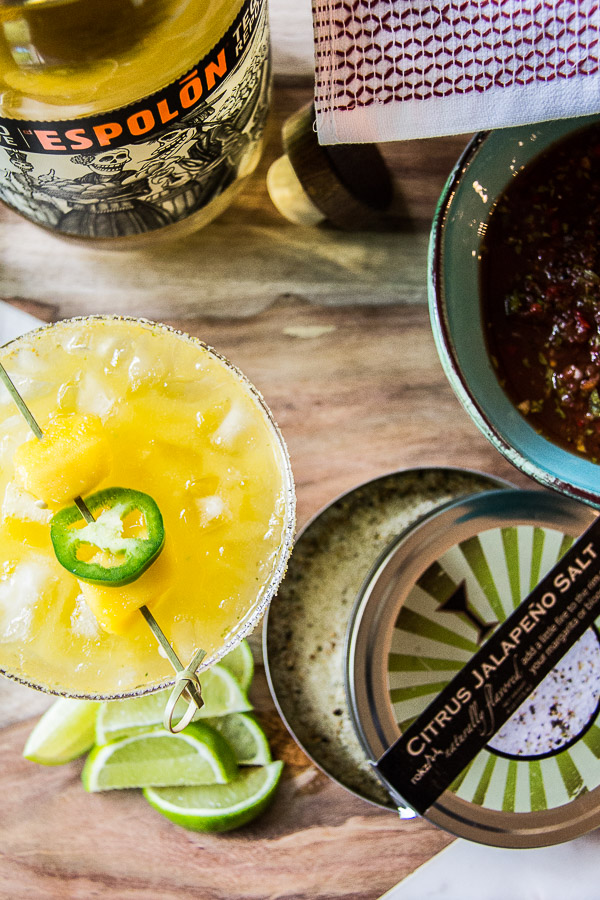 The colorful combination of flavors comes to life with every sip. The drink itself is just as delicious as it is beautiful – which only adds to the fun! It hits that special place on our taste buds, ya know, the spot that craves a heavenly mixture of salty and sweet. But then we get that extra zing that only jalapenos can bring. And lucky for us, it pairs perfectly with all of our favorite Mexican dishes – which is, well, all of them! This is the perfect example of the magic that can happen with we get creative when combining flavors.
Being a bourbon and whiskey girl, I prefer barrel aged Anejo or Reposado tequilas over the clear silver kind but choose what you like! Great tequila doesn't have to be super pricey either! Espolon and Herradura are always in my bar! And you can add a little smoky kick by adding in a bit of Mezcal. Have I told you how much I love Mezcal?
Now, on your marg, get set…drink!
MANGO JALAPENO MARGARITA
A Mango Jalapeno Margarita For Cinco de Mayo!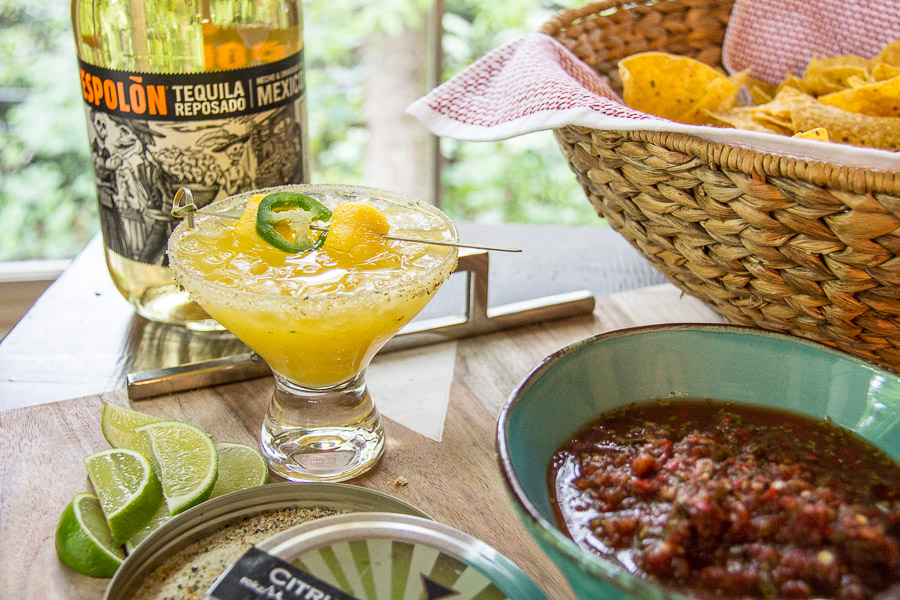 Ingredients
2 1/2 oz Tequila
1 oz Fresh Lime Juice
2 1/2 oz Mango Jalapeno Mixture
For The Mango Jalapeno Mixture:

1 Whole Ripe Mango, peeled and cut
1 cup Jalapeno Lime Simple Syrup
For The Jalapeno Lime Simple Syrup:

2 cups Sugar
2 cups Water
Peel of 1 Lime
1 Jalapeno sliced with seeds
Instructions
For The Simple Syrup:

Bring sugar and water to boil. Turn off heat and add in lime peel and jalapenos. Let cool for 2 hrs or overnight. Strain into a mason jar.
For The Mango Mixture:

Blend mangoes and simple syrup together until smooth.
For The Margarita:

Rim a glass in lime juice then in ROKZ margarita salt. Fill glass with ice. Mix together cocktail ingredients in a mixing glass then pour over ice.
https://sumptuousliving.net/mango-jalapeno-margarita/
Copyright @ Sumptuous Living