Mummy Hand Pies
Throwing an Halloween party or just looking to bring some spooky fun to the dinner table? These Mummy Hand Pies, filled with delicious taco filling and gooey cheese are the perfect thing!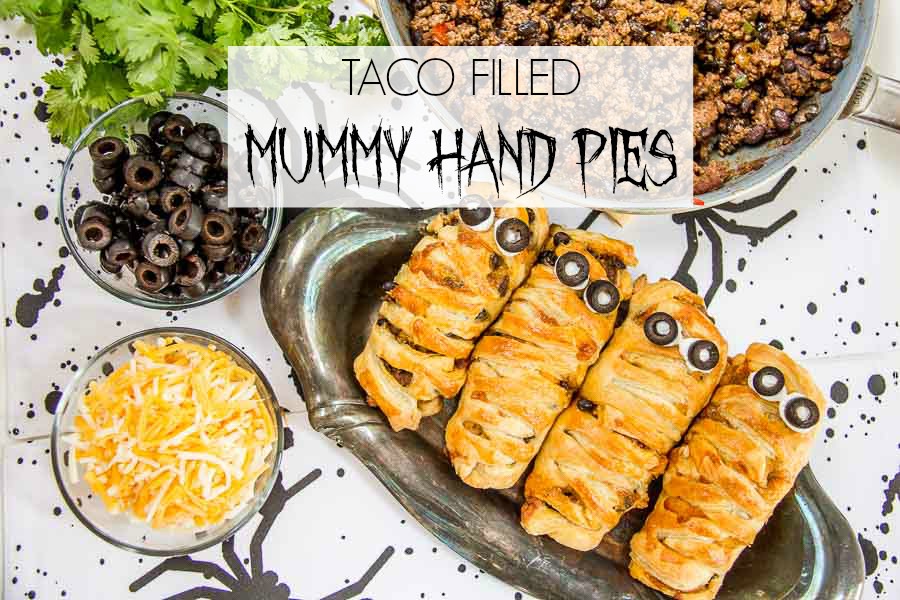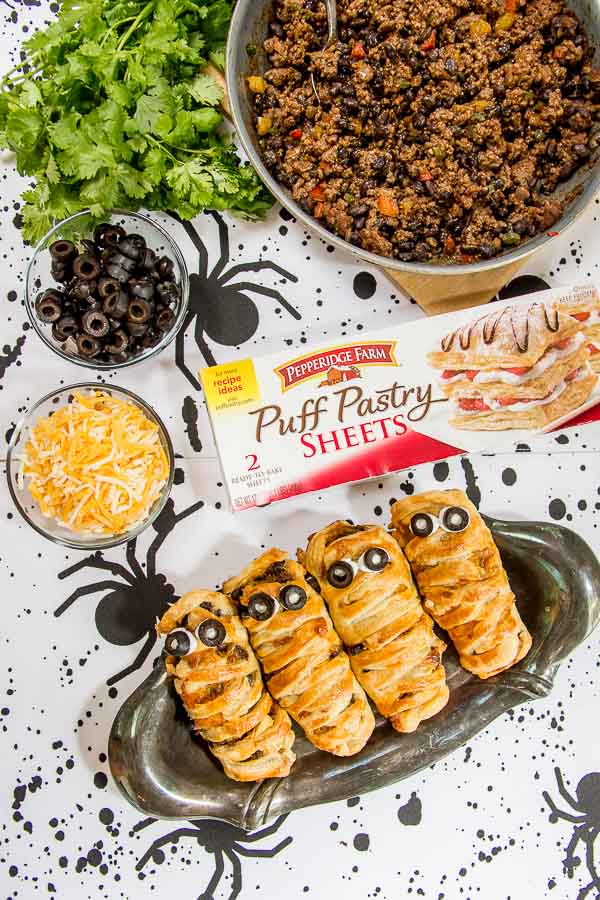 Halloween is in full effect at my house! Like every year, hours have been spent scouring the internet for the perfect costume. I've mastered the art of distraction and, as a result, swayed my 9 year old from blowing his college fund on some crazy expensive outfit he's only gonna use for one night (he's our last kid , so there's no hand me downs anymore). Plus, our teens are planning a Halloween Party, so I've been getting my Pinterest level creativity on (are you following us on Pinterest? Click here to see our boards) and trying out some spook-tacular food ideas. These Mummy Hand Pies are perfect! Filled with my favorite taco recipe and gooey cheese, what teenager won't want one… or 3 (my kids eat like an Olympic hockey team)!
My favorite "GO-TO" ingredient to always have in my freezer is Puff Pastry. You can use this stuff for damn near anything! Dessert, appetizers, dinner, anything! A box should ALWAYS be in your freezer. ALWAYS. Don't even try to make the dough yourself. With so many layers of folded in butter and dough, this is one product you need to just buy at the market. It's in the novelty dessert freezer section, near the pies.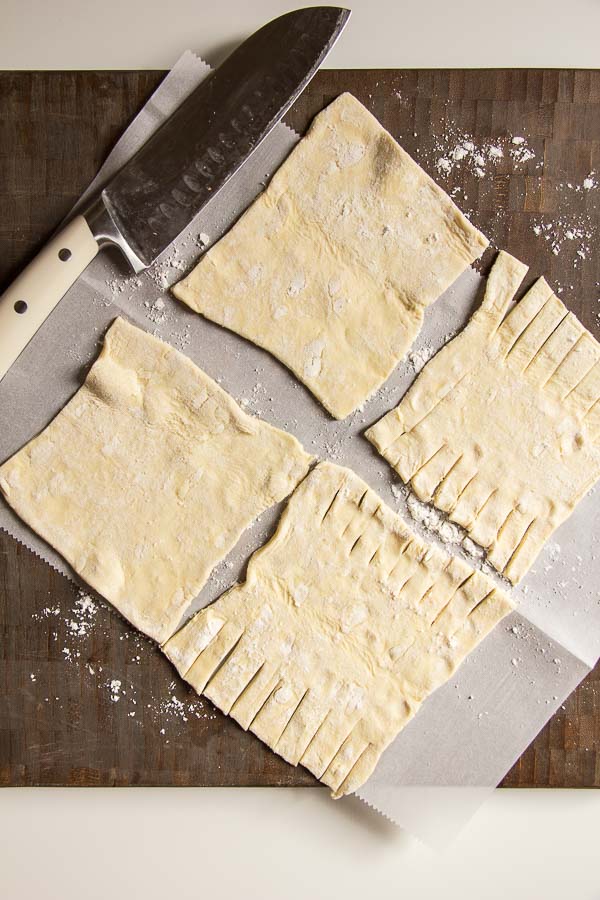 To make the hand pies. Start with your filling. You can fill these hand pies with anything. Last night's dinner, grilled chicken and veggies, pesto sauce and ham, or taco filling like we did. Anytime I make tacos, I make a double batch of filling and freeze what we don't use for dinner that night. It freezes really well and makes a crazy day a whole lot easier to get dinner on the table. You can use your favorite taco recipe or the one we've added to the recipe below. Anything will be delicious filling for these little Mummy Hand Pies.
Unfold the defrosted pastry dough and cut into quarters. You can stretch it out a bit. Leave the center for filling and make slits in the outside edges for the mummy wrap look. Don't go crazy making them exactly even. It's mummy so it's supposed to look a bit unraveled (bad joke). Then take about 1/4-1/3 cup of filling and spoon it on down the middle of the hand pie dough. Top them with cheese. I'm using a shredded Mexican blend but pepper jack would be yummy too. If you're doing a different kind of filling, use any cheese that you like.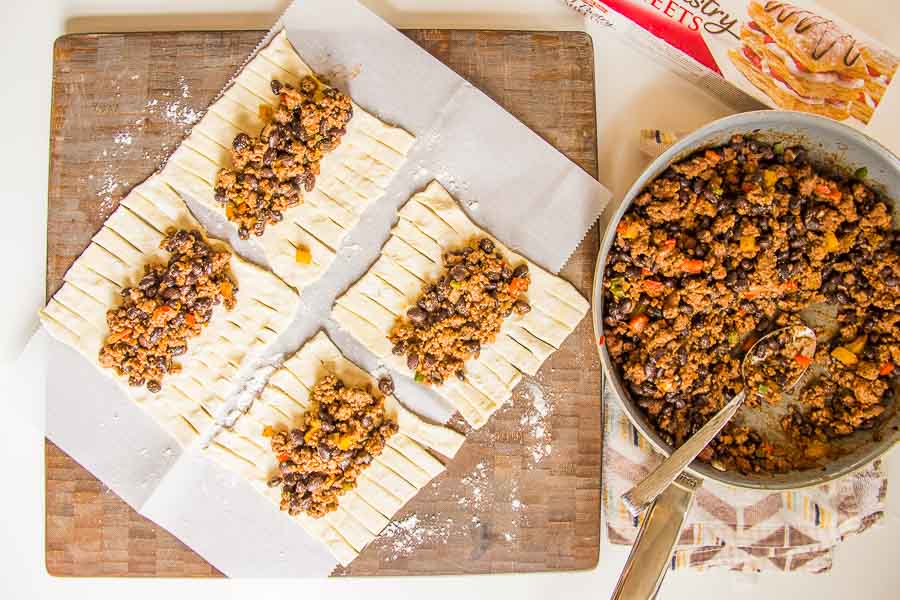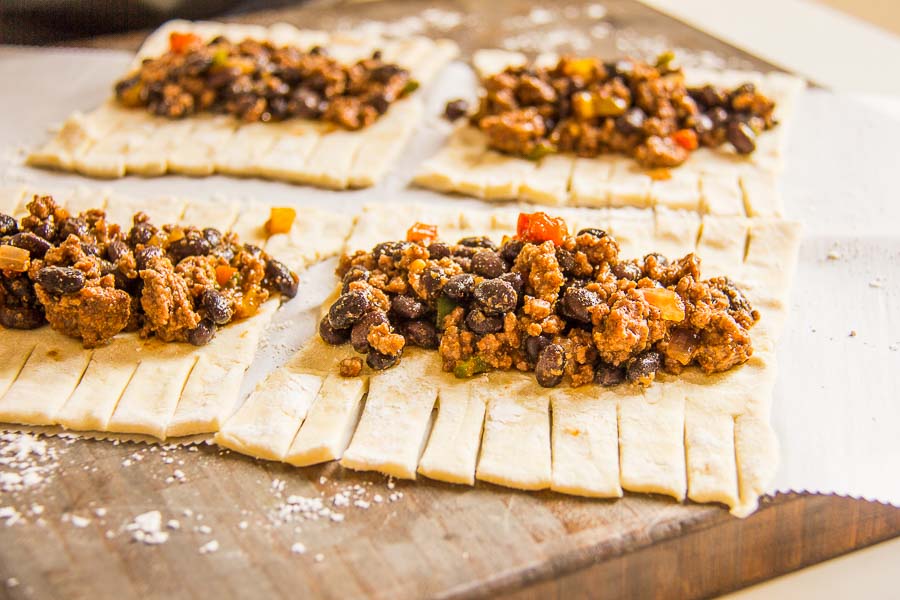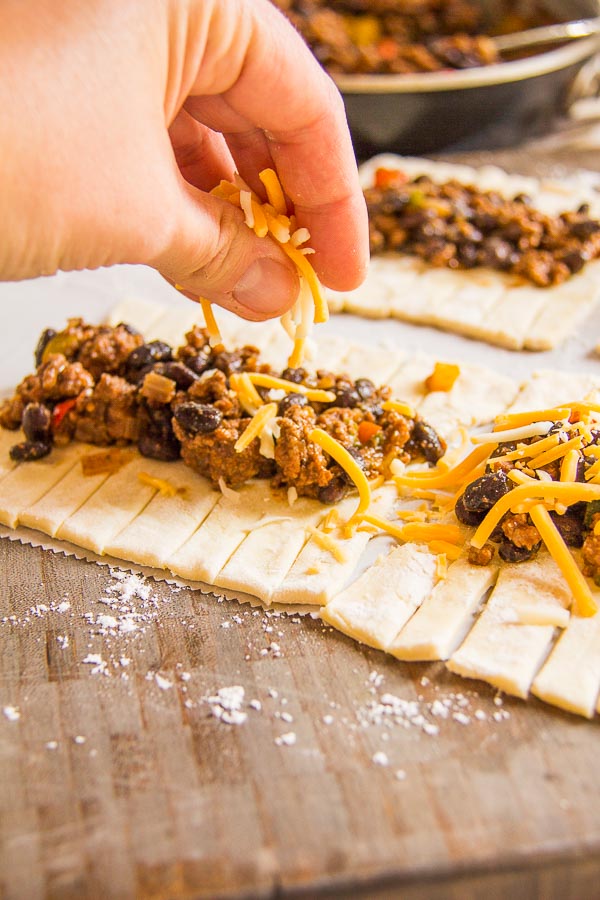 Here's the fun part. Once the hand pies are filled, start braiding the dough from side to side. I always wind up pinching off a few extra strips that just wind up being too much lacing. Brush the dough with an egg wash (1 egg beaten well with 1 tsp of water) and pop them in the oven.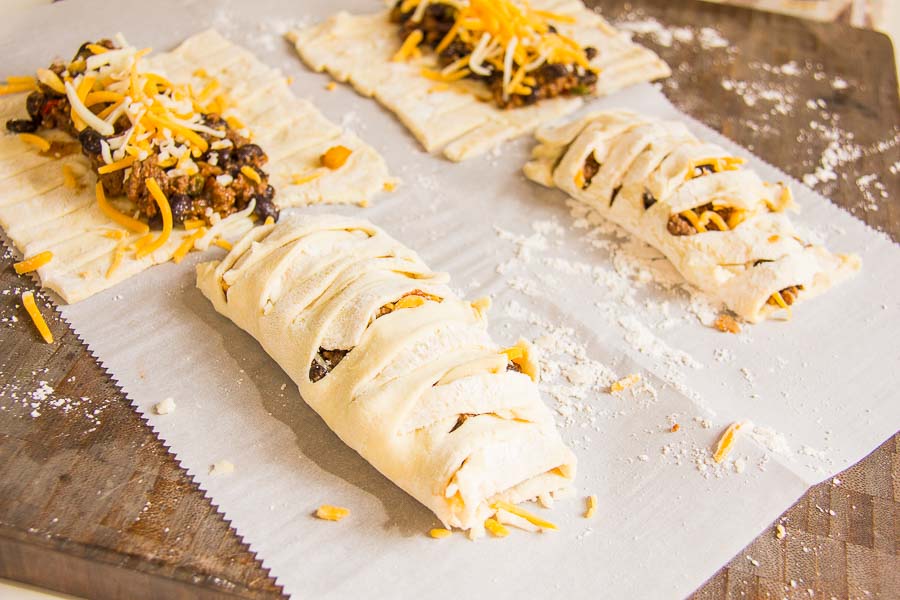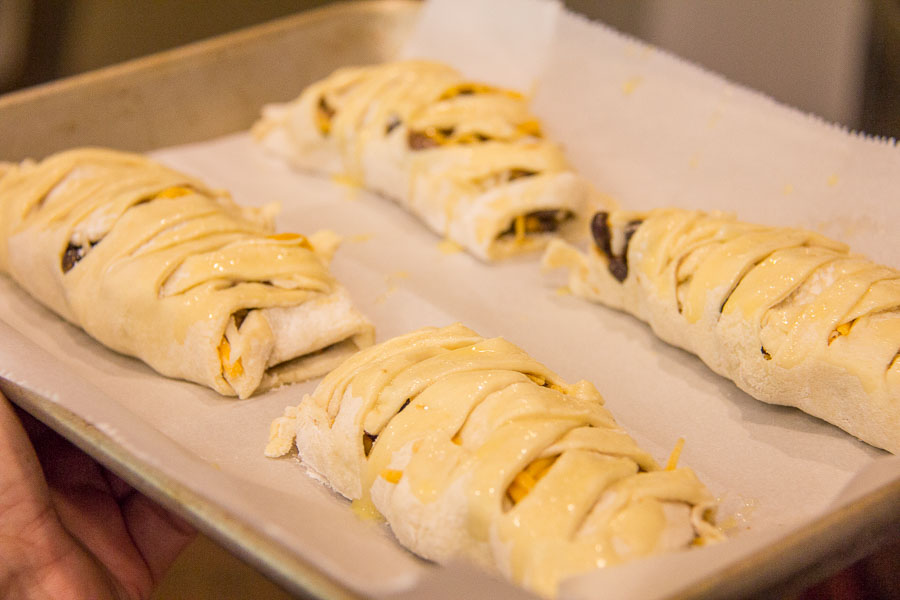 Bake the Mummy Hand Pies until golden brown. Next, pop on some eyes to really make them look like mummies. I put my eyes on the larger end of the hand pies so that any narrowed end resembles the mummy's feet. A couple dollops of sour cream and some sliced olives make the cutest eyes for our mummies. Don't you think?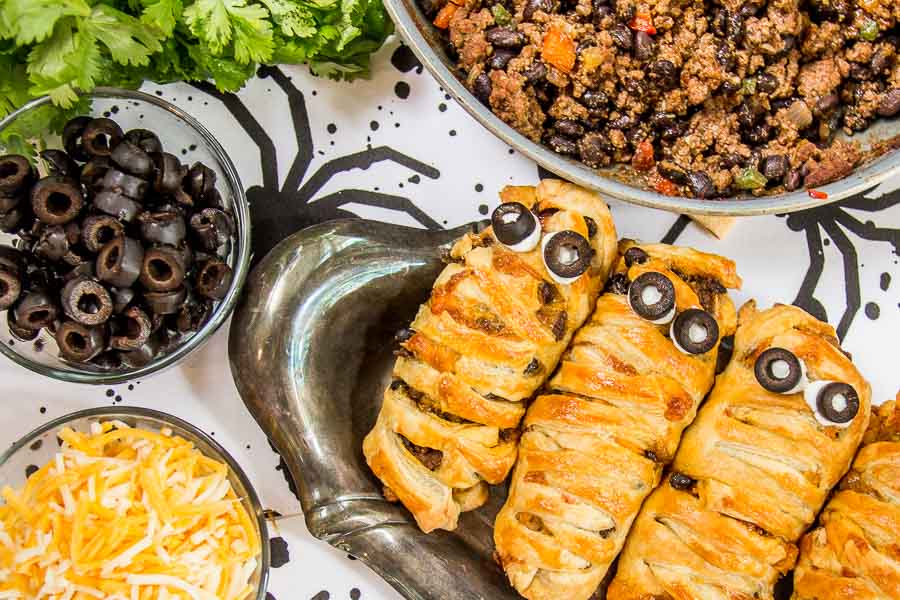 What do you serve on Halloween? Normally I'm making a pitcher of Margaritas and a huge pot of this soup and inviting the neighborhood over to hang before we all head out for Trick-Or-Treating. It's been our tradition for forever. Low key and yummy. Perfection.
MUMMY HAND PIES WITH TACO FILLING & CHEESE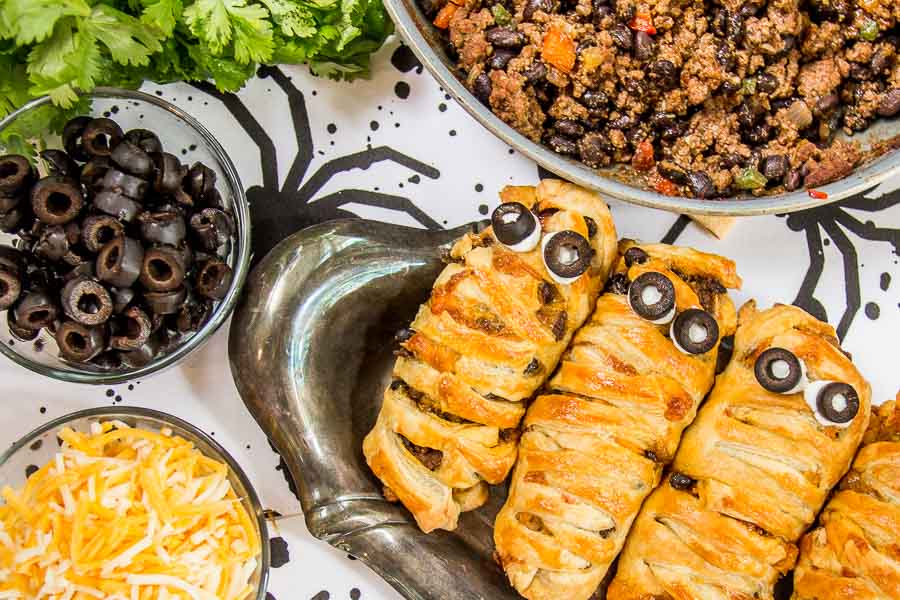 Fun little Mummy Hand Pies filled with a delicious taco filling and gooey cheese
Ingredients
1 lb ground beef
½ cup onion, chopped
½ cup bell peppers, chopped (any color)
2 cloves garlic, minced
1 jalapeno, chopped
1 ½ Tbs Taco seasoning
½ Tbs cumin
1 can fire-roasted tomatoes, drained
1 can black beans, drained and rinsed
1 box puff pastry, defrosted
1 cup Mexican Cheese, shredded
1 egg
1 tsp water
Black olives, sliced for garnish
Sour cream, for garnish
Instructions
Preheat oven to 400 degrees. Line a sheet pan with parchment paper or a silpat.
Heat skillet over medium-high and brown ground beef for 2-3 minutes. Add in onions, peppers, garlic and jalapenos. Cook for 3 minutes.
Add spices, tomatoes and black beans. Cook for 5-8 minutes or until all the liquid has evaporated; set aside.
On a floured surface open puff pastry and cut one pastry into 4 squares. Stretch each square out a bit then make small slits on outer edges leaving center twice as wide as the edges.
Lay filling down middle and top with cheese. Fold the pastry strips over the filling alternating sides making a criss cross pattern to mimic a mummy. Place on sheet pan.
In a small bowl, beat egg with water to make an egg wash. Brush on top of mummy.
Bake for 15-20 minutes or until golden brown. Remove to cooling rack; cool slightly.
Garnish with 2 tiny dollops of sour cream topped with 2 slices of olives on each mummy to resemble eyeballs.
https://sumptuousliving.net/mummy-hand-pies/
Copyright @ Sumptuous Living