Cocktail Friday: Grapefruit Margarita with Spiced Salt Rim
Margarita Time! Make yours special with our Grapefruit Margarita with Spiced Salt Rim.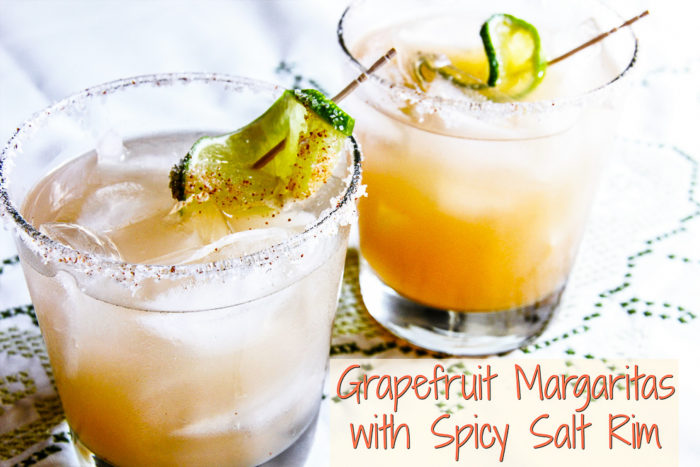 Who doesn't love a good margarita? Baby, I love them! But not that sweet & sour mix bottled stuff that tastes more like floor cleaner than a classically gorgeous cocktail! When you switch over to only fresh juices and no added sweeteners, that's what the artificial stuff will eventually taste like to you. I can live with that! Hit the curb crappy cocktails! Our Grapefruit Margarita meets all those requirements and has a Spicy Salt Rim to really get the party started!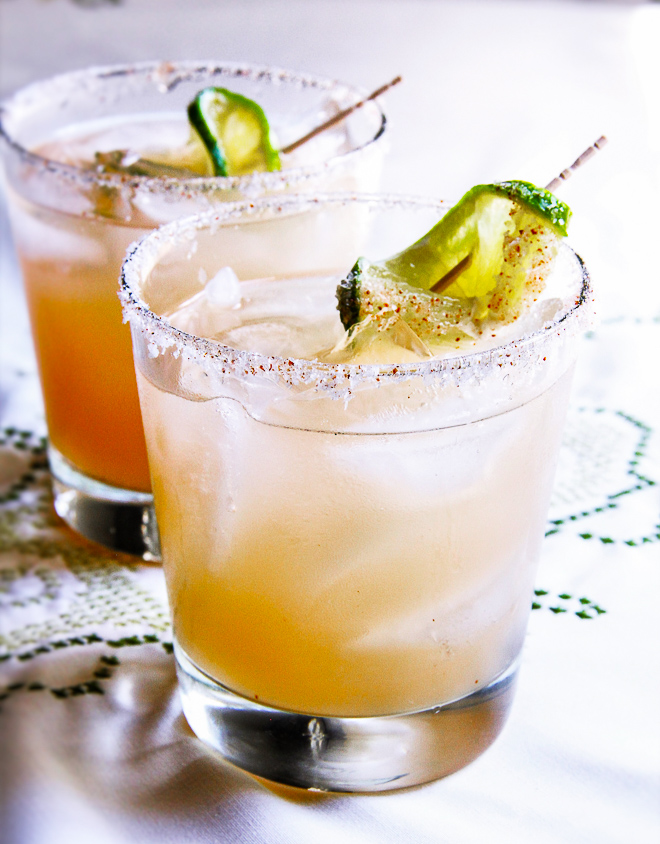 Fresh and blushing pink, this Grapefruit Margarita is made with ruby red grapefruit juice, fresh lime juice, dry curacao, and silver tequila. That's it!! 4 simple ingredients you probably already have in your kitchen and a spicy salt rim made with kosher salt, cayenne pepper, and a bit of sugar. Every sip is like a party! Happy Margarita Time!
Grapefruit Margaritas with Spiced Salt Rim
4 simple ingredients and a spicy salt rim. Every sip is like a party!
Ingredients
Margarita

2 oz tequila
½ oz dry curacao or triple sec
1 oz fresh grapefruit juice
½ oz lime juice
Sugar Rim

1 tbl kosher salt
½ tsp sugar
1/8 tsp cayenne pepper
1 lime, cut into wedges
Instructions
Place margarita ingredients into a large glass and stir to combine. Set aside.
In a small dish combine salt, sugar, and pepper.
Rub lime on rim of glass and dip in salt mixture.
Fill glass with ice.
Pour margarita over top of ice avoiding rim.
Garnish with lime wedge dipped in salt mixture.
Notes
To make a pitcher exchange ounces for cups.
https://sumptuousliving.net/grapefruit-margarita/
Copyright @ Sumptuous Living