Peach Basil Old Fashioned
Put a Southern Summertime Twist on a Classic Cocktail. Deliciously sweet peaches and bright basil are so good with my favorite brown liquor!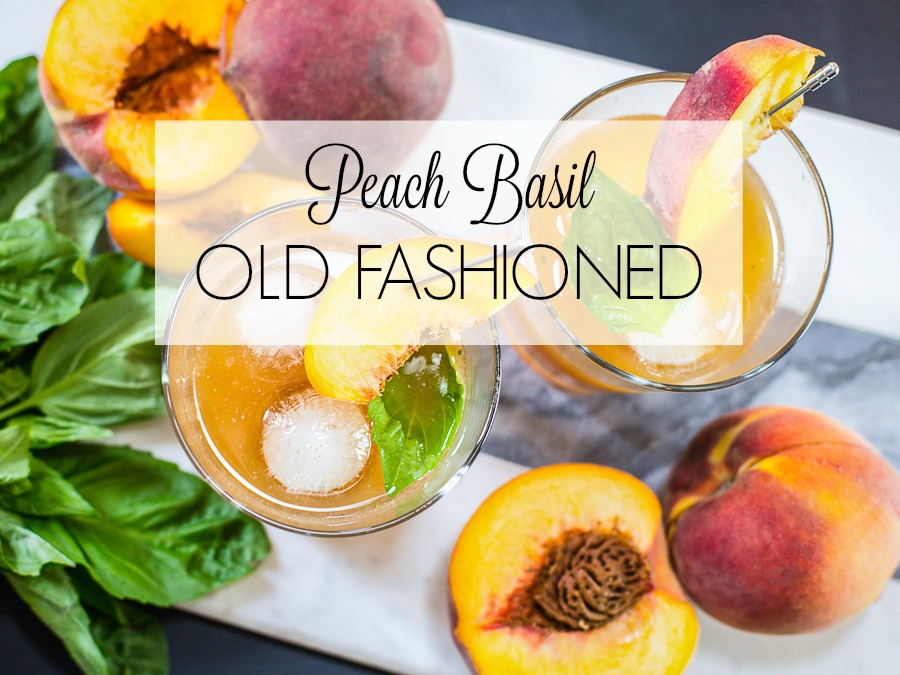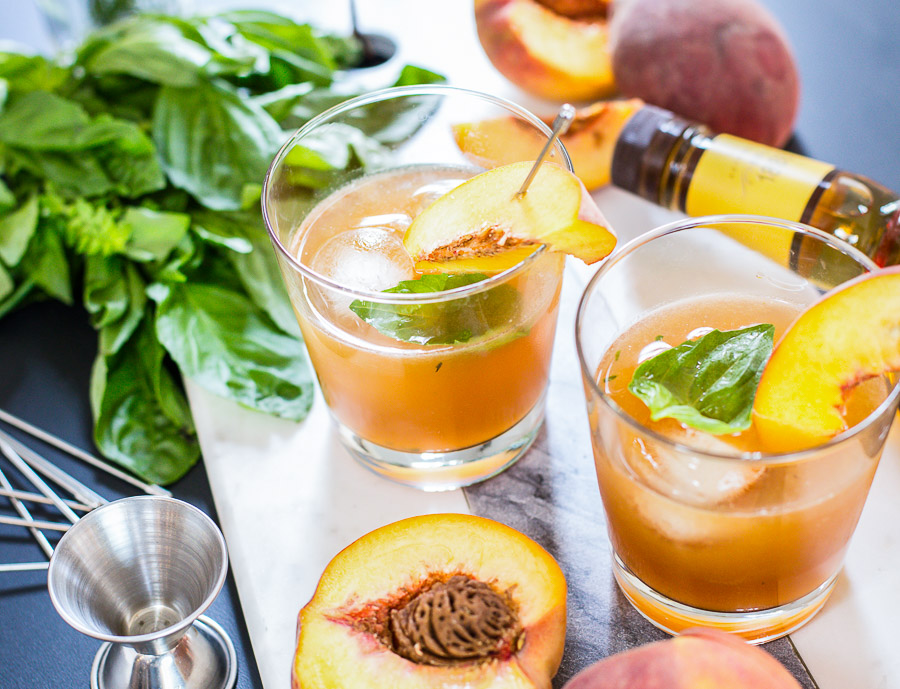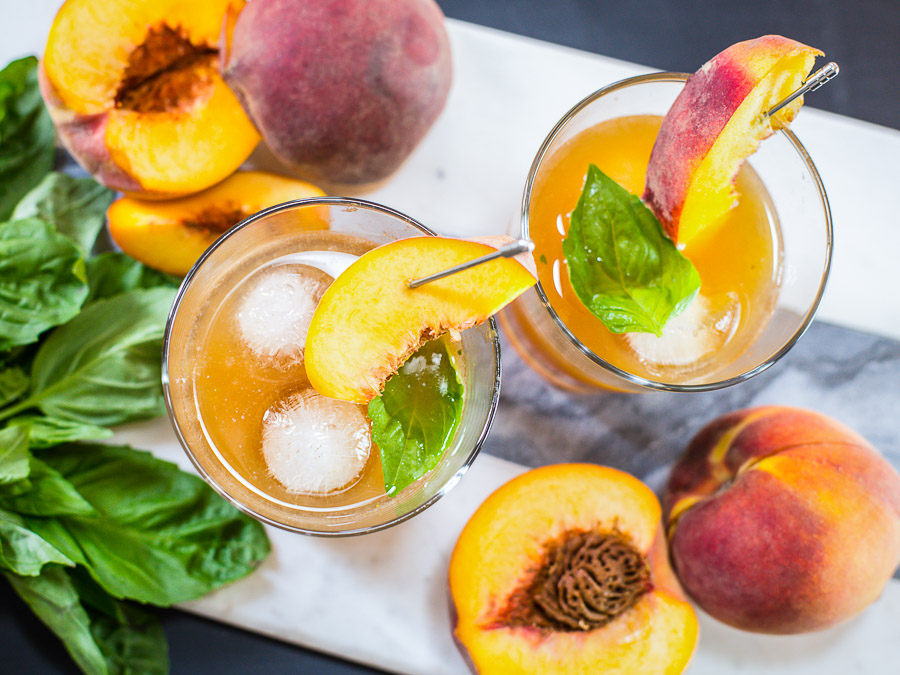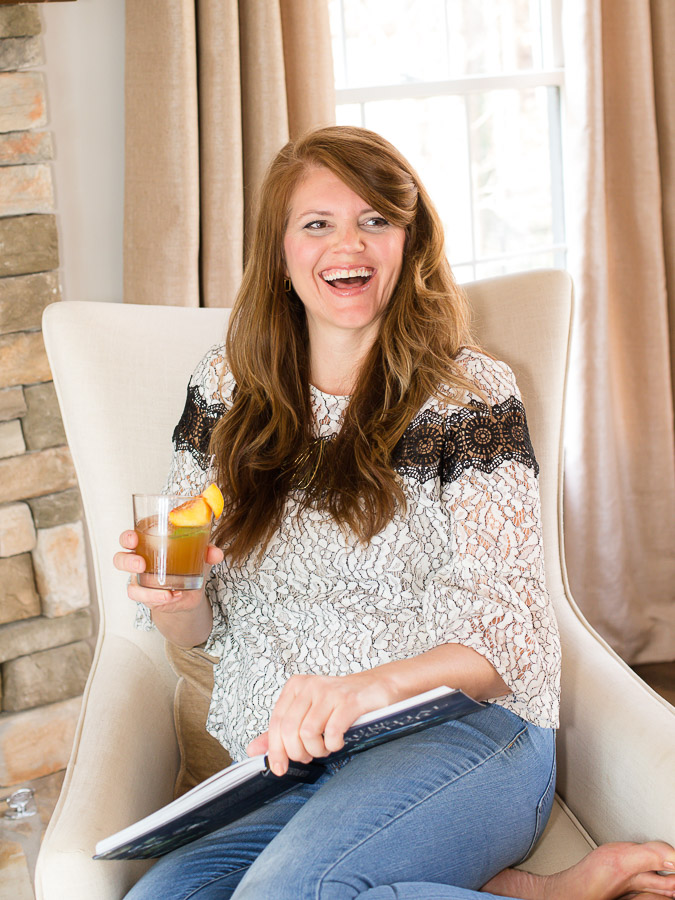 PEACH BASIL OLD FASHIONED
The Old Fashioned should be on everyone's go-to cocktail list. Any decent bartender learned this first. If you're ever worried about what to order at a restaurant, this drink immediately gives you street cred in the cocktail world. It's simply a perfect drink. How about we play with perfection? Let's make a Peach Basil Old Fashioned. We'll make good use of those peaches in our fruit basket and the basil growing in the garden.
I love using peaches in drinks. I'll grill them, muddle them, and blend them. One of my favorite cocktail mixers is Stirrings Peach Bellini Mix. Even though it says bellini in the title, I never use it for that. Any good cocktail mixer should be versatile to more than one kind of drink and this Peach mixer is just that! I use it with bourbon, gin, smoky mezcal, and pretty much anything in my bar. It's perfect to use in our Peach Basil Old Fashioned. My husband's cousin first gave me a bottle as a hostess gift during our Landefeld Ladies Weekend (read about our hijinks here). I played and played with every last drop of it. It wasn't to sweet ( we've met and you know I don't do sweet) and really easy to take your drink in a new direction.
We also know I'm a muddle-a-holic. I love to muddle drinks with herbs and fresh fruits to add freshness that you simply can't get from liquor and mixers alone. To make this Peach Basil Old Fashioned, muddle together a slice of fresh peach with a few leaves of fresh basil. Add in bourbon or rye whiskey, black walnut bitters, and Stirrings Peach Bellini Mixer. Muddle a bit more and strain over a giant ice cube in an old fashioned glass. Garnish with basil sprig and peach slice. Then drink up! Make two… If a tall chick rings your doorbell, you know who it is!
Peach Basil Old Fashioned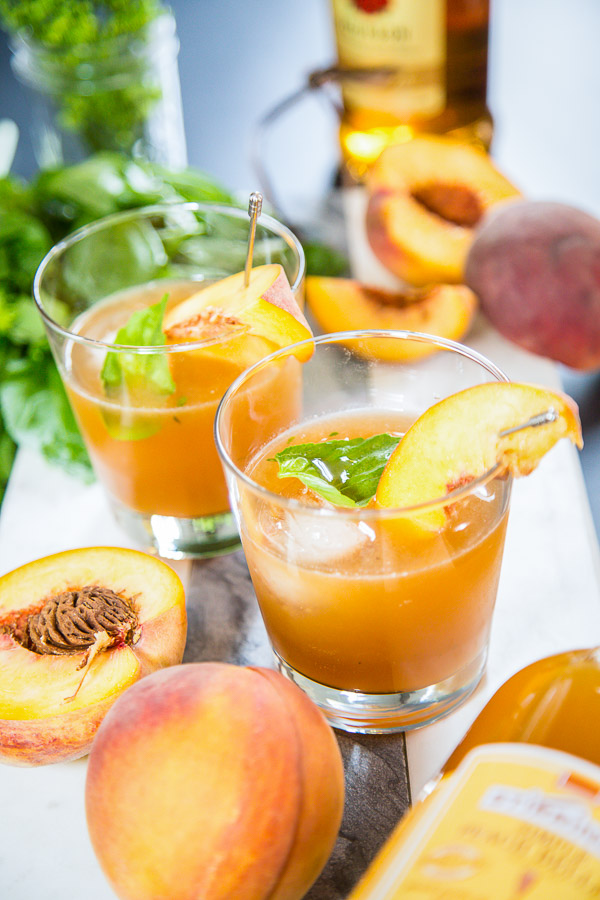 Ingredients
2 OZ GOOD BOURBON
1 ½ STIRRINGS PEACH BELLINI MIX
3 DASHES BLACK WALNUT BITTERS
FRESH PEACH SLICE
FRESH BASIL LEAVES
Instructions
MUDDLE ALL INGREDIENTS IN COCKTAIL SHAKER AND STRAIN OVER LARGE CUBE OF ICE
GARNISH WITH FRESH BASIL AND PEACH SLICE
https://sumptuousliving.net/peach-basil-old-fashioned/
Copyright @ Sumptuous Living
This post is in partnership for a cocktail tour with Stirrings Cocktail Mixers . Cocktail recipe, development and opinions are fully that of Sumptuous Living. Mandy Landefeld is a Lifestyle Expert & Founder of Sumptuous Living who shares how to Have It All & Not Lose Your Mind In The Process with her tips and ideas on Cooking, Entertaining, Design and Cocktails.