Watermelon Basil Vodka Cocktail
Watermelon & Basil make the perfect summer combo! Time to break out the patio glasses and call over some friends for a drink by the pool. Everyone will love our Watermelon Basil Vodka Cocktail, especially when it's topped with Champagne!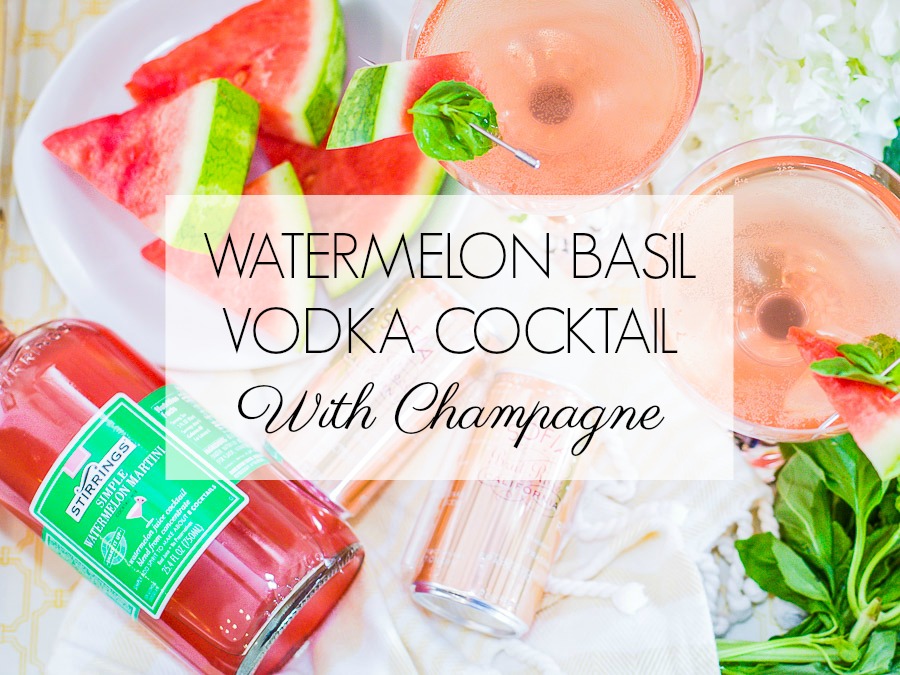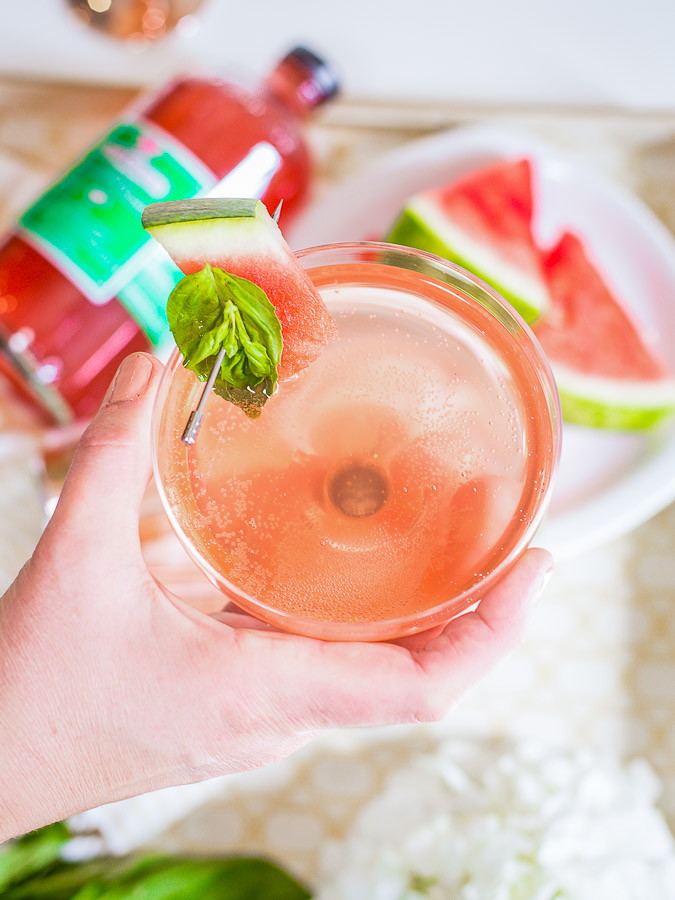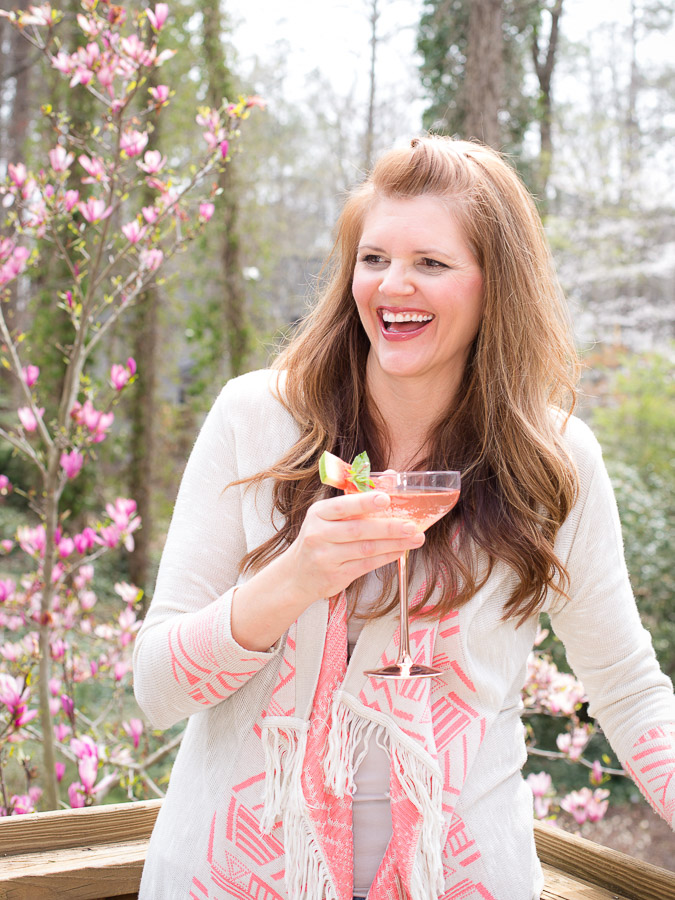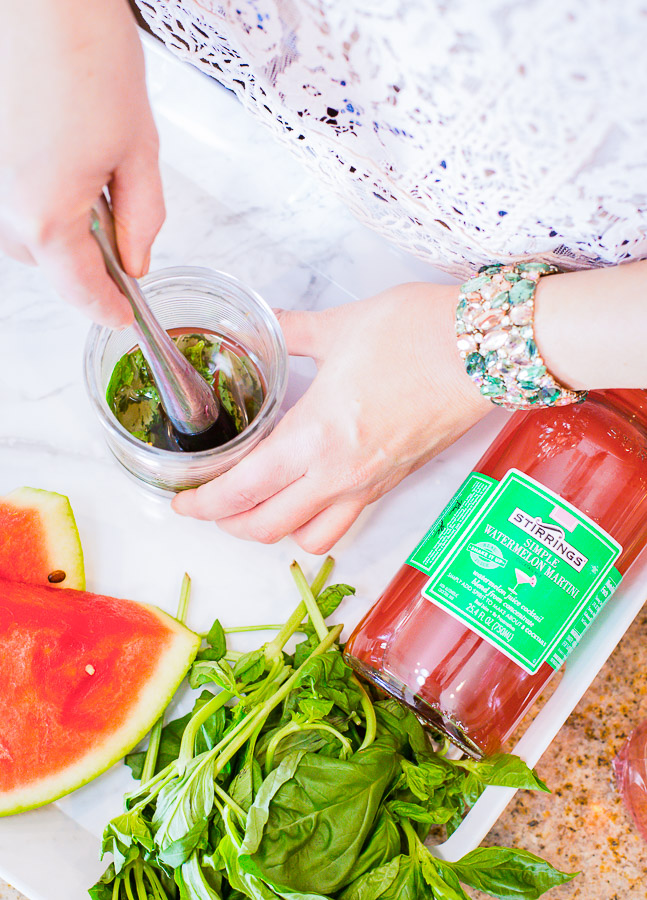 School gets out the third week in May here in Atlanta which means our summer begins before Spring has even ended! Our neighborhood has a tradition where the moms grab the biggest water blasters they can find and load them FULL of water. We head to the bus stop, guns loaded and with streamers and bubbles and even water balloons (or grenades) and wait to ambush the Elementary school kiddos as they come off the bus.
The kids got smart last year and boycotted getting off to avoid getting wet! It was hilarious! This year summer hungry hooligans are a little braver and actually take over, reload the guns and come after the moms! We all then grab our swimsuits and head down to the neighborhood pool to have a first day of summer party. This year, I not only brought watermelon for the kids but also watermelon for the Moms. Kinda. Sorta. Way Better. Watermelon Basil Vodka Cocktails that is…
Watermelon and basil are one of the best combos ever! It makes this salad incredible for any backyard BBQ and a cocktail even better (like this Watermelon Basil Margarita). I think bubbly champagne vodka cocktails are the ideal drinks to sip on during the summer. Adding watermelon and basil to the mix only makes it more perfect. We do a lot of muddling fresh ingredients into cocktails here at Sumptuous Living. If you've seen me on stage or on TV you've seen me muddle something to make a fresh tasting cocktail! This watermelon basil vodka cocktail is no different.
Ready to make a Watermelon Basil Vodka Cocktail? First, grab a cocktail shaker and fill it with a few cubes of watermelon and some basil leaves. Then, add 1 1/2 ounces of basil flavored vodka (Square One makes a good one) and 2 oz of Stirrings Watermelon Martini Mix. If you can't find basil vodka or don't feel like running to the store, no worries! Just use your favorite vodka from your bar at home. Now get to muddling! Next, crush and twist the basil and watermelon until it's all mashed up. Add a few cubes of ice and shake to chill the mixture. Then strain into a pretty glass like a coupe. I got these pink stemmed ones at HomeGoods and LOVE them! These coupes are cute too.
Finally. all that's left to do is top your watermelon basil vodka cocktail with champagne. I always have a few cans of Sofia Rose Minis for when I just want to top a cocktail with something bubbly but don't want to waste opening a whole bottle. Sofia is made by Francis Ford Coppola's Winery (yes, the famous director) and it's really delicious. You can find them at your local Kroger or Target. They are so handy!
WATERMELON BASIL VODKA COCKTAIL
Watermelon Basil Vodka Cocktail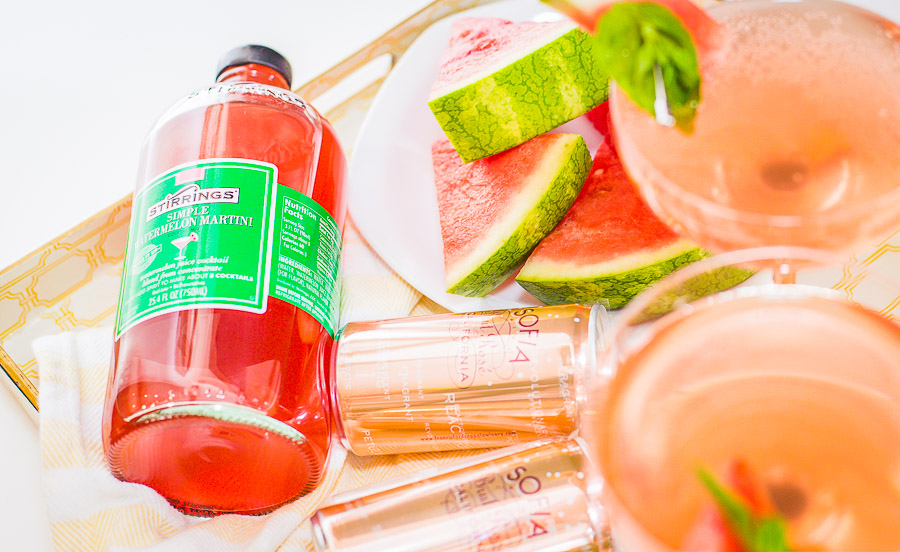 A bright and fresh cocktail for Summer!
Ingredients
1 1/2 oz Basil Vodka (I use Square One Basil Vodka)
3-4 Fresh Basil Leaves
Fresh Watermelon Cubes
Champagne or Sparkling Wine
Instructions
Muddle the first 4 ingredients together in a cocktail shaker. Add 3-4 cubes of ice and shake to chill mixture. Strain into a pretty glass and top with chilled champagne. Garnish with a slice of watermelon and a sprig of basil.
https://sumptuousliving.net/watermelon-basil-vodka-cocktail/
Copyright @ Sumptuous Living
THIS RECIPE WAS CREATED FOR A PAID PARTNERSHIP WITH STIRRINGS COCKTAIL MIXERS.