Healthy & Delicious! Mediterranean Quinoa Salad with Shrimp
Hungry, but want more than your normal lunch salad? Our Mediterranean Shrimp Quinoa Salad is packed full of delicious shrimp, quinoa, and kale to satisfy your hunger until dinner without that guilty feeling afterwards!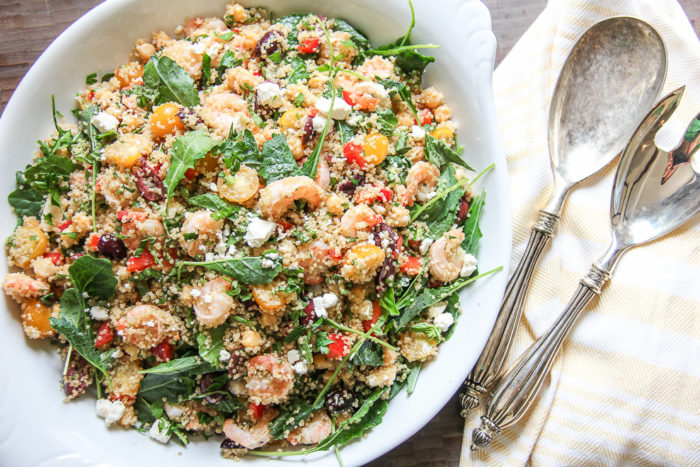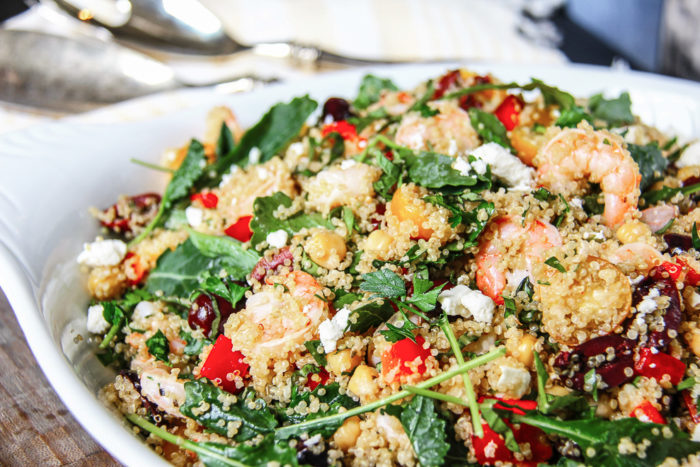 I don't know about you, but my summer has been BUSY!  Whether it is for work, the kids, you name it, we are always on the run. Having a healthy Go-To Salad is a must! This delicious Mediterranean Quinoa Salad keeps you full during those busy days and allows you to grab and go! Filled with deliciously succulent shrimp, fresh tomatoes, hearty quinoa, and crumbled feta this salad will keep you (and your tastebuds) happy!
Really busy? Try this recipe with rotisserie chicken. Either way you make it, this recipe will make the busiest day worth it!
Mediterranean Quinoa Salad with Shrimp
Satisfy your hunger with this healthy and delicious salad. It's so good you'll want to eat it for lunch all week.
Ingredients
Marinade & Dressing

2 large cloves garlic, chopped
¼ cup shallots, chopped
¼ cup white wine vinegar
2 lemons, zest and juice
1 cup olive oil
2 tsp kosher salt
1 tsp fresh ground black pepper
1 ½ lbs raw shrimp (51-60 count medium peeled)
Salad

2 ½ cup quinoa (uncooked)
3 Tbsp fresh basil, chopped
3 Tbsp fresh mint, chopped
3 Tbsp fresh Italian parsley, chopped
1 red bell pepper, chopped
1 ½ cup Kalamata Olives (pitted, sliced in half)
1 ½ cup yellow cherry tomatoes, cut in half
6 cups baby kale
Instructions
Marinade & Dressing

In a blender add remaining ingredients and process until smooth.
Pour ½ cup over shrimp and toss to combine.
Set aside to marinate. Reserving remainder for dressing.
Salad

Cook quinoa according to package directions.
Spread out on sheet pan and let cool.
Heat a large skillet on high heat.
Remove shrimp from marinade and add to skillet.
Cook for 5-6 minutes turning occasionally until shrimp are pink and opaque.
Remove from skillet and let cool.
In a large bowl combine quinoa, shrimp and remaining ingredients.
Dress to taste with reserved dressing.
https://sumptuousliving.net/mediterranean-quinoa-salad/
Copyright @ Sumptuous Living