Makeover Time! 3 Easy Ways to Refresh Your Bedroom
Here's the 3 ways to spruce up your bedroom! Our quick tips & ideas will help you refresh for the new year with an easy bedroom makeover!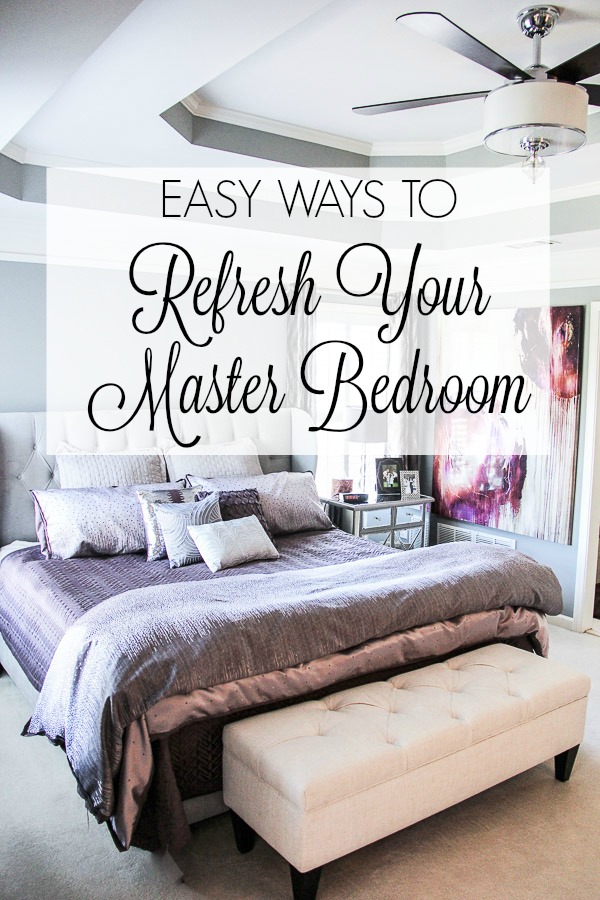 The New Year's here, the holidays are over, the decorations have come down and now we're looking around the house ready for a fresh new year! Resolutions to renew and refresh don't have to end at the gym… You can make little changes at home that make a space feel like new!
Here's 3 Easy Ways to Refresh Your Bedroom!
1. Artwork…
My favorite subject on the planet! Maybe even more than Cocktails (You can stop gasping now… You know I love me my liquor but, Baby, art is in my heart… that was a tad corny)! For even those who don't have an inner passion for artwork and tend to go all matchy-matchy with art in a room so that it perfectly goes with every color in the bedding and curtains… STOP. Break free! Changing a few key pieces of artwork in a room to something a bit bigger and maybe a little unexpected and bold can change the whole feel of the room.
Let Your Art POP: Get spunky and little bold with artwork! Art is meant to catch the eye and going bold will add interest and life to a room. Read more in Modern Teen Bedroom
Go Big or Go Home! Big walls need BIG ART! Don't be afraid to fill a wall and make a true statement like this double canvas map piece I did for a client. See how I did it and the crazy heights we will go to to make a room stand out… tall chick on a very tall ladder
Modern & Abstract: Some of our clients want art they can tell what the subject is but that doesn't mean it can't be an abstract interpretation of something easily identified like this deep purple floral piece. From across the room, it's the first thing you see when you enter this dramatic bedroom and I would love getting to wake up each morning to such a stunning piece! Don't be afraid to push yourself just passed your comfort zone into the modern world. Your tastes will change over time, likely towards more modern pieces and you'll keep things longer. Read more in Put Some Glam In Your Master
Moody Metallics: Shimmer and texture in artwork is an instantaneous attention grabber! Read more on whether to mix and match metals and how to add glitz in the right ways in Bedroom Blues
Tuck Art Into Unexpected Places: Bookcases, tabletops, and in glass cabinets are great places to incorporate small, dramatic artwork in a room. Bedrooms are supposed to feel intimate and personal. Add in art that you found at a flea market, gifted to you by a sweet friend or that you painted yourself and make the room yours! Read more in Put Some Glam In Your Master
Let's Get Nude: I love nude artwork. It's gotten to the point that my daughter has even said "Mom, What's with you and all the necked people?" …that girl cracks me up! Nudes, either as a pen & ink or on canvas, instantly lead the viewer to a more intimate personal space. I love them in bathrooms and bedrooms. See how we used this piece in The Mystical Master Bedroom Retreat
2. Metallics & Mirror…
Add a little "Glitz", A little "Shimmer", A little "Glam", A little " Sparkle" to your bedroom with metallics. Silver, Gold, Mirror, you get the gist. Used sparingly but in the right places, mirror & metallic finishes can transform a room. It's also the easiest way to make a room seem brighter and bigger!
Read More in our two Shiniest Bedroom Makeovers…
3. Fabrics & Textiles
I always, ALWAYS, start every bedroom redesign with the bedding. It's too hard to match bedding with a preselected paint color and way easier to find a paint color to match the bedding. Instead of wasting your life away running from store to store, spend some time shopping online first. Find great options from a website that has a local store, go ahead and order 2-3 options so you can make your final decision in person & return what doesn't work out. Fabrics can look very different in person than they did on your computer screen.
The right layering of a bed is what makes it the most inviting. We love using a combination of duvet/comforter sets and coverlet sets with minimal accent pillows. Read all about our PERFECT BED LAYERING RECIPE in Spare Bedroom Escape.  Finding the right bedding can be from department stores or discount stores like HomeGoods (I live in this store 24/7). 
Curtains are a MUST! Non-Negotiable. Whether you already have blinds and don't plan on opening them or you know you'll open & close them daily, curtains are what frame the biggest architectural aspect of every bedroom. Your Windows. They also are the single easiest way to make a room feel taller and raise your ceiling heights. Mounting curtain rods as high as you can will always make a room feel taller! We basically beat this theory into every reader's noggin with every design post.
Custom Curtains: The priciest option but with savvy fabric shopping and a reasonable seamstress, this doesn't have to break the bank! See how we used this blue & grey small print cotton to pull all the design elements together in Bedroom Blues.
Ready Made Curtains: My favorite trick in the book! We are constantly ordering curtains from JCPenney, Bed Bath & Beyond, and Kohls (again order a few options and choose inside the room instead of limiting yourself to only one choice). The rod should be about 3″ down from the crown molding or ceiling, if you don't have crown. It should always be above the window frame. If we have a 84″ window frame but our crown to floor measurement is 96″, I would mount the rod at 93″. Then I would buy a 95″ curtain (standard lengths are 84″, 95″, and 108″) and have it hemmed to the length I need. For only $10-$15, I get a custom look at ready made curtain pricing! See more in Put Some Glam In Your Master 
Get Creative: Use curtains to make a matching bedskirt or pillow. In our post Modern Teen Bedroom, we purchased 6 panels of gorgeous silvery grey DKNY curtain panels at a local HomeGoods. Cut off the grommets to create a pinch pleat, sewed them together to make them double width for an extra wide window, then used the remainder to make a matching bedskirt. The clients loved how it turned out and it saved them a ton of money because there's no way you'd ever be able to get that much material for so little and it already had finished edges, saving the seamstress time. Read more here…