Modern Teen Bedroom
Refresh your teen's bedroom to last! Add modern touches in fresh colors with pops of fun! Sophisticated and modern, its sure to last until college!
Girls grow up. Hate to break it to ya, but they do. The once sweet, innocent little girl's room eventually has to go and make way for a room to house a young lady. The way to only have to do this once is make that room a bit on the mature side for the girl you're designing for. This client's daughter was in middle school. When they hit 11-12 years old, things shift to needing something that will grow with them and their interests. That's where I come in. (FYI: Links provided for all our design details and highlighted in teal)
The room was very green, very dark, heavy with drapery and lacked proper storage. The client had a start on new bedding and artwork but we needed to finish it.  The rug was in good shape and went with the green in the pillows, so we'll keep it.
TASK LIST
Colors: Grey, Deep Royal Blue, Hot Pink, Lime Green
Paint! … Let's do a light grey
New ceiling fan: multiple lights, hugs ceilings, white
New bedside table with closed storage
Paint current antique mirror to add contrast
New lamps
New Curtains and bedskirt that match each other
Put old bed in storage and get new upholstered headboard
Put the bed on lifts to add height
Add fresh artwork
Add seating nook for reading
Refresh desk area with storage and lighting
Swap closet doors for mirrored closet doors
The client (aka The MOM) is a stylist and often uses her daughter's room as a fitting room for trunks shows. The old closet doors were bulky and she had the great idea to swap them out with mirrored bi-fold doors. Brilliant! Along with massively lightening up the walls with paint (Quiet On The Set by Behr), mirrored doors would bounce off more light in the room and make it feel bigger.
We add in a blue velvet slipper chair and a green garden stool for a fun reading nook. The hanging lamp above is so fun and unexpected! It works great with our Britt Bass print (available here at One Kings Lane). Chair, pillow, lamp and garden stool are all fabulous finds from HomeGoods! If you're not shopping there… you should be!
Moving on to the dressing area. The client already had a simple white IKEA dresser that she dressed up with the most wonderful white elephant knobs.  I decided we would paint the current white antique mirror a dark grey color for added interest.
Below the mirror, I gave her daughter a tray full of fun organizers to hold everything from earbuds to necklaces. HomeGoods is my go to place for things like that along with the fabulous lamp we put with it.
Artwork is a must here! This gorgeous Erin Gregory still life is perfect with our color scheme and one of the many offered at One Kings Lane. They have so many of her pieces… Hoping to use a different in another job we have coming up! Love them!
Next up is a little trick…. Drapery & Bedskirt. I found these gorgeous Donna Karan grey velvet curtain panels at HomeGoods that were too long for this room. They came in a pair for only $60 per pair, grommeted and 95″ long. We knew we needed double width curtains for the wide window and wanted to match the top of the curtains to the same pleat as the bedskirt. I couldn't buy material like this for the price of the curtain panels and they were already hemmed. So I had my seamstress add new pleats at the top and make the bedskirt using the curtains with the same pleats! Custom look with a semi-ready made curtains! So smart, right?
Then we add in the rest of our Britt Bass prints to the right of the window and finish off the bed with a new headboard from Overstock.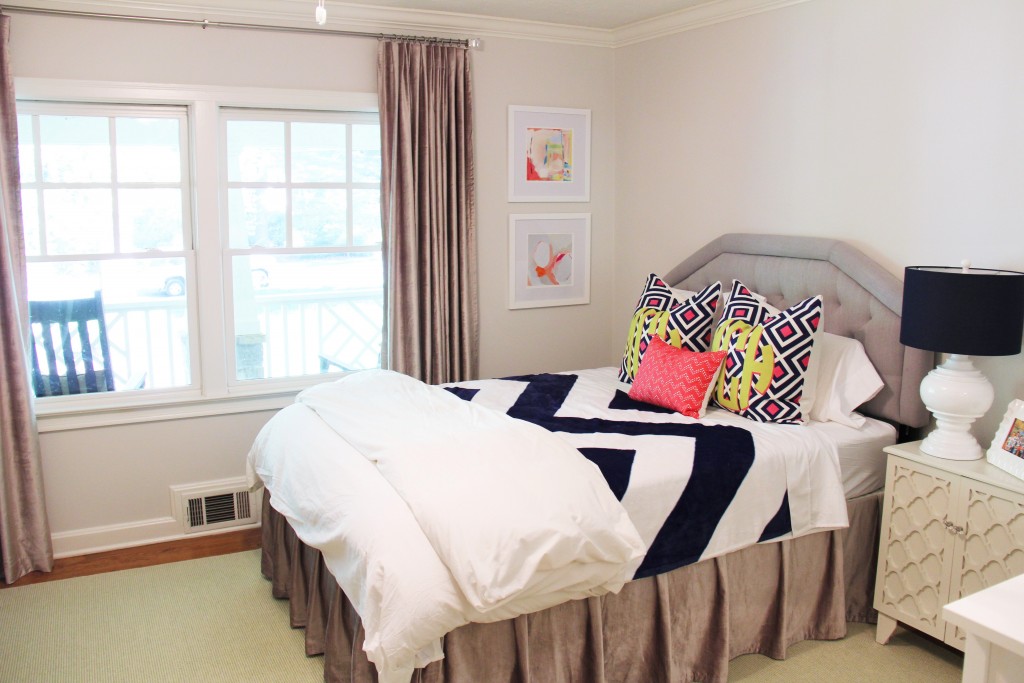 A nightstand with closed storage was a MUST for the Mom's sanity (open storage only goes so far in a teen's room before you want to kill them… with kindness of course). I found this Moroccan design cabinet at At Home and swapped out the knobs for 2 cute acrylic ones. The fantastic lamp and picture frame on the nightstand is from HomeGoods.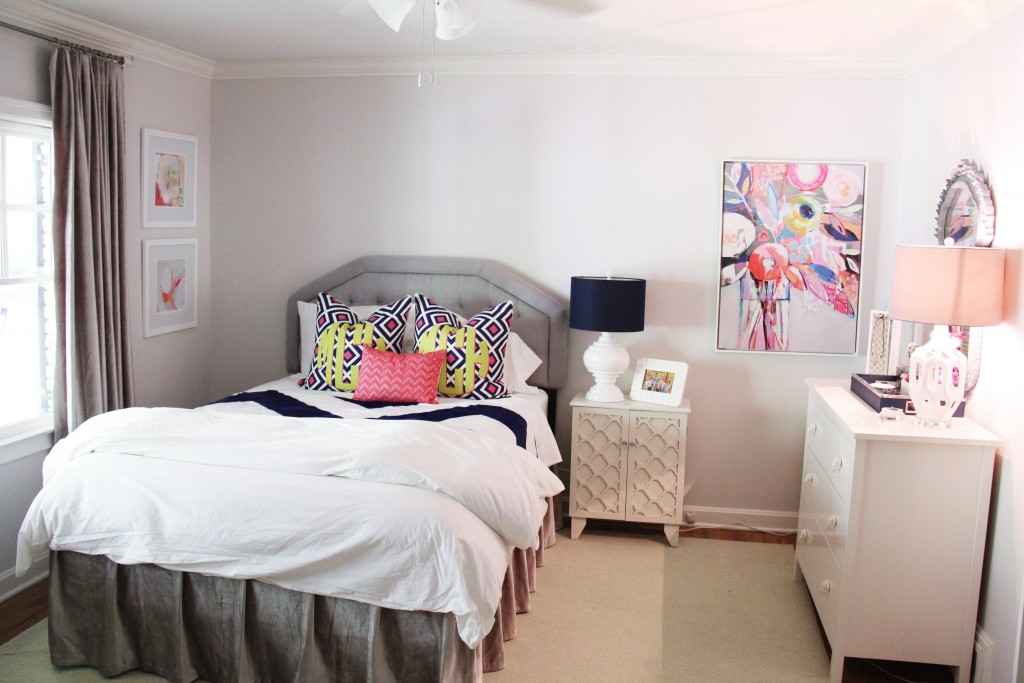 The desk area was the last to tweak. We didn't do too much here. But just adding in bins, wall sorters, and a few other storage helpers made a world of difference! The little green lamps were swapped out for the skinny silver one that came off the dresser and all of the sudden, this teen has a new place to study.
The transformation here is HUGE with all the right touches to grow with this remarkable young lady. She loves it! …We do too!