The Mystical Master Bedroom Retreat
Turn your Master Bedroom into a retreat to start and end your day in bliss. This bedroom makeover shows you how to treat yourself to an oasis you deserve!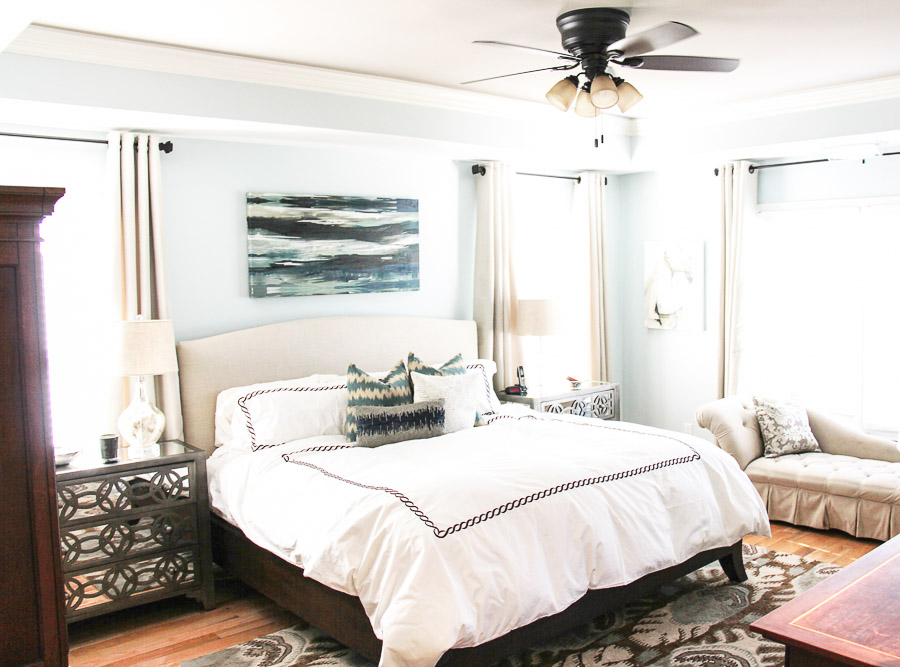 Sometimes life takes over. Kids, work, family, sports, one day turns into months then years. All the sudden we're adults. Real, bonafide, grown-a@#, ADULTS! Grown ups with stress and obligations and responsibilities. Vacations help us relax from it all but how do you retreat and recharge on a daily basis?
A master bedroom retreat can have magical powers….Let me show you….
This house had been the model for the neighborhood. It came with heavy red velvet curtains and was painted flat (eek) builder beige. No rugs, no pretty bedding, hand me down artwork. Who wants to start & end their day in here. We focus on so many other spaces before we do our own, and this room was no exception. The last space to be done. We have truly done every other room in this house and the Master Suite was the final room.
MASTER BEDROOM RETREAT BEFORE PICTURES:
First things first. Paint. Let's have a chat about paint. There are some rules in design that should not be broken. Period. Here are 2 key ones where paint is concerned:
Walls (unless you live in a museum) should always be painted in Eggshell finish. Wipeable, cleanable, without leaving marks.
Ceilings get painted in Flat finish.
[MANDY'S PAINT TIP] When I'm looking at a color that is just a tad too much, I test it out at a lesser mix rate (ie: 75%) and vice versa if I need it to have a bit more umph (125%). This is the case here. We use the colors from a rug the client loves as our color palette inspiration. Blue, Cream, Taupe.  The Master Bedroom walls get painted an airy blue (Sherwin Williams SW 6217 Tradewind mixed at 75% in Eggshell). The ceiling has a trey and this is a fantastic way to add interest. We pull in a pretty taupe/gray (Sherwin Williams SW 7635 @ 75% Palisade in Flat). The rest of the ceiling stays white.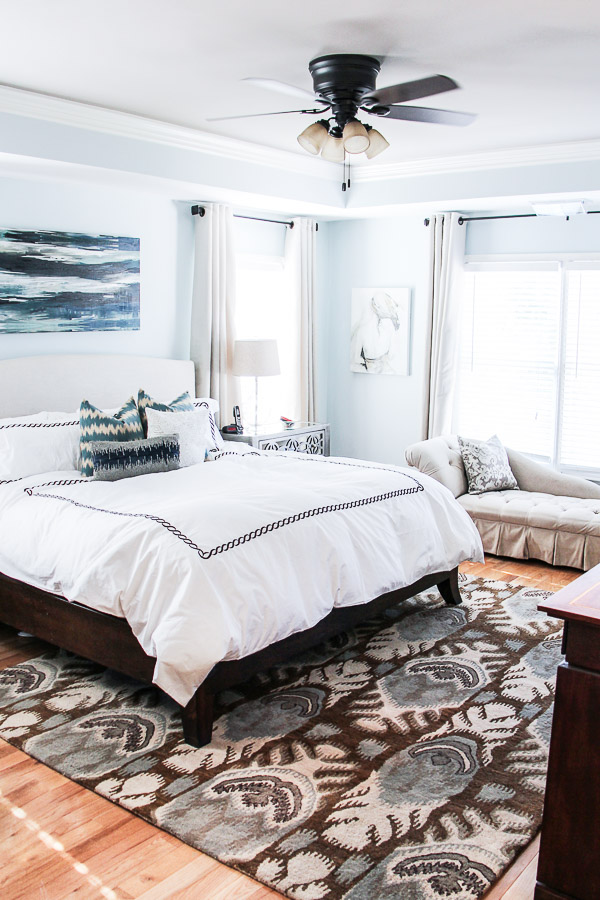 We repurpose the furniture (a good way to stretch the budget). The headboard loses the dark red velvet and gets recovered with a pretty upholstery weight linen. And we lighten up the room letting the rest of the dark furniture anchor the space. Moving furniture around makes the room bigger too.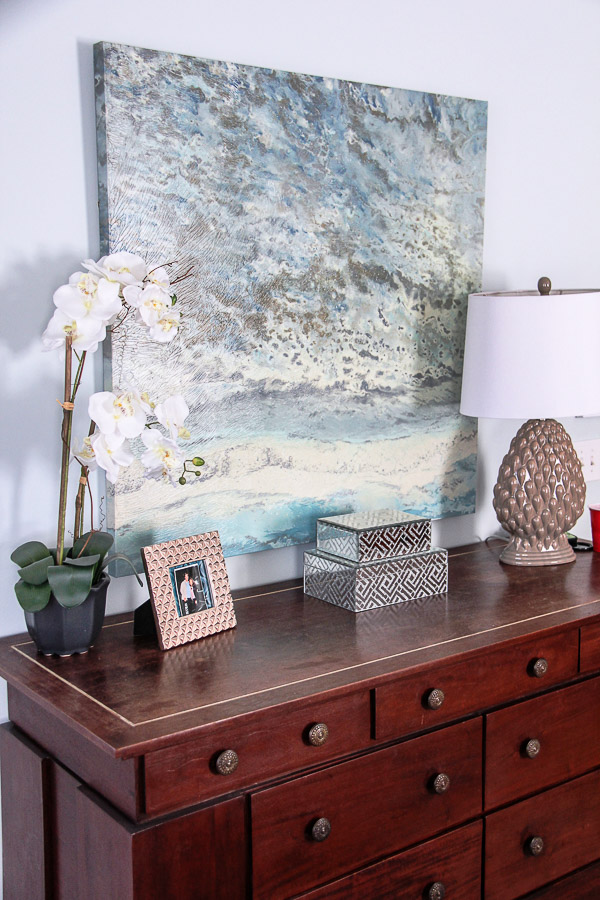 One thing that was not working were the tiny nightstands. They offered very little storage and looked puny next to the big king sized bed. We needed new ones but I didn't want another wood tone in the space. Adding mirrored nightstands (Kirkland's Libby Nightstand) will reflect more light and make it feel airy. We found a pair that fit perfectly (always shop with your measurements loaded into your phone or on a notepad kept in your car).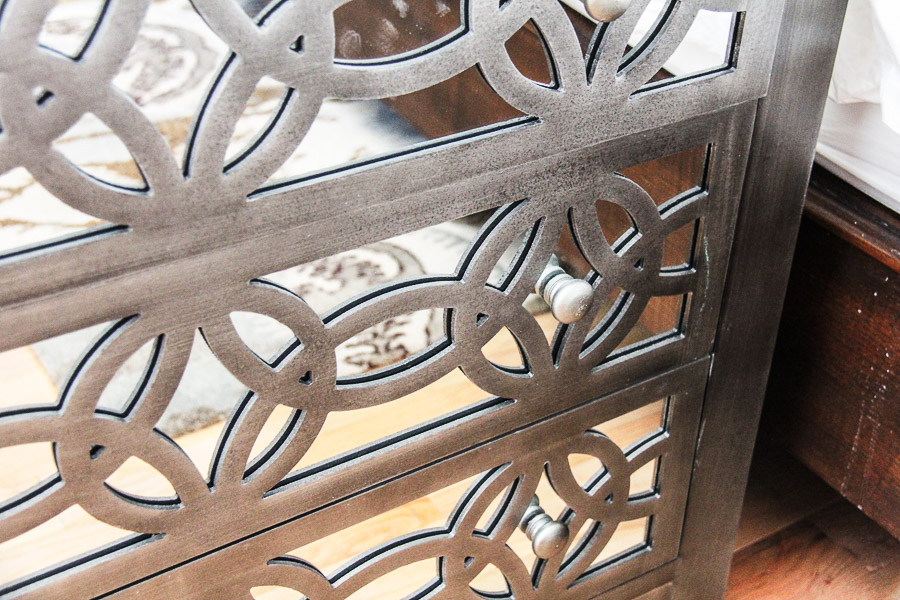 Bedding is another story. The bed was never made before. Giving the couple a very simple duvet and just a few dressy pillows would be an approachable way to a solution. Clean and crisp. We found pillows at HomeGoods and Hobby Lobby and the duvet set from Overstock.com. Sites like Overstock are the easiest way to shop for exactly the bedding you're looking for without schlepping all over creation. We love them.
Ceilings are often low and many tend to think 84″ windows deserve 84″ curtains. Don't do it! Step into the light, my love! Get curtains that allow you to mount them as high as you can (even if you have to buy longer ones and have your seamstress or dry cleaner hem off an inch or two). Here we hung 95″ grommet curtains from Bed Bath & Beyond on a dark rod. Lined and inner-lined, they provide black out coverage and look as luxurious as custom.

Finally comes the finishing touches. The pretty touches like curtains, art, lamps, accessories, florals, etc. We had texture and sparkle and modern art to balance a fairly classic design. We shop for all the details that we think "may" work and shop from within the space. We already know we'll have returns to make, so making sure we have everything we need during the installation saves both time and money. Keeps us efficient and allows the room to take shape organically. The balance is perfect.
Oh so lovely.
Master Bedroom Retreat Decorating Tips:
Know & accept the reality of how much you're willing to fuss with a bed. Add only those layers that you want.
A bit of glam never hurt anyone, add some in your pillows and accessories
95″ Curtains hung high lift the height of the room and unexpected art keep this classic room fresh!
Mirrored jewelry boxes provide pretty countertop storage
Classic silk white orchid layered in front of modern art piece. Art pulls the room's color palette and adds interest. Find stylishly affordable options at HomeGoods
Mix lamps (Ceramic, Glass, Wood) from HomeGoods to add a little texture
A floor mirror is the perfect piece to reflect light and fill an awkward sized wall.
Click through the slideshow below to see all the details…