The Ultimate Bruschetta Recipe!
Everyone Loves Bruschetta! Packed with fresh ingredients and an unexpected zip, this Bruschetta recipe is one of the easiest appetizers you'll ever make!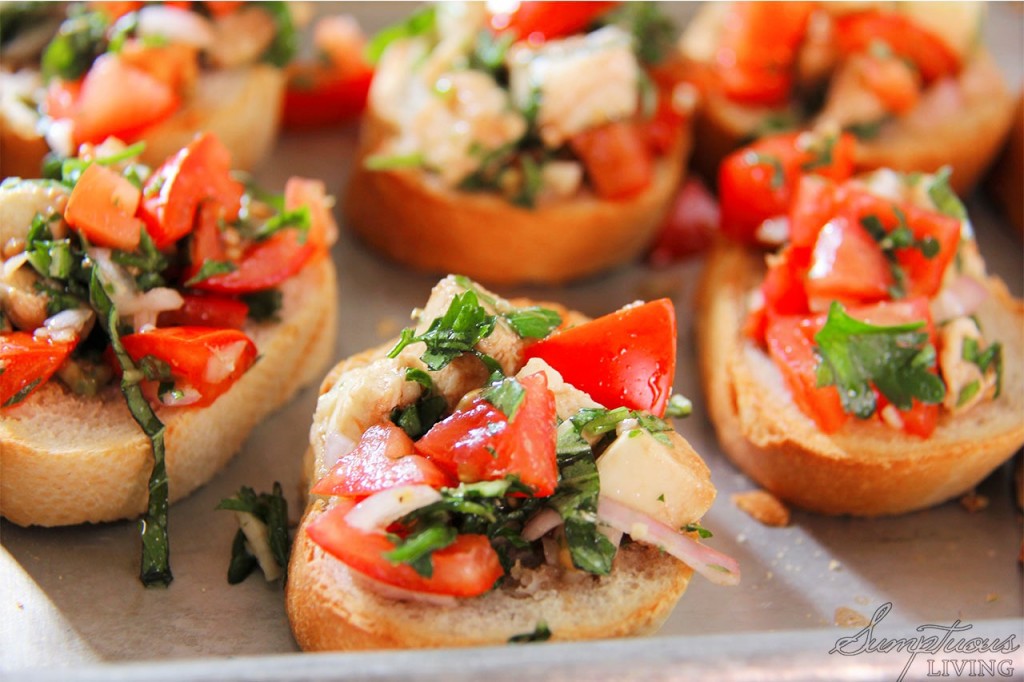 A great Bruschetta recipe is a classic! I've never met anyone who doesn't love the combination of beautiful tomatoes, fresh herbs, creamy mozzarella, and zippy garlic. Never! Have you? It's an easy appetizer that you can have on the table quickly and know that every guest will dive into it. A sure bet of entertaining! Our classic bruschetta recipe has a few extra touches… Lemon Zest (I'm addicted) and tangy Balsamic Vinegar. They make the tomato mixture POP! And better yet, you can enjoy the Bruschetta as an appetizer or toss it with fresh pasta or use it as a topping for flatbread pizza or a piece of grilled chicken or fish. Delicious!
Tomatoes are really only in season during the summer months. Total Bummer, Right? My hubs is always trying to cheat the system by bringing home mushy, icky, flavorless tomatoes all year round. Not possible unless they are Campari Tomatoes. And a good, reliable recipe is only handy if you have no limits as to when you can make it. So do the math baby! You can make this Bruschetta recipe year round if you use the right tomatoes. I love using Campari Tomatoes in this recipe. They have the best flavor in the off-season and are readily available in every grocery store. Every single store!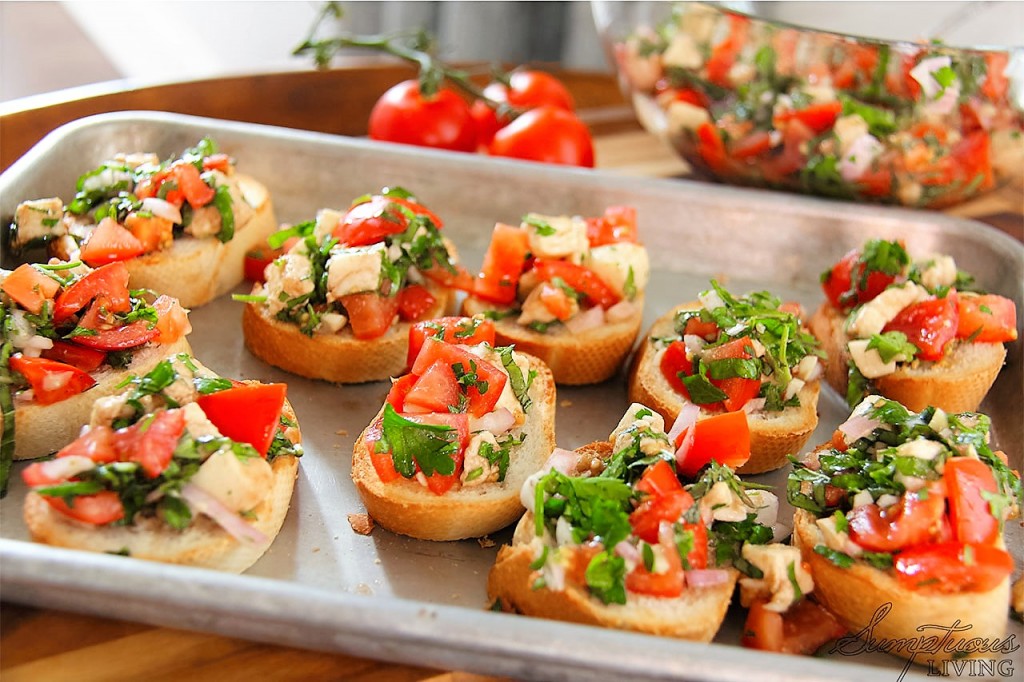 To cut tomatoes without squishing them, you really need to use a knife like this one. A serrated utility knife will help you quickly cut the tomatoes into bite-sized cubes that won't fall off the bread slices. Grab a handy mixing bowl (this set is super handy) and toss the chopped Campari Tomatoes with fresh basil & parsley, cubed fresh mozzarella, lemon zest, olive oil, zippy balsamic vinegar, salt and pepper. Please only use Kosher or Sea Salt and fresh ground pepper when seasoning your food. This is a NO IODIZED SALT ZONE (that applies to everything we post here on Sumptuous Living!). Not convinced? Just taste sea salt and kosher salt and then taste iodized. You'll thank me once you get done scraping the chemical after taste from your tongue. Bleh! And a pinch is ALL your fingers not just your first two. Let it snow baby!
Then just spoon the delicious bruschetta topping onto some toasted baguette slices. I eat it cold but, if you like, you can place the bruschetta under the broiler for a few minutes to melt the cheese. Have extra? It's great on grilled chicken or tossed with fettuccine or inside an egg white omelette the next morning. Such a perfect little recipe!
CLASSIC BRUSCHETTA RECIPE
Packed with fresh ingredients and an unexpected zip, this Bruschetta recipe is one of the easiest appetizers you'll ever make!
Ingredients
4 cups Campari tomatoes, cut into small pieces
1 ½ cups fresh mozzarella, cut into small cubes
1 cup fresh basil, chopped
½ cup fresh parsley, chopped
2 garlic cloves, chopped
1 Tbsp. lemon zest
4 Tbsp. lemon juice
¼ cup olive oil
2 Tbsp. balsamic vinegar
Big pinch of kosher salt
Fresh ground black pepper
Instructions
In a large bowl combine tomatoes, mozzarella, basil and parsley.
Add remaining ingredients to a food processor or blender and pulse together.
Pour over tomato mixture and allow to marinate for 30 minutes to 1 hour.
https://sumptuousliving.net/classic-bruschetta-recipe/
Copyright @ Sumptuous Living
CREATED BY LIFESTYLE EXPERT MANDY LANDEFELD. LEARN MORE ABOUT MANDY HERE