Easy & Versatile! Bruschetta Baked Chicken
Dinner should be easy, fresh, & flavorful! Our Bruschetta Baked Chicken is all three and then some. Garlicky Baked Chicken topped with our amazing Bruschetta recipe. So Good! 

I love recipes that you can adapt and use in multiple ways. Cooking should never stress you out. Loosey Goosey love bug. Recipes that you master well enough to get creative with is what will make your everyday easier and entertaining a breeze. Our Bruschetta recipe is one of those "keep in your back pocket", "go-to" dishes that can be used in so many ways. Bright and with an unexpected zip, it can be used on toasted baguette, flatbreads, grilled fish, or like we are doing today.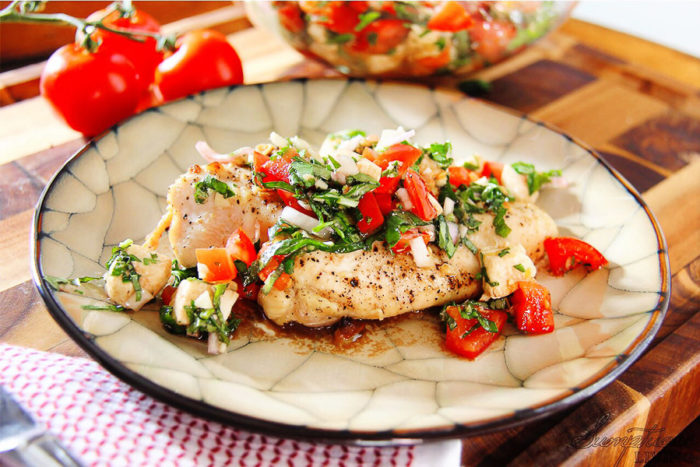 Garlicky Baked Chicken. Bruschetta Baked Chicken. Dinner is done and do you see all those people running to the table? Smiling, being polite, offering to do all the dishes? (A girl can dream…)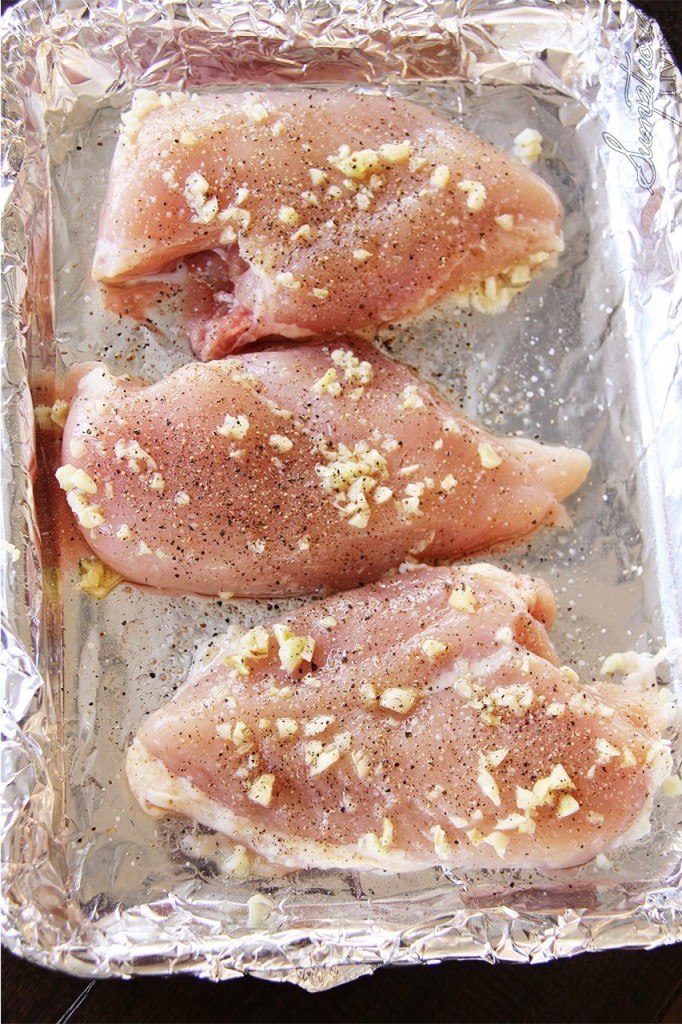 Line a sheet pan with foil (I live for easy clean up). Spray it with cooking spray and season chicken breasts with kosher salt, fresh black pepper, and chopped garlic. Lightly drizzle with olive oil and bake. Make your Bruschetta while it bakes. Get the Bruschetta recipe here. Then simply top the baked chicken with the fresh Bruschetta. Serve with a leafy grean salad and a glass of wine and all is right with the world! Mmm!
Our Bruschetta Baked Chicken is easy, fresh and flavorful.
Ingredients
Bruschetta

4 cups Campari tomatoes, cut into small pieces
1 ½ cups fresh mozzarella, cut into small cubes
1 cup fresh basil, chopped
½ cup fresh parsley, chopped
2 garlic cloves, chopped
1 Tbsp. lemon zest
4 Tbsp. lemon juice
¼ cup olive oil
2 Tbsp. balsamic vinegar
Big pinch of kosher salt
Fresh ground black pepper
Chicken

6 Chicken Breasts
Kosher Salt
Fresh Ground Black Pepper
Olive Oil
Instructions
Bruschetta

In a large bowl combine tomatoes, mozzarella, basil and parsley.
Add remaining ingredients to a food processor or blender and pulse together.
Pour over tomato mixture and allow to marinate for 30 minutes to 1 hour.
Chicken

Heat oven to 375 degrees.
Line a sheet pan with foil or parchment paper.
Place chicken in pan.
Season with salt and pepper to taste.
Drizzle with olive oil.
Bake for 20-­25 minutes or until internal temperature reaches 165 degrees.
Remove from oven.
Place chicken on serving plates and top with bruschetta.
https://sumptuousliving.net/bruschetta-baked-chicken/
Copyright @ Sumptuous Living