Go Nuts For Thai Chicken Quesadillas!
Leave the plain cheese behind and give your family a reason to go nuts! Our Thai Chicken Quesadillas will make dinner an adventure!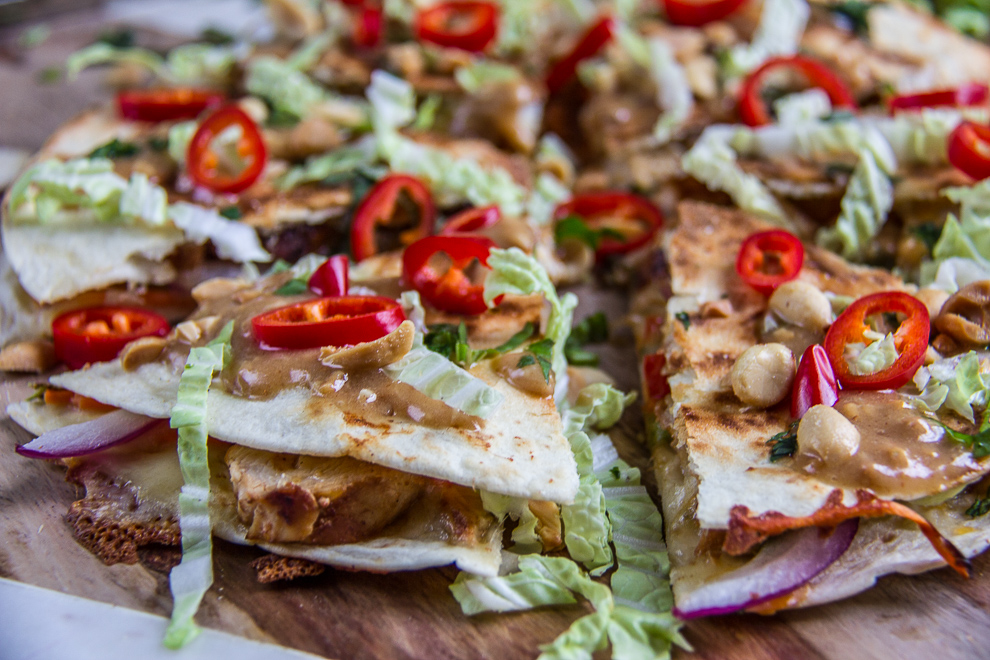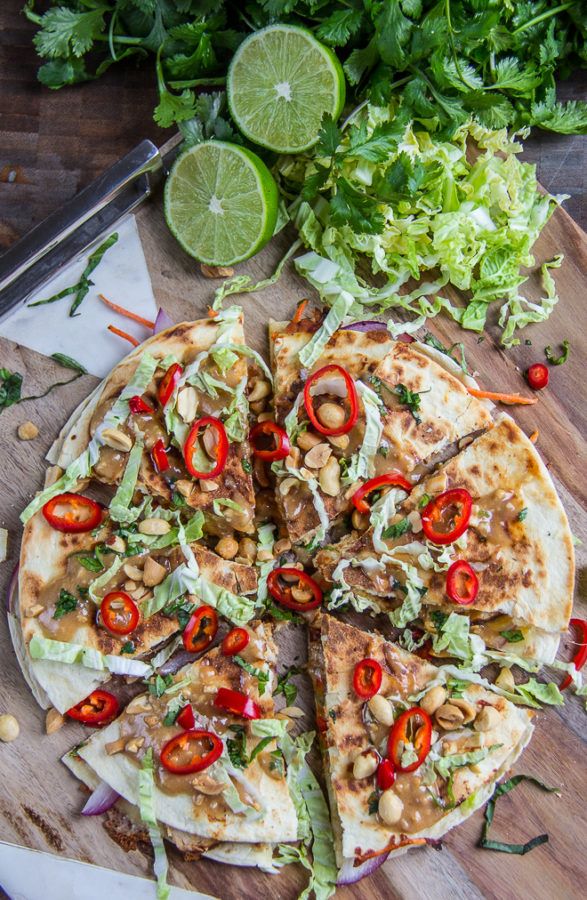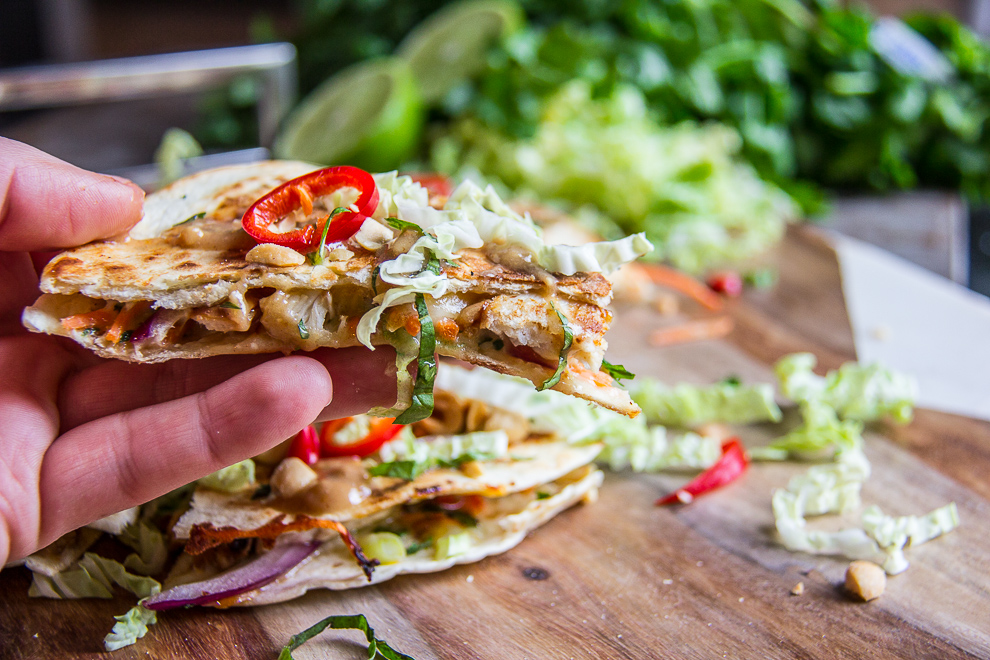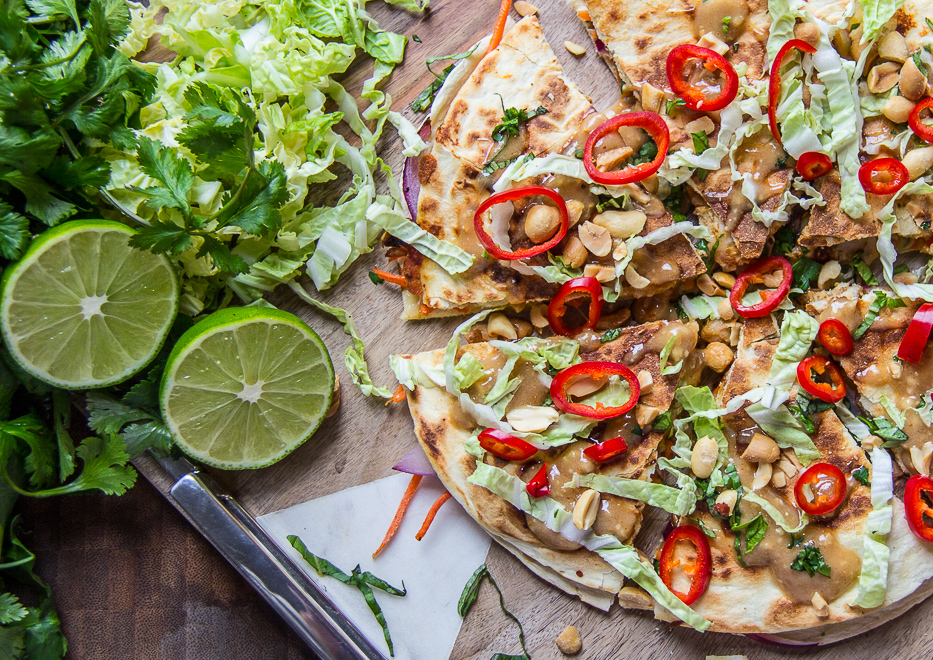 Any dish that's Peanut based is an easy sell in my house! Add to that the combo of a Thai twist to a family favorite and we have a true winner winner chicken dinner! Thai Chicken Quesadillas baby! My kids inhale these. So much so, I have to buy the XXXL burritos.
Not that anyone ever needs a reason to enjoy quesadillas, but when you make Thai Chicken Quesadillas, every bite makes you close your eyes and chew slowly. You'll be lost in a savory bliss. Herbs like cilantro, mint & basil, peanut sauce, juicy chicken, lime and gooey cheese. These baby's make my mouth water and they are ready in minutes!
Filled with juicy Thai marinated chicken, crisp carrots and red onions, flavorful Thai inspired herbs and drizzled with a savory Thai peanut sauce, no one will want to share! No one. And how can we blame them? With a dish this lusciously-delicious, it's easy to see how this recipe can so quickly become a family staple.
It's Thai-riffic (say it with a Hee-Haw kind of accent).
We eat a lot of asian inspired dishes at my house. My kids love the variety. The lighter the style of cuisine, the better, like Thai, Vietnamese (my all time favorite) and Korean. Chinese food, while yummy, can be really heavy. I find you can eat your weight in Thai or Vietnamese and actually leave the table like you did something good for yourself! Go figure. But they are so packed full of fresh veggies an herbs, it almost counts as eating a few salads for dinner.
The peanut sauce is real star here! It's the same sauce we use in our Thai Noodle Bowls and Thai Spring Rolls. Babe, its crack. It is beyond amazing and can be used to dip just about anything! You could even skip the quesadilla factor and use the marinated chicken to make Chicken Satay for kiddos that may be a bit picky.
Peanuts are high in protein, healthy fats and fiber. Not only that, peanuts are a Diabetes Super Food! We're working with The Georgia Peanut Commission (who by the way, supplies nearly 50% of the U.S. peanuts) and #Foodiechats to bring you 2 mouth watering Peanut recipes in celebration of March being National Peanut Month.
Click here to see the other amazing dish we made. (HINT: It's inspired by my biggest travel goal)
THAI CHICKEN QUESADILLAS 
Thai twist on a family favorite!
Ingredients
For The Marinade:

¼ cup Canola or Vegetable Oil
2 TBS Fish Sauce
1 Lime, zested and juiced
6 oz Pineapple Juice
1 TBS Minced ginger
3 Cloves of garlic, minced
¼ cup Chopped cilantro
For The Quesadillas:

1 ½-2 lbs Chicken tenders
10-12 Burrito or Large Soft Taco sized Flour Tortillas
5 Green onions, sliced on the biased
¾ cup Matchstick sliced carrots
½ cup thinly sliced red onion
¼ cup Chopped cilantro
¼ cup Chopped basil
12 oz Pepper Jack or Monterrey Jack, shredded
3 Red Serrano Peppers, thinly sliced
1 ½ cup Shredded Napa Cabbage
¼ cup Chopped Dry Roasted Peanuts
Peanut Sauce:

1/3 cup Olive Farms Peanut Oil or Canola Oil
¼ cup Rice wine vinegar
1 TBS Sesame Oil
3 TBS Creamy Peanut Butter
2 Cloves Garlic, chopped
2 TBS chopped peeled ginger
2 TBS Honey
2 TBS Tamari Soy Sauce
1 TBS Toasted Sesame Seeds
1 TBS fresh lime juice
Instructions
For The Marinade:

Mix together marinade ingredients in a glass bowl and toss with chicken tenders to coat. Cover with plastic wrap and marinate for 2 hours to overnight.
For The Quesadillas:

Heat a grill pan over medium-high heat. Grill chicken for 5 minutes per side or until fully cooked through. Set on a plate covered in foil while you blend peanut sauce.
For The Sauce:

In a small food processor or blender place all ingredients for peanut sauce and blend on high until smooth. Slice the chicken for the quesadillas.
For The Quesadillas:

Heat a large non-stick skillet over high heat. Place a tortilla down, topped with a layer of cheese, followed by a sprinkling of green onions, herbs, carrots, red onions, serrano peppers, and chicken. Finish with another layer of cheese and the final tortilla. Cook for 2-3 minutes per side or until golden brown and crispy. Cut quesadillas with a knife or pizza cutter and top with a drizzle of peanut sauce. Garnish with herbs, serrano pepper slices, peanuts, and Napa cabbage.
https://sumptuousliving.net/thai-chicken-quesadillas/
Copyright @ Sumptuous Living
This post is sponsored by The Georgia Peanut Commission and #FoodieChats. All recipes and opinions are my own.
CREATED BY LIFESTYLE EXPERT MANDY LANDEFELD. READ MORE ABOUT MANDY HERE