Ladle A Bowl Of Warmth! West African Peanut Stew
It may not be a soup you know, but it will soon be a soup you'll crave! Sharing our recipe for rich and hearty African Peanut Stew.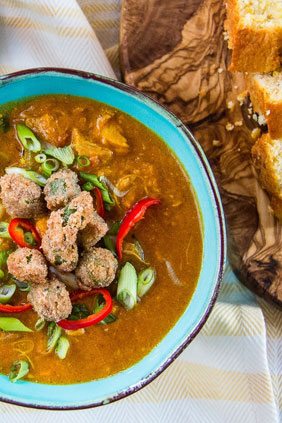 On our summer trip to Seattle, Vancouver, & Alaska we stopped at a cafe before crossing the Canadian border and I had the most incredible soup. African Peanut Stew. I had never had it before but what a new experience of flavors it was! I've thought about that soup so many times since that trip and once that craving kicked in I just knew I had to figure out how to make it at home. The smell alone takes me back! When that unique array of ingredients begins wafting through my kitchen, my mouth can't help but water with excitement.
It's like a warm bowl of happiness (and who can say no to that?) Especially on those cold days when all we want to do is bundle up on the couch, wrapped up in a soft blanket, and let a big bowl of homemade soup warm us right up. It makes for the coziest of meals, I might have just found my new go-to comfort food. And since you can make large portions at once, it's perfect for family dinners too!
A rich and hearty stew made with chicken, sweet potatoes, ginger, okra, and peanut butter. I know it sounds like a whacky combo but it is so ridiculously good! Even better when you top it with some fried okra (we dusted these with Oliver Farms Peanut Flour), green onions and fresh chiles. I even given give my bowl an extra kick with a squiggle of Sriracha. Eye rolling into soup heaven!
African Peanut Stew Heaven….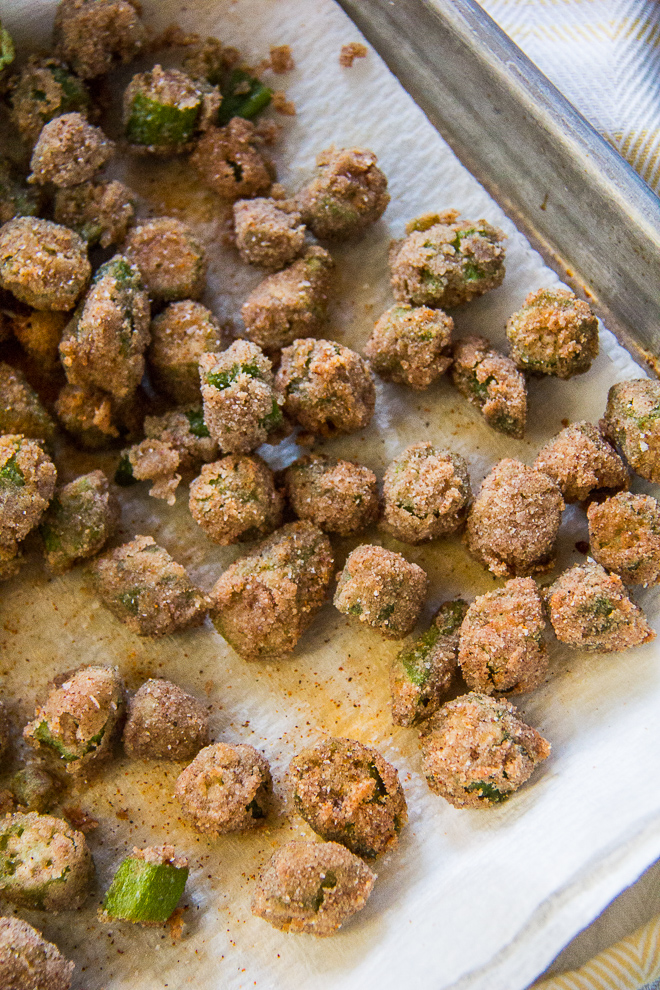 Once again we're working with The Georgia Peanut Commission and #Foodiechats to share unique peanut recipes for National Peanut Month. Peanuts are a favorite in our house for all their peanut power! Slow releasing sugars, high fiber and protein and, well, they're so dang tasty!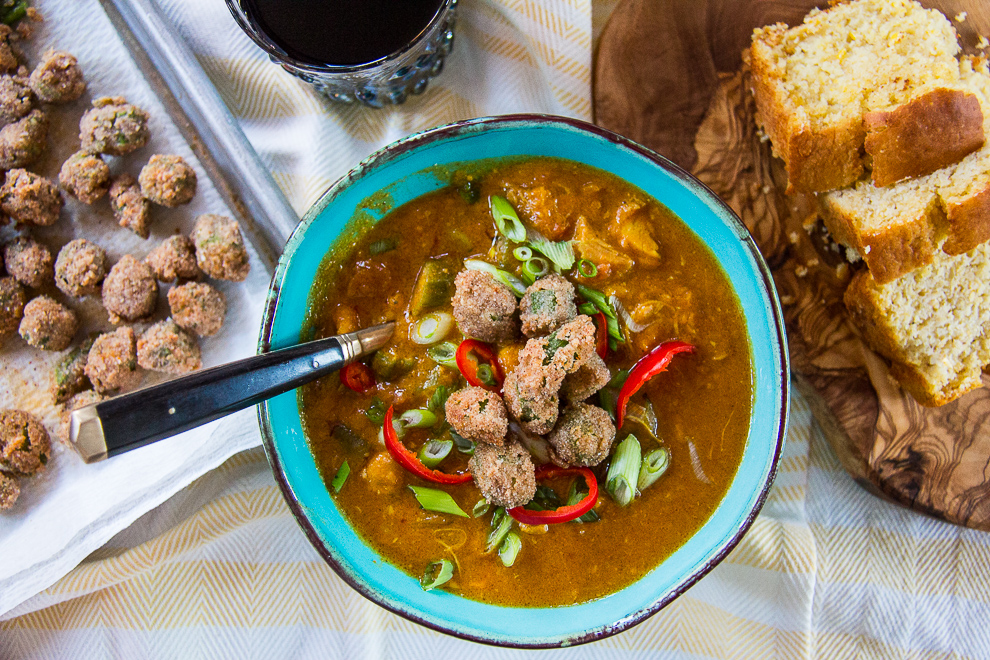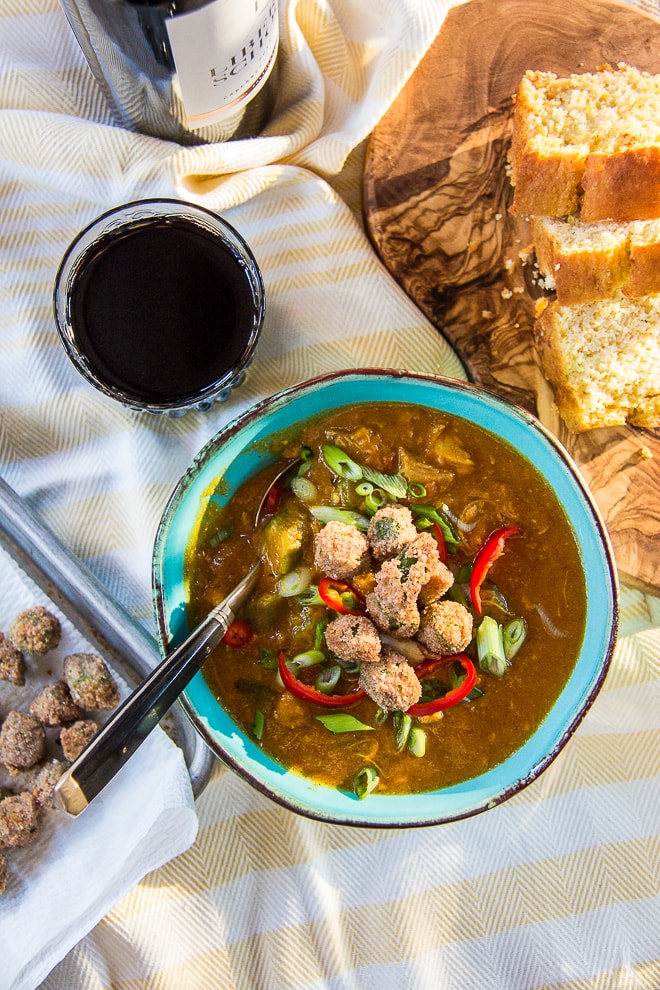 In addition to our African Peanut Stew recipe, we made another amazingly easy dish for National Peanut Month. If you're house is as Nuts for Nuts as mine is, check out our recipe for Thai Chicken Quesadillas.
WEST AFRICAN PEANUT STEW
A delicious African Peanut Stew is a new soup that will soon become a family favorite!
Ingredients
1/3 cup Coconut oil or Canola Oil
2-2 ½ lbs Boneless Chicken Thighs
Kosher Salt & Black Pepper
3 cups Chopped Red Onion (about 1 ½ large)
4 Sweet Potatoes, peeled and cubed
3 Red Serrano Peppers, chopped
6-8 cloves Garlic, minced
¼ cup Finely Chopped Ginger
1 TBS Kosher Salt
2 TBS Ground Cumin
1 TBS Coriander
1 tsp Cinnamon
1 tsp Turmeric
½ tsp Cayenne Pepper
1 28 oz can Crushed Tomatoes
2 TBS Tomato Paste
1 ½ cups Peanut Butter (Creamy or Crunchy)
2 ½-3 quarts Good Chicken Stock
Garnish: Sliced Green Onions, Sliced Red Chiles, Chopped Peanuts, Chopped Cilantro, Fried Okra, Sriracha
For The Okra:

3 cups Frozen Cut Okra
1 egg, beaten
1 cup Peanut Flour or Cornmeal
Kosher Salt to Taste
3 cups Canola Oil
Instructions
In a large Dutch oven, heat oil over medium high heat. Season chicken with salt and pepper. Sear chicken for 3 minutes per side. Add in onions, peppers, garlic, ginger and sweet potatoes. Stir in spices and cook for another 4-5 minutes. Add in tomatoes, tomato paste, peanut butter and stock.
Bring to a boil, reduce to simmer. Cover and cook for 30 minutes, stirring occasionally. Add in okra and cook another 15-20 minutes, adding more stock if necessary. Check for seasoning and serve with garnish of your choice.
For The Fried Okra:

Toss half thawed frozen okra in a bowl with a well beaten egg. Toss okra in Peanut flour or Cornmeal seasoned with kosher salt. Fry in hot oil in batches, lay on paper towel lined plate and season again with kosher salt.
https://sumptuousliving.net/african-peanut-stew/
Copyright @ Sumptuous Living
CREATED BY LIFESTYLE EXPERT MANDY LANDEFELD. READ MORE ABOUT MANDY HERE