Sweet Potato Stacks
Who can argue that food isn't art when you serve them a dish like our Sweet Potato Stacks? Simple, rustic, and delicious.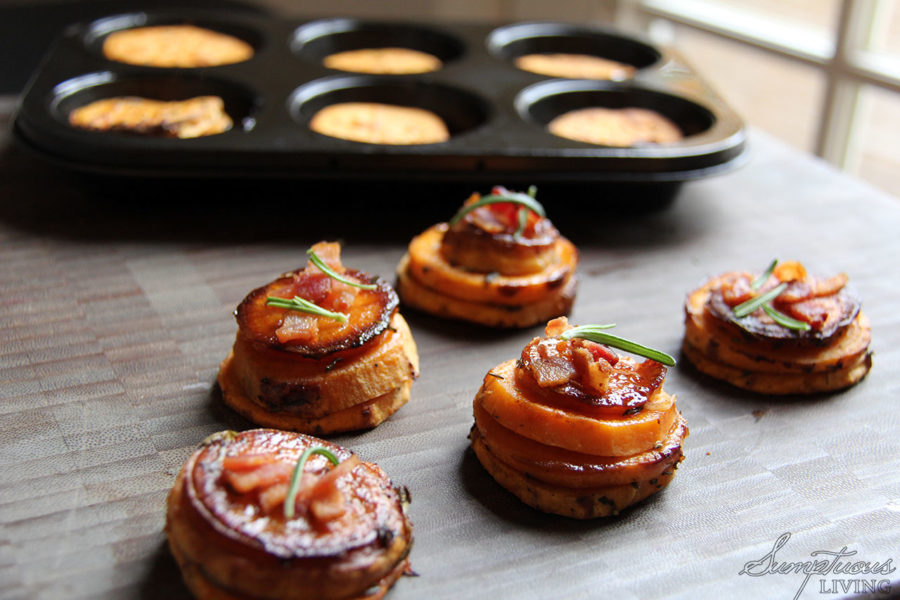 Our Sweet Potato Stacks are gorgeous & delicious all in one AMAZING bite! Sweet potato slices are tossed with bacon an rosemary and stacked into a muffin tin (Smart right? I love it when the tools of the kitchen do all the fancy work!) Serve them for an impressive appetizer with one of our amazing Cocktails or as the perfect side dish for any holiday, Sunday Supper, or weeknight dinner. You'll love how much everyone will go crazy over these heavenly  little sweet potatoes.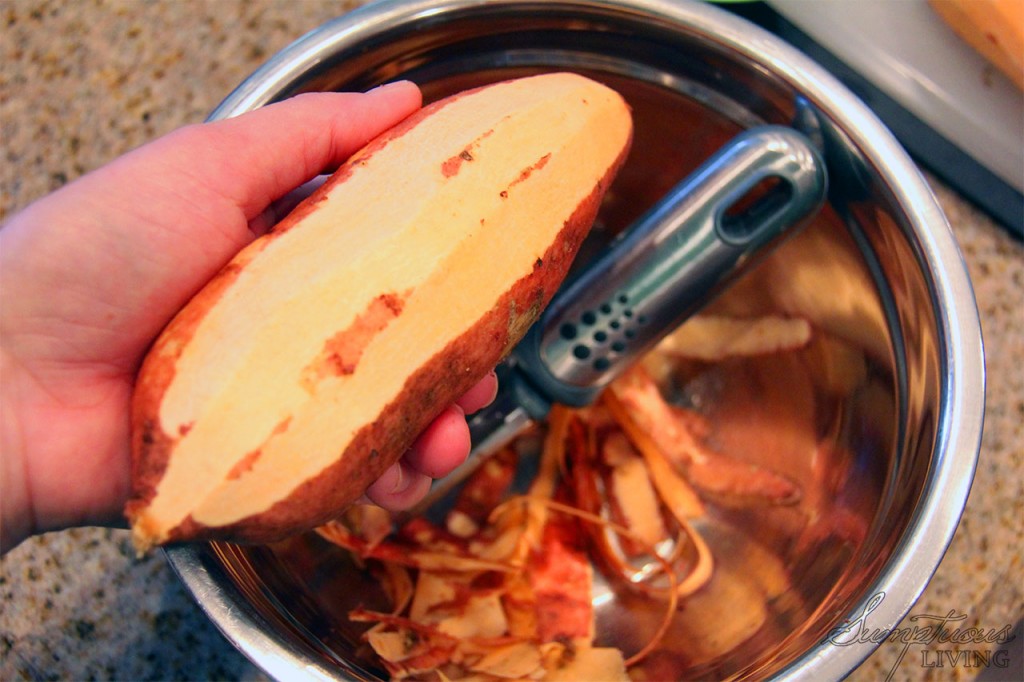 We love sweet potatoes! They're flavorful, packed full of vitamins and an instant crowd pleaser.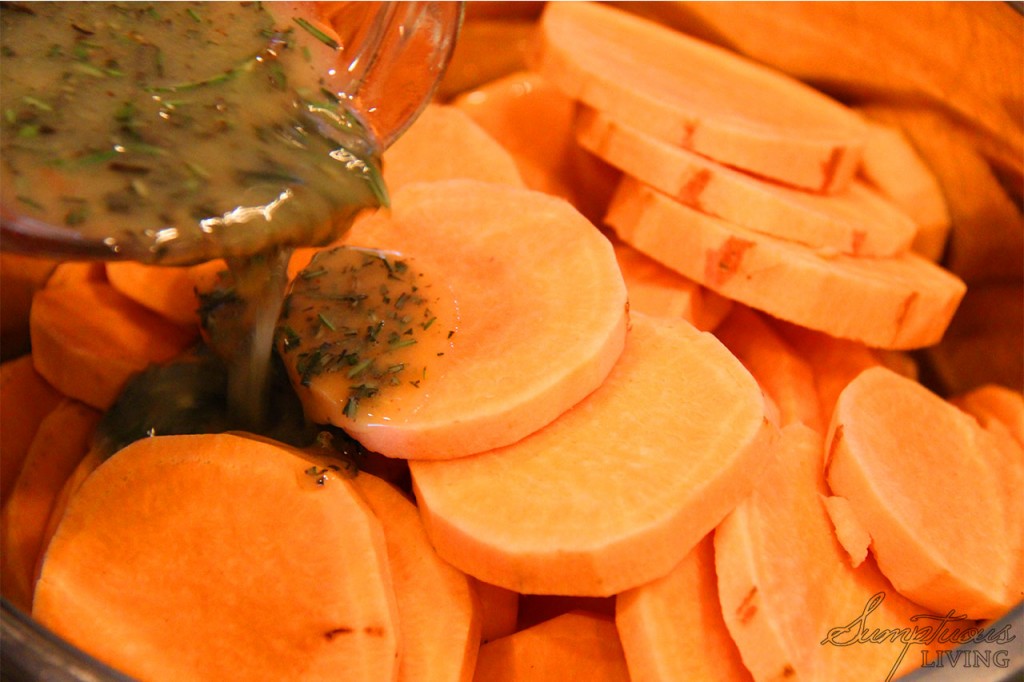 A mixture of bacon fat, butter and herbs serves as the dressing for our sweet potatoes. Just reserve a few tablespoons of the fat from the bacon you already have cooked, mix it with melted butter and fresh rosemary and pour right over your sliced sweet potato. Your kitchen is about to smell really good!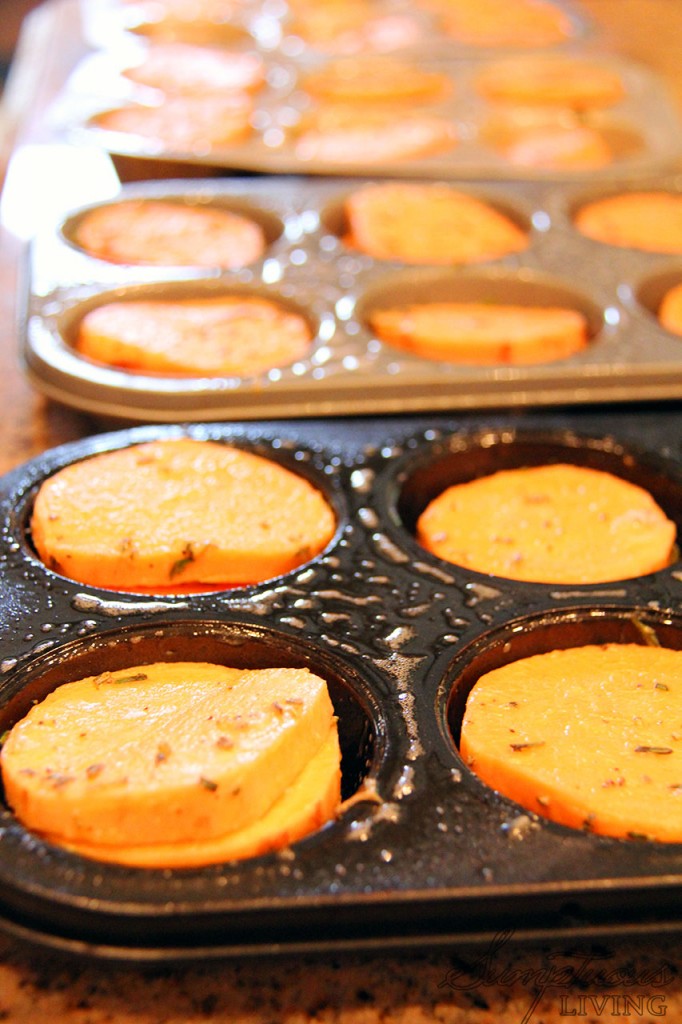 When they come out, simply flip them over to reveal little towers of golden sweet potato heaven! The bacon, the crispy bits of sweet potato and the soft bits of sweet potato are crazy delicious. It's truly an explosion of flavors and textures. And they just look so great! They make a great appetizer for a dinner party or even just a snack with Cocktails.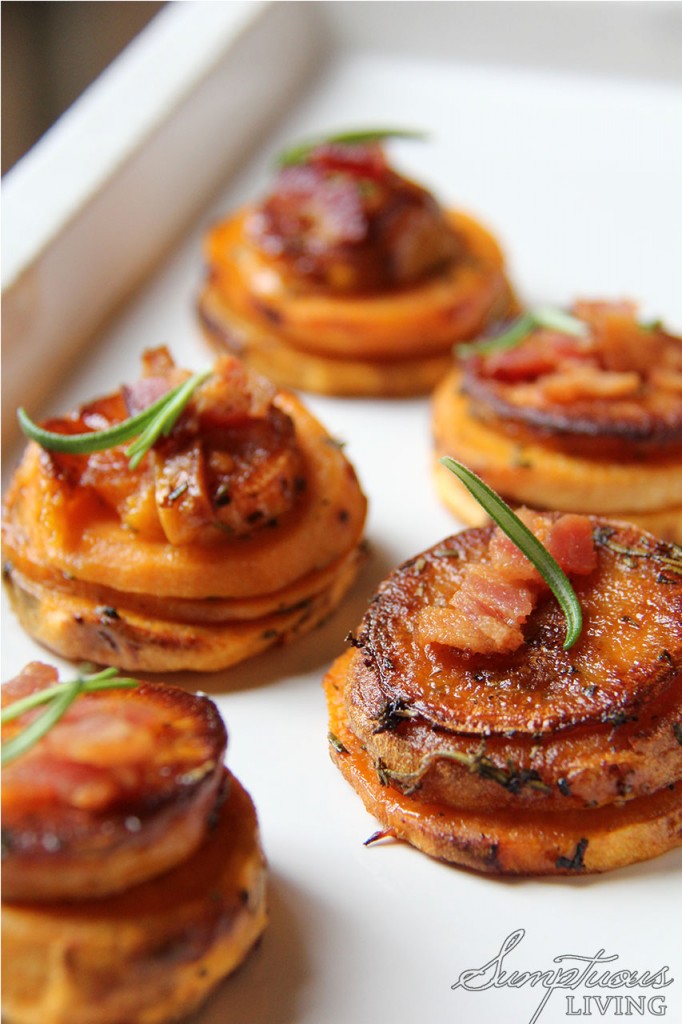 Sweet potato slices are tossed with bacon and rosemary then stacked into a muffin tin to create one Amazing bite!
Ingredients
4 Large Sweet Potatoes (peeled and thinly sliced)
4 tablespoons Butter (melted)
4 thin slices Bacon (cut into small pieces)
1 teaspoon Kosher Salt
2 tablespoons Fresh Rosemary (chopped, plus extra for garnish)
1/2 teaspoon Fresh Black Pepper
Instructions
Preheat oven to 425 degrees.
Spray 12 muffin cups with nonstick cooking spray.
Place bacon in a large skillet and cook until crispy.
Drain on a paper towel and reserve 3 Tbsp fat.
In a large bowl whisk together butter, bacon fat, salt, chopped rosemary and black pepper.
Add sweet potatoes and toss to coat evenly.
Layer potato slices into muffin pan and fill to the top.
Bake for 25 minutes or until edges and tops are golden brown and center is tender.
Let cool in muffin tin.
Using a spoon invert onto a serving tray and garnish tops with bacon crumbles and rosemary.
https://sumptuousliving.net/sweet-potato-stacks-2/
Copyright @ Sumptuous Living