Easy Fish Dish! Herb Crusted Salmon
Cooking fish is easier than you think! Perfect for either weeknights or special occasions, make sure you always have this Herb Crusted Salmon in your recipe box!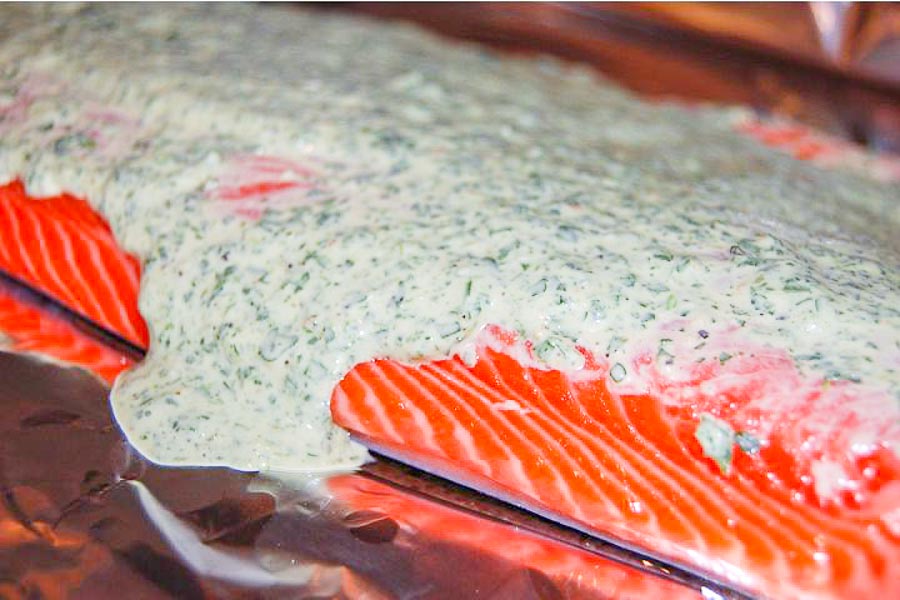 The simplest, healthiest, and quickest proteins to make is fish, yet it's the most feared! Why? I have no clue. It shouldn't be. Fish, like this herb crusted salmon, is quick to cook, easy to season, can be made on the grill, in the oven, or on the cooktop. Cooking fish and seafood for dinner will get dinner on the table in less than 20 minutes! You can find salmon easily at any market. You can substitute steel head trout for salmon but the preparation of this Herb Crusted Salmon will work on absolutely any fish!
Remember, cooking isn't rigid or inflexible! Getting in the kitchen should be fun and loosey goosey. Somehow, cooking fish is the first thing people get tense about. A fish class was actually the first private cooking class I did. My sweet friend Shelli (she's also the most incredible family portrait photographer) called me up one night and said "We're going to get about 20 chicks together and you're gonna teach us how to cook fish!". Okie Dokie! That's how my cooking career began. We made 3 different kinds of fish that night and every single one of those women learned how easy and a lifesaver fish can be for getting dinner made in a flash! Maybe it was the wine, but all those guests then threw their own cooking party.
Our recipe for Herb Crusted Salmon would easily serve a large family, even my fish devouring clan. I have crazy, seafood loving kiddos who could scarf 3 fillets each in one sitting! We're addicted and maybe slightly obsessed about seafood… I'm aware. Honestly, I think the whole table went silent when they took the first few bites and then came the moans. Oh, how I love the moans of savory happiness!
Instead of buying the individual portions of salmon, buy the whole side of salmon (what you call a full slab of fish). Any seafood counter can sell it to you this way and it is how they sell it at Costco or your local wholesale club. For easy clean-up, place the side of salmon skin side down on a sheet pan lined with heavy duty foil and sprayed with cooking spray. Spraying the tin foil makes serving your food easier. I always spray my tin foil. FYI. Then season the fish with salt & pepper and smear it with a mixture of herbs, lemon zest, mayo and dijon. Top with Panko breadcrumbs and pop it in the oven to bake. A mini food processor like this one makes prep take litterally less than 5 minutes!
That it! There's nothing better than quick, easy dinners and this salmon recipe is sure to deliver just that for your family! It's even good enough to serve to dinner guests and so very easy to prepare. Once you master the basics of it, you can cook any fish you find that day at the market with the ingredients you have on hand. There are no recipe police knocking down your door and YOU are the ruler of your kitchen! Now, go get your crown…
More of our favorite Easy Fish Dishes:
HERB CRUSTED SALMON
Herb Crusted Salmon or Trout
This dish is perfect for weeknights or special occasions. It's easy to make and delicious.
Ingredients
2-2.5 lb fillet of steel head trout or salmon
1/4 cup mayo
1 tsp crushed garlic
Juice of 1 lemon
1/2 cup chopped flat leaf parsley
2 tbs Dijon mustard
1/2 tsp lemon pepper
1tsp kosher salt
1 tbs olive oil
1 cup Italian style Panko crumbs
Instructions
Preheat oven to 425.
In a blender or small food processor, pulse together mayo, garlic, lemon juice, parsley, mustard, salt & lemon pepper.
Line a large baking pan with heavy duty foil and drizzle with oil or spray with cooking spray.
Place fish on pan.
Seaon the fish with Kosher salt & fresh pepper
Smear mixture evenly over fish.
Top evenly with a light layer of Panko.
Bake for 12-15 minutes or until thickest part of fish flakes easily.
https://sumptuousliving.net/herb-crusted-salmon/
Copyright @ Sumptuous Living