Party Food! Fingerling Potato Bites
Who doesn't love a potato skin? One bite of these crispy goodies will have you guests coming back for more of these fingerling potato appetizer!

When you have a crowd of people in your house screaming at an NFL playoff game, let's give them a die hard favorite. POTATO SKINS! …but Updated, Fresh, and Dang Delicious! The important thing to keep in mind here is to make sure you make enough of these because they will definitely fly off the plate!
Welcome our Fingerling Potato Bites! Fingerling potato appetizers are perfect for a one bite morsel of heaven! Top that off with some sour cream doctored up with fresh chives and citrus and a super crispy slice of bacon and you have a bite that will have everyone going crazy!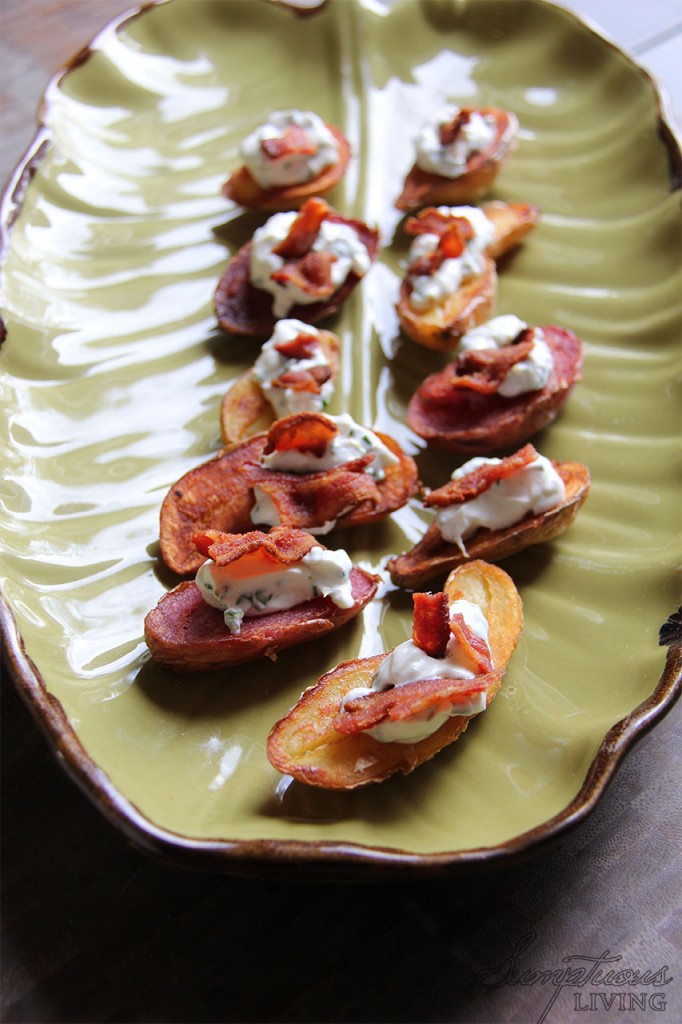 Fingerling potatoes are perfect for a one bite morsel of heaven!
Ingredients
12 Small Fingerling Potatoes (parboiled in salted water)
4 thick slices Bacon (cut into 6 pieces each)
1/2 cup Sour Cream
2 teaspoons Lemon Juice
1 teaspoon Lemon Zest
1/4 cup Chives (chopped)
Kosher Salt
Fresh Ground Pepper
Instructions
Place potatoes in a medium size sauce pan and cover with cold water.
Add 1 Tbsp. salt. Bring to a boil.
Cover and lower heat to medium-low.
Cook until potatoes are slightly tender (about 8-10 minutes).
Drain and set aside to cool.
In a skillet over medium-high heat, cook bacon until crisp.
Drain on paper towels, reserve bacon fat in skillet.
Slice potatoes in half lengthwise.
Heat skillet with bacon fat to medium-high.
Add potatoes cut side down.
Cook until golden brown.
Place on platter cut side up and season with salt and pepper.
Mix together sour cream, lemon juice, zest and chives
Top potatoes with a small dollop of cream mixture and top with a piece of bacon.
https://sumptuousliving.net/fingerling-potato-appetizer/
Copyright @ Sumptuous Living