Cocktail Friday: Fall Festival
Every year my family goes up to the mountains, hikes the waterfalls, sees the color changing leaves, takes a hayride at the pumpkin patch and shops the markets at the apple orchards. It's our own family "Fall Festival". At the end of the day, we all kick back and sit on the deck and soak up the late afternoon with a much deserved cocktail. Today, I think I crafted the perfect bevvie to end that marvelous autumn day! One of my favorite bourbons is Bellemeade Bourbon. It's beautiful to make cocktails with or sip on its own and I happen to adore the two tall fellas that make it. The Nelson brothers, Andy & Charlie make up Nelson's Greenbrier Distillery in Tennessee and are two of the kindest guys you'll ever meet. Get to know them in the episode of Travel Channel's Booze Traveler.
Another great bar love of mine is bitters and shrubs. Shrubs are vinegar based and before you get all riled up about putting vinegar in a cocktail, hear me out. They are infused with herbs and fruit and take weeks if not months to make. These are what differentiate the cocktails at the swanky bars from what most make at home! But they are so easily available! You can buy them online, in your local liquor store, or at a bitters shoppe. They are incredible hostess or holiday gifts for that entertaining savvy friend or family member too!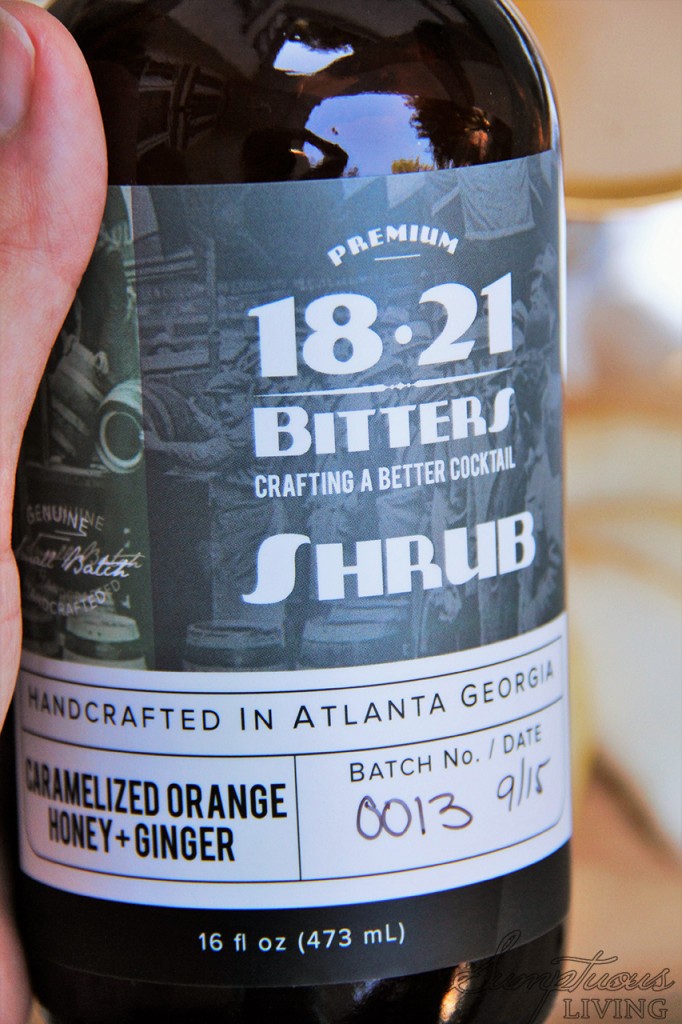 18.21 Bitters just recently opened up in Atlanta's much anticipated Ponce City Market (our version of NYC's Chelsea Market).
They have the most well thought out and inventive combinations that will elevate your cocktail beyond a mere beverage! I'm pairing today's bourbon with 18.21's Caramelized Orange, Honey & Ginger Shrub (It literally smells like fall in a bottle), pear nectar, fresh orange and rosemary. Delicious, right?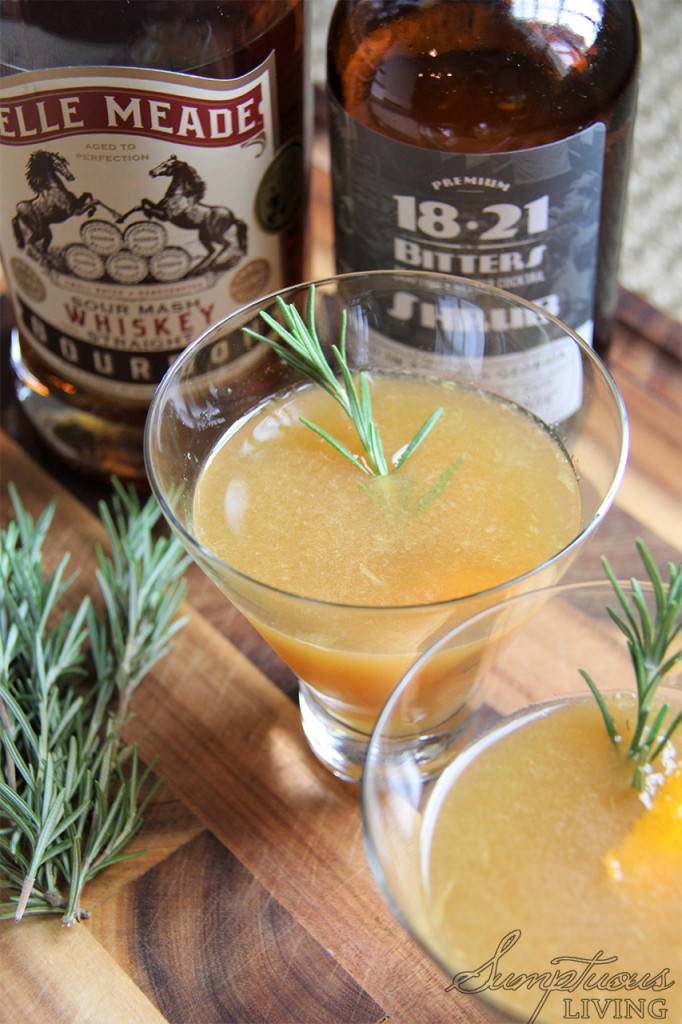 I think I crafted the perfect bevvie to end that marvelous autumn day!
Ingredients
2 oz Belle Meade Bourbon
3/4 oz 18.21 Bitters Carmelized Orange, Honey and Ginger Shrub
1 oz Pear Nectar
3/4 oz Orange Juice (fresh squeezed)
2 sprigs Rosemary
Orange (remnants)
Instructions
In a cocktail shaker filled ½ way with ice add in bourbon, shrub, pear nectar, orange juice, 1 rosemary sprig and the orange remnants.
Shake until ice cold.
Strain into a glass.
Garnish with a rosemary sprig.
https://sumptuousliving.net/fall-bourbon-cocktail-with-rosemary/
Copyright @ Sumptuous Living