Bourbon Braised Chicken
If you need an easy meal to get you through the midweek doldrums, this bourbon braised chicken is the recipe for you.
The unfortunate downside to being a caregiver/ cook-of-the-house is that sometimes you just really don't want to cook. Sometimes that pizza joint that delivers right to your front door sounds much more appealing than whipping a whole meal. But those hungry mouths tend to do a lot of whining if you don't feed them and that's really just not worth the trouble. So we all must do our duty. But if we have to get off the couch any given Tuesday night and step into the kitchen, why not make everybody think you are going big? Things will be on fire in the cooking of this dish. I repeat, you will conjure open flames in the pan. So now all those hungry mouths will be agape in awe of your incredible cooking prowess. I promise not to tell them that this bourbon braised chicken is actually really easy if you don't.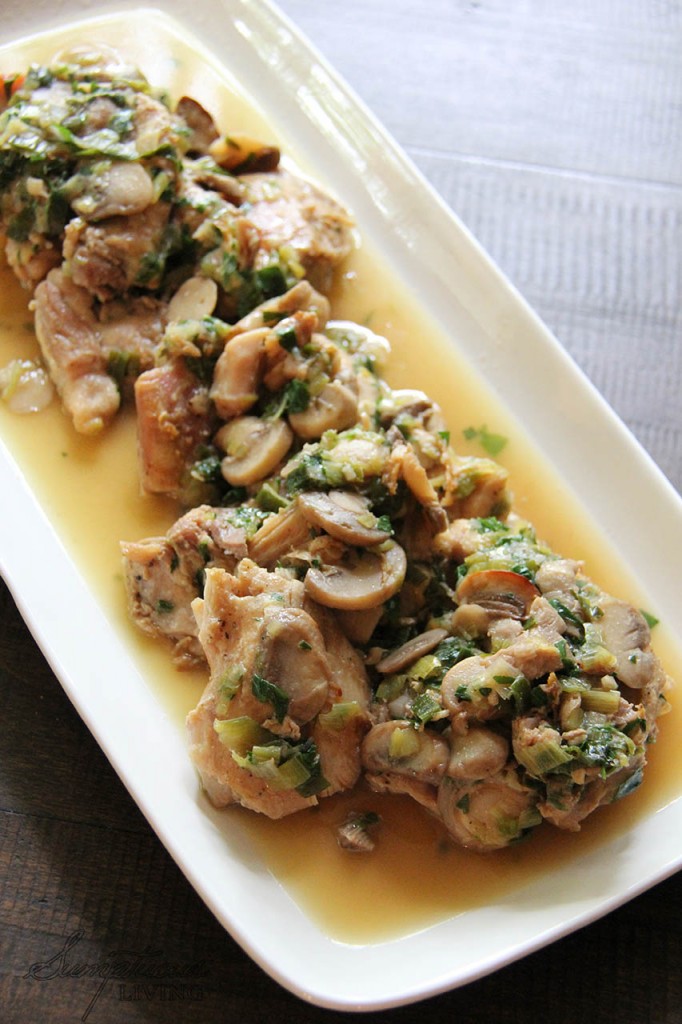 As I said before, you will be lighting something on fire in this dish. In this case, it's going to be the best bourbon you are willing to cook with. A lot of people freak out at the thought of setting something alight on purpose, but I promise that it's really not all that scary. That fire is actually a good thing; it's working to remove all of that alcohol that makes adult beverages great (like our Fall Festival cocktail), but really isn't so good in a nice chicken dish. But hey, it looks really cool so I won't blame you if you keep telling everyone it's scary and difficult. Plus, it's the secret to this really delicious sauce. Give it a try!
If you need an easy meal to get you through the midweek doldrums, this bourbon braised chicken is the recipe for you.
Ingredients
2 tablespoons Vegetable Oil
Kosher Salt
Freshly Ground Black Pepper
8 Chicken Thighs (boneless)
1 1/2 cup Leeks (sliced, soaked and strained)
8oz Mushrooms (sliced)
1/2 cup Celery (chopped)
4 cloves Garlic (crushed)
1 cup Bourbon (good quality)
3 cups Chicken Stock
3 tablespoons Butter (cold)
Instructions
Heat the oil in a heavy bottom pot (like a Dutch oven) over medium-high heat.
Season the chicken thighs well with salt and pepper and sear to golden brown on both sides.
Remove the chicken from the pan and add the leeks, mushrooms, celery and garlic.
Season again with salt and pepper.
Cook over a medium flame until the leeks are tender and lightly browned.
Turn the heat off the pan and add the bourbon.
Carefully flame the bourbon and boil until reduced by half.
Return the chicken to the pan, and add the chicken stock.
Bring the stock to a simmer, place pan uncovered for 45 minutes.
Remove the chicken to a platter.
Taste sauce for seasoning and adjust if necessary.
Stir in cold pats of butter until sauce is glossy. Spoon over chicken.
Serving suggestion

Whipped sweet potatoes, Creamy Mashed Potatoes, Cheese Grits, or Wild Rice
https://sumptuousliving.net/bourbon-braised-chicken/
Copyright @ Sumptuous Living