Country Living Fair Ticket Giveaway | Come See Mandy On Stage
We're giving out  3 Pairs of Weekend/Early Bird Tickets in our Country Living Fair Ticket Giveaway! Enter below and come see Mandy on stage for her shows both Saturday & Sunday on the Country Living Kitchen Stage. 

The Country Living Fair in Atlanta is only 2 weeks away! Whoop! Who wants FREE tickets? October 21-23, Atlanta's Stone Mountain will become a country shopping wonderland full of handcrafted & rustic gifts, jewelry, decor, and art. The Country Living Fair is a fun way to soak up the fall weather, get your Christmas shopping done and maybe even buy a few things for yourself. Even better, you can catch presentations by your favorite TV personalities (download the new Country Living Fair App for the full list)!
For the past 4 years, I've loved being on the Kitchen Stage doing cooking demos and getting to share fall recipes and cocktails with a tent full of Country Living fans. Along with presenters like Food Network's Nancy Fuller, HGTV's Cari Cucskey & Junk Gypsies, and Country Living Magazine's Charlyne Mattox, I'll be doing 2 shows on the CLF Kitchen Stage.
My 11 am Saturday show is "Fall Sips & Nibbles" with fall inspired cocktails and appetizers. Then Sunday at 2pm, I'll be sharing Easy Fall Tablescapes. Plus, you can audition for GAC's Flea Market Flip! We're partnering with CLFair 2016 to give a way 3 pairs of Weekend/Early Bird passes (entry details below)! Tickets are good for all 3 days of the fair and include the Early Bird entry on Friday and Saturday.
Good morning from the Country Living Fair in Atlanta! We are making fall sips and nibbles with Sumptuous Living!

Posted by Country Living Magazine on 22hb Oktober 2016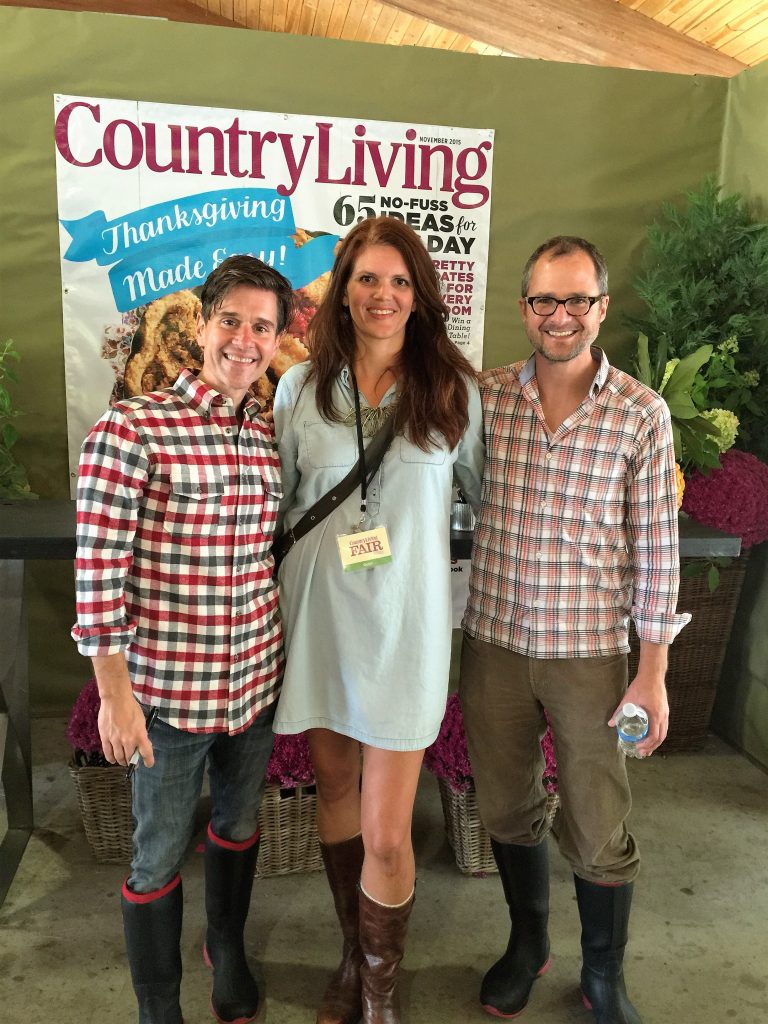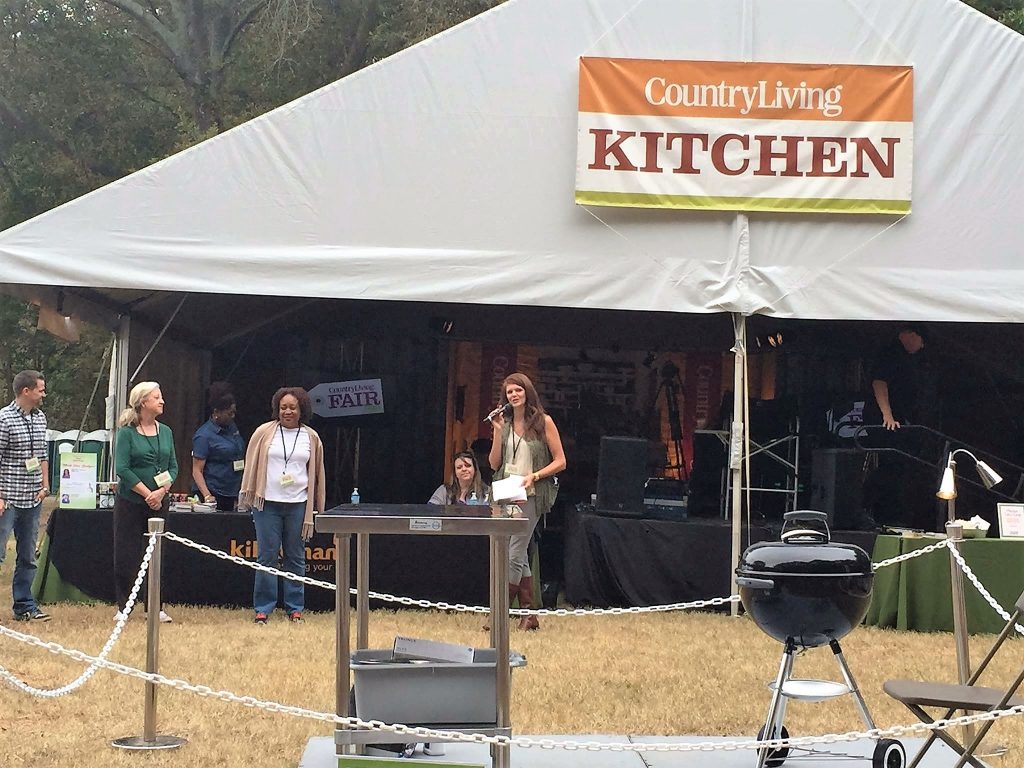 Here's the recipes we shared last year at my Harvest Cocktails & Appetizers Show during Country Living Fair 2015
Pom Pursuit Cocktail – Apple Jack Brandy, Pomegranate Liqueur, Hard Cider & Pomegranate Juice
Fig & Walnut Crostini – Figs, Brandy & Walnuts blended into a gorgeous jam, layered under apple slices and sharp cheddar on toasted french bread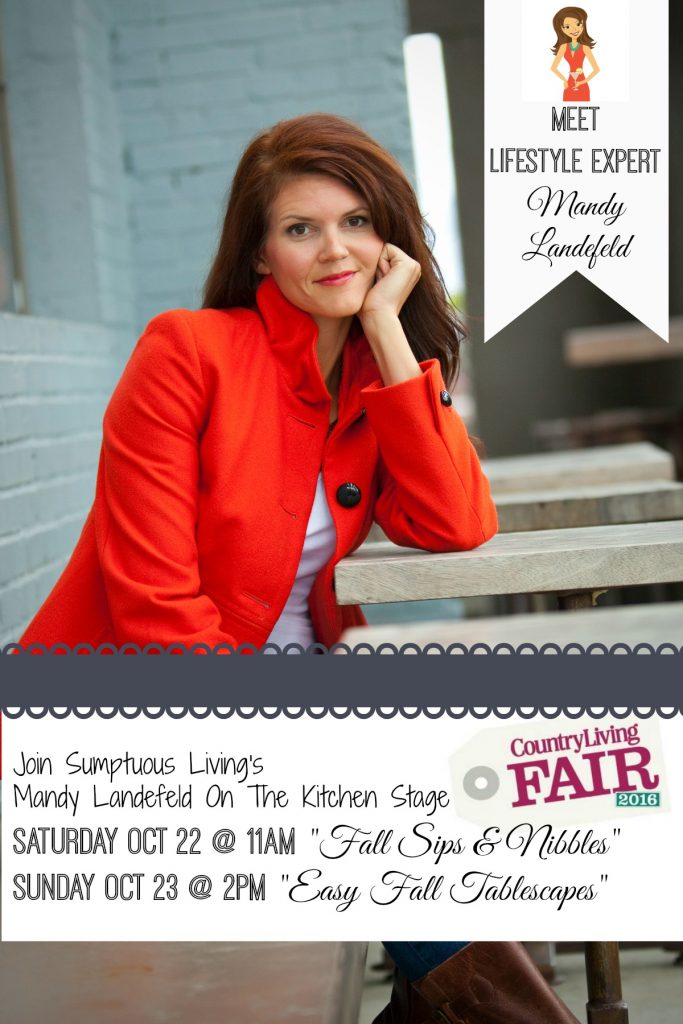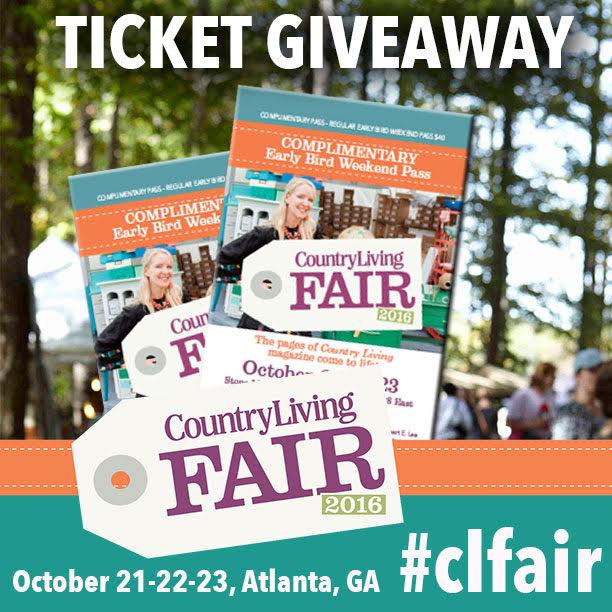 How To Enter
Join the Sumptuous Living Mailing List AND leave a comment below (or on our Instagram & Facebook Page) on what you're on the hunt for at the Country Living Fair Atlanta. (Make sure we have your email when you comment) That's It!
Prize: A Pair of Country Living Fair Atlanta Weekend Passes with Early Entry Access (to be picked up at Will Call)
3 Winners will be randomly chosen Monday, October 17 and notified by email
Country Living Fair Info
October 21-23, 2016, from 10 a.m. until 5 p.m. daily
Stone Mountain Park, Atlanta
Address for GPS: 1000 Robert E. Lee Blvd Stone Mountain, GA 30083