My Go To Cookie Recipe! Coconut Macaroons
Video Post! Try our deliciously fluffy coconut macaroons drizzled with beautiful chocolate ganache. Big flavor in a bite sized package!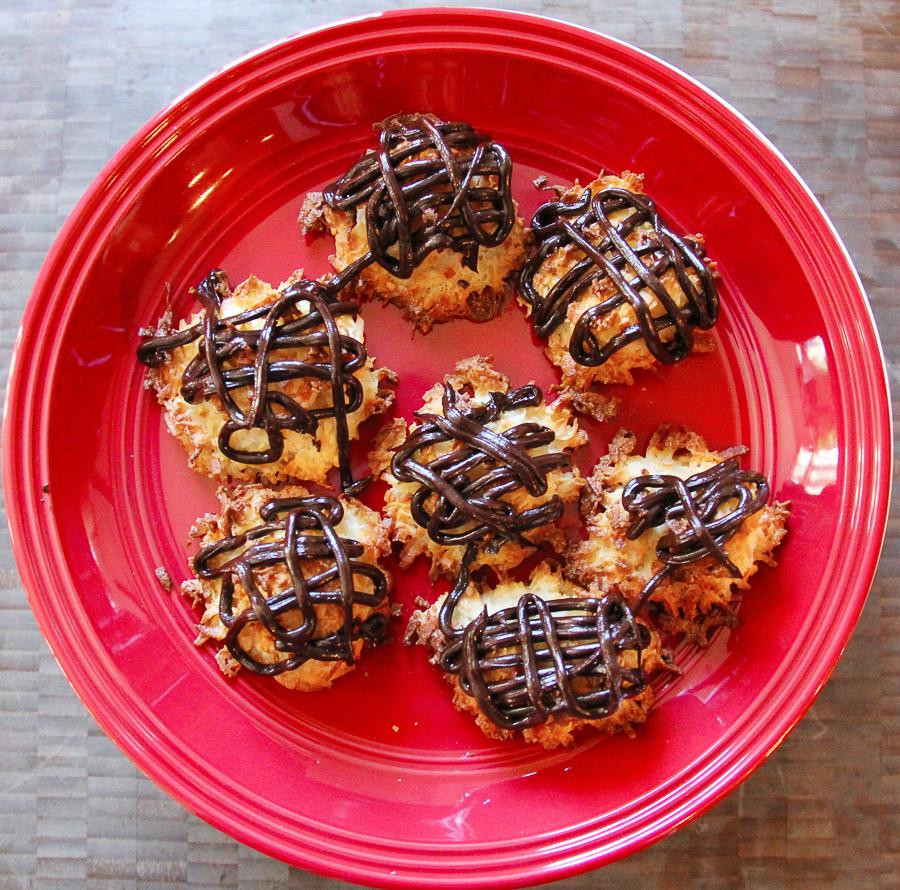 For 10 years we hosted a big Christmas party. No matter what I served, there were 3 things our guests absolutely expected (almost lovingly demanded)! White Russians, My Aunt Kathy's Shrimp Biscuit recipe, and these Chocolate Drizzled Coconut Macaroons. 
Beautiful and delicious coconut macaroons drizzled with glossy chocolate ganache. Made in just one bowl and with just a few ingredients, they are sinfully delicious! Oh, and don't forget about the rum! This is Mandy's world after all. 
Coconut macaroons drizzled with glossy chocolate ganache.
Ingredients
1 1/2 bags Shredded Coconut (14 oz each)
1 can Sweetened Condensed Milk
1 TBS Rum
1 tsp Vanilla extract
2 Egg whites (room temperature)
1/4 teaspoon Kosher salt
2 cups Dark chocolate chips
1/2 cup Heavy cream
1 tablespoon Instant espresso granules (or 2 tbs of strong coffee)
Instructions
Preheat oven to 325 degrees.
In a large bowl mix together, coconut, condensed milk, rum and vanilla. Set aside.
Whip egg whites and salt on high speed with an electric mixer until medium-stiff peaks form. Carefully fold in the egg whites into the coconut mixture.
Using a medium ice cream scoop, drop cookies onto a parchment or silpat lined baking sheet. Bake for 20-25 minutes or until golden brown. Let cool.
Meanwhile, in a double boiler (a metal mixing bowl placed over a pot of simmering water), melt together chocolate chips, cream and coffee granules.
Whisk until glossy and fully melted. Take off heat.
Pour into a disposable zipper seal baggie and seal removing as much air as possible.
Snip a very tiny corner off one end. Drizzle chocolate over macaroons and allow to cool.
https://sumptuousliving.net/coconut-macaroons/
Copyright @ Sumptuous Living