Chocolate Stout Cupcakes with Irish Cream Frosting
We put the luck of the Irish in a cupcake! Celebrate St. Patrick's Day with fluffy Chocolate Stout Cupcakes with Irish Cream Frosting. 

What's more Irish than Guinness? Or Bailey's Irish cream? Let's put them together into chocolate stout cupcakes that's perfect to celebrate St. Patrick's Day! The chocolate cake is fluffy and rich without being heavy because we bake them with Guinness Stout Beer in the batter. But the best part is the creamy and tangy Bailey's Irish Cream frosting! It's a cream cheese frosting that we kept light and not too sweet but perfectly flavored with Bailey's Irish Cream.
These Chocolate Stout Cupcakes are so delicious, you may want to skip the Classics like delicious Cabbage & Potatoes but don't! Make a festive Irish cocktail or one our favorite St. Patty's Day recipes and then finish the night with one or two boozy cupcakes!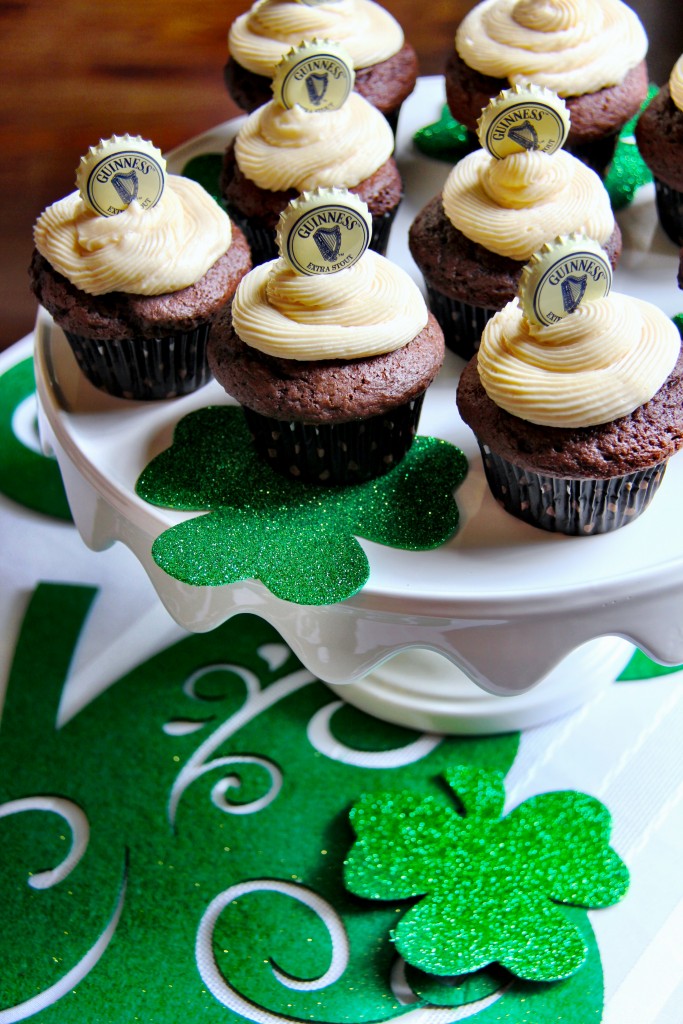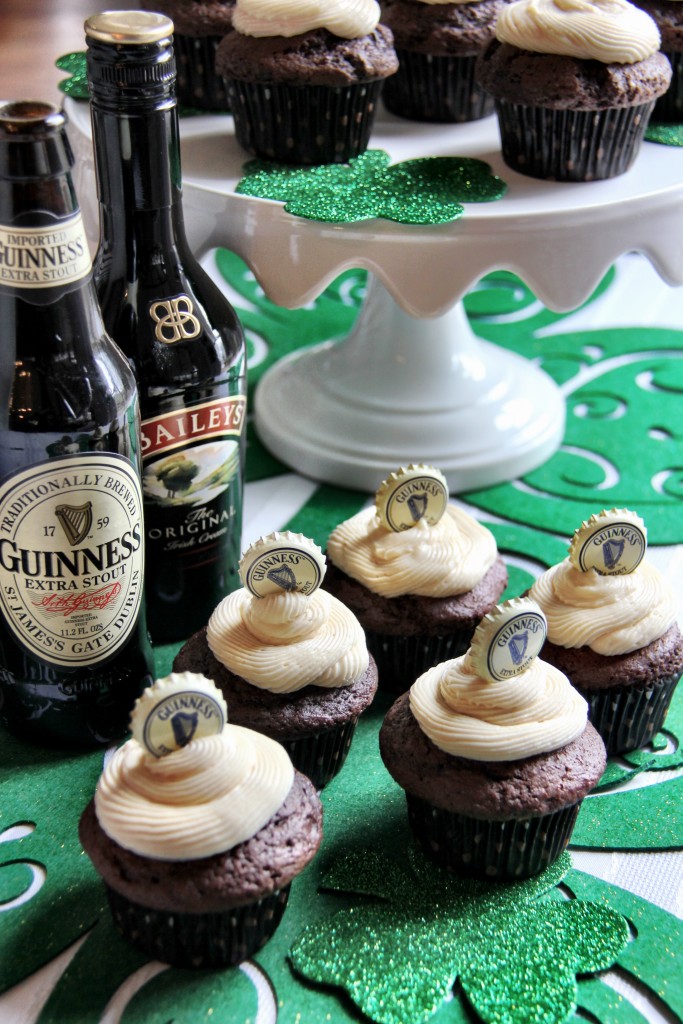 Fluffy Chocolate Stout Cupcakes with  Irish Cream Frosting
Ingredients
Cupcakes

1 box Chocolate Cake Mix
1 small box Instant Chocolate Pudding
½ cup Sour Cream
3 large Eggs
1 cup Guinness Stout Beer
½ cup Canola or Vegetable Oil
1 cup Dark Chocolate Chunks (optional)
Frosting

1 cup Unsalted Butter (softened to room temperature)
2 (8oz) packages Cream Cheese (softened to room temperature)
2 ½ cups Powdered Sugar
½ cup Baileys Irish Cream
1 ½ tsp. Vanilla Extract
Pinch Kosher Salt
Instructions
Cupcakes

Preheat oven to 350 degrees.
Place cupcake liners into muffin tin.
Blend ingredients (except chocolate chunks) in a large bowl at low speed until moistened.
Turn mixer to medium speed and beat for 2 minutes.
If using chocolate chunks, add to mixture and stir to combine.
Pour batter into muffin tin and bake immediately for 15-20 minutes or until toothpick inserted in center comes out clean.
Cool cupcakes in pan on a wire rack.
Cool completely before frosting.
Frosting

In a large bowl with an electric mixer, beat together the butter and cream cheese.
With the mixer on low, add the powdered sugar ½ cup at a time until smooth and creamy.
Add the Baileys, vanilla and pinch of salt beat until combined.
Spread on top of cupcakes.
https://sumptuousliving.net/chocolate-stout-cupcakes/
Copyright @ Sumptuous Living