Garlic Rosemary Chicken Arugula Salad with Croutons
Do you have a case of the Recipe Blues? Make this mouthwatering Garlic Rosemary Chicken & Arugula Salad the star of your day! With grilled chicken, fresh tomatoes, parmesan, and crisp arugula your tastebuds will be singing everything except the blues!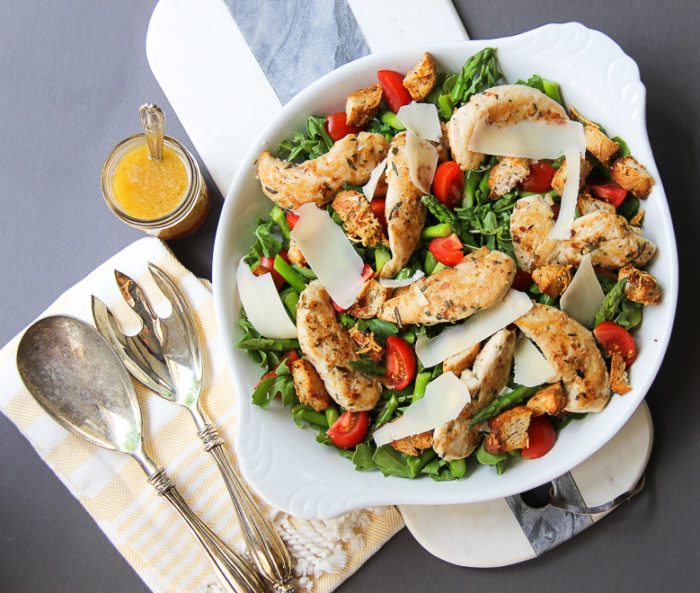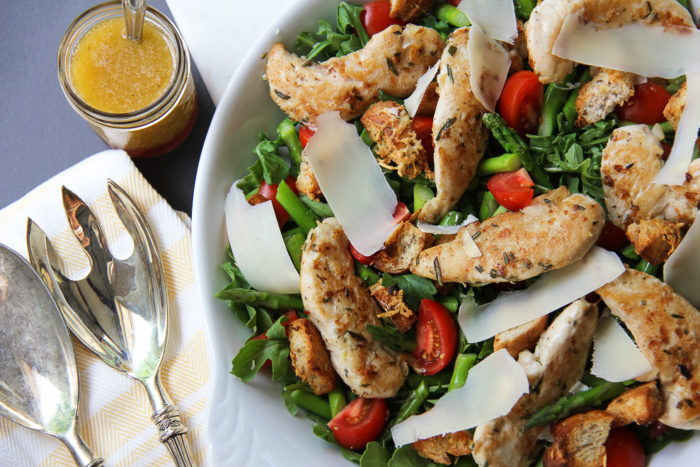 We all know the feeling. A serious case of the Recipe Blues. The week is just beginning and it already seems like too much. On top of it all, are you in a rut cooking the same old things you always have? Have no fear sweet baby.  Along with our awesome list of Easy Weeknight Meals, our new salad will make your Monday something to look forward to. Packed full of savory flavors, our Garlic Rosemary Chicken Salad with Croutons makes Monday seem like a breeze. With the right amount of crunch, juicy chicken, and fresh tomatoes who wouldn't want to conquer the week?
Garlic Rosemary Chicken Arugula Salad with Croutons

With grilled chicken, fresh tomatoes, parmesan, and crisp arugula your tastebuds will be singing! 

Ingredients

Chicken Marinade

1 ½ lbs chicken tenders
¼ cup rosemary, chopped
8 cloves garlic, crushed
1/3 cup olive oil
1 ½ tsp kosher salt

Croutons

½ baguette, cubed
2 tbl olive oil
¼ cup parmesan cheese, shredded

Vinaigrette

1 tsp lemon zest
2 tbl lemon juice
3 tbl red wine vinegar
1 small garlic clove, crushed
½ tsp salt
½ cup olive oil
½ tsp fresh black pepper

Salad

1 lb asparagus, cut into 2 inch pieces
2 cups Campari tomatoes, cut in wedges
5 oz Arugula (6 cups)

Instructions

Chicken Marinade

For the marinade add all the ingredients, except chicken into a food processor or blender and pulse until combined.
Reserve 2 Tbl. for croutons and pour remainder over chicken and set aside.
Let marinade for 30 minutes or longer.
Heat a large skillet on medium-high heat.
Add 1 Tbl olive oil.
Using tongs add chicken tenders to hot pan being careful not to crowd the pan.
Cook until lightly browned and cooked through, about 4 minutes per side.

Croutons

Preheat oven to 400 degrees.
Toss cubed baguette with 2 tbl reserved marinade, olive oil and cheese.
Place onto baking sheet and bake for 15 minutes or until crisp.
Remove from oven and place on cooling rack.

Vinaigrette

Make the vinaigrette by combining ingredients into a jar or blender.
Shake or blend until thoroughly combined.

Salad

For the salad blanche the asparagus in salted boiling water for 2 minutes.
Plunge into a salted ice bath with a spider or slotted spoon to stop the cooking process.
Remove from ice bath. Set aside.
Place arugula in a large bowl or serving platter.
Top with tomatoes, chicken, asparagus and croutons.
Drizzle with vinaigrette.

https://sumptuousliving.net/chicken-arugula-salad/

Copyright @ Sumptuous Living