Best Asheville Brewery Tour
No trip to Asheville is complete without a visit to a local brewery. But why stop at one? Let's do a full blown Asheville Brewery Tour in the best beer city in the US.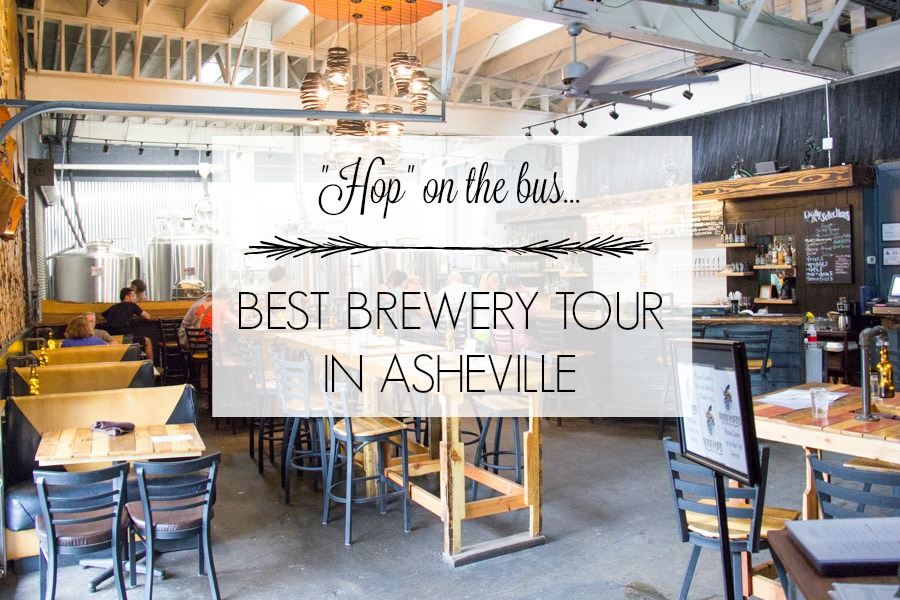 One of my all time favorite things to do in a city has always been a bike tour (take a quick look at our tours in Atlanta & Vancouver). Second to that is to go on… dare I say "HOP" on (you see what I did there… it's the beer talking) a fantastic guided beer tour. In Asheville, America's biggest per capita beer city, a beer tasting tour should be high on everyone's list. Today we are sharing our pick for the Best Asheville Brewery Tour.
Twice a summer I get to go to Asheville. My kids go to summer camp up there so I'm get to go for drop off and pick up. My favorite leg is pick up. Not just because I miss my monkeys and can't wait to smooch all over their gorgeous faces. It's because I get to spend the day before solo (blissfully, I might add) exploring one of my favorite bohemian cuckoo cities in the United States.  Asheville has been described as the "Southern Portland" for its diverse locals (get ready for patchouli, tattoos, and dreadlocks) who I think are the gorgeous human art of this town, wonderful farm movement, killer food and vibrant beer scene. I love this town. Feel like it's my own little secret that I get to share with the rest of the country. Love eating here. Drinking beer here.
So when you come, the first thing to fit into your trip is a brewery tour. One that is led by a local (my guide's name was Jen) who knows their stuff when it comes to beer, drives you around (in case you get a little too "happy" to drive or walk for that matter), and takes you for back of house tours and tastings at their favorite breweries. Asheville Brewery Tours hosts the best brewery tour in Asheville. Hence the name. Aren't they clever?
Here comes the run down of where we went, what we drank and how much fun it was. Pace yourself. Hydrate. Eat before you go and after you get done.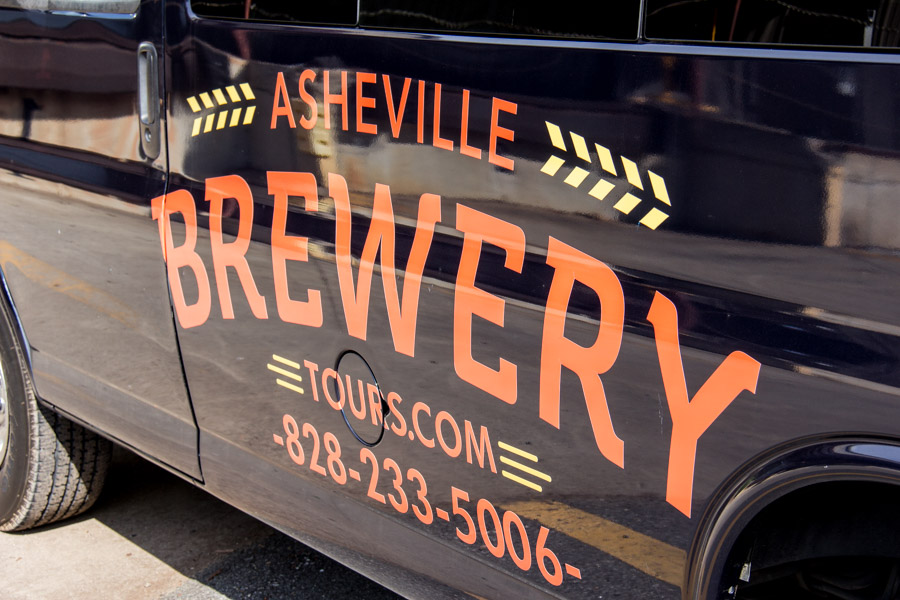 Best Asheville Brewery Tour Stop No. 1
First, the Asheville Brewery Tour Van picks us up and takes us to Bhramari Brewing Company.  Bhramari Brewing is located just a street off of the main drag of Downtown Asheville scene and easy to walk to. Its theme is Bee Goddess with a Hive Mentality.  Meaning, as a collection of artists, they could build something bigger together than they could do on their own.  Hence, all the bees and honeycombs in their logo. Their brew master used to be a chef and takes to layering his flavors in the beer as if he was still cooking. Each beer will change as you sip it. Bhramari Brewing has a killer patio that's perfect for hanging out and chatting with friends over a beer. I loved their label art which circles back to their artist collective business model. You can see what I mean here.
MANDY'S PICK: Molly's Lips (Black Gose 4%) and Agua Mala (Tequila Barrel Aged IPA)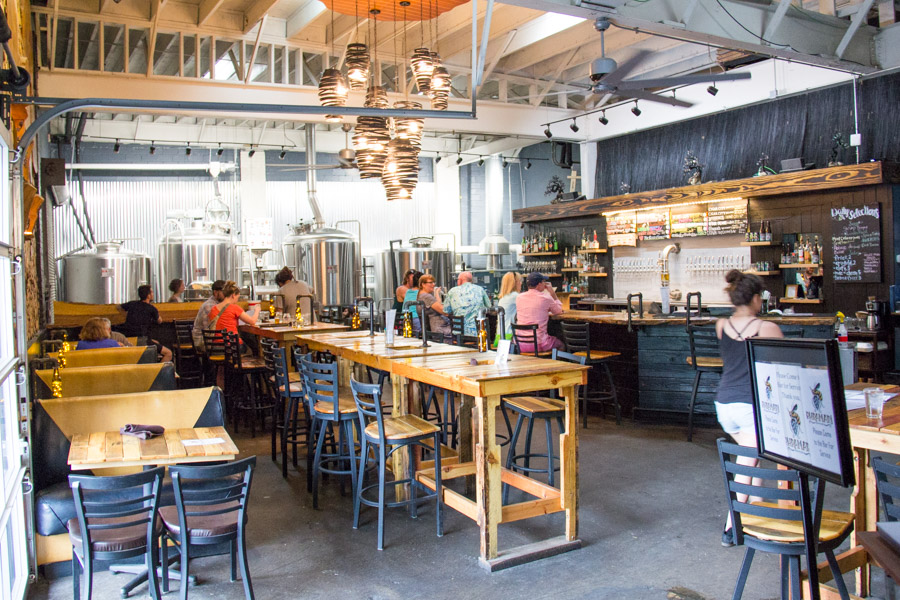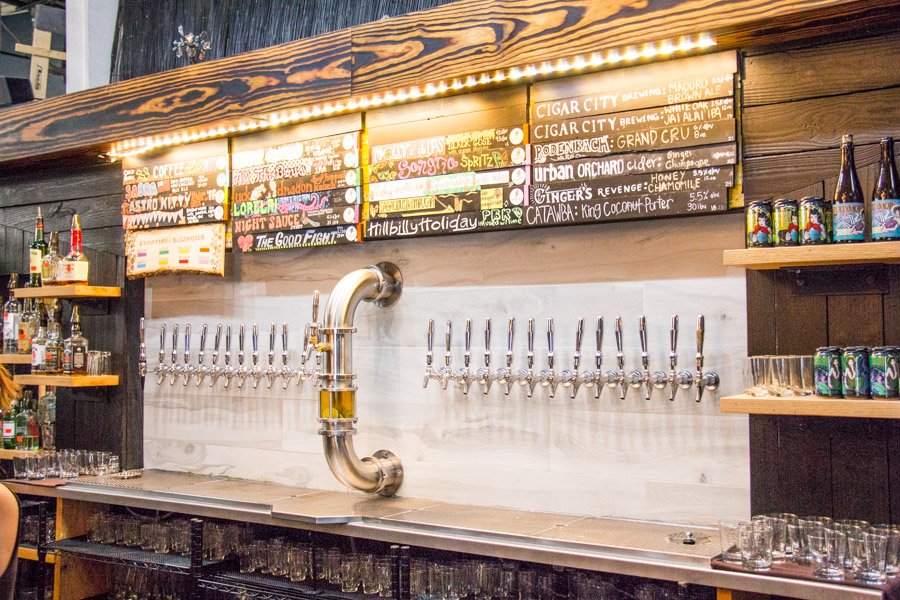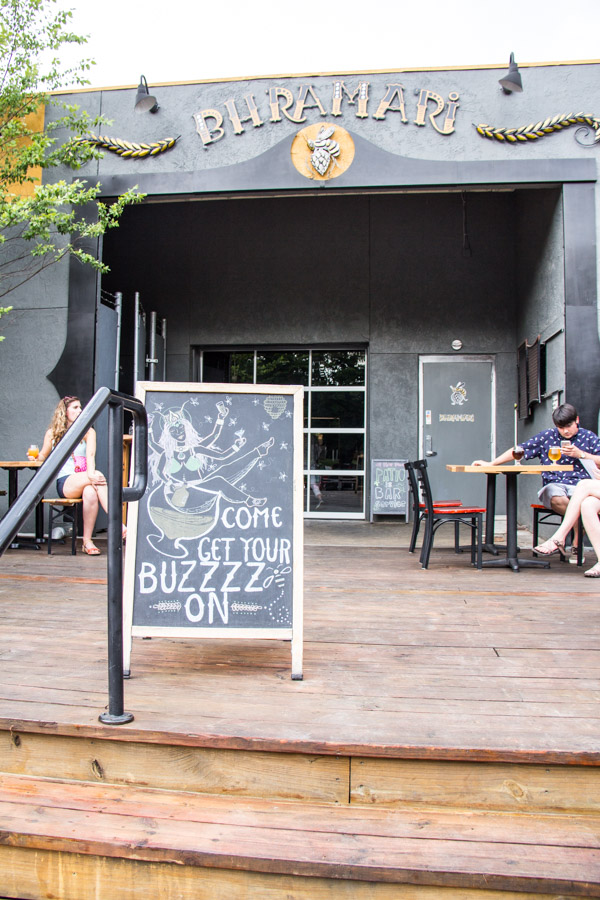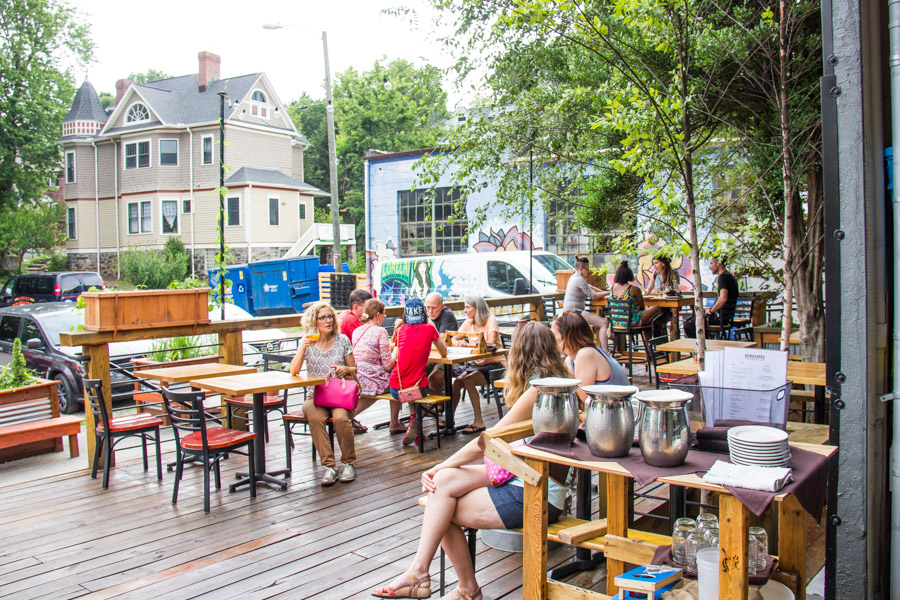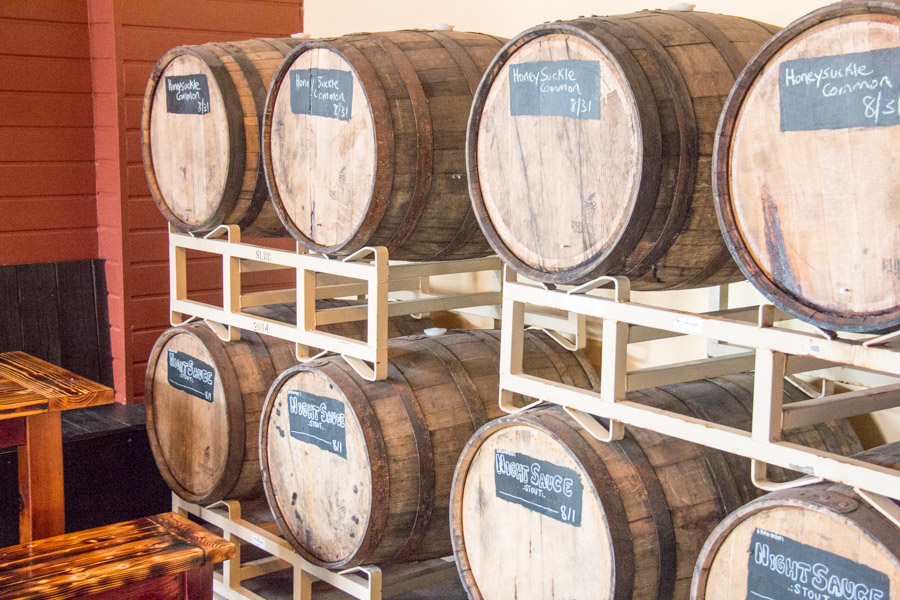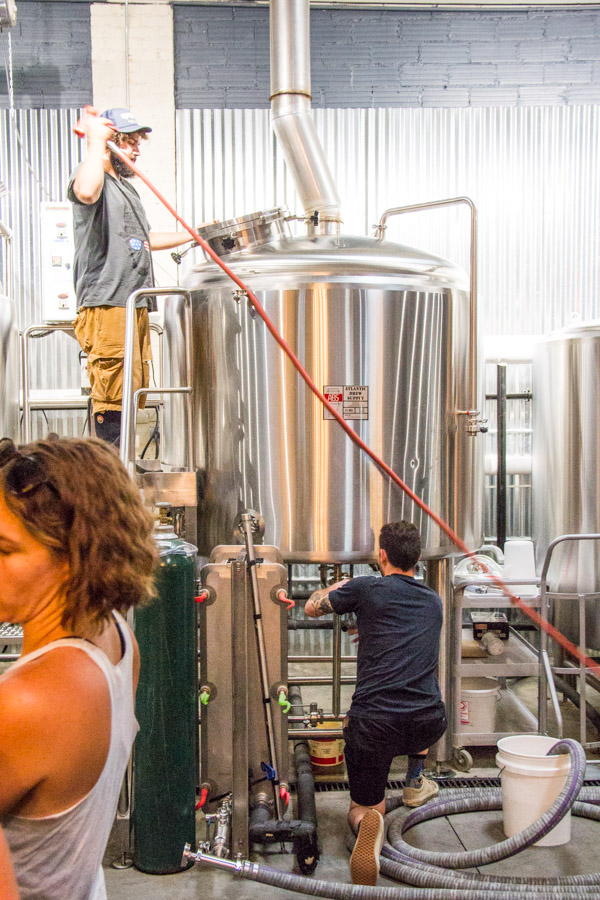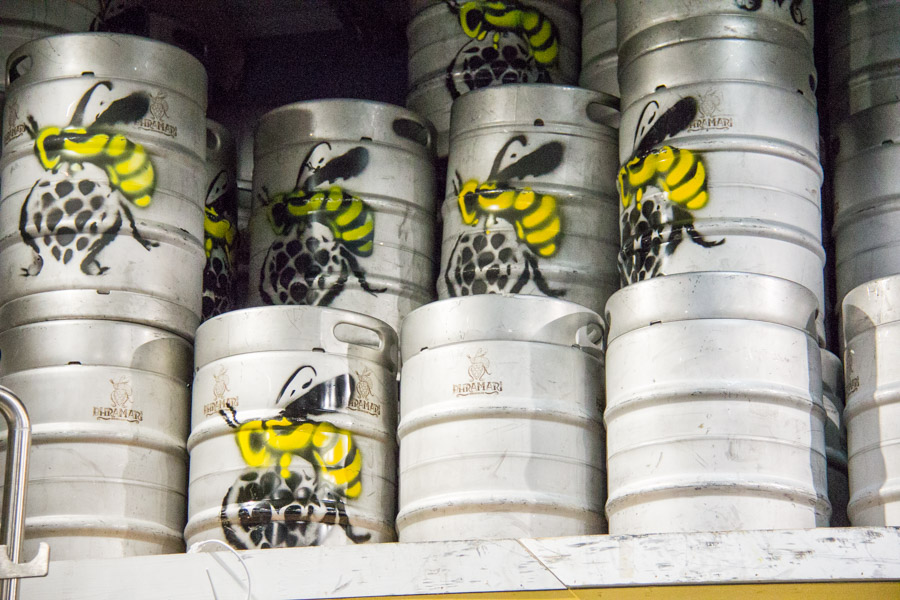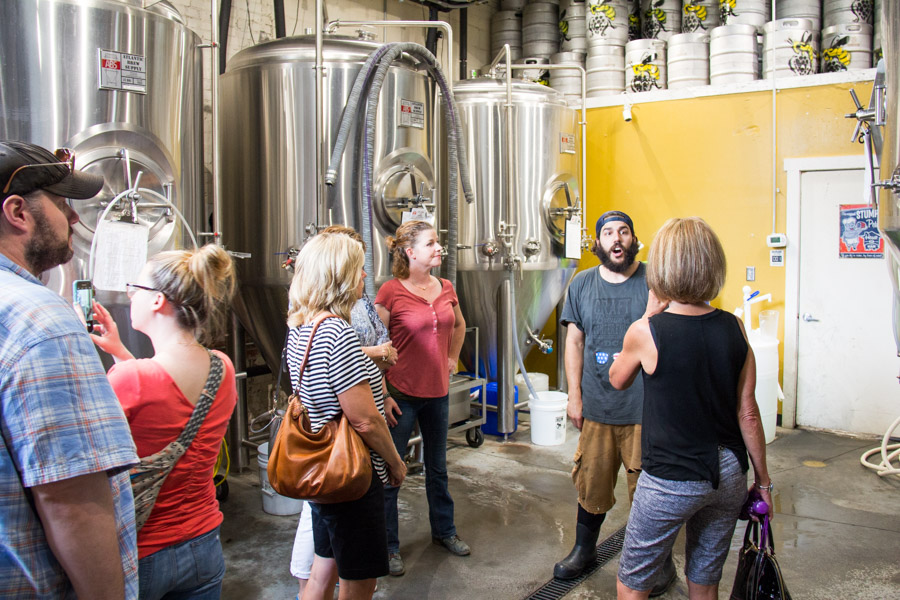 Best Asheville Brewery Tour Stop No. 2
Wedge Brewing has 2 locations. The one we visited is located in the Foundation buildings in the River Arts District. That's what I love about Asheville Brewery Tours, they take you all over Asheville. Big reason why they are the best Asheville brewery tour. Wedge and the surrounding Foundation buildings are covered in incredible street art (like this one) and wall tags to colorize and revive the old buildings. I love this kind of stuff. Street Art. It's my happy place.
Next to Wedge is the new location for some of the best BBQ in Asheville, 12 Bones, if you decide you need to wash your beer down with something delicious. Wedge also has an assortment of food trucks that serve great nibbles in their courtyard on a regular basis (see their food truck schedule here) and amazing live music. Cool fact: Their walk in cooler is actually a semi truck so they can move it when the flood plains get hit.
MANDY'S PICKS: Bourbon Barrel Aged Buzz Bomb (Imperial American Double Stout 8.9%) & Iron Rail IPA (English IPA with a great finish 6.9%)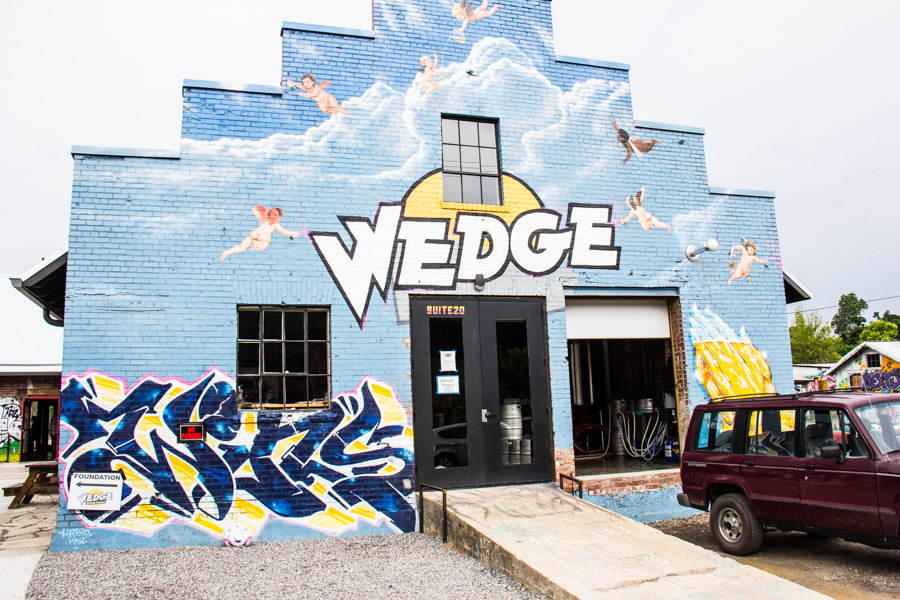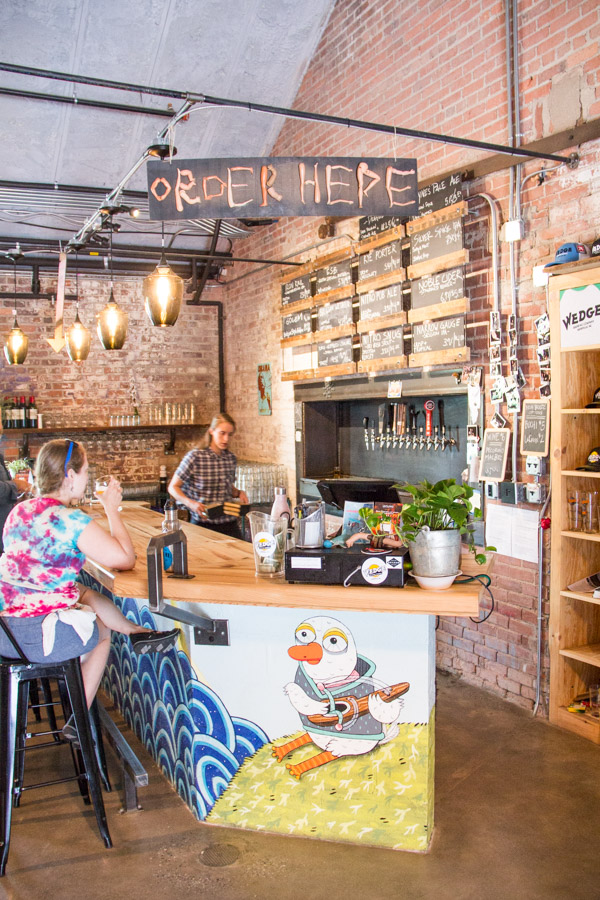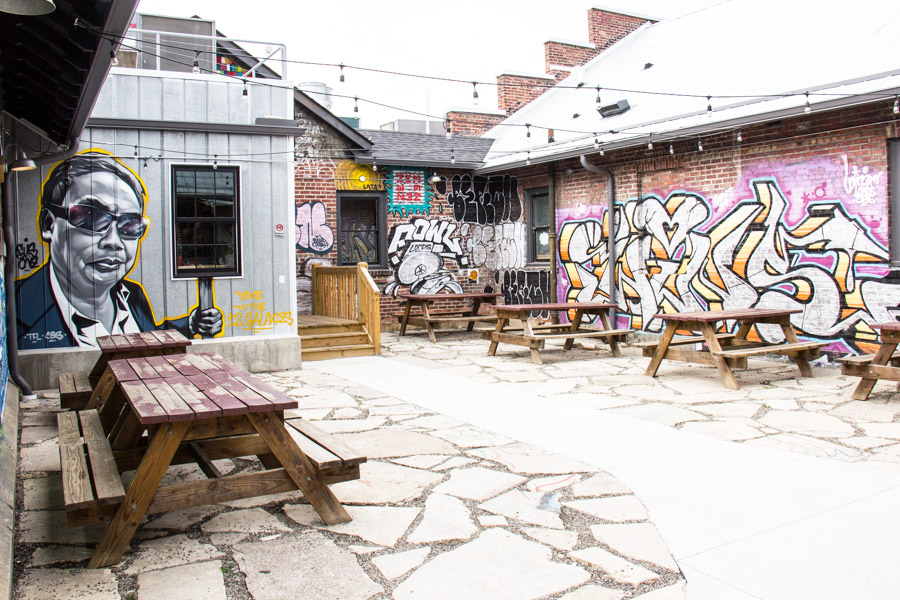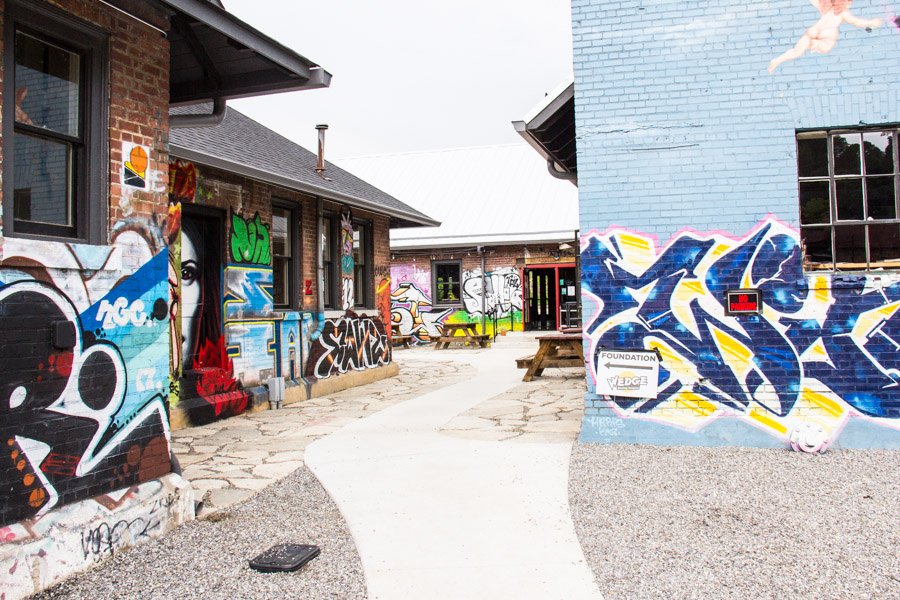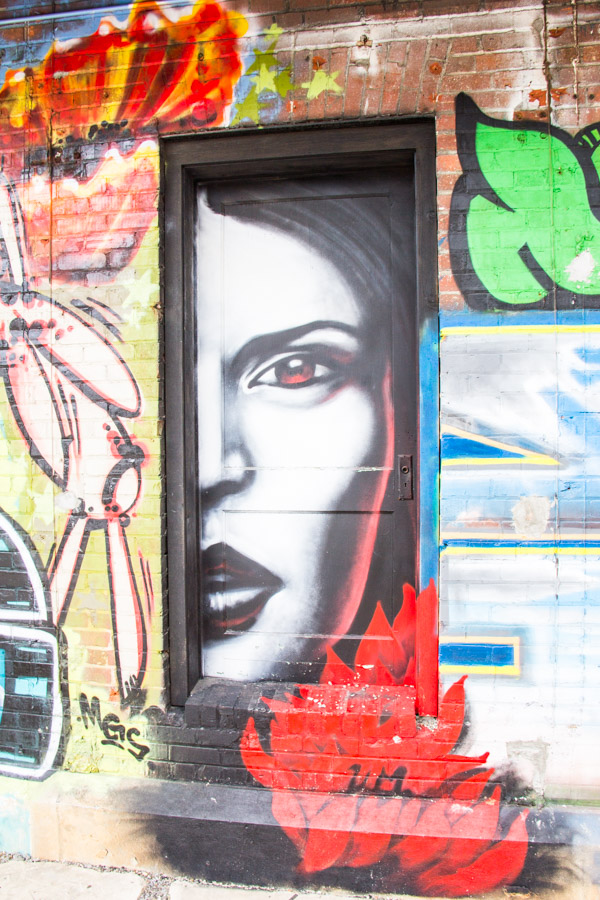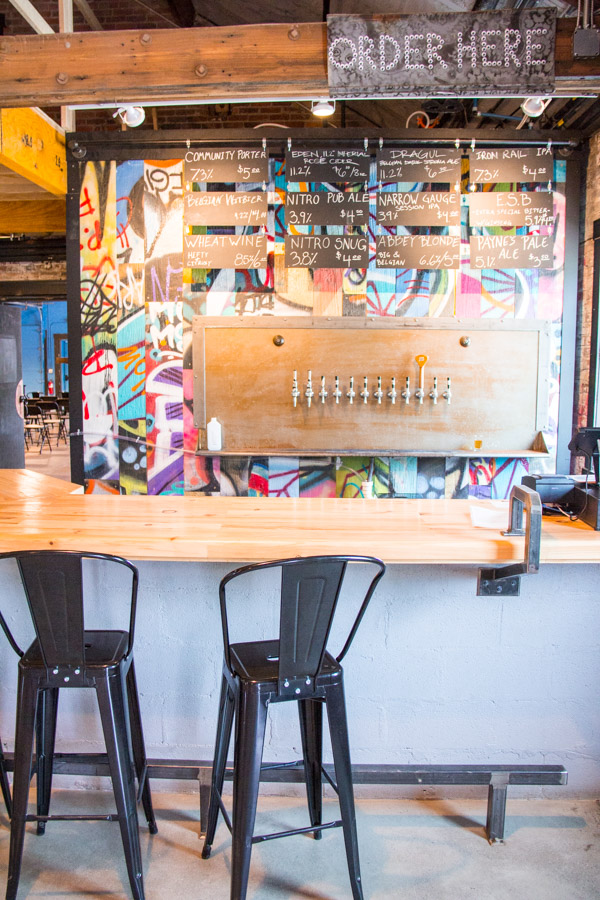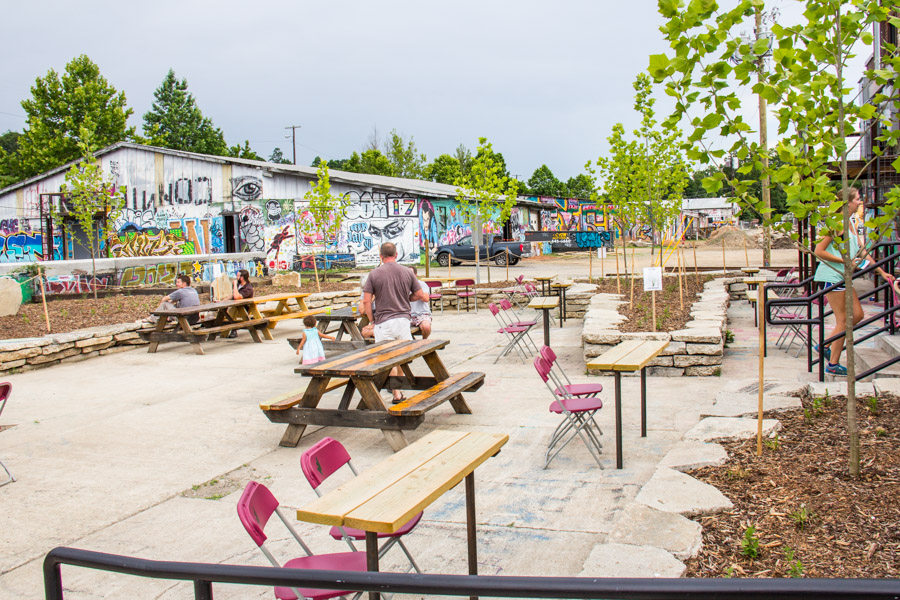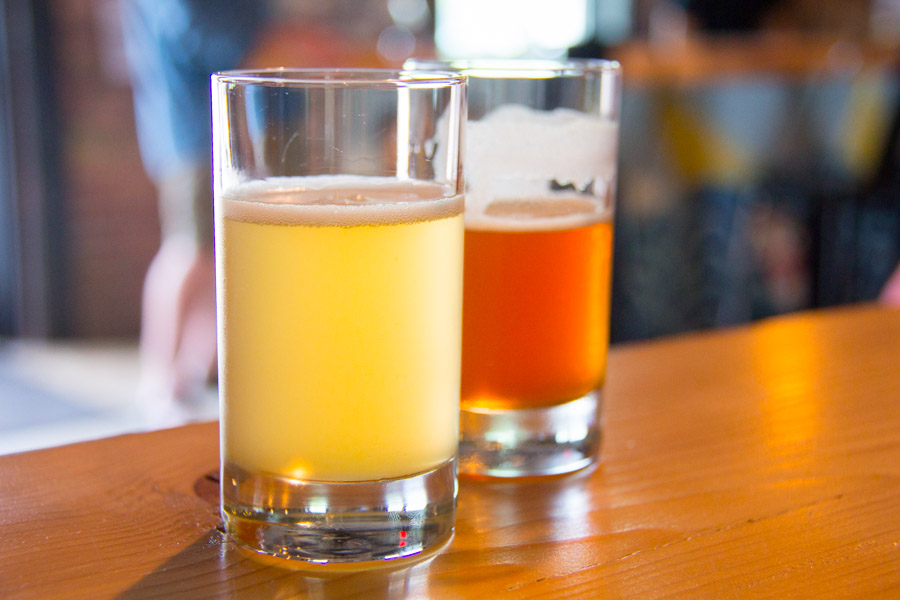 Best Asheville Brewery Tour Stop No. 3
Our final leg of the afternoon is Highland Brewing Co. I've been her before. Explore Asheville hosted an incredible food festival here for a food blogger conference I attended a couple of years ago. But I'm glad I came again. It has grown, become solar powered, sustainably focused and added a killer rooftop bar with a great view of the NC mountains.  Highland was the first brewery to open in Asheville and it has grown to now brew over 60,000 barrels! This was the largest brewery on our tour by far. The tanks are massive!
MANDY'S PICKS: Gaelic Ale (Red Ale 5.6%), Christopher Oaxacan (Stout 6.3%) and the Hawaiian Lounge Juice (Imperial Double IPA 8%)