Side Dish Heaven! Bacon Broccoli Mac and Cheese
Who doesn't love Mac & Cheese? Or Bacon? Let's get crazy and mix them together! Our Bacon Broccoli Mac and Cheese is comfort food that will blow your mind!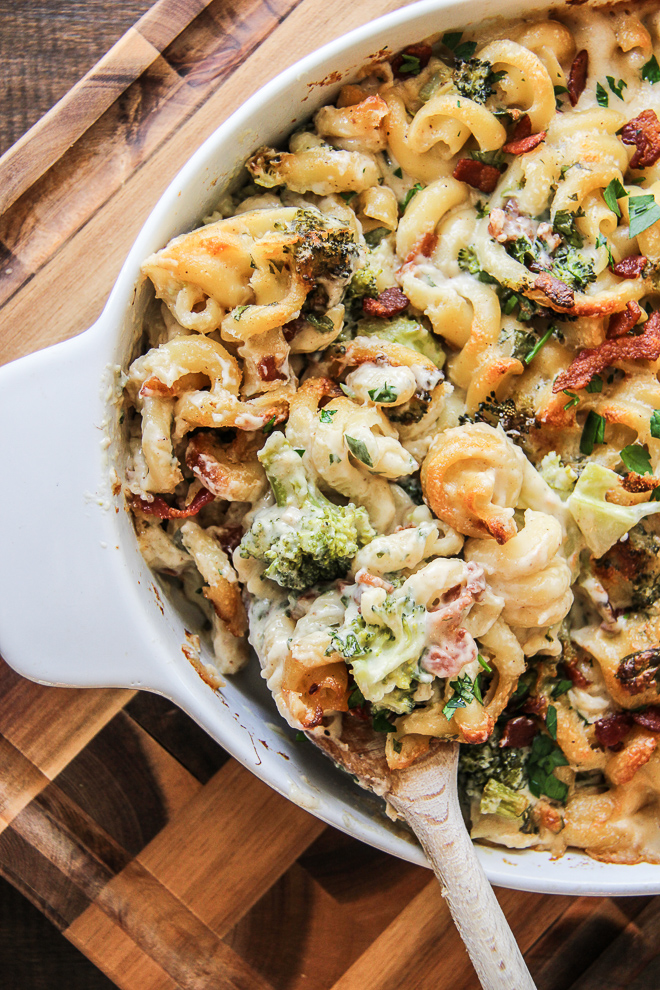 I didn't really grow up eating mac & cheese except for the kind out of the box. When I moved to Atlanta, I discovered how real mac & cheese is made. Then I upped the game with Bacon Broccoli Mac and Cheese! Made with real cheese, fat curly pigtail pasta that grabs every bit of flavor, and rich Bechamel sauce (a milk and flour sauce similar to a roux)… REAL mac & cheese is far different from its boxed counter part. And Babe! When you add bacon and broccoli and garlic and all kinds of other yumminess, it is truly side dish heaven!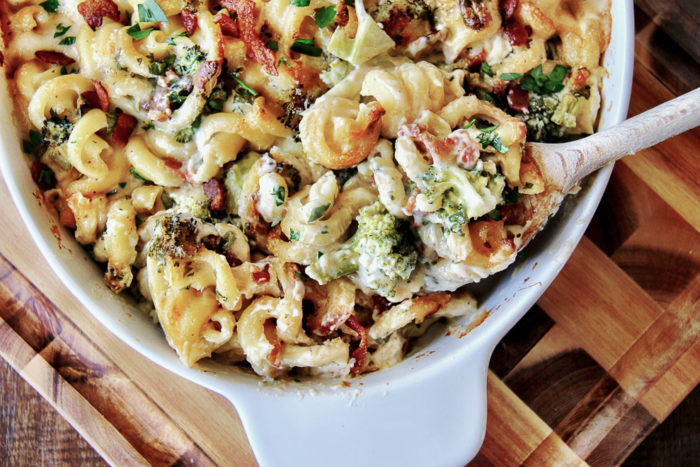 Bacon Broccoli Mac & Cheese
Bacon Broccoli Mac and Cheese
We've taken this comfort food to the next level. You'll never want to buy the boxed kind again.
Ingredients
1 lb bag Trottole Pasta (or your favorite tube pasta)
4 cups broccoli, roughly chopped
6 thick slices Bacon, chopped
4 TBL Butter, unsalted
1/3 cup Flour
2 ½ cups Half and Half
2 cloves Garlic, minced
½ tsp White Pepper
Pinch Red Pepper Flakes
2 cups Sharp White Cheddar Cheese, shredded
1 cup Parmesan or Italian Blend Cheese, shredded
¼ cup Flat Leaf Italian Parsley, chopped
Instructions
Preheat oven to 375 degrees.
Spray a large baking dish with cooking spray and set aside.
Cook pasta in heavily salted water according to package directions.
When al dente remove pasta using a spider or slotted spoon reserving water in pan.
Add broccoli to pasta water and blanch for 3 minutes.
Drain and set aside.
In a large skillet on medium low heat render bacon until crisp.
Remove bacon to paper lined plate to drain.
Leave bacon renderings in skillet.
Add butter and flour to skillet.
Stir and cook until lightly golden 2-3 minutes.
Add half and half and combine.
Stir in garlic, pepper, and cheese.
Continue to stir and cook until cheese is melted.
Add pasta, bacon and parsley.
Mix gently to combine.
Pour into prepared baking dish and cook uncovered in oven for 20 minutes or until golden brown.
https://sumptuousliving.net/bacon-broccoli-mac-cheese-2/
Copyright @ Sumptuous Living