My New Addiction! Thai Noodle Bowls
Quick. Easy. Crisp. Savory.... And Peanut Sauce? Yep, I'm hooked! My favorite new lunch fix. Thai Noodle Bowls with Peanut Dressing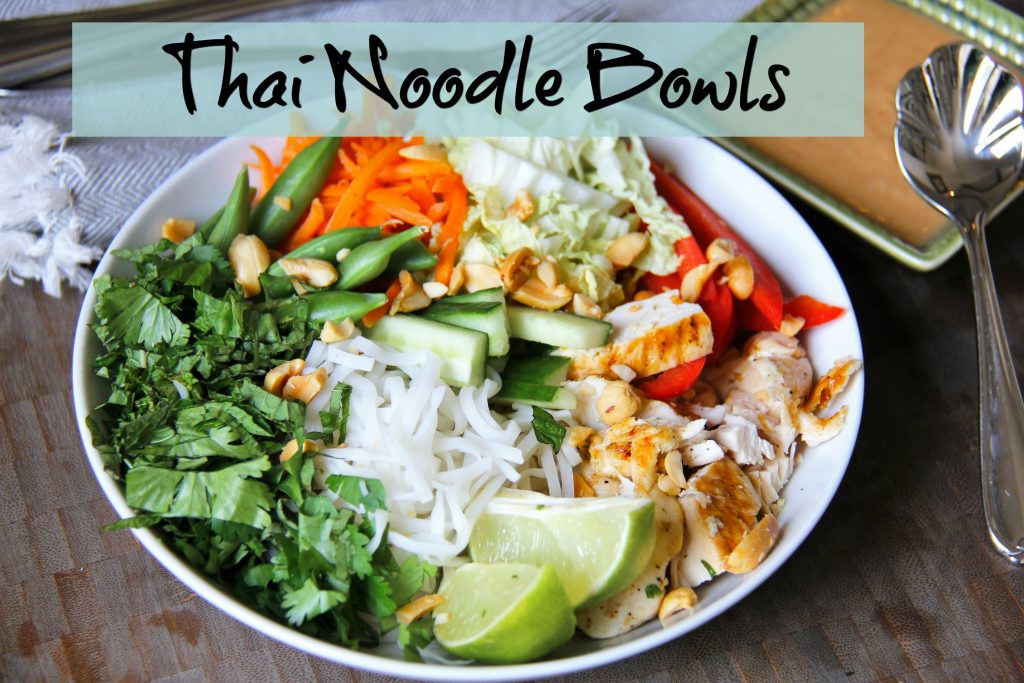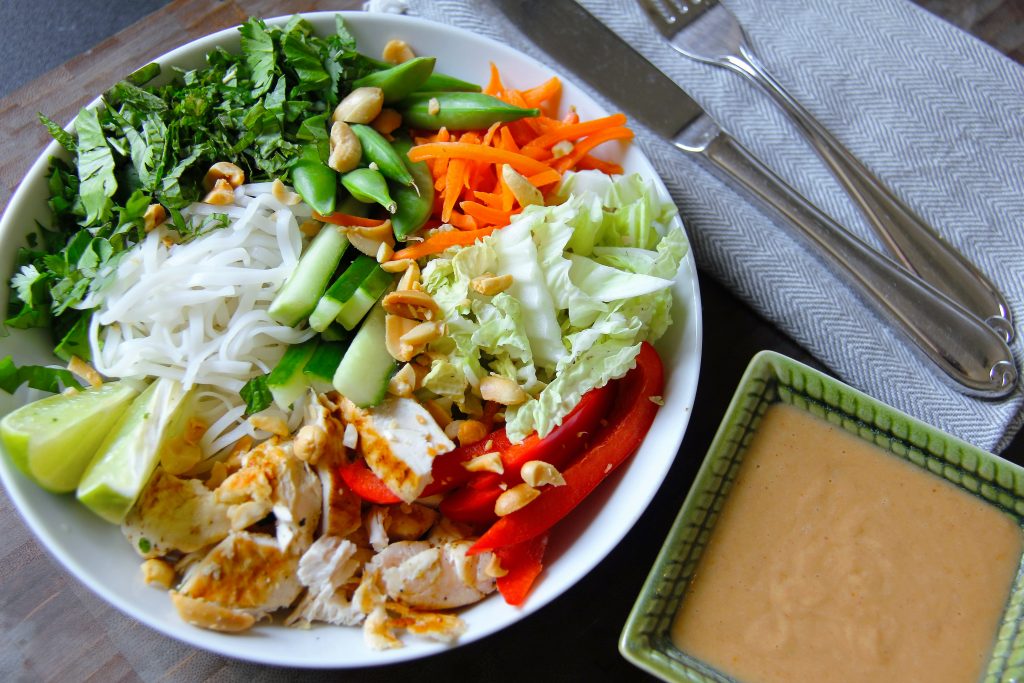 I have a new addiction. No, it's not cocktails… that love affair is rock solid and never going away. It's Thai Noodle Bowls. Full of juicy grilled chicken or shrimp, crisp veggies that I gather from the fridge, a handful of herbs from a pot in my front yard. Even the noodles are convenient! Rice noodles go limp in minutes in a bowl of piping hot water. So easy! Add to that a bit of this crack-like peanut dressing/dip that has more uses than I can think of and your lunch or dinner is not only healthy but quicker than anything you could grab in a drive thru! Set up a bar and let the family customize their own! That's called smart when a dinner is merely assembled by the eater. Take the night off Mama!
Quick and easy. Pull ingredients from what you have in the frig and set up a bar for the family to customize their own bowl.
Ingredients
1 packet Thai Rice Noodles
2 Medium Red Bell Peppers (thinly sliced)
3 cups Sugar Snap Peas
2 cups Carrots (matchstick-cut)
1 Large English Cucumber (halved lengthwise and thinly sliced)
Fresh Mixed Herbs (chopped, such as cilantro, mint, basil)
1 cup Peanuts or Cashews
Peanut Dipping Sauce Dressing

1/2 cup Vegetable Oil
1/4 cup Rice Wine Vinegar
2 tablespoons Creamy Peanut Butter
2 cloves Garlic (small)
1 teaspoon Sesame Oil
1 tablespoon Toasted Sesame Seeds
2 tablespoons Honey
2 tablespoons Fresh Ginger (peeled and chopped)
2 tablespoons Tamari Soy Sauce
Instructions
Thai Noodle Bowls

Cook noodles according to package directions; drain.
Divide noodles evenly among serving bowls.
Top each serving with vegetables.
Sprinkle evenly with herbs, peanuts or cashews.
Drizzle peanut dipping sauce on top.
Peanut Dipping Sauce

Place ingredients into a blender and process until smooth.
Notes
Our Garlic Lime Chicken would be a great addition to this dish.
https://sumptuousliving.net/thai-noodle-bowls-3/
Copyright @ Sumptuous Living