Summer Getaway Tips with Mandy on Atlanta & Co.
Watch Mandy share her favorite travel tips that will help you plan the perfect summer getaway. We live by the travel motto "stay, eat, play" and this guideline covers your bases!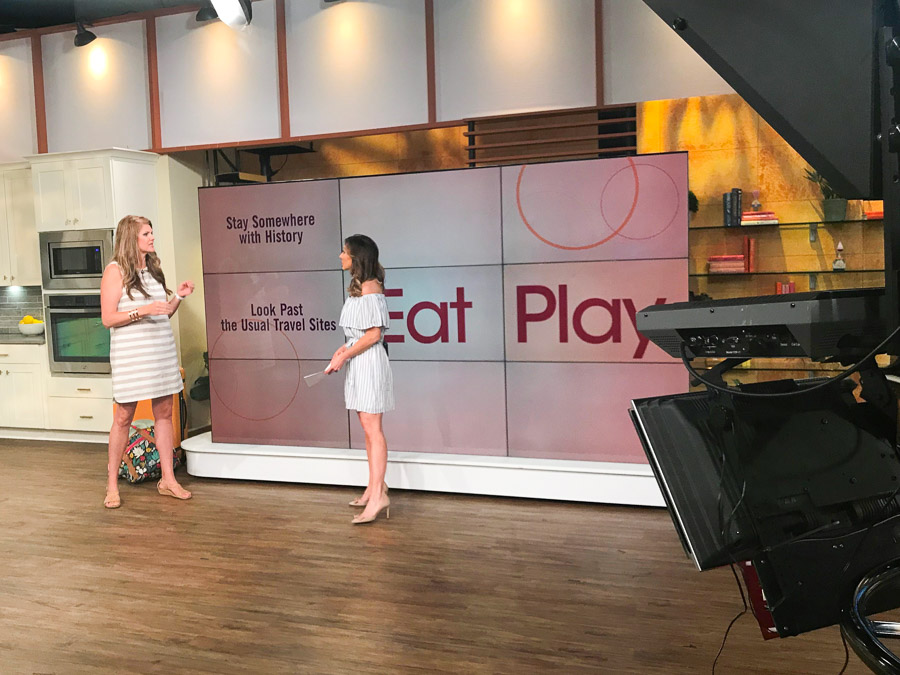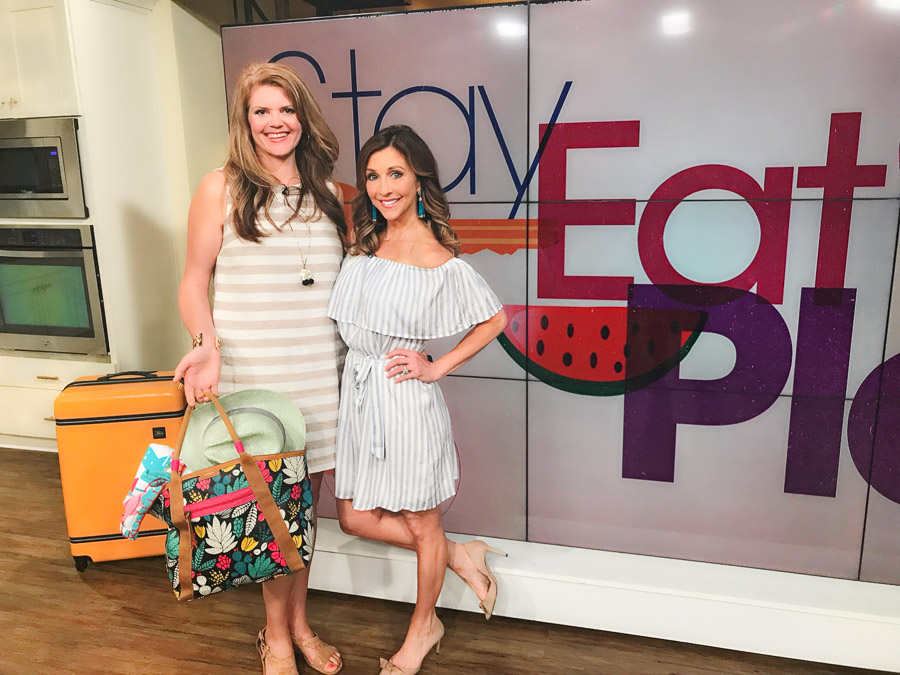 Mandy's Summer Getaway Tips
Creating memories is a major part of taking any trip! Whether it's a vacation with your family or making the most of a business trip, I live by the
travel
motto "stay, eat, play." This little guideline helps cover all of your bases and will make the most of your trip. Watch the video from
Atlanta & Company
above to hear my best summer getaway tips to plan the perfect trip!
Summer Getaway Tips No. 1 – Stay
Where to stay? Our Summer Getaway Tips start with a great hotel. Google "Best Boutique Hotels in X City" Or "Where to stay in X City". Then, look past your usual travel or review sites for a magazine article or a cool blogger. Creating unique vacation memories starts with staying in a unique place. Stay at a hotel with history that's centrally located to what you want to do. I love it when a hotel has an amazingly chic little bar on premises for a drink as you end your long day of fun! Staying at a "Boutique" Hotel (like the Roger Hotel in NYC) doesn't mean it's expensive. Just means it's unique and fabulous!
In a recent trip to Del Mar, California, I stayed at the Hotel Indigo Del Mar. It was a work trip but I still loved every second of it because I made it unique! The enchanting ocean views tied together beautifully with the rich history of the city's horse racing and made for a truly unique vacation destination.
Stay Somewhere with History
Look Past the Usual Travel Sites for recommendations and focus on Magazine Articles or a Cool Travel Blogger
Look Into Shared-Home Sites for an Automatic Local Connection/Guide
Summer Getaway Tips No. 2 – Eat
I only use two sites for my go-to list of where to eat – Eater and Thrillist. Click here to read why. It's at the top of my Summer Getaway Tips. These online foodie magazines cover every major city and most of the small ones around them. Simply Google Eater Charlotte or Eater San Diego. Even here in Atlanta, this is what I check before I recommend hot restaurants to friends passing through the city. Thrillist will even have articles about the best brunch or best cocktail scene along with other fun things to do in the city.
My eating out of town rule is: I won't eat anywhere I can eat at when I'm home. Make reservations! You don't want to ruin your trip waiting for a table at the hot spot in town. My breakfast tip: Just because you're staying at one hotel, doesn't mean you can't hop over to another one with an incredible view and eat breakfast there. Make a reservation so you get to enjoy both!
Ask the locals for where they eat. Visit the local farmer's market on a Saturday morning and ask the vendors where to go. They are likely the ones selling local produce to amazing restaurants and will know just where to go. And eat authentically! Eat like a local and get at least one meal in with the cuisine of the area. You can get your food at home later.
Look for Places with Views of the City
Hit Up the Local Farmer's Market (& Ask Their Favorite Spots)
Search for Authentic Food Places (ie Cuban in Miami, Southern/BBQ in South, etc…)
Summer Getaway Tips No. 3 – Play
Get out of the norm and do something you'd never do at home! The last of our Summer Getaway Tips get you doing something out of your norm! Go on a brewery tour. Even if you don't like beer, you may find a kind you love that's unique to the city you're visiting. Being a cocktail girl, that's exactly what happened to me and now it's one of my favorite things to do, plus the food at local breweries is often insanely good (like the menu at Viewpoint Brewing)!
Check out things like surfing lessons, or walking or biking tours of the area to learn the history of the city. You know you'll never do this kind of stuff at home and you will forever remember that trip because of the adventure you had.  When searching our trusty friend Google, use search words like "visit" and "explore" to pull unique search results from travel sites and blogs.  "Explore Asheville" or "Visit Del Mar" will help you get to the best and most unique ways to see their city. I am a huge fan of bike tours, so my go to is googling "X City bike tours."
Nightlife is best when it's not touristy. Ask about the local music scene when you check into your hotel or grabbing a drink at the bar. Google "Best Live Music Del Mar" or wherever you're visiting. And GO THERE! You will have the best night… especially if a killer cover band is playing. That way you'll know all the songs!
Bike/Walking/Brewery Tours
Take a Class in Something Unique to the City (Surfing in California, Painting in Paris, Cooking Classes, etc…)
Find Out Where the Locals Hang Out (pick up a local magazine, check out signs posted on street corners for art exhibits, concerts, etc…)