Strawberry Basil Smoothie Recipe
Fresh and herbaceous, this smoothie is slightly sweet and packed with protein! Perfect for breakfast, post-workout boost, or after school snack.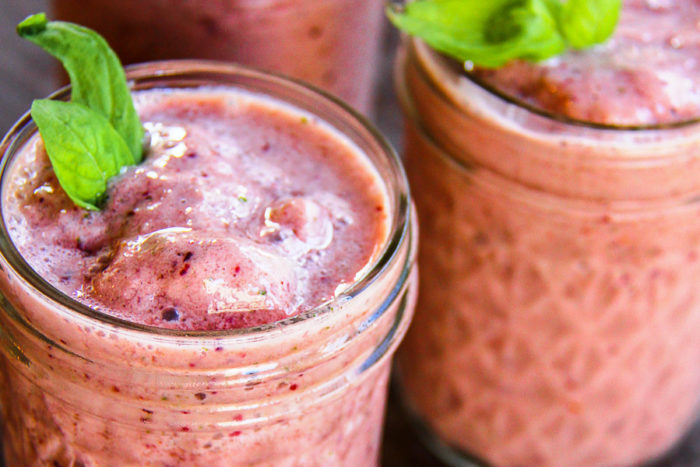 I am out of shape. There! I've said it out loud! All my muscle is going away and being replaced by giggly bits. I don't like giggly bits. Argh! Reason being is that my middle schooler transferred to a new school that's about 10 miles from my house and that means 10 miles from the GYM. It takes us about 20-30 minutes to get to school each day and I can't backtrack home just to get a workout.
For a while there, I was running 6 plus miles after drop off but things got busy or weather got nasty, and now its getting chillier. I'm 6'1″ and my body does not love love love running. I'm a weights girl, tried and true, loyal to the end. Love me some weights! Which means… I need a new gym to call home.
After a new membership card on my key ring, a great workout, and squeezing in a design client consult afterward (notice the word shower wasn't mentioned…oh well), I'm STARVING! I happened to get to pluck the last of a friend's basil plant the other day and have plenty of Greek yogurt and frozen strawberries on hand.
I realize that basil and strawberries in my possession would normally lead to something more cocktail oriented (you know me so very well), but it's also an early release day for school conferences and a fresh smoothie will be a fun surprise for my little monkeys getting off the bus. Win-Win!
Strawberry Basil Smoothie
A refreshing drink anytime, especially after a workout at the gym.
Ingredients
1 1/2 cup Frozen Strawberries
1/2 cup Fresh Basil Leaves
1 cup Non-Fat Vanilla Greek Yogurt
1 1/2 cup Unsweetened Almond Milk
2 tablespoons Honey
Instructions
Place all ingredients in blender and blend until smooth.
https://sumptuousliving.net/strawberry-basil-smoothie/
Copyright @ Sumptuous Living