Spinach Chicken Salad with Curry Vinaigrette
Take a break from your everyday salad routine with our Spinach Chicken Salad with Curry Vinaigrette. So bold, bright and packed with flavor, you'll forget how good it is for you!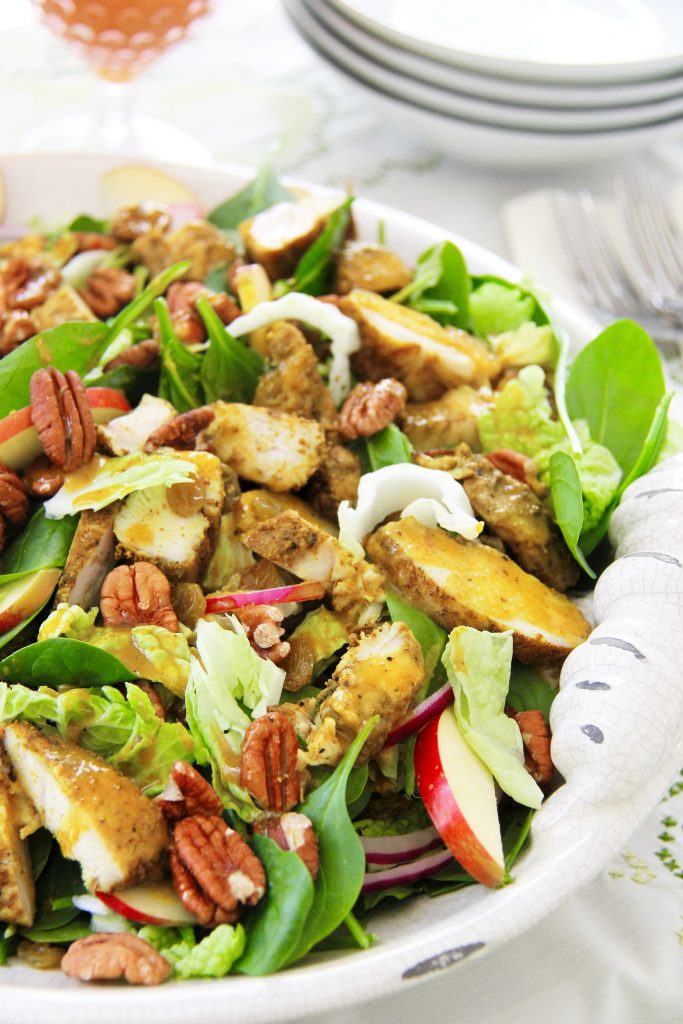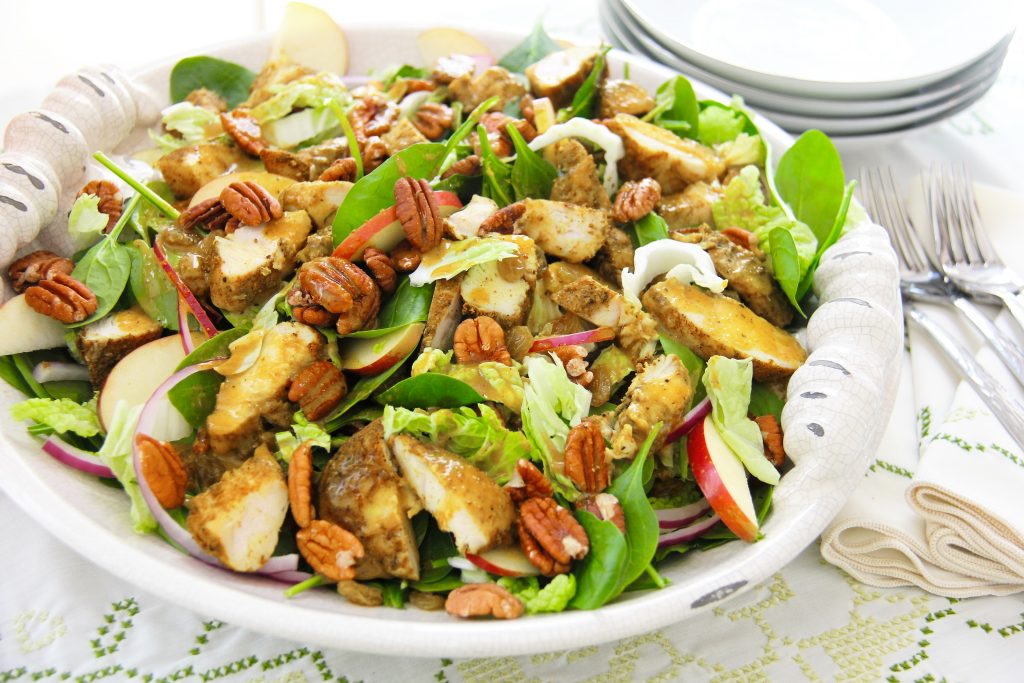 Sometimes I feel like I'm in a salad rut. The same handy toppings I reach for from my fridge or pantry (which are good to have around) lack pizazz and fun. Salad CAN BE FUN! … (stop making that face) … and ZIPPY! I want zippy. My day needs zippy. I want flavor packed energy and crisp bright crunch in a bowl. Our Spinach Chicken Salad has pecans, apples, fresh spinach, red onions and marinated chicken tossed in a Curry Vinaigrette. Doesn't that sound like it will shake your salad routine loose?
We have been on a jazzy salad kick lately! Be sure to try all our recent garden fresh salads….
Spring Salad with Strawberries & Candied Walnuts
Caribbean Shrimp Salad
Spinach Chicken Salad with Curry Vinaigrette
Shake up your salad routine with one that's bold, bright and packed with flavor.
Ingredients
Chicken

1 lb chicken tenders
½ tsp kosher salt
1 tsp curry powder
2 Tbsp. vegetable oil
½ tsp fresh ground black pepper
½ tsp ground coriander
½ tsp cardamom
Curry Vinaigrette

¼ cup apple cider vinegar
1 Tbsp. fresh ginger, minced
2 Tbsp. curry powder
½ cup vegetable oil
2-3 Tbsp. honey
Kosher salt
Fresh ground black pepper
Salad

6 oz baby spinach leaves
1 ½ cups Nappa cabbage, shredded
½ cup red onion, thinly sliced
1 large gala apple, unpeeled and sliced thin lengthwise
½ cup golden raisins
¾ cup toasted pecans
Instructions
Cook the Chicken

In a large bowl or zip lock bag place chicken and remaining ingredients.
Toss to coat.
Heat a large skillet on medium high heat.
Add chicken and cook for 3-4 minutes then turn and continue cooking until chicken is done.
For the Vinaigrette

Combine all the ingredients into a blender or food processor.
Blend until the oil is emulsified.
Cover and chill until ready to use.
Make the Salad

Place the spinach and cabbage in a large bowl.
Arrange onion, apple slices, raisins and pecans on top.
Toss with vinaigrette or drizzle on top.
https://sumptuousliving.net/spinach-chicken-salad/
Copyright @ Sumptuous Living