Pumpkin Mousse and Spice Cake Trifle
Remember in our recipe for Grilled Peaches we mentioned that they were perfect for the dessert lover on a diet? Well, sometimes you really just have to let go of your inhibitions and indulge in a truly decadent dessert. Presenting Pumpkin Mousse and Spice Cake Trifle!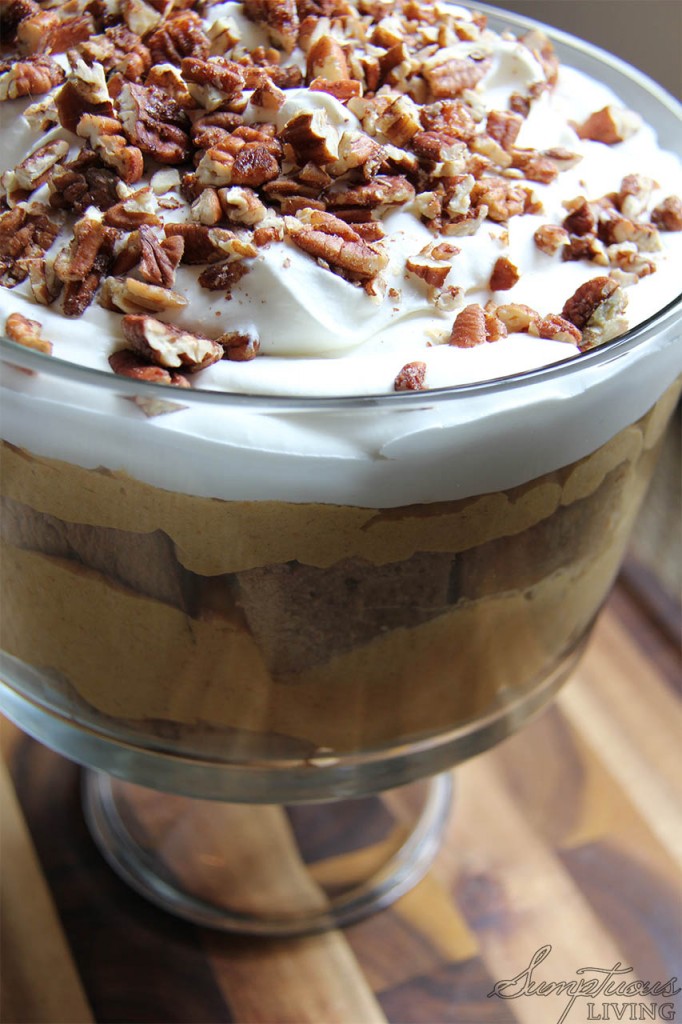 With October quickly rolling towards November, you better believe that the pumpkin craze is in full swing. If you can have pumpkin-flavored something for every snack, drink and meal throughout the day, why not go ahead an pumpkin your dessert?
And the best part of this treat? It's devilishly simple. The secret to keeping it simple? The spice cake is made from a store bought cake mix. Those things are very, very easy to make and I can pretty much guarantee that you and whoever you do the honor of feeding this dessert to won't taste the difference.
You get your dose of pumpkin deliciousness from those beautiful golden layers of mousse. Combine that with the spice cake, a nice light whipped cream, and crunch from some candied or spiced pecans and you have a dessert that will leave your fall cravings satisfied.
Pumpkin Mousse and Spice Cake Trifle
Our pumpkin trifle is rich and decadent with just enough pumpkin spice flavor!
Ingredients
Cake

1 box Spice Cake Mix plus ingredients on box to make cake (eggs, oil, water))
1/2 cup Dark Rum
Mousse

3 cups Heavy Cream (cold)
1/4 cup Dark Rum (divided)
1/4 cup Milk
15oz Pumpkin (not pumpkin pie filling)
1 box Pumpkin or Vanilla Instant Pudding
1 teaspoon Pumpkin Pie Spice
1 tablespoon Vanilla Extract
Topping

1 cup Spiced or Candied Pecans (chopped)
Instructions
Cake

Mix cake according to directions, substituting ½ cup rum for ½ cup water.
Pour into a greased 9x13 inch cake pan and bake according to directions.
Mousse

In a medium bowl whip cream until soft peaks form.
In another bowl, mix together pumpkin, rum, milk, pudding, spices and vanilla.
Fold in ½ of the whipped cream, reserving the rest for garnish.
Chill mousse and remaining whipped cream in the fridge while the cake cools.
Trifle

When the cake is cool, cut into small squares.
Place pieces of cake on the bottom of a trifle dish.
Top with a layer of mousse.
Repeat the layers of cake and mousse.
Top with remaining whipped cream and spiced or candied nuts.
https://sumptuousliving.net/spice-cake-trifle-with-pumpkin/
Copyright @ Sumptuous Living