Design Tricks For A Small Master Bedroom
Small spaces can have BIG design! Beautiful deep blues, silvery grays, mirror and metallics are the key to making this small master bedroom sophisticated.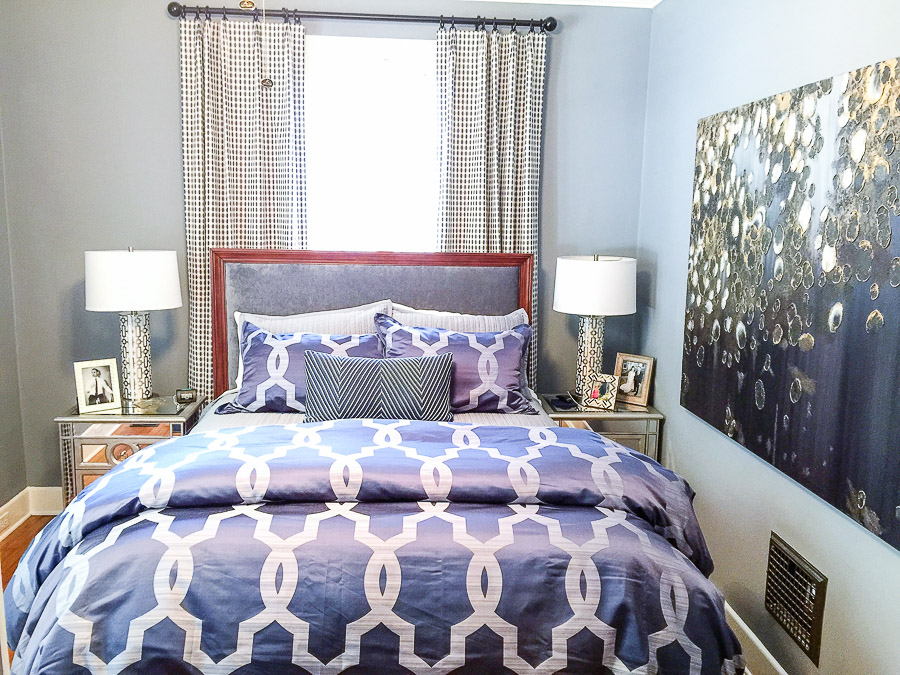 This house is small but it has so much character and history. A charming little craftsman bungalow in the heart of Midtown Atlanta built in the 1920's (check out the Dining Room we did in our post Modern Craftsman Dining Room). The Master Bedroom is even smaller! The smallest master bedroom I've ever done and I've done 100's of rooms over the last 10 years. The room is so small ("How Small Is It?"), we can't even fit a dresser in there. So we need to get creative, not only for storage but for style.
I love a bedroom with a well defined color palette. Choosing deep blue in this bedroom, mixed with metallics and greys, we take the focus off of the small bedroom's size and push the eye towards well tailored style and design. You know where I like to begin… The Task List! (Gotta know what your issues are before you can make it pretty)
SMALL MASTER BEDROOM TASK LIST
Move current furniture to spare bedroom (bed, dresser, nightstand)
Paint the walls Behr 750F-4 Raging Sea (walls currently are muddy brown)
Place new bed on wall opposite entry door in front of window
New platform bed with underbed drawers for storage
Upholster the headboard to match bedding & drapery
New bedding: Duvet set with shams & coverlet set with shams
Mirrored Nightstands (to reflect light and make room feel bigger)
Lamps and accessories on nighstands
Wall mount TV opposite bed (behind bedroom door)
Small chest of drawers under TV (we need storage!)
Large artwork to the right of bed
Curtain panels in small pattern on client's iron rods
Change out the small crystal chandelier for a new small ceiling fan with lights (room is too dark)
Paint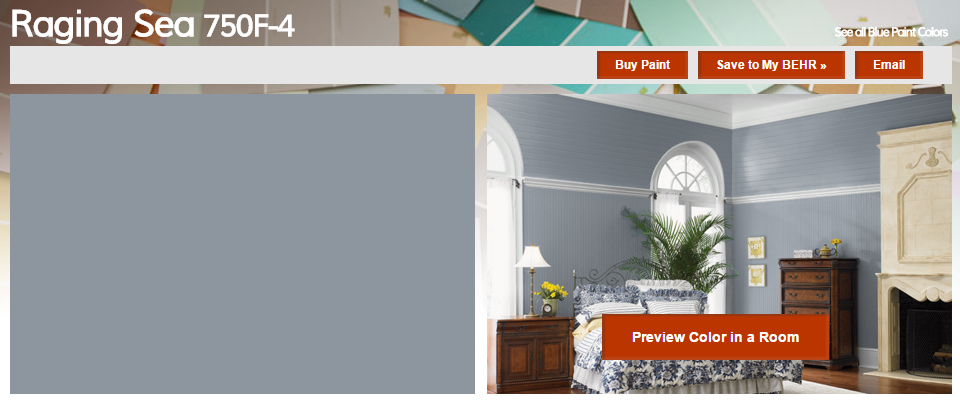 Our Paint Color is Behr's Raging Sea 750F-4 (Doesn't that sound mysterious and slightly dangerous? Ooh!)
Furniture: Bed, Chest & Nightstands
We need storage everywhere we can get it in this tiny bedroom! (click on the links below the pictures for details on the furniture). The bed itself has drawers in the front and on the sides below the mattress. The nightstands not only have great storage but are mirrored to reflect light and take up less visual space (a trick of the eye in small spaces). The small chest under the TV also provides key storage and has a fun nailhead pattern on it to play off our metallic accents.
Montgomery Upholstered Headboard paired with Stratton Storage Bed
We reupholster the headboard in a pretty blue/grey velvety material to tie in better to the room. Just because a headboard comes in a certain fabric doesn't mean it has to stay that way. Custom touches on ready made furniture can make a big difference!
Springfield 3 Drawer Nailhead Chest by Wayfair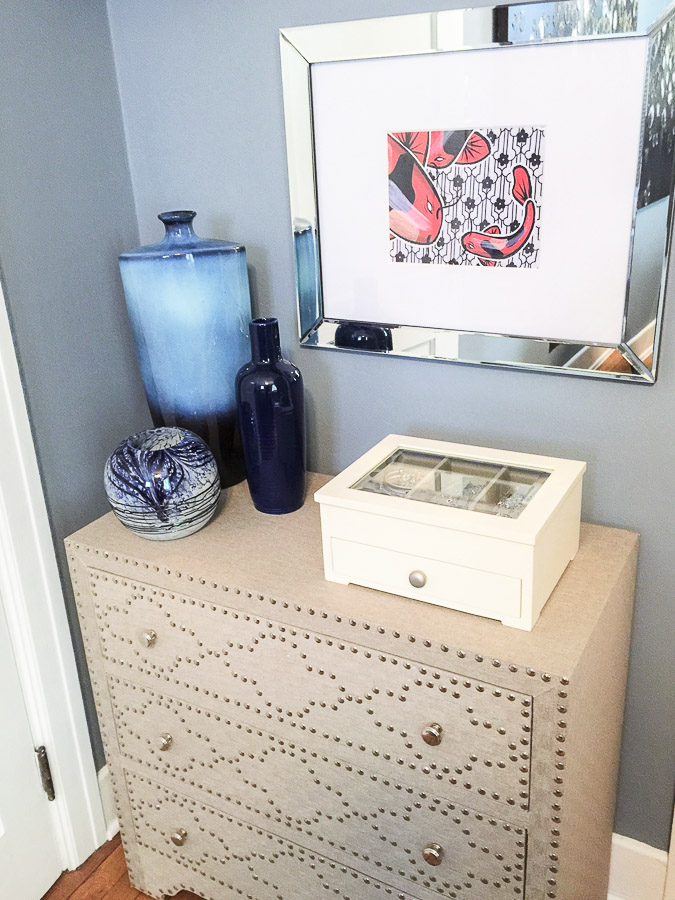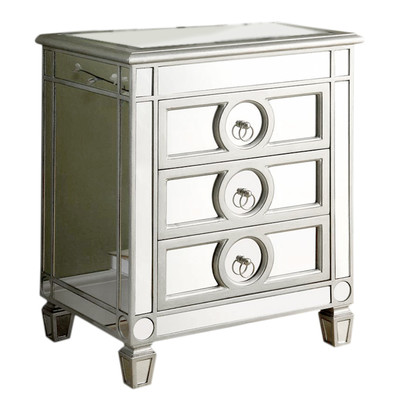 3 Drawer Mirrored Chest from Wayfair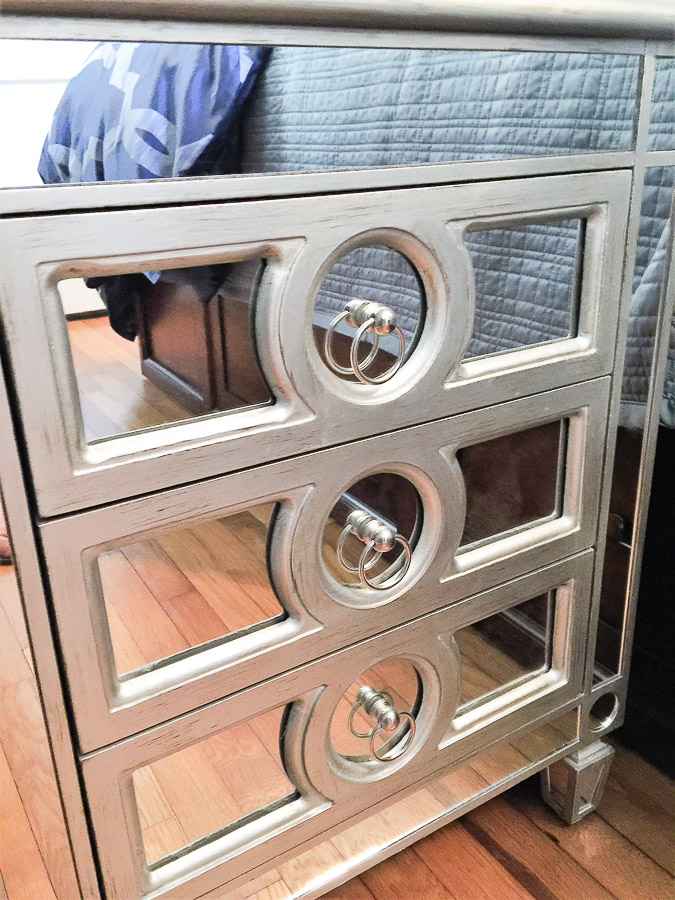 Lighting (Lamps & Fan)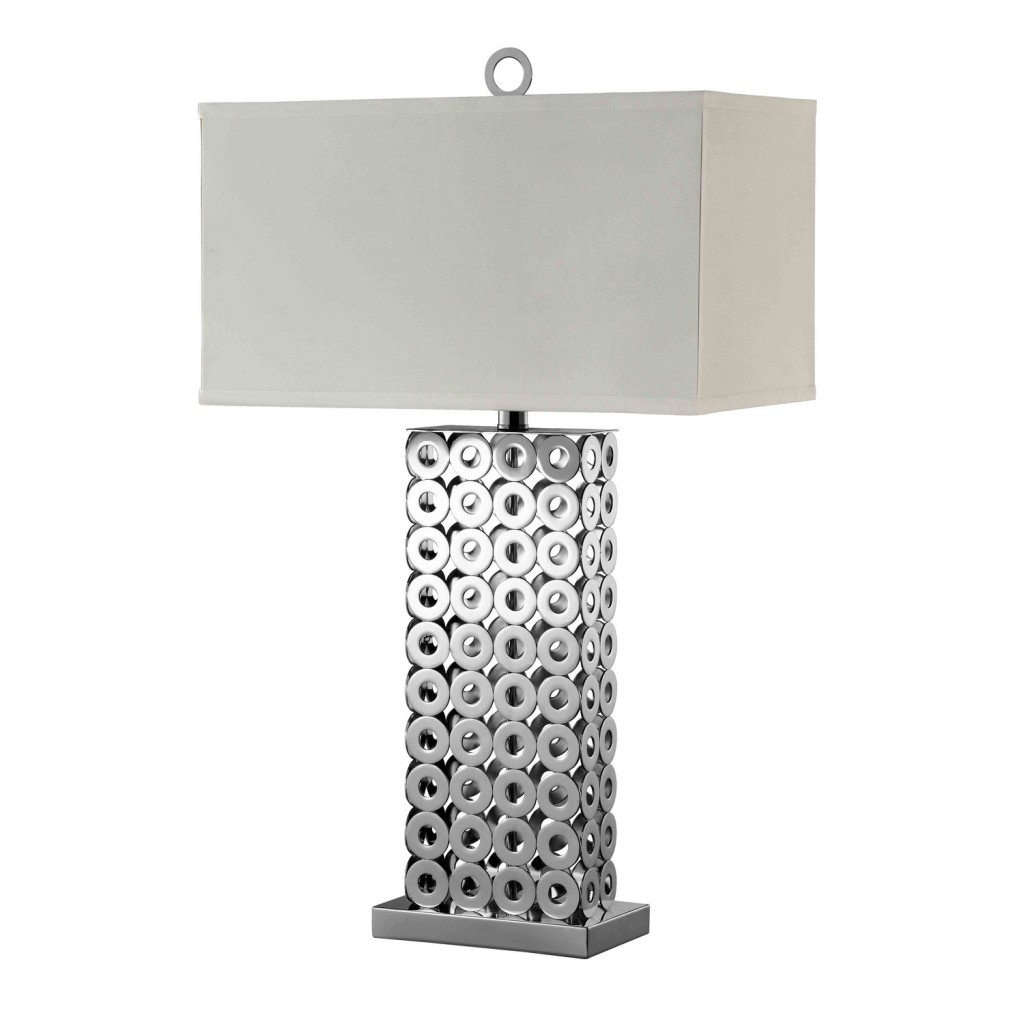 Fabrics: Bedding & Curtains 
Bedding is where I start every bedroom. You can always find a paint color to go with a certain bedding but if you choose paint first, you may have put yourself in a tight spot to find bedding to match that. Finding the right bedding that you love can take a good bit of searching. Rather than driving all over town, let the internet be your resource. If you're shopping a site that has a local store where you can make returns, order a few options and choose the right one in person. Fabrics can look very different on a computer screen than in person.
We found this duvet set at Bloomingdales online and loved the deep blue hues and geometric pattern. Paired with a silky silvery grey coverlet set from JCPenney, the two offer layers of comfort for the couple and a gorgeous blend of textures, style and sophistication.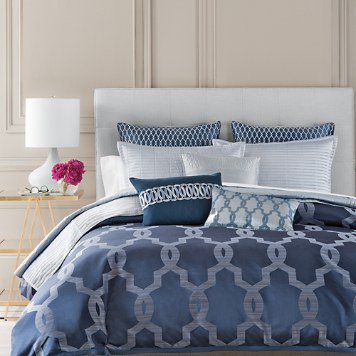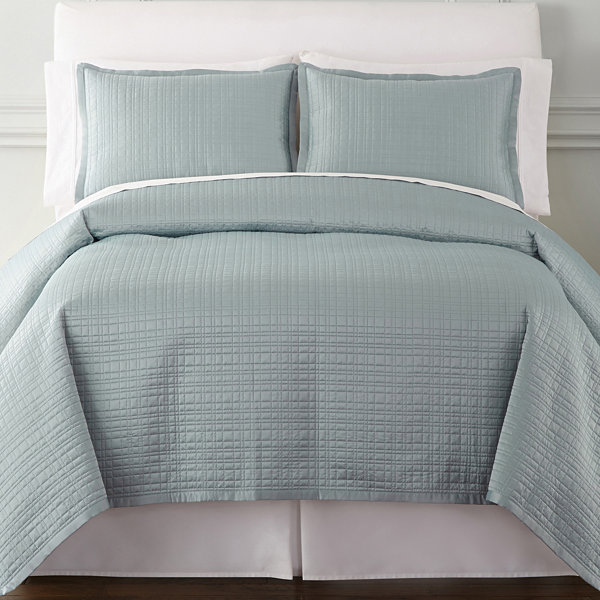 Royal Velvet® Matte Satin Square 3-pc. Coverlet Set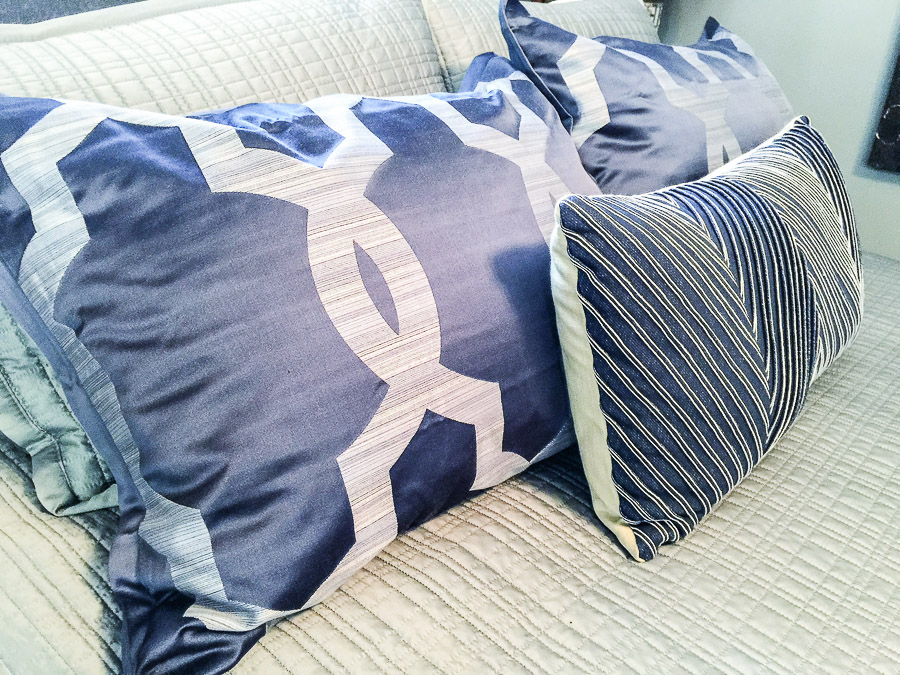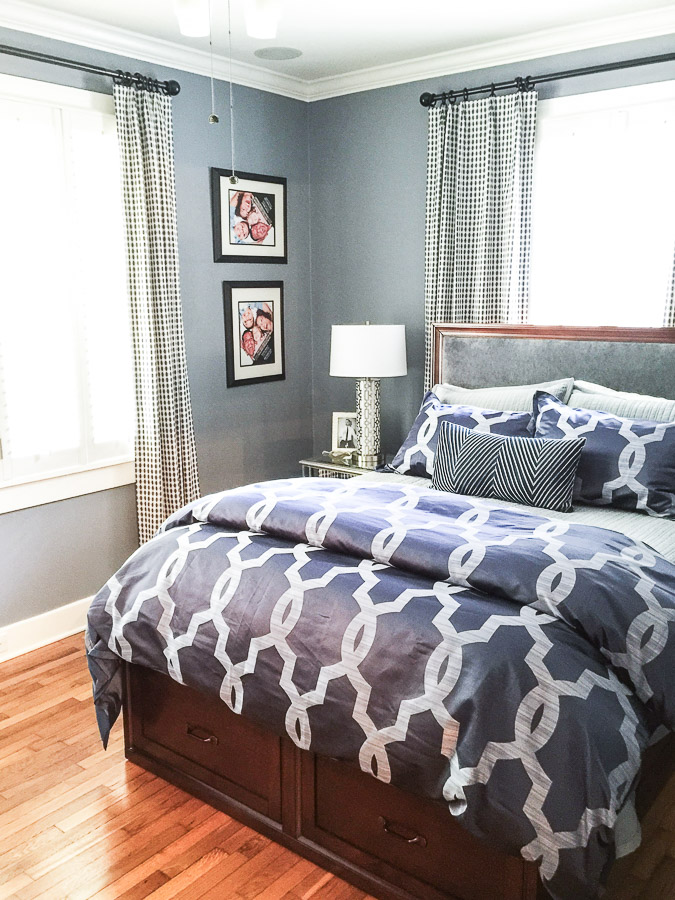 Curtain fabric is where we pulled all the colors together. This small print cotton has dots with grey and blue. I love the simple fan pleat panels hung high on ORB (oil rubbed bronze) rods. Always hang your curtains as high as possible to make every room feel as tall and big as possible, especially in small rooms like this one.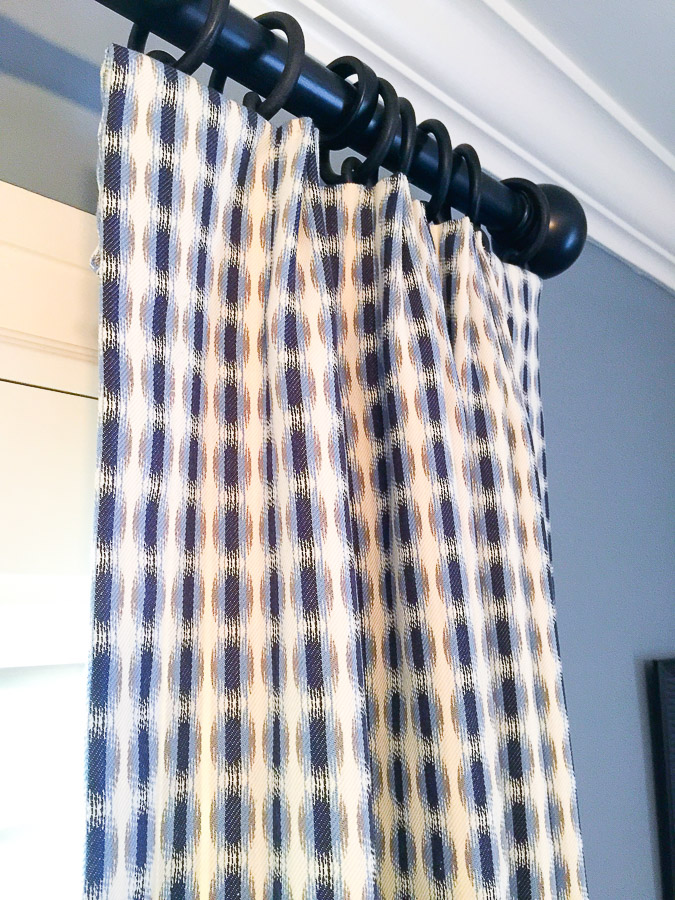 Artwork & Accessories
You all know my heart is in art (ooh, that rhymes… might have to get that put on a t-shirt). This room had a big wall opposite the window that we needed something on but it had to be one large piece otherwise the room would get cluttered. I love the metallics used in this canvas and the depth of color! Don't you? Don't be afraid to mix metallics. Even though this room has a lot of silver accents, the gold in this piece still works. When it comes to artwork, you get a free pass!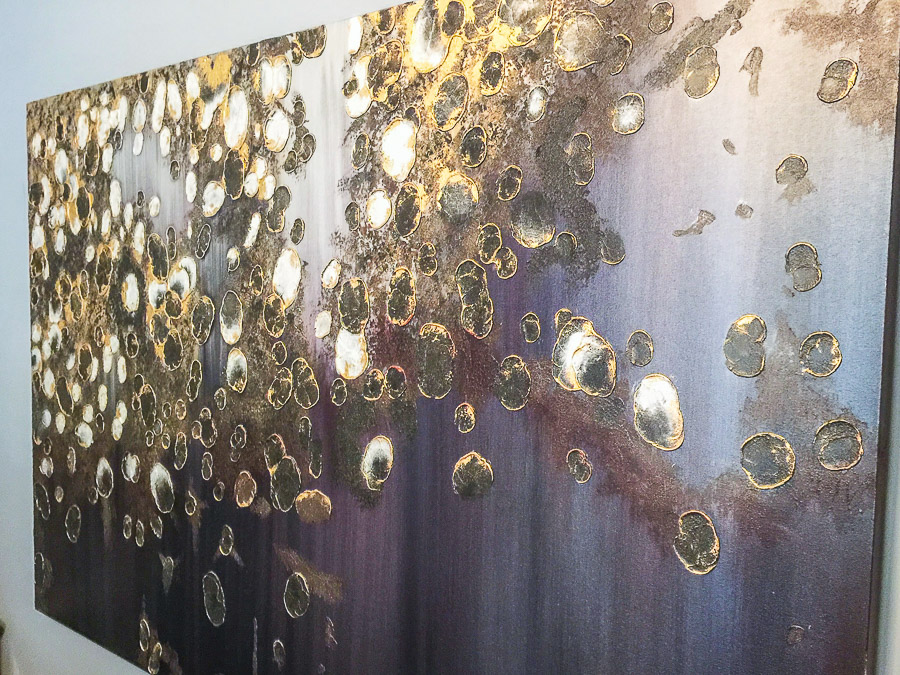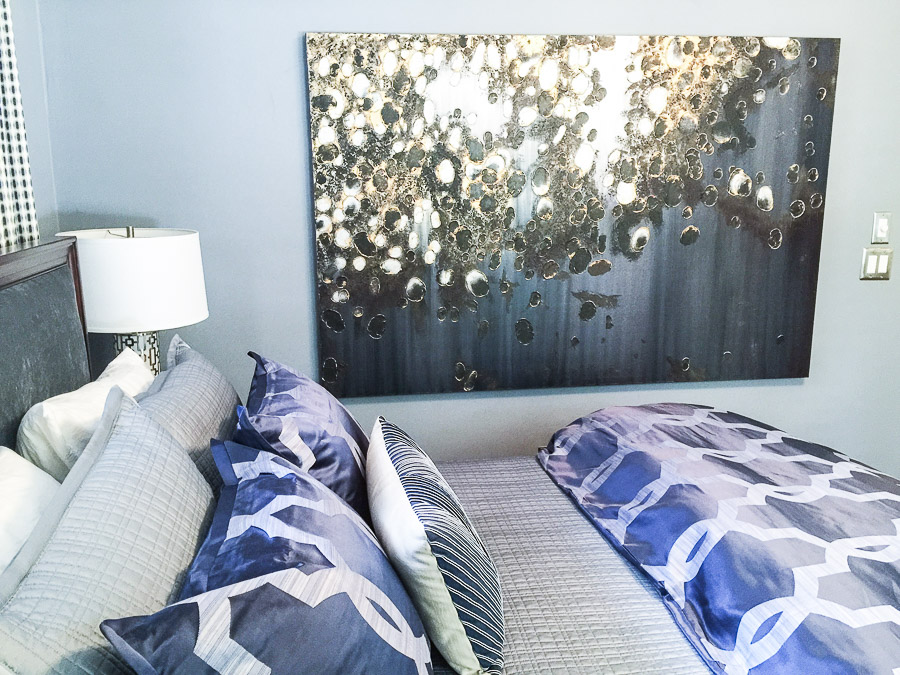 Accessories pulled in mirrored finishes, glass, and blues.